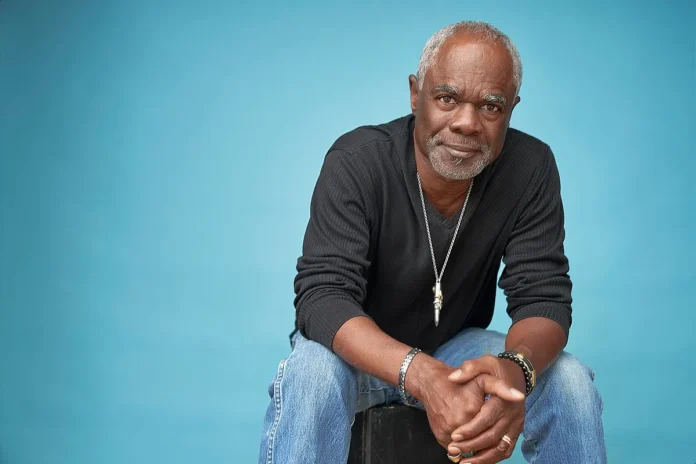 Glynn Turman doesn't have an off switch; he just keeps going and going! The creative's body of work is as extensive as it is extraordinary. He is an actor, writer, director, producer, and blues musician. Glynn's first acting gig was at the age of 12 and with zero acting experience, he was hired to portray the role of Travis Younger in the 1959 Broadway masterpiece A Raisin in the Sun working alongside such luminaries at Sidney Poitier, Ruby Dee, and Diana Sands.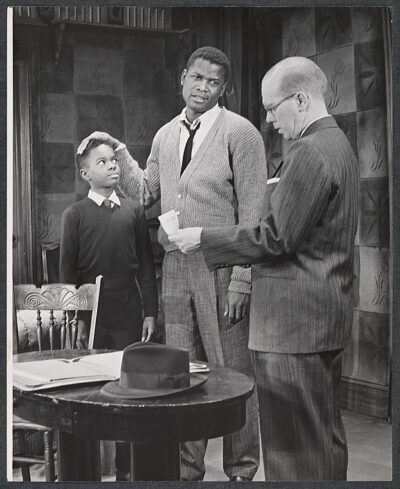 Upon graduating from high school, Glynn honed his acting skills doing stage work, appearing in regional company performances. The New York City-bred actor then shifted to doing episodic TV, appearing in classics like Daktari, Room 222 and Julia. In 1964, Glynn landed a regular gig on the prime-time soap opera Peyton Place.   
When the 70s rolled around, Glynn moved onto doing film work and thankfully, he stayed busy. He appeared in such blaxploitation films as Honky (1971), Five on the Black Hand Side (1973), Together Brothers (1974), and Thomasine & Bushrod (1974) and J.D.'s Revenge (1976).
The year 1975 was the year that made us sit up and take notice of Glynn's acting talents. He warmed our hearts when he portrayed Preach in the oh-so-memorable cult classic, Cooley High. Glynn continued to do film work but also had success working in made-for-TV movies including Minstrel Man (1977) which garnered him an NAACP Image Award, Attica (1980), Race to Freedom: The Underground Railroad (1994), and Freedom Song (2000).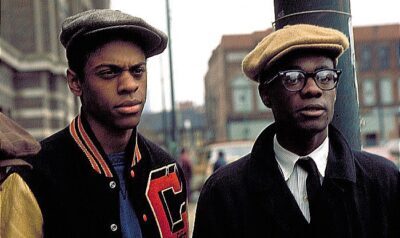 One of the performer's proudest roles was as math professor and retired Army colonel Bradford Taylor on the NBC-TV hit sitcom, A Different World, where he appeared for five seasons (1988-1993). As a matter of fact, the show's theme song was sung by Glynn's late ex-wife, legendary "Queen of Soul" songstress Aretha Franklin. The pair married in 1978 but divorced six years later.  
Today it seems Glynn remains omnipresent in the acting world with zero plans on slowing down. He received rave reviews and an NAACP Image Award nomination for his role as Emmett Till's great uncle Rev. Mose Wright in the last year's critically acclaimed historical drama, TV miniseries, Women of the Movement. Glynn still manages to portray insanely watchable characters on such modern-day hit TV shows such as How to Get Away with Murder, House of Lies, Power Book II: Ghost, and Black-ish.
Glynn also won an NAACP Image Award for his role as Ernest Bordelon in the mega hit series Queen Sugar. Currently, he is appearing in the sports comedy film, 80 for Brady. Glynn has also starred in theatrical projects that are similarly impressive including The Piano Lesson, Ma Rainey's Black Bottom, Joe Turner's Come and Gone and What the Wine-Seller's Buy.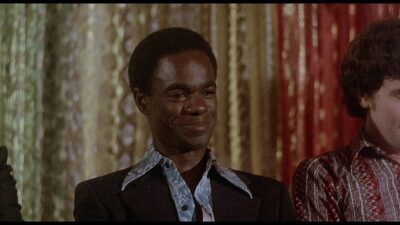 Suffice it to say, Glynn has certainly had a noteworthy 64-year career run. And in his personal life, he has had a few turning points as well. He has been married three times and his third was a charm. Glynn has been married to Jo-Ann Allen Turman for 35 years and the union produced a daughter. He had three sons with his first wife Ula Walker to whom he was married for six years. But sadly, Glynn lost his eldest son in 1986, it is a devastation that is still too painful for him to discuss. 
Nonetheless, Glynn continues to rise above adversity and most of the time you will rarely catch him not flashing that sexy brilliant smile. Many may not know this, but Glynn owns a ranch, is a real cowboy, and a bona fide rodeo champion. Not to mention that for 37 years he has remained the Grand Marshall of the Bill Pickett Invitational Rodeo.  
Glynn's remarkable journey gives him legitimate bragging rights. We had the good fortune to chat with the stellar talent, the legend, the revered OG, who is still very much in the acting game and winning. 
50BOLD: Glynn, you turned 76 years old on January 31 and are still looking good as ever! 
Glynn: Karen, you are a shameless flatterer, don't stop! 
50BOLD: (smiles) Oh, okay. Let's get right into it. How would you describe your childhood growing up? 
Glynn: It was rather different in a lot of ways and very ordinary in other ways. I grew up an only child of a single mother. She and I moved to the Village section in New York City in the late 50s. The thing that was extraordinary was that I ended up in the play, A Raisin in the Sun, at a very young age.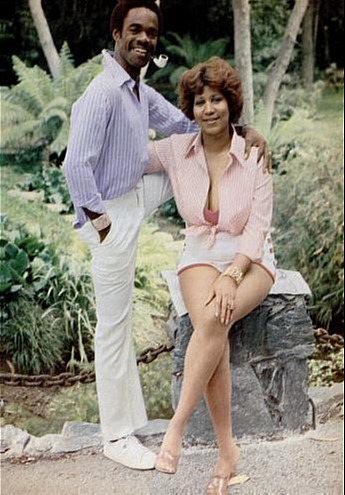 50BOLD: Right, you were 12? 
Glynn: Yes. 
50BOLD: How did that happen? 
Glynn: Well, it happened because of the people in the Village and in my village. One of the people in my village was Lorraine Hansberry. My mother was friends with Lorraine and James Baldwin, Josh White (who was a singer, guitarist, songwriter, actor and civil rights activist) and several other people. I grew up in a kind of artsy atmosphere. 
50BOLD: I know you recently had a screening of your documentary The Legend of Glynn Turman at New York City's New Federal Theatre. How did your documentary come about? 
Glynn: Juney Smith, my producing partner and I have taken it upon us to chronicle and document different artists primarily in the theater. People who have performed in the New Federal Theatre, The Negro Ensemble Company (NEC) or the Los Angeles Inner City Cultural Center. And we've chosen to spotlight mostly those performers who are unsung, who people really don't know about. These performers were a very instrumental part of this theater community back in the day.  
Juney and I go out, put them on camera and hear their voices. Juney, finally talked me into doing it as well. I'm not getting any younger, so I said OK, we will let you all hear from the horse's mouth. 
The documentary is going to be on DVD and Blue Ray and will also be available on Amazon. 
50BOLD: Oh, excellent! You won an NAACP Image Award for Outstanding Guest Performance for your role as Ernest Bordelon in the TV mega hit show Queen Sugar.  
Glynn: Yes, I won the award for Queen Sugar! I was also nominated for my role as Mose Wright in the TV miniseries, Women of the Movement. 
50BOLD: How was it working with Ava DuVernay on Queen Sugar?  
Glynn: Oh, that's my girl! This is our fifth or sixth piece that we have worked on together in as many years. She's a sweetheart… just crazy about her!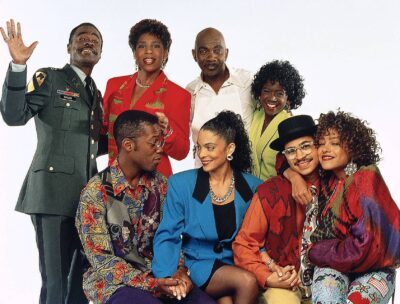 50BOLD: You keep getting these plum parts. I can't even think of one bad role that you have ever done. What is your cherry-picking process when selecting a role that you feel is right for you? 
Glynn: Oh, I don't know! I have a different kind of thing because I started at the top. I started in A Raisin in the Sun, so the bar was pretty high.  
50BOLD: Was that your first acting role? 
Glynn: That was my first acting role. 
50BOLD: That's amazing! 
Glynn: When you start there, you kind of have a lot of responsibility. Great stuff doesn't happen always. But I've been fortunate enough right from the very beginning to have been a part of some wonderful, wonderful projects. They kind of find me, more than I find them. 
50BOLD: I know because your body of work is ridiculous!  
Glynn: (laughs)  
50BOLD: Have you turned down any acting roles?  
Glynn: Yeah, yeah, I've turned down a few roles over the years; some, I've kicked myself for. I said, 'Oh shoot, I should have taken that role.' I was also glad that I dodged a few roles and for different reasons. Some roles are a must take because you have to put food on the table especially, if you are a family man which I have been for most of my life. 
50BOLD: Do you regret playing any role? 
Glynn: Yeah, but nothing I want to mention to your audience (laughs). Regret is a strong word. I don't regret playing any roles, but there are some roles I skated around, and there are some roles I should have done.  
50BOLD: What role are you most proud of? 
Glynn: There are a few and it depends on the medium. I started in the theater. Theater is my first love. I've enjoyed the plays that I've done at the New Federal Theatre and with Ron Milner. I enjoyed doing back-in-the-day-plays with Woodie King, Jr., NEC, and Samm-Art Williams. 
More recently, of course, I've enjoyed the stuff that I've done with the great August Wilson's work. The Ovation Awards were given to two of Wilson's plays that I did in LA., Joe Turner's Come and Gone and the other was Two Trains Running. I won the Ovation Awards for those and that was within the last 10 years.  
And of course, the film Cooley High put me on the map. It was the one body of work that really put me out there.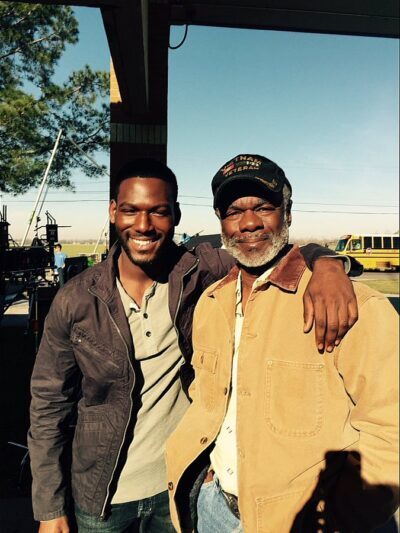 50BOLD: Yes, and we 50BOLDers will forever remember you as Preach. Do you ever get tired of people referring to you as Preach and trying to chat you up? 
Glynn: No, no, because everybody knows a Preach. It's kind of endearing.  
50BOLD: And Cooley High was recently inducted into the National Film Registry.  
Glynn: The National Film Registry, it doesn't come ranked any higher on my chart of accomplishments than Cooley High in the motion picture department. And of course, television, probably the most impactful show that I have done is A Different World. Colonel Brad Taylor is imbedded in me in the annals of TV history. I've done some wonderful TV shows lately like Queen Sugar, and the Emmett Till story from the Women of the Movement civil rights series. 
50BOLD: And speaking of Emmett Till when you played the role of his great-uncle Mose Wright, you shot on location where the actual murder took place. How did you feel emotionally and spiritually?  
Glynn: I'm still not over it. 
50BOLD: Really?! 
Glynn: I don't know if that one is ever going to leave me. 
50BOLD: Are you se-ri-ous? 
Glynn: Yeah. We shot in all the actual places in Mississippi. The script was great, the performers were great, the directors were great. It was an undertaking that I had been a part of and a draining undertaking. The spirits opened up, broke me in and I dove in. I can still hear the trains coming. There's a train that goes through Greenwood that makes a haunting sound as it travels at night. I can still hear it.  
50BOLD: No other set has ever done this to you, that is deep… 
Glynn: Not that deep, not that deep. This man was a very bold man. He took on something and did something that hadn't been done. He lived there. He was in the earth. So, there was a part of him that I really related to. You know I am kind of a man of the earth myself.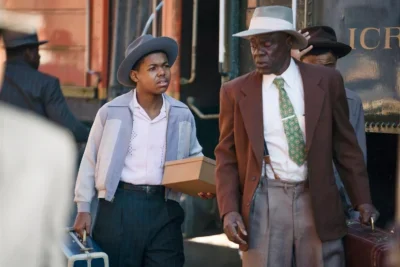 50BOLD: Man of the earth? 
Glynn: Well, you know I own a ranch. I raise stock, crops, and stuff like that. So, I really tapped into that. And he welcomed me and let me, be me. This is one experience I will never forget.  
50BOLD: And speaking of man of the earth, is it true you got into loving horses because your grandfather had a ranch in Georgia? Is this how you got into the world of horses? 
Glynn: Yeah, but I didn't know my grandfather. I had never been there and I hadn't met him. I didn't grow up to know stories about my grandfather until later in life because I didn't grow up with my father. This is my father's people. I got to know my father later.  But I didn't grow up with stories on the farm until later as an adult. 
50BOLD: How did you get into horses? I read a feature where you began your love of horses at the New York City's Central Park horse stables.  
Glynn: Right, I used to play hooky and go to Central Park. And there were horses there. I've always loved them. I just had a natural thing for horses. 
50BOLD: Is it a fact that you shoveled horse manure? 
Glynn: Shoveled horse shhh…, manure. Yeah, I used to do that, and in return, they'd let me ride the horses in the stalls.  
50BOLD: But did you know how to ride a horse? 
Glynn: No, I didn't, but I managed. After that experience, I turned to theater, and just went on from there. 
50BOLD: You are a producer, director, actor, blues musician, and a real cowboy; out of all these creative interests, which would be your favorite? 
Glynn: I don't know. I enjoy something about each. They are all strangely connected somehow. There's music in all of it. There's hard work in all of it. There's enjoyment in all of it. It's all intertwined. 
50BOLD: I saw on you on YouTube playing the harmonica at an Irish pub in Ireland. 
Glynn: (laughs) Oh, you saw that? I had just come back from Wales, I was doing a TV series over there that was produced by Oprah Winfrey called Black Cake.  
So, we're over in Wales; my wife came over and we had some down time over there. We just hopped on a train and went to different places. In this case, we hopped on a plane and flew a half hour flight over to Ireland. I had never been there. We just went pub hopping. And I stopped in one of the pubs, they we're jamming. I had my harmonica with me. And they said, 'Come on, laddie, come on, join up.' (laughs)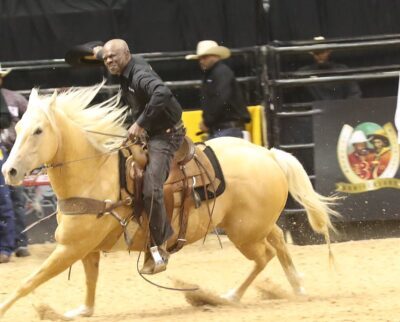 50BOLD: Did they know who you were? 
Glynn: No, they did not. I don't think anybody recognized me. Here's this dude with a harmonica. Everybody was getting their drink on. We just got in on it. It was fun! 
50BOLD: Do you play other instruments? 
Glynn: Well, I play a couple of instruments, but I couldn't make a living doing it. None of them would feed me, but I enjoy piano; when I did Ma Rainey… 
50BOLD: In Ma Rainey, were you really playing the piano? 
Glynn: Yeah, but I had to learn the little bit that I did learn and just kept it up. I'm still tinkering away trying to get better at playing the piano. It was that show that really got me started.  
50BOLD:  Oh, really! 
Glynn: Yeah, yeah, Branford Marsalis, he was our coach. And I studied saxophone in junior high school.  
50BOLD: What high school did you attend? 
Glynn: I went to the High School of Performing Arts in New York City.  In the film Fame, that was my graduating class they were talking about.  
50BOLD: Now, you executive produced the 2019 Netflix film, Justine. It was an indie film. Was this film near and dear to your heart and if so, why?  
Glynn: Stephanie Turner is a writer, producer and she asked for me to be part of the movie. I was taken by the story and the script. I thought it was a wonderful story. I was glad to come on board and she offered me the executive producer piece. I was glad I was able to get it to streaming. 
50BOLD: You and your beautiful wife Jo-An have been married for over 30 years, right? 
Glynn:  We've been married for 35 years.  
50BOLD: You were together 10 years before you got married. I heard the way you proposed to her was interesting. Weren't you both in bed?  
Glynn: (laughs) Something like that. That's close enough. I always tell her that she picked me up at Roscoe's House of Chicken 'N Waffles.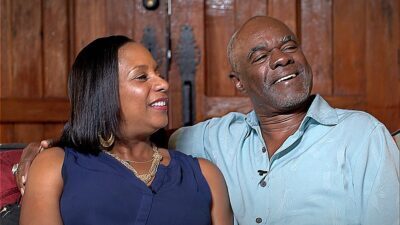 50BOLD: For real? 
Glynn: Yeah, for real! 
50BOLD: And she picked you up? 
Glynn: Yes, she picked me up! Yeah, her little fast ass (smiles). Yeah, she did! 
50BOLD: What secrets or gems can you share with our 50BOLDers about maintaining wonderful Black love and why folks should not give up? 
Glynn: I don't know that I have a secret. I just know that it's a working thing to be together. What you really have to do is like each other which really helps. Sometimes when the love is on the rocks, if the friendship is still there, it can hold it until the tide subsides.  
50BOLD: Oooh, I like that…until the tide subsides. You have an enviable career, to say the least. Is there a memoir in the works. I know you have the documentary The Legend of Glynn Turman are you planning a memoir as well? 
Glynn: Yeah, I started a memoir years ago, and made it into a one-man show before I finished it. Once I did the one-man show called Movin' Man, I never got back to finishing the memoir. I need to get back to finishing the memoir. The show ran at the National Black Theatre Festival and at Rutgers University. 
50BOLD: You were in Beyonce's Ivy Park Rodeo series. I read you were having dinner with the Carters while on vacation, and she asked you right then and there. 
Glynn: Yes, that's right. Beyoncé, Mr. Carter, Richard Lawson, a dear old acting buddy of mine, and his wife, Tina Knowles Lawson (Beyoncé's mother), we were all on vacation together in Jamaica, 
I don't think people realize, Beyoncé is just a sweetheart, a country girl from Houston. She grew up around horses and rodeos, and I love that about her. And one of my grandsons rode in her Lemonade video. He was riding one of our horses.  
50BOLD: You look so great, what is your exercise and diet regimen? 
Glynn: I haven't eaten a pork chop in 50 years. Nothing but fish and chicken has been my diet in terms of protein. I don't eat hoof meat, no pork, no beef, no steaks, no hamburgers. I eat mostly fish, fowl, turkey, chicken. 
And I stay active. I keep going and keep moving. I'm not an in-the-gym kind of guy. With my ranch, there's always physical work to be done, it never stops.  
50BOLD: Last question, when you get to the gates of heaven, what is God going to say to you? 
Glynn: I don't know what he's going to say to me, but I'm going to say to him…'So far, so good!' 
Order the Legend of Glynn Turman–Amazon