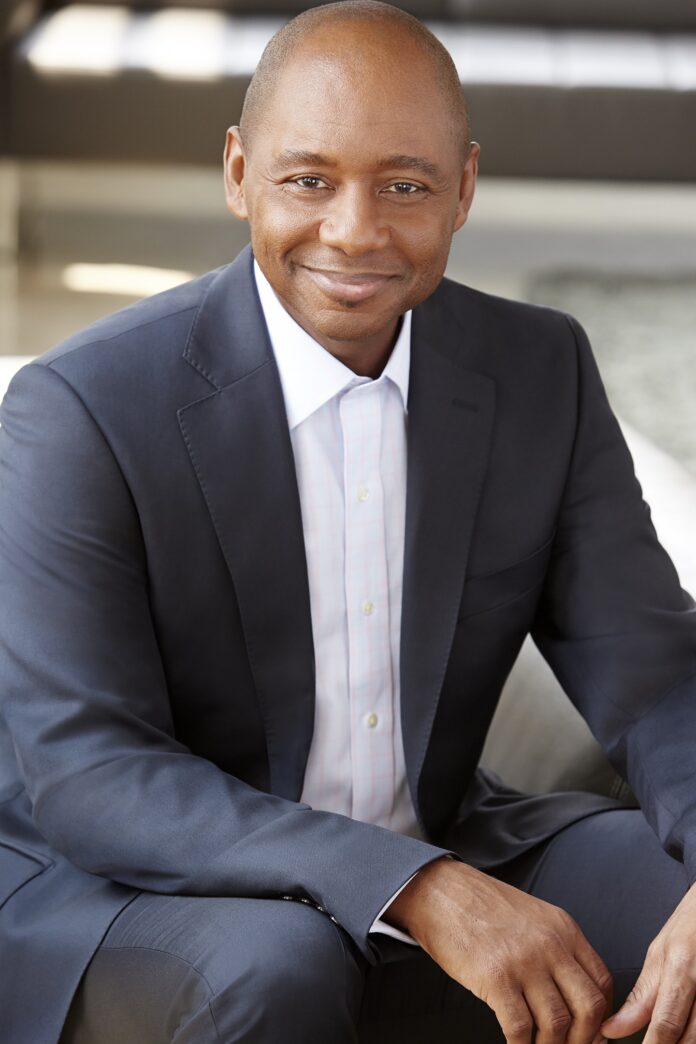 We love the Marsalis family, a jazz dynasty, much lauded and an inspiration to young musicians worldwide.
I met Branford Marsalis back in 1979. We were still teenagers, enrolled at the prestigious Berklee College of Music in Boston. He was a transfer student from Southern University in Baton Rouge, Louisiana, an HBCU. While still preparing to begin his second year at Southern – summer marching band rehearsals, etc. – Branford received his acceptance letter from Berklee, and his college career was short-lived. The professional world beckoned for Branford's prodigious talent – first as a baritone saxophonist with the Art Blakey Big Band, followed by a Clark Terry Big Bad Band tour. In 1982, he joined his younger brother Wynton in Art Blakey's Jazz Messengers as an alto saxophonist.
Branford was being courted by Warner Bros. Records, while Wynton had secured his own deal on Columbia Records. Branford joined Wynton's band, switching to tenor and soprano saxophone. Columbia saw they had something special in Branford, and they were not about to let Warner Bros. steal him away, and so began his solo recording career while still with The Wynton Marsalis Quintet.
Born in New Orleans, Branford was moved around a bit following his legendary musician father, Ellis Marsalis, Jr.s' employment opportunities. The family eventually settled in Kenner, Louisiana, where Branford was raised along with his five siblings.
With a very diverse career that has even included acting, Branford served as the musical director of The Tonight Show with Jay Leno, headed his own record label, recorded hip-hop/rock/funk/pop-inspired music, performed as a soloist with classical ensembles, led his Branford Marsalis Quartet, and all while staying true to his main thrust, jazz. He balances all that with a full family life; we caught up with him in his current home of Durham, North Carolina, outside a dentist's office, waiting for one of his children to finish their cleaning appointment.
In normal times (pre and post-pandemic lockdown), the Grammy Award-winning artist spends 7-8 months performing on the road. Marsalis (correctly pronounced mar-SELL-is) is also an adjunct professor of saxophone and philosophy of music at North Carolina Central University (another HBCU) in Durham. He dropped a few of his philosophical gems on us this particular day, and here they are…
50BOLD: Okay, I'd like to start by talking about this wonderful unique musical Marsalis family and your father, the late Ellis Marsalis, Jr., who I believe was grossly underrated as a pianist. I think it was hard for a lot of people to accept the fact he was as good as he was. It became much easier to assume he was riding the coattail of his more famous sons, Wynton and Branford. What is your assessment first of your dad's ability as a musician and then as a teacher, and then as a role model for you?
Branford: Dad was a great thinker, and that permeated his piano playing. He had a marvelous sound. I mean, it spoiled me. When we were in school, there were a lot of piano players, and I simply did not like the way they played, not because of what they were playing but how it was delivered to my ears.
50BOLD: I get that.
Branford: And it took me a while to figure it out. It was just like a subconscious thing. Like somebody asked me in '83 or '84, why do you like Kenny Kirkland more than you like these other people? I started talking about harmony and all that shit, but really the main reason is that Kenny produces a sound out of the piano that reminds me of the way my Dad played. And that was the first time I ever said it. You know how you say things, and you shock yourself?
50BOLD: Totally.
Branford: Holy shit, that is it! I don't like small piano sounds. I'm just not a fan, and there are some great players that have small sounds, and they just don't… Yeah, Dad could play his ass off, man. All the old guys knew. He grew up during a time when dinosaurs were still roaming the earth! He moved to New York in 1957 and had to deal with Wynton Kelly and, eventually, Herbie Hancock, Oscar Peterson, and Kenny Barron. I mean, I'm forgetting names, all these cats… He was like, 'I didn't know if I wanted to try and get with this shit.' And you know, my Mom was already, like you know… And I had that experience myself with my girlfriend. She said if you go to New York, go, but I ain't going! I'm staying here in New Orleans!
And Dad just, he went home…
Nat Adderley and Cannonball Adderley recorded an album called In the Bag (also released as The Adderley Brothers in New Orleans), and Dad played on that record. He was friends with those guys, you know all the older guys were like, 'Hey, how's your Dad doing? Tell him I said hey. I met him at such and such.' He also played with Al Hirt. Yeah, he was a great man.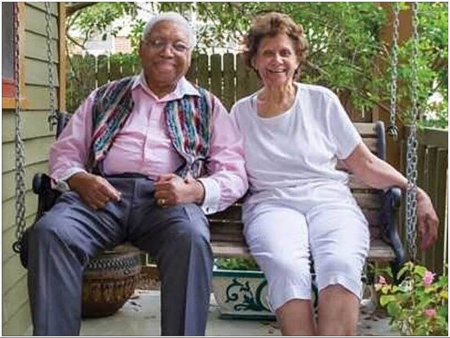 50BOLD: I liked that he kept his ear to modern innovation. It wasn't like he was an old-style player. And that is what kind of amazed me about him. Wow, he sounds really hip, you know.
Branford: Dad didn't know that shit (older styles), and subsequently, we didn't know either. We had to learn that on our own. Dad grew up wanting to be a Bebopper. He didn't want to fuck with none of that traditional stuff. New Orleans is a place with really great traditional sounds like Fats Domino; forget the early jazz. Even the stuff that was happening in the 50s and 60s, Dad was like, 'Nah, I want to play this shit here.' And he and Alvin Batiste, James Black, and about ten others in that city just did their thing. And the best part about it was that none of them begrudged the other musicians who went into more popular situations and did really well for themselves.
50BOLD: Yeah, that's a healthy way to look at it. That's a healthy attitude—no hate. I often tell people that Branford and Wynton are teachers as much as they are artists. There's a natural didacticism in the way you communicate, and I'm inclined to think this was influenced by your dad.
Branford: It was totally. I mean, it's subconscious, and it definitely came from Dad.
50BOLD: You know, I realized a few days ago that from the time you hit the national scene, you only played with Wynton for five years, and part of that was with Art Blakey. Five years is nothing. In the meantime, you produced 40 years of great and diverse work under your own name. You did jazz and classical. I have to mention Buckshot LeFonque, your funk/rap/everything band that toured nationally and released two acclaimed CDs where you culled together musicians, singers, rappers, poets, and even Maya Angelou. Those albums were inspired by hip-hop, funk, rock, Caribbean, pop music, you name it. Before that, you were on TV five nights a week as the musical director of The Tonight Show with Jay Leno. You were playing with Sting, sitting in with Dave Matthews, the Grateful Dead, recording with James Taylor. You performed on Shanice Wilson's hit recording, I Love Your Smile, where she actually mentioned your name on the record, 'blow Branford blow.'
You've acted in big movies, School Daze, Throw Mama from the Train, and were in The Sting Story documentary when you were in his band. But check this out, even with all that you've accomplished for many people, you're still just Wynton Marsalis' brother! Often referred to incorrectly as his younger brother, it's the Janet Jackson syndrome. No matter what you've achieved, and no matter what incredible things she's achieved, for many, she will always be Michael Jackson's little sister. Now, does this ever give you at least a twinge of frustration, or are you just one of these mature super-evolved people?
Branford: I don't think I'm evolved; I just never really give a fuck! [laughs] The way I perceived myself at Berklee, I mean… I was always in the lobby of the dorm talking shit. I practiced too. But it's like, I love playing music for the sake of it. Like if I really needed to get accolades, I would have stayed in the whole pop arena I was originally geared toward. But when I got to Berklee, I went there for pop production. It wasn't like I was going to play jazz.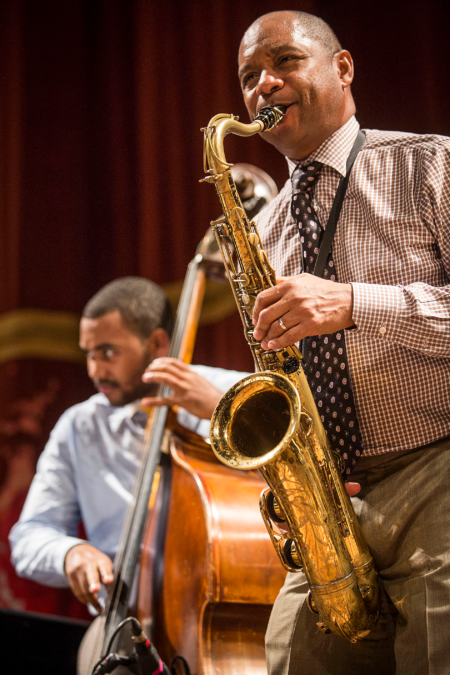 50BOLD: Oh really, I didn't know that.
Branford: Oh yeah, man! I wasn't! Like that concert for my freshman recital. It was kind of like a mirror how my whole career has gone. There were a couple of jazz tunes on there, some of this, some of that. I was always a big music fan. I've never looked for accolades because, I mean, jazz is an unpopular music. So, if you weren't playing well, the older guys would tell you why you weren't playing well so that you could improve. Dad would say, 'Well if people say that you were really great or you were really shitty, you'd much rather people say you were really great.' And he said, 'All of that is fine as long as you don't start believing it. Cause the moment you start believing it, you're duped!'
50BOLD: Totally. I get that.
Branford: I didn't play with Sting to get more fame. I thought he was one of the best songwriters that I've ever heard, and it would be a great musical experience for me. When we musicians talk amongst ourselves, we are always talking about selling records, and I'm like, if you're not doing this for the love of it, you're a fool!
50BOLD: You are the eldest Marsalis brother; chronologically, it's you, followed by Wynton, a legendary trumpeter, Grammy Award-winner, Pulitzer Prize winner, and the managing and artistic director of Jazz at Lincoln Center. He's the real deal! Then we have your brother Ellis III, a photographer and poet. Delfeayo is a trombonist who made a splash as producer of acoustic jazz recordings. Then you have Mboya, who was the primary inspiration for Delfeayo's founding of the New Orleans-based Uptown Music Theatre. Finally, Jason who is a professional drummer and vibraphonist. I am curious; do you have the classic big brother relationship with your siblings? I mean, you were away from the younger ones so much, and that's actually when it occurred to me that you only played for Wynton for five years professionally. Do they look to you for counsel or guidance? Are you that big brother?
Branford: We talk; they're grown-ass men!
50BOLD: But they weren't always…
Branford: When we were younger. I just wasn't interested in trying to counsel them because I was just a kid myself. We would just hang out once we got to New York, and then they were in college. I used to visit Delfeayo all the time when he was at Berklee. So, we'd have all these lively debates about music and all that shit, but it wasn't like you should do this. And it wasn't like he came to me with 'What should I do?'
50BOLD: I see. So, you didn't have that kind of relationship. But you had a relationship, a good relationship, probably healthier.
Branford: I think it was, yeah.
50BOLD: I mentioned how you had a lot of irons in the fire, but at a certain point, it seems you made a conscious decision to step away from most of it and just play jazz and classical. What happened?
Branford: I always knew it would go away. And when it goes away, how badly do you want to keep it? What are you willing to do? How do you stay pop culture relevant when you're forty years old? When it went away, it went away.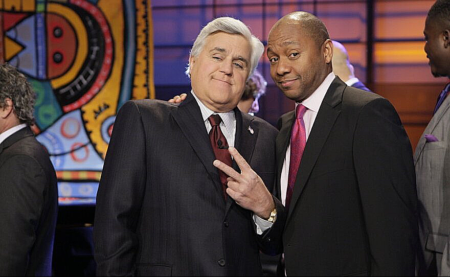 50BOLD: It seems like you kind of hastened the process, or you don't look at it that way.
Branford: No, no!
50BOLD: On the outside looking in, it's like, well, you could have still been out there doing things like movies and such. I mean, I don't know what was available to you.
Branford: All those things happened because people asked me to do them. I didn't pursue them.
50BOLD: Okay, well, that being said, do you think you'll ever go back to the entertainment-oriented kind of stuff? It depends, right?
Branford: Yeah, if someone asked me to do it, sure. I'd check it out and see if it makes any sense for me to deal with it.
50BOLD: I see parallels between you and Jon Batiste, the former musical director of The Late Show with Stephen Colbert. You're from Kenner, Louisiana, and he's from Metairie, Louisiana; New Orleans is home, basically. You both have a jazz foundation musically but play other styles. You both have a strong presence in visual media. You both were MDs for huge late-night shows, and both walked away while the shows were hugely successful. We tend to think that all New Orleans musicians know each other. Do you know Jon, and did you advise him at all?
Branford: I do know, Jon. He did a lot of things for jazz at Lincoln Center. And then, when he got the Colbert gig, he really went out of his way to help jazz have a national presence from time to time at Lincoln Center. We had little conversations, but no, I didn't really offer him any advice. He knew what he was doing; I mean, as you can see, he knew what he was doing.
50BOLD: Jon seems to really love the entertainment aspect of show business. I am having trouble placing how you really feel about that whole thing.
Branford: Jon was never going to bust down any doors in the jazz department. He knows jazz, he learned jazz, but he wasn't, you know, it's not like he could have been a Herbie Hancock. To me, good musicians use all of the music that is available and incorporate that thing, and that's kind of what he was doing. Jon just used all of the music that was available. I can't sing. He's not like a super great singer. But he can carry a damn tune. I can't carry a tune. I can't dance.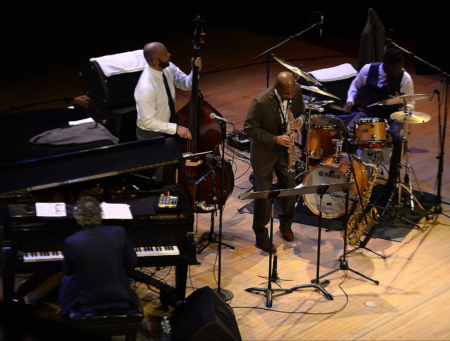 50BOLD: You have your own style of dancing. (laughs]
Branford: No, that's just not dancing. I just can't dance!
50BOLD: You do better than a lot of people, trust me, readers!
Branford: Like Jon has all these attributes, strengths that make a lot more sense than if I were trying to do that. Plus, I love playing jazz. I love being challenged by the music. I learned a lot playing with Sting. Playing with Sting wasn't a waste of my time. He's still my boy; I mean, I think he's great! I learned a lot from that experience. I learned a lot from playing with all of these people. I learned a lot!
50BOLD: But this brings up something for me. You talk about how the offers are not going to be there. You get older, you age out. But you left the Tonight Show. You left when it was hot! What prompted your exit?
Branford: I realized the show in Hollywood is very different from the show in New York too. In New York, it's a very different type of show and The Tonight Show was the preferred show at that time. In order to make the show successful, you had to be a certain kind of way, as with any TV show. And I just wanted to be me more than I wanted to be the caricature. I came to realize that you've got to play music, to play music. You can't just play music in your spare time. And with all of the responsibilities I had, I even used to respond personally to what little fan letters I received. And I wouldn't stamp them with a rubber stamp. And between that and…
50BOLD: It all sounds very time-consuming. Your time was not your own. What was a typical day like for you?
Branford: It was a discipline thing. I would get to the show at 8:00 am, and for two hours, I would deal with fan letters. From 10:00 am to noon, I would receive scripts from the comedy people saying what kind of music they needed for the skits. I either had to arrange the band or use MIDI sequences (MIDI is basically the language that allows computers, musical instruments, and other hardware to communicate.) to create the sound because the band couldn't create the sound. And then, we would have rehearsal at 1:00 pm. It was just an all-day kind of thing.
50BOLD: I remember having a phone conversation with you sometime in the early 90s. You were still on Columbia Records, and I remember vividly saying to you, you should start your own label while you're hot. And you said something about how it entailed too many things, and you didn't want to bother with it. And I dug that. Fast forward 10 years from there, as we came into the era of the independent label, corporate record companies were struggling; you started Marsalis Music, your own record label. Tell us about that experience. Was your earlier trepidation justified?
Branford: I didn't have any trepidations about it when we talked about it. It was just certain facts. So, we said, alright, we have all this money that's left from The Tonight Show. So, some of the money is going toward the label. And when the funds run out, the shit is over. There was never any question in my mind it was going to run out.
50BOLD: So the label is over? There's no more Marsalis Music?
Branford: It's like a vanity label; I put my records out. It's kind of like that. We had a couple of artists. We gave it a good run. Nobody bought the records; that was it.
50BOLD: So, where do you file that in your memories? Was it a good experience?
Branford: Yes, it was a good experience. But I think that I didn't go into it with any illusions. You know, some guys get a record label, and it's like Puff Daddy, here I come!
50BOLD: Give me an example of three of your favorite tenor or soprano saxophonists and why they're among your favorites.
Branford: Three is not enough.
50BOLD: I know, that's why I'm just trying to limit you to that.
Branford: Coleman Hawkins, Sidney Bechet, Sonny Rollins, which is kind of like… Coleman Hawkins and Sonny Rollins are like the same thing, but you know, three is horrible. I need twenty.
50BOLD: So, let's just deal with Sonny Rollins. Why Sonny?
Branford: Sonny Rollins resisted the modern temptation of repeatedly playing certain licks you become identified with. When Sonny is playing, you don't know what's coming. He doesn't know what's coming. It's just that anything can come out. Anything! And that was really inspirational to me.
50BOLD: You shared the stage with Sonny.
Branford: Yeah, I sacrificed myself on the altar of Sonny Rollins. But I learned a lot from that sacrifice. He would play with his eyes open, and he was always looking around, looking for inspiration. And he would see people in the audience, and it would trigger something, and he would play a quote from a song. Most of the songs—I didn't even know the songs. I asked him how many songs he knew, and he said, 'Oh, about ten thousand!'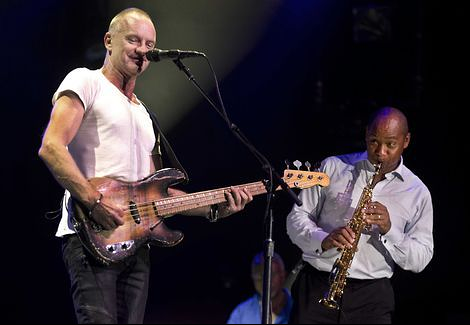 50BOLD: Alright, let's worship at the altar of Sidney Bechet.
Branford: Yes, sir. It's hard to play, man. It's hard to play like those guys because the music didn't come completely vertical by that point. It was real horizontal to me, so like… notes in funny places, slurs, and all those things, by 1950, it was all up and down.
50BOLD: I'm going to do a lightning round; I'm going to throw out some names and tell me what comes to mind and what you'd like to share about these people. The first name is John Williams.
Branford: Great. Majestic. As you study great composers, much like jazz, the discussion is always about harmony and harmonic choices. However, the great French composer Darius Milhaud said, in The Book of Modern Composers, "the hardest thing for any composer to do is to write a melody that's so infectious that the "every man" wants to put it in his pocket and take it home with him. And John can certainly orchestrate, but the thing is that his melodies are so memorable and so strong. And that's why you have orchestras all over the world, playing on movie screens, playing John Williams' music – because his melodies are so infectious. The power of a melody; you can't learn it from a book.
50BOLD: Name #2, Spike Lee.
Branford: Spike, well, we were all neighbors. He is a dear friend. He believed in something; it's really incredible when you think about it. Spike believed in making movies about Black stories, and he did it. So many guys and gals did Spike's movies first and then went on to other things.
50BOLD: Name #3, Jay Leno, and what did you learn from him?

Branford: Jay was great. He gave me an opportunity that I would not have gotten if it weren't for him. And I learned a lot about show biz from Jay. He taught me how you have to create a character and make him believable.
50BOLD: Are you talking about a skit or your own persona?
Branford: No. I'm talking about an on-camera persona. Day in and day out. I'm not talking about what you do when the show is over; that's your business.
50BOLD: The penultimate name is Dr. George Butler.
Branford: Man, George was something else, wasn't he? You know.
50BOLD: I liked George a lot.
Branford: I loved him. I understood the situation he was in. We were not yet in this place where Black people could be on major labels and be appreciated.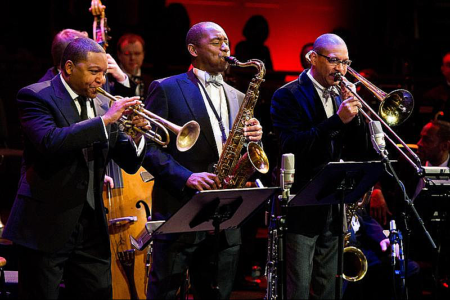 50BOLD: Let me just cut in and let our readers know that Dr. George Butler was an A&R executive at Columbia Records. He signed Wynton, you, and I was actually on the label myself for a bit. And he brought Miles Davis out of retirement.
Branford: Those guys were in a situation where they didn't call it diversity back then. You know, they'd roll them out every February around the country saying that they work for Columbia. But he wasn't given the autonomy he deserved. He just made the most of a situation, got us in the door, and fought for us to make the records we wanted. I never had a conversation with him where there was any kind of pressure to do something I didn't want to do.
50BOLD: Same here.
Branford: And I appreciated that. Plus, he was a great dresser. Did he ever tell you the Miles Davis story?
50BOLD: Oh yes, yes. Many Miles Davis stories. Quite scandalous.
Branford: Every new year, they would send in a new guy to talk to Miles while he was retired, and Miles would put on boxing gloves and punch them in the face. While Miles was getting ready to "touch him up," George would say, "Miles, I just have to inform you that I'm a seventh-degree black belt in Karate." Miles took off the gloves and said, "Aw, George, I was just playing."
50BOLD: No, I never heard that one. I heard some worse Miles stories that I can't repeat. (laughs) So, the last name is someone who knew you, before YOU knew you, and that is your beloved departed mother, Dolores Marsalis.
Branford: Yeah, the ass whipper. (laughs) You know, the funny thing is when I do interviews, especially when I was younger, people would say, 'Your daddy must have been a trip!' I'd say, 'Man, my Momma was a trip!'
I guess my favorite Dolores story… I've got a bunch of them. So, when we were doing the Buckshot Tour, every time we would take a break and start a new leg, we would sound like shit. We started a new leg in New Jersey, and we sounded like shit. So, I'm out talking to people, the band is in the green room, and Mom walks in. The guys in the band greeted her and asked how she liked the concert. Mom said it was very interesting and how we all sounded terrible. 'Do y'all always sound this way,' she said.  And the band members responded how there was this thing where on the first leg after a tour break, they just didn't sound good. Mom said, 'Well, did y'all rehearse before you got here?' And they said, 'Well, no, ma'am.'
Mom went on to ask if the band members got paid, and they said they did. Mom said, 'So, you all got paid to rehearse and sound like shit? Y'all ought to be ashamed of yourselves!' I came in, and they were like, 'Yo man, your mom just ripped us!' I said, 'Okay, well, welcome!' They said, 'You mean she's always like this?' I said, 'This is all I've ever known!' If the music was good, she'd respond with, 'That was really good!' If it was sad, she'd say, 'You ought to be ashamed of yourself for sending that shit to people!' So yeah, my Mom was something man; she was a force of nature!
50BOLD: Yeah, I met your Mom once. I went to New Orleans to rehearse with Nicholas Payton, and we rehearsed at the House. And she was so sweet. Mrs. Marsalis was just a really nice lady.
Branford: Mom was until she wasn't. She could do both really well.
50BOLD: Yeah, we made it to the last third of life. Do you ever regret being so critical of certain musicians?
Branford: No, I don't regret it because I was never using it as leverage to glorify myself. I was never saying this guy doesn't sound good; however, I sound fucking great. I think it was just that I already knew that I was speaking to a secular audience. I knew a long time ago we were speaking to each other because I have a lot of friends outside of music, you know. They ain't gonna read Downbeat, they ain't gonna read Jazz Times, and if they did, they wouldn't even know the people we're talking about. So, once I understood that, it was like….
There were some guys who were playing because they didn't want a 9-5 job. And there were guys who wanted to be the best saxophone player in the world and really didn't want to listen to jazz. There were all these competing interests, so whatever criticism I had, it was directed mostly to younger readers. It wasn't really about bringing musicians down because I don't have that kind of power.
50BOLD: Well, I did try to be like you, and I got in trouble. (laughs)
Branford: You didn't really get in trouble. You pissed people off, but you didn't get into trouble.
50BOLD: If you could magically change your life today, what would be the perfect life for you?
Branford: I wouldn't change anything about my life! You change one thing, and everything around it changes. I think they call that the butterfly effect. This is the life we have, we make the most of it. There were a couple of times that I zigged where I should have zagged, but shit, that's all a part of the process that allows me to be here where I am today. So yeah, I don't have those kinds of wish-I-could-have moments.
Monte Croft is a New York-based singer and composer who is widely known in music circles as a multi-instrumentalist. Seen most frequently either on keyboards, or vibraphone, he also plays guitar, bass, drums, and chromatic harmonica. Monte's website is montecroft.com.