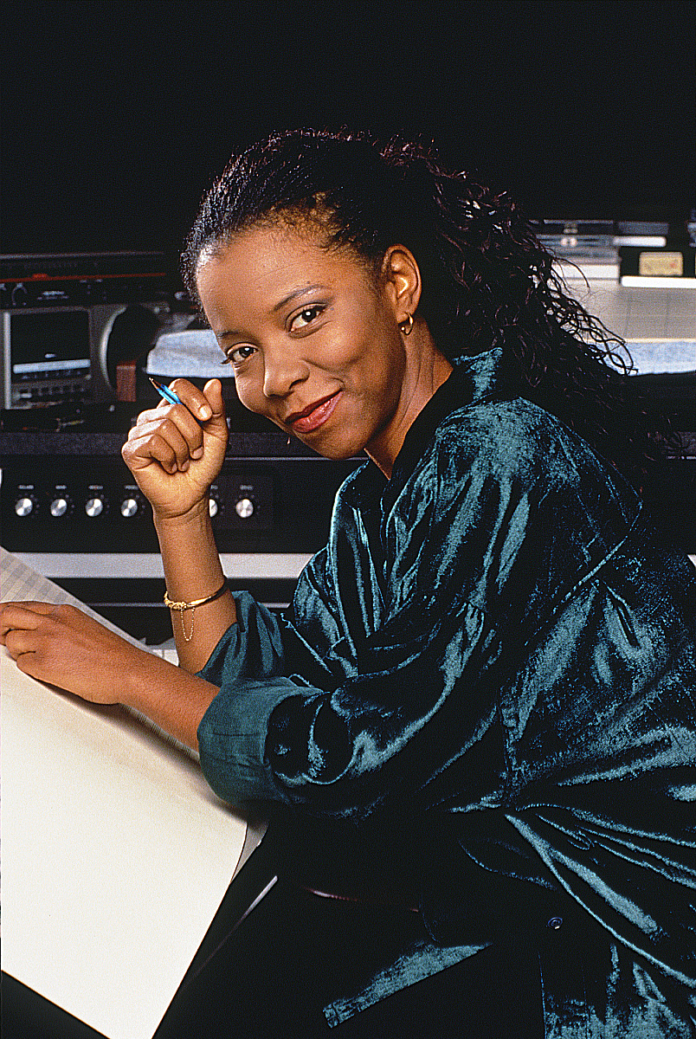 Patrice Rushen is a phenomenon. An energetic polymath; a hero to musicians; a maker of beloved hits; a source for much hip-hop sampling; a television musical director; a university professor, and so much more.
A child of South Central Los Angeles, the scary echoes of the sounds of the 1965 Watts riots are her only lasting memory of those tumultuous events – the sound. Patrice was already solidly involved in what would become a life-long relationship with music. 
One could arguably say Patrice started at age three as part of a University of Southern California, USC, graduate course for music-education majors called Eurhythmics. Eurhythmics was a system of rhythmic physical movements used to teach musical understanding, created by Émile Jaques-Dalcroze. In this case, it was used to observe and teach very young children. Patrice was part of a study. After two years in the program, it was time to be introduced to an instrument. Five-year-old Patrice was introduced to the piano, and thus the legend began its journey.
Ever humble and down-to-earth, Patrice hesitates at the idea that she was a prodigy when clearly she was. The artist's high school days included dancing on Soul Train, piano lessons, mentoring by the late music business legend Reggie Andrews (co-writer/producer of the Grammy-winning Let It Whip for the Dazz Band), and a prom performance by a soon-to-be superstar band named for the elements.
Patrice's small group won a music competition at the Monterey Jazz Festival in 1972. The prize was an actual appearance at the festival, which led to a buzz about this phenomenal new pianist and, ultimately, a record deal – a deal Patrice was extremely reluctant to accept – she felt she wasn't ready. After prodding from her parents and teachers, pragmatism won out – she could use the money, and what did she have to lose? Patrice's first three albums for the legendary Prestige Records label were brilliant and belied her young age of 19 when recording began. Jazz legend Joe Henderson, George Duke, collaborators Leon Ndugu Chancellor, and Josie James were just a few names from an intimidating list of players on the pianist's Prestige Records output.  
After four years at Prestige, she made the move to the Elektra Records label and became a hit-maker and a star. Now, Soul Train was dancing to her music. Such memorable records as Hang It Up, Music of the Earth, Remind Me, Haven't You Heard, Settle For My Love, Feels So Real, and the ubiquitous Forget Me Nots, (which had a second life as the sampled foundation for the film Men In Black's theme song), have endeared Patrice Rushen in our hearts forever.
Not one to rest on her laurels, she embarked on a new career as a television musical director. She was at the musical helm for the 46th, 47th, and 48th Grammy Awards. She was the first woman to be the musical director for the Emmys, and the NAACP Image Awards – a position she held for nearly 13 consecutive years.
One of the very few musical confidants of one Prince Rogers Nelson, she offered him sage advice through the years when needed. This included circumventing one potentially calamitous situation at the 46th Grammy Awards in 2004 (Patrice's first as musical director), when Prince and Beyoncé opened the show and rocked the house.
Rushen was awarded an honorary doctorate from the Berklee College of Music in 2005 and is now a professor at the place where it all began – USC – in addition, Dr. Rushen also teaches at Berklee.
The most exciting news for Patrice Rushen fans is that she has that itch to tour again under her name and to bring the music of the earth back to the people who love her music. We anxiously await! We caught up with Patrice on a call from her native Los Angeles, and it went a little something like this…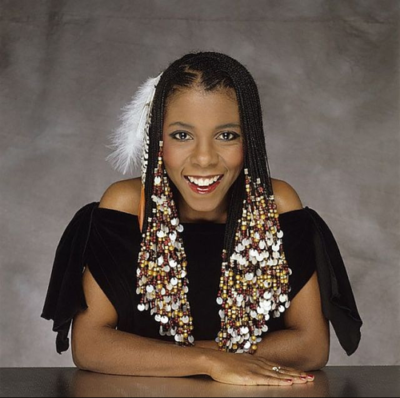 50BOLD: Word is that before you became famous you were a Soul Train dancer.
Patrice: Well, I was on Soul Train and I danced. When they moved the show from Chicago to L.A., Don Cornelius went to some parks, schools, and social centers, saw kids there, told them about the show, and asked if they wanted to come on down. I ended up dancing on the show, you know, just as an audience member enjoying the whole idea of our music and response to it being on television. It was a great thing!
50BOLD: Right on, right on! Can you still get down?
Patrice: Oh yeah (laughs)!
50BOLD: That's good to hear! Don Cornelius was a visionary, a trailblazer. But from the outside looking in, he seemed like a tough customer, the kind of person you wouldn't want to get on his bad side. What was your experience with Don and what was it like being on 'the hippest trip in America?'
Patrice: Well, they made it a lot of fun for us. We were able to be ourselves. Being able to see people who looked like us on a television show, exposed us to the different facets of artistry and excellence that were represented in every aspect of that presentation. I don't know if there's a way for people to be successful and innovative without also having to develop resiliency when they're told 'No.' And I would imagine that in Don's career, that happened a lot. In terms of just the idea of that show becoming what it became…it was a vision and voice for a segment of American life that people didn't really know or were exposed to. There was a message in the show, but I was too young at the time to understand the full gravity and weight of it.
50BOLD: How old were you?
Patrice: I was sixteen or seventeen when I danced on the show. But as time marched on, I definitely understood the show's message.
50BOLD: So, I think for a lot of our readers, the assumption would be that you were only on one or two Soul Train episodes. Not true. You appeared on a lot of Soul Train episodes, right?
Patrice: Yeah, I was on quite a few episodes of Soul Train; they used to film two or three a day. Over a weekend, they'd film maybe six to eight episodes. If I didn't do both days, I would do one or two episodes. Down the line, I appeared as a guest on the show.
50BOLD: Of course, of course. But as a dancer, you received a lot of screen time, which was interesting to me. Did you get to do the scramble board?
Patrice: Yeah, I did the scramble board, and early on, they used to have the dancers ask questions. I remember being able to ask Bill Withers a question. We saw so many performers, Sly Stone, the Jacksons, Barry White…just to be in the same room with all these wonderful artists was very exciting.
50BOLD: I remember the question-and-answer segments were always kind of awkward because you guys were kids. You weren't interviewers but I saw you ask Al Green a question.
Patrice: I don't know, don't remember. Someone recently sent me a clip where I asked Bill Withers a question. The irony here is that I nearly asked Bill the very same question years later when I interviewed him as part of a class I teach in college.
50BOLD: What was the question?
Patrice: It had to do with where the inspiration for his songs came from and whether they were all based on real-life or other experiences.
50BOLD: Okay, so the last Soul Train question. Were you friends with any of the dancers that became famous from the show like Damita Jo Freeman, Pat Davis, Tyrone Proctor, Fred Barry (Rerun)?
Patrice: Yes, Damita Jo and I were friendly. Later, when I was the musical director for the NAACP Image Awards for nearly thirteen years, I would cross paths with a few of the Soul Train dancers on the award show, they'd be presenters or make appearances.
50BOLD: That was such an exciting time. Saturdays were never the same after Soul Train.
Patrice: That's right, that's right!
50BOLD: So, what part of the world are you calling us from today?
Patrice: I'm calling you from Los Angeles.
50BOLD: That's home, right? You were born there.
Patrice: I was born in L.A.
50BOLD: What part of the city?
Patrice: South Central L.A.
50BOLD: Watts no doubt.
Patrice:  Yes, the people's republic of Watts.
50BOLD: So, I know you were ten years old, about a month away from turning eleven, but do you have any recollection of the Watts Riots?
Patrice: No real recollection of the Watts Riots, other than it was pretty scary, I heard the sounds of chaos which is what I remember most about the riots. It was scary knowing that some of the images I would see playing on the news were actually happening right up the street from me.
50BOLD: You could actually hear the riots! Wow! So, paint a picture for us, what was it like growing up in your household? Do you come from a big family? Were there a lot of instruments? Was everyone singing and playing? Was there like a Joe Jackson figurehead in your house? What's your story?
Patrice: No, not at all. My parents were big-time music lovers. They supported the music by buying lots of records, listening to the radio, or the TV was always on. So, there was always music emanating from different radio stations and television shows in my home. My parents were just very supportive of me and my younger sister; it was just the two of us. They wanted us to be happy. They wanted us to relish in the idea of being able to do anything we wanted if we were really good at it. They really, really, really fostered the idea of finding what your happiness is, finding your passion, and then your purpose will follow.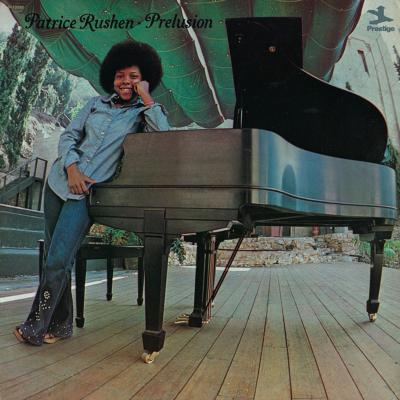 50BOLD: Nice! So, I'm guessing your sister has some co-writing credits on a few of your songs.
Patrice: Yes.
50BOLD: And how close are you in age?
Patrice: My sister and I are six years apart. We were far apart enough where I could be the older sister, help when she was little, and where her zeal could shake me out of my funk if I was in one.
50BOLD: Did she play any instruments?
Patrice: Yes, my sister can play the piano a little and sing, but her artistry and gifts are in writing. So, she became a journalism and communications major in school and has a very inspiring podcast called SoCal Voices.
50BOLD: Okay, we've got to check out the podcast.
Patrice: Yeah, look for Angela Ross.
50BOLD: Angela Ross, OK! So, your parents didn't play any instruments. How old were you when you began playing an instrument?
Patrice: I began playing an instrument when I was five. I was in nursery school, and both my parents worked. There was a teacher at the school who would have us do musical activities like moving to music and singing. The teacher noticed how I would really perk up during the activities. She told my folks about a program for little kids and they, in turn, were very proactive in terms of opening up possibilities for kids. So, my parents took me to a program that was housed at that time at the University of Southern California, USC.
50BOLD: Where you wound up teaching many years later?
Patrice: Where I'm teaching now. It was a graduate course at that time for music education majors who were observing kids. It was an early childhood development kind of class.
50BOLD: So, were you part of a study?
Patrice: Yes, the study was called eurhythmics. And you know, we move our bodies to music. We talked about music in little kid terms—walking notes, running notes, skipping notes, and some kids saw color. The study was done to determine how little people seem to enter the planet with an aptitude, and if they were all hearing the same things. I was in the program from ages 3 to 5. And then the researchers introduced me to an instrument, the piano; I saw it, said 'OK' and I continued to study music from that point onward.
50BOLD: So, your parents bought you a piano?
Patrice: Yeah. They couldn't afford to buy a piano, so they rented one.
50BOLD: What style of piano was it?
Patrice: It was just an upright.
50BOLD: Uprights are good. I met you in 2007. I was playing at an event for the Jazz Foundation of America. I learned something about you that evening and that was ….. Well, let me say, I was really observing you because I had never been around you. I was really checking you out. So, on the sound check, you walked over to the piano. You were in the process of sitting down and you played the scale. You played from the low register of the piano all the way to the highest note. I was just so taken aback by how even and fluid the scale was, that each note had the same weight. Musicians know how hard that is to do on any instrument, let alone the piano.
So, what I learned about you that night is that you have a very formidable technical relationship with the piano beyond all the soul and creativity. You had a fantastic technique. Who taught you and how did the technique develop?
Patrice: Well, I had three piano teachers in my life and I had the longest relationship with the second one. She helped me develop the most understanding of why technique was a value. When you're a little kid and learning to play the piano, you want to just press the keys down and keep it moving. But the idea I learned was that the music represented more than the notes you play; It's a way in which you can communicate. And I used to go to my lessons like all kids, unprepared. I would be trying to figure out stuff from the radio instead of working on what I was supposed to prepare for my lesson. But the teacher would always relate whatever I did do during the week to what was in the lesson. She was able to draw parallels between music, the instrument you're playing, and what you were trying to convey.
The teacher's name was Dorothy Bishop, and I was with her from ages 9 to 17. She was the head of a preparatory department for kids that was an offshoot of the program I had already completed at USC. Dorothy taught me no message is missed when you're articulate. So, if I really wanted to play, I had better convince her. And I better hear the music clearly, accurately, and with all the nuances I can muster; she showed me how to do this. And this was the one thing she imparted. Since I had small hands, I had to develop in a slightly different way from others who had large hands or more hand strength; we worked on this a lot too.
50BOLD: Did you do hand exercises?
Patrice: Yeah, I did a bunch of different hand exercises.
50BOLD: You alluded to your small hands, baby fingers. Did you come up with that or did somebody tag you with it?
Patrice: It was kind of a tag. I was looking for a corporation name for my music publishing company. My lawyer said, 'Well, let's see, how about Baby Fingers?' The name stuck!
50BOLD: That's kind of funny. You didn't resist the name suggestion?
Patrice: Not at all, it was automatic. The logo was easy. It was just a matter of putting your handprint down and there it was.
50BOLD: It sounds like you were pretty much a prodigy; would you agree?
Patrice: I mean, I guess so (laughs). Hard for me to admit it but…OK.
50BOLD: Yeah, everything is really pointing to prodigy. Do you have perfect pitch?
Patrice: No. I have like an acute relative pitch. I may go days with perfect pitch but then, I won't have it. I guess you would call it an acute relative pitch. I find what I need.
50BOLD: This is what it comes down to, you find what you need. You seem very smart, were you good academically? Did you get good grades?
Patrice: I did get good grades, but I think it was a process. It wasn't conveyed as good grades as much as it was about knowledge is awesome and powerful. And I'm from a generation where, you know, my parents migrated to Los Angeles from the South. One parent was from Mississippi, and the other from Louisiana.
50BOLD: Ok, so you were tagged early on as being a multi-instrumentalist. We've seen the album credits of you playing drums, bass and guitar, but I've never actually seen you play anything but piano and keyboards. So, let's remove the piano and keyboard from the table. What instruments do you play? What instruments are you most comfortable with playing?
Patrice: Well, I'm most comfortable playing the piano.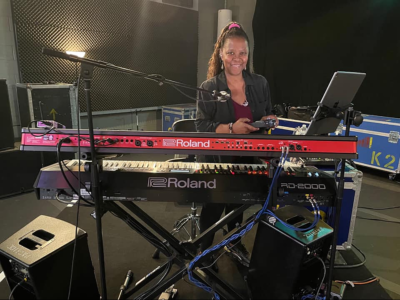 50BOLD: But we're taking the piano out of the equation.
Patrice: OK, taking the piano out of the equation…. I play a little drum and a little bass. I played flute all through junior high school and high school. All the hip kids in school had a case, so, I played the flute to get a case. I play bass a little. I play guitar a little bit. I wanted to learn all the instruments because I wanted to write. I wanted to know something about all the instruments so, I experimented with them. I can't call myself a player, but I know how all of them work. I became more proficient with certain instruments than others.
You said you've never seen me play anything but piano and keyboard, but there's a video I did for a song called Get Off. Well, it's a video so, you can see me playing. I think you could tell by the way I address the instruments that I know a little bit about them. But these days I just use those instruments more as writing tools, to experiment with, and for other people to come over and play them.
50BOLD: I get it. I became aware of you from your hits. The Prestige Records album, Prelusion, that's a word I've never heard and thought you had made it up. But I looked it up and saw that it's a legit word. Can you tell our readers what Prelusion means?
Patrice: I don't even remember! Introduction was what I was going for but then I looked at a thesaurus because the word, introduction, just seemed too pedestrian for me. I liked the sound of the word prelusion, I really did. I'm very attracted to the sound of stuff.
50BOLD: A common misconception is that all your Prestige Records were jazz recordings. But Prelusion was jazz. You had Joe Henderson, Oscar Brashear, and George Bohanon on the album and other guys who were not old at the time, but were older than you. Was there an intimidation factor on that first album?
Patrice: Joe Henderson was there because it was a practice back then to have someone on the label who was more established to help give the new artist more interest and credibility. Joe also happened to be one of my favorite saxophone players of all time. The label thought he would be a good fit for the record.
The other people on the album like George Bohanon and Oscar Brashear used to teach. They did a lot of studio work in Los Angeles and used to come over periodically to work with some of the kids at the high school. They would get the kids to read and develop some of their skills as working musicians so they would at least be aware of other career options they'd have as working musicians.
50BOLD: I was listening to a few cuts, and it sounded as if there was no intimidation factor. You were just in there doing what you needed to do.
Patrice: Oh no, I would always feel intimidated. I mean, the bass player on that particular album was also a friend I played with a lot in town, Tony Dumas. So no, remember I didn't run toward a record deal; I was initially very, very resistant to the whole idea. The deal came as a byproduct after a successful appearance at the Monterey Jazz Festival in 1972. Our high school jazz workshop entered a lot of contests. There was a high school competition we entered that year, and the big bands didn't win. I entered the competition's combo division with a small group, and we won. And the prize was to appear at the festival. The appearance at the festival started the dialogue about the possibility of a recording, and I didn't feel I was ready for any of it. But I did need money to go to school. I talked to my folks and my teacher then, and they said to go for it.
50BOLD: That is really interesting. Most musicians can't wait to get a record deal, especially during that time when the record thing was really happening. Now, I want to talk a bit about Reggie Andrews whom we lost. Reggie was a songwriter, producer, educator, a mentor of yours, who opened some windows and doors for you. If you could just talk a little about Reggie.
Patrice: I was a high school student during Reggie's first few years as a teacher. Looking back, he wasn't that much older than us. He was the hip teacher with all the swagger and sway of being a late twenty-something. But he also possessed the education and understanding of how important it was to offer and expose us to what we were supposed to be about at the time.
He took action through music by suggesting how the music we learned and played offered us history and language lessons. The music also offered us skills in terms of social understanding, social graces, cultural lessons, and the ability to be clear when communicating. The music also taught us how to keep our word, be part of a team, and personal development; we learned all of these imparted lessons as we played our instruments as part of a band. We also learned about jazz music created by people who looked like us. So, I was exposed to many musicians before jazz was institutionalized. Reggie would pick up the artists playing in town–Freddie Hubbard, Lenny White, James Mtume, Herbie Hancock, Benny Maupin….
50BOLD: Would he bring these artists back to your school?
Patrice: He would bring the artists to the school to talk to us. We would be playing charts by Quincy Jones or Frank Foster that would be over our heads. Reggie would acquire and expose us to excellence. Some of our field trips involved going to small jazz clubs and sitting in the back. He helped us, and for many, it saved our lives. We learned what was possible for a musical journey, especially if we are well prepared. So, songwriting, arranging, and all of the things that I'm able to do now stem from his explanation of what it really means to be fearless.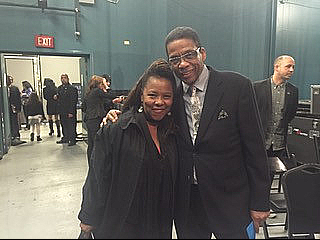 50BOLD: You've got to tell us about Maurice White and Earth, Wind & Fire.
Patrice: Ok (laughs). So, there was this band called Earth, Wind & Fire, they were coming up at the time in Los Angeles and needed a place to rehearse. Reggie was friendly with Maurice and he said, 'Well, man, come on over after school hours to rehearse in the school's multi-purpose room. I've got the keys. I'll get the kids to help you unload.' So, that's what we did.
We watched Earth, Wind & Fire rehearse. And then Reggie told us, 'Now you guys need to sit here and just watch. Be quiet and watch.' So, we watched the band rehearse and got to meet all of them. They'd come over to the school several times, that is how long I have known them. They couldn't pay for a rehearsal facility you know so, they asked Reggie what could they do instead. And he said, 'Well, there's a high school prom coming up!' They said, 'We'll do it, we'll play it, we'll play at their prom!'  So, Earth, Wind & Fire played at my school prom.
50BOLD: That is an amazing story! All of your high school comrades can say that Earth, Wind & Fire played at their prom.
Patrice: Some of the Earth, Wind & Fire members ended up playing on some of my albums. Larry Dunn and I developed a good collaborative relationship regarding keyboard playing. Philip Bailey remains a friend today. I remember when Ralph Johnson was in the band, he would just want to play and show up during rehearsal.
50BOLD: I thought we could do a lightning round because they are always fun. I've compiled a few names and would like you to respond with whatever comes to mind. OK, let's begin with George Duke.
Patrice: George Duke, as far as my piano and musical heroes, was the one I became closest to; we had a lot of mutual friends. A few of my friends played with him. And so, I was around him a lot, and we became friends. He was one of those people who would be producing and call me to play because he didn't want to play and produce at the same time.
50BOLD: That's so interesting!
Patrice: Lee Ritenour and I did a song called Captain Fingers on one of his albums, and George was to play on it. And he did, but when it got to the parts where the playing became intricate, George allegedly said, 'Man, my fingers are too fat to get in between all these keys to do this; you better be trying to call Patrice!' And so, Lee did call me, and I ended up playing the part on the recording. I admired George's musicianship and his funk (laughs). He was so funky! 
50BOLD: Yes ma'am! I don't know if you have any personal connection to this person but she just came to mind, Valerie Simpson. She is quite the piano player, a totally different bag from Patrice Rushen, but she is something. I worked in her club regularly for three years here in New York City, so I got it up close and personal.
Patrice: Yeah! I know Valerie Simpson. We met when I was touring back in the 80s; I opened for Ashford & Simpson. And so, watching their show and observing them watching my show was inspiring. Of course, I was a fan of her and Nick's writing. They are just amazing, masterful and wonderful people to work with. Valerie was sort of like that role model for me, she represented the fact of how it can all get done; you can play, sing and write. She has always been exceptionally gracious and nice to me.
50BOLD: Beautiful! Claude Debussy.
Patrice: (laughs) You're really pulling stuff out of a hat. One of my favorite composers. I think the attraction to that particular period of music for me was the harmony, mood, and flow that his music seemed to evoke. Some of it I found so intriguing that I wanted to know more about how to do it. And so, a lot of his piano music has allowed me to try out ideas.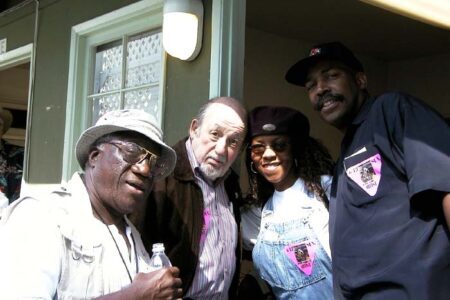 50BOLD: Stevie Wonder. I call Stevie, God's musician. And ya'll had similar hair at one point. You both had the beads working (laughs).
Patrice: Yeah, we had the beads working, that's right (laughs). I am an admirer of his vocal prowess, of course, and his musicianship, and then later as he was writing more and now you look at that body of work and you go…'Oh, man!' A profound poet and a fantastic musician. I used many of his songs and lesser-known works in my teachings. I want students to realize the idea of form, the concepts of rhythm, and the thought process that drives whatever he would present as an example of work that stands the test of time.
We had an opportunity to work together a couple of times. One of my biggest highlights and most incredible memory of Stevie was at BET's Walk of Fame awards show. When I was the musical director of that show, the last tune we played was Stevie's recording of As. Now, as we're playing, As Stevie goes, 'Take it, Patrice!' That blew me away!
50BOLD: I hear you. Ok, this musician may not be a household name, but this guy was a dear friend, a great musician, and someone I know, you knew. Victor Bailey.
Patrice: So, Victor and I didn't have an opportunity to play together until we were both asked to do something by Lenny White. Even though I had long known Victor and admired his work, it was a long time before we got to play together. And what a thrill it was to do so. One thing is admiring someone from afar, watching or listening to them. When you're in a space playing with someone, you learn where they're coming from that you can't get any other way. I miss him.
50BOLD: I miss him so much…. He was a very loyal friend, I've got to say. We met during the Berklee experience. We were at school together. He never changed and was the same loving guy you know.
Patrice: We had some great conversations. He had these other interests like painting and stuff. So, his artistry spilled over into a lot of different things.
50BOLD: Herbie Hancock. He's very free and very funky I might add. Herbie is very, very funky, as deep as he could go. He's for real funky.
Patrice: Herbie was a huge influence on my playing and particularly, I would say in terms of sound and just inventiveness. Just his ideas I always found interesting. I met him when I was about fifteen, or sixteen years old. We had a chance to talk but we rarely discussed piano. Didn't talk about music per se but I got that he was watching, and I was certainly watching too and learning from him. Reggie used to take us to the Lighthouse where Herbie would be playing. Reggie would then get Herbie to come over to the school sometimes to see us play at the park. And during those years, I already knew a lot about Herbie's music and his years with Miles and all that. And you know again, Herbie is that guy who kind of gave us permission to just be about the music.
50BOLD: You've known a lot of amazing people before they became known to the general public, musicians like Billy Childs and Michael Tilson Thomas.
Patrice: Michael Tilson Thomas and I had the same piano teacher, as he was coming out, I was going in. And Billy Childs and I have known each other since we were like 12 years old because we had the same theory teacher.
50BOLD: Two geniuses! That's something. So, you did Prelusions in '74, and Before the Dawn in '75. Before the Dawn was kind of like a bridge between funk and then you also had some fusion kind of stuff on that recording. By the time you got to '77 with Shout It Out, to my ears, you were all the way funky. That recording to me is right in line with the stuff you would do on Elektra Records. You became a hitmaker, such great recordings; I think Hang it Up was the first one, is that right?
Patrice: Right!
50BOLD: From that first album, I've got to tell you the song I love, Music of the Earth. Oh my God, the song is incredible! I mean, it starts out with the funk, you think it's just going to be a jam, and then you get into this heavy lyric, rhythm, and harmony. And two nights ago, I listened to that song like three times in a row because it just gives me this feeling of joy. It makes me feel good when I hear it. The whole vibe of the song celebrates music and music of the earth. And it made me think how much of the younger generation is missing music that makes them feel joy and optimism. They don't have it like the way we had it musically. We had it with Earth, Wind & Fire, you know, Devotion and Mighty, Mighty. We had it with Stevie, Ngiculela—Es Una Historia—I am Singing. 
Our music inspired optimism and gave us a framework of love. And another thing I find is that the younger generation seems to be missing pretty music. Like music that is so beautiful, it brings tears to your eyes. We had pretty music. And even the old jazz cats would refer to it as pretty music. I know there were some hardcore dudes, hardcore players who had a concept of pretty music, beautiful music. I told my son years ago, 'Man, you don't have any pretty music, and this has got to affect you psychologically I think, and socially.'
Patrice: Well, we also have a connection to the music; we can see and hear it. We have a connection between the different styles of music. You're not going to have R&B without the blues. You're not going to have the blues without understanding something about jazz. You know, in other words, there are connections in music, and we could hear them and have experiences that allow us to see the lines between them.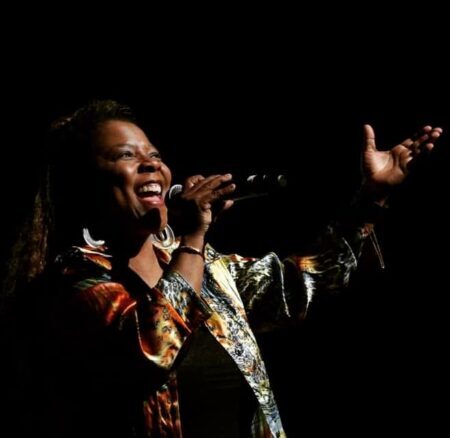 50BOLD: Right. That is so true. Ok, back to your recordings like Remind Me, I did research today to see how much of that was sampled and I'm thinking five or six times. I went to this one site that stated how the song was sampled 108 times. And after seeing the stat, I'm sure it's a modest estimate.  So, what is your process when someone wants to sample your record? Do you get a flat fee? Do you get writer's credit, do you get publisher's credit?
Patrice: It depends, it depends. Sometimes it's a sample and they extrapolate a certain number of bars used repeatedly, and they pay for the sample. We can work out a licensing fee or something like that. Other times, it's actually a copyright issue, because now people will lift a lot of it and use it in its entirety or nearly in its entirety. A copyright issue was the case involving the film Men in Black with the song Forget Me Nots.
50BOLD: So, what was the resolution for Men in Black?
Patrice: I wound up sharing in the copyright for the composition used in Men in Black.
50BOLD: So, you have a writer's credit, and you share the publishing?
Patrice: Yes. It didn't start out that way. It started with 'Come pick up your one-time fee of $2,000.'
50BOLD: Was it kind of adversarial at some point?
Patrice: No, not at all. It wasn't adversarial at all because sampling was new. It was just one of those things where it probably sat on somebody's desk too long before they decided to deal with it. The movie was coming out; this was definitely not a demo. It was just like well, to be fair, it should be used like this and if you can't do it, then you can remove my part.
50BOLD: There you go, I get it! I saw you perform in the early 80s probably at the Berklee Performance Center; I was a student at the time. And in that window of time, I also saw you in Pittsburgh, I think it was at the Stanley Theatre on a bill with Maze featuring Frankie Beverly. You opened the show, and I was so attuned to your vibration. No shade on Frankie and Maze. I think I stayed for maybe one or two of their songs, but I was really there for your music. How did you feel about the touring thing back then?
Patrice: I enjoyed touring then; it was an essential part of my development. I never did have the kind of record company support that allowed me to do all the things I wanted to do. So, to be able to get in front of my audience, see people, hear their reactions, and learn from them what it was about me that they liked, was very inspirational and motivating. So, I enjoyed it.
When I stopped recording for a while, I stopped touring and turned my attention toward other things. I'm trying to get back into touring mode under my name because I've done a lot of touring and featured guest spots with other artists. In fact, I just got back from London after doing a couple of dates there. Hopefully, I'll get to do more because people want to hear my music now more than ever, and I'm enjoying the idea of being able to perform it. I probably perform it better now than I did back then.
50BOLD: That's the best news I could ever hear that you are getting back out there. We really want to see you—fans, friends, and musicians. That would be so great! For a lot of us, you're a torchbearer but the numbers are dwindling…. Hit me with Prince. You worked with Prince very early on in his career.
Patrice: Very early on. Prince and I didn't work that much together early on. We had some mutual acquaintances and that sort of started the idea of our communication. He was a fan and was really curious about how I did certain things. He asked me a lot of questions and later on, it was like 'Oh, you know what to do!' He became that guy, you know. But our paths would cross at very interesting times in our careers. Actually, it was at the beginning of his career that he asked me to arrange something for him on his first album. As time went on, he became whom he had become. There were moments when we would talk. Our relationship was such that there was a certain kind of mutual admiration and trust.
I remember when Purple Rain came out and he was worried and concerned about it; we happened to be in the same city at the same time and had a meeting about it. I said, 'Well, you did the best you could.' He said,'Yeah!'  I said, 'Well, then let it go and just see what happens.' We all know what happened after that. It blew up!
Prince asked me to play with him on the fifteenth anniversary of Saturday Night Live; he performed a song from the Batman movie soundtrack. It was awesome, really cool! There was one other occasion where we crossed paths, it was at the Grammys. It was my first year as musical director for the Grammys and Prince and Beyonce opened the show.
50BOLD:  I remember that. That was a classic performance.
Patrice: It was a classic performance! I'd gone to rehearsal and the producer of the show was there and Prince said 'Well, you finally got a real musical director for the show (laughs)!' I was thinking, 'Oh, this is great!' On the day of show, the producer wanted me to go tell Prince how he wanted him to not use enhancers and to do it all live. So, I'm walking up to the stage thinking how it was not a good idea to tell Prince what the producer had recommended. When I got up to the stage, I asked Prince if he had a minute. He said, 'Sure!' I told him how I'd been asked by the show's producer to tell him how he should do his song completely live. Prince looked at me and asked, 'What do you think?' After I explained to him why it would not be a good idea to do the song live, he said, 'OK, I got you, tell them no!'
50BOLD: That's a good story!
Patrice: Prince knew and respected that I would be honest with him which is a big part of the kind of rapport I had with him. My rapport with him was one of respect and gratitude.
50BOLD: Mutual respect and it's great that you have the presence of mind to present it in that way. That's why you are you and why you were placed in such a prominent position. That's why you did the Grammys three times. You are the first female in 43 years to serve as head composer/musical director for the Emmys. You are the first woman musical director of the  NAACP Image Awards, a position you held for 12 consecutive years! Now, you're teaching at the Berklee College of Music. Do you enjoy teaching? 
Patrice: I really, really do! Especially because the kind of curriculum that has been in development you know for the last decade is stuff I can speak to firsthand. It's amazing; I really enjoy it.
50BOLD: I spoke to Lenny White to let him know I was going to be talking to you and asked him for suggestions. He said, I should ask you about your concert music. I wasn't one hundred percent sure about what he meant but there it is. What about your concert music?
Patrice:  I've always wanted to be a composer. I wanted to study composition. I wanted to write for film and TV. On my way to that, a lot of stuff we're talking about happened and it was wonderful. My musical journey has been a wonderful experience, it has enhanced and enlightened my ability to speak multiple dialects musically. And so, writing for orchestra and doing concert music, recital music, and chamber music is something that I do also. You can hear some of it by going to my website, you can find it under Symphonic Works, and that way you'll have an idea. It's an area I would like to talk about a lot but people don't ask me about it because they don't know.
50BOLD: I urge our readers to go to PatriceRushen.com to specifically check out your symphonic works. You've put up nine clips, averaging about six minutes per clip. The clips are live, and I must say the ensemble performances are stunning! Was there a lot of rehearsal involved?
Patrice: Well, I can tell you about it a little bit about it. Symphonia is a three-movement symphony with members of the Detroit Symphony. Did I tell you I had written a symphony sort of in protest?
50BOLD: No, you didn't tell me.
Patrice: A little backstory, and then I'll get right to your question. I had been writing for TV and doing those shows as a music director. I was also writing for small ensembles for films and stuff. So, you know, I thought that if I had an orchestra, would I even know what to do with it now? So, I started writing a piece, and it was hard. And I got the first Movement of Symphonia done. OK, I had my cathartic moment, and I was done. I was boxing it up when a friend of mine, William Banfield, called me. He's a composer, teacher, and friend. William asked what I was doing, and I told him I was boxing up a piece no one would ever hear. I told him how I had gotten it out of my system. He encouraged me to enter the piece in a reading contest about which I didn't know anything. William mentioned how I didn't even have to put my name on it and to just enter it in the contest, so I did.
The piece won a read! William told me if I won a read, he would meet me in St. Paul, MN. Well, it was to be read by members of an orchestra. So, the orchestra played that first movement, and when they finished it, William, who had met me there, leaned over and said, 'You want to finish the piece now?' The orchestra blew me away; the piece sounded amazing. Anytime you hear something come back to you in a way you had not imagined is incredible because of what the players and their expertise bring to it. And that was just a read. So, I went home to finish it! William then encouraged me to enter the entire piece in a different contest that the Detroit Symphony Orchestra sponsored. I entered the competition and won a read in that one too. They played the entire piece and what you're hearing is that read.
50BOLD: Wow, incredible! I am urging my readers to really go to your website and listen to the symphony; it sounds incredible.
Patrice: I was then commissioned to write a piece for the Dr. Martin Luther King, Jr. celebration that the Civic Youth Orchestra of the Detroit Symphony was going to play. Mine Eyes Have Seen the Glory is a three-movement piece commissioned by the Detroit Symphony for their youth orchestra to play.
50BOLD: I am blown away!
Patrice: The orchestra had about a hundred people in it and the ages ranged from 11 to 20.
50BOLD: Amazing! Now, switching gears. Do your students know who you are? Do you get a sense that most of them know who Patrice Rushen is or are you just another professor to most of them?
Patrice: Oh no, I'm not just another professor, that's for sure; this I do know. But I don't know if they know all of my work. They know the stuff they know, or they hear about it. I tell them, 'You know what? You all need to have the capacity to look up everyone you work with.' My students will first reduce my entire career to Forget Me Nots, and then they'll get turned to other things. So, in a nutshell, yeah, they know about me, and they're still finding out!
Monte Croft is a New York-based singer, composer, who is widely known in music circles as a multi-instrumentalist. Seen most frequently either on keyboards, or vibraphone, he also plays guitar, bass, drums, and chromatic harmonica. Monte's website is montecroft.com.