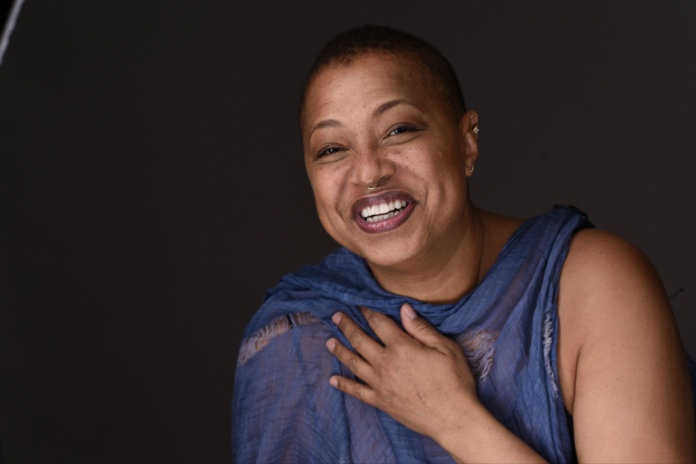 Lisa Fischer has sung backup for crème de la crème performers like Beyoncé, the Rolling Stones, Luther Vandross, and Bobby McFerrin. The songstress performs as if her very soul is at stake. Lisa's vocal sounds soothe; her every word seems to anchor themselves in reality. But Lisa's sound has always possessed a kind of wisdom from a woman who sees well beyond her years. And this was probably born out of a need to grow up quickly.
Lisa's mother, a homemaker, gave birth to her at age 16 and had three children by the time she was 19. Lisa's father was a warehouse worker and a security officer. At one point during Lisa's childhood, her family lived off welfare and food stamps. Life was not always easy for Lisa, particularly during her teen years. When Lisa was 14, her father left, and three years later, her mother died. But despite the trials that her childhood at times presented, Lisa speaks fondly of a childhood that was always filled with music.
After earning a scholarship to study opera at Queens College in New York, Lisa dropped out to pursue her love of music. She often performed late nights at New York City clubs to keep a roof over her head. By the time the young performer was in her early 20s, she had managed to build a solid rep as a backup singer.
As luck would have it, the legendary crooner Luther Vandross was holding auditions for backup singers. When the young performer auditioned for Luther, who, by the way, was sitting behind a piano eating a bucket of fried chicken, he was blown away by her vocal agility. Lisa and Luther's working relationship cemented, and she became a backup vocalist fixture on his every tour and album until he passed away in 2005. Lisa also credits Luther for nudging her into a brief solo career in 1991.
Lisa never really wanted to exit Humble Pie to pursue a solo career. Thankfully, she tried her hand at singing front-and-center, and the result of her solo venture was How Can I Ease the Pain from the album So Intense, which reached number one on the R&B charts and won her a Grammy Award for Best Female R&B Vocal Performance in 1992. Despite the fact she had finally stepped out of the shadows of giants, Lisa slipped back into background singing after an attempt to create a second album at Elektra Records failed due to "energy shifts." Ego never comes into play with this songstress, who finds absolute joy in supporting other artists.
In the 2013 documentary 20 Feet From Stardom, Lisa is one of the main artists featured in the Oscar-winning film. The creative work highlights those often uncelebrated backup singers by documenting the oral histories of premier artists such as Merry Clayton, Darlene Love, and their experiences within the music industry.
Although admittedly, Lisa is still not quite comfy as the center of attention, one would never know it. As the spellbinding songstress performs, she appears relaxed and brings a confident ease to her shows. Lisa captivates, transfixes her audiences, and delivers her talents on a silver platter as her beautiful vocal instrument caresses each melody.
On a personal note, I have followed Lisa Fischer's stellar career. I am honored that she has set aside time to chat with our 50BOLDers.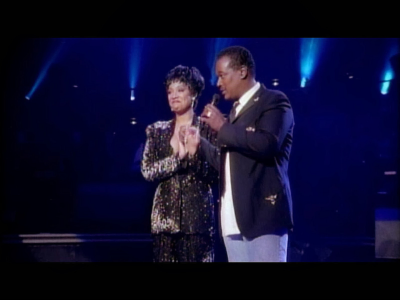 50BOLD: Do you think God gave you a privilege when He gifted you with your voice?
Lisa: What a great question! I do believe that… how can I explain this…. The awareness that you sense in yourself, that burning, that fire, that spirit, that connection is an extension of a Supreme Love, or God, or whatever people feel comfortable using as a term. I have my grandmother Margaret to thank for my awareness to something other than self.
My grandmother stayed with us for a while and slept in my bed. She had a really hard time reading the Bible so I would try and help her. I've always felt I believed and developed a connection to Spirit because of her. As we go through this life, the most important thing is to find a purpose that makes you feel whole, and good in your spirit, heart, and gut. So, my gift, privilege, is singing. If we constantly do things that pull us away from our core energy, then we're not living our best lives.
50BOLD: I wholeheartedly agree with what you've stated! Ok, so you are a Brooklynite.
Lisa: I am.
50BOLD: Where in Brooklyn were you born?
Lisa: I am from Fort Green.
50BOLD: I too was born in Brooklyn and coincidentally, my grandmother lived in the Fort Green housing development.
Lisa: Oh, right across the street from me, literally. I know sometimes Brooklyn feels like its own country.
50BOLD: It certainly is! (laughter) Now your mother was a teen mom. What was it like being raised by a teen mother?
Lisa: I think because my parents were both so young, they still wanted to hang out, have fun and be fabulous. I remember my mother putting on a beautiful dress and wearing makeup. She wanted to look beautiful for my dad. I have these warm memories of my mom and dad going out and enjoying each other. You know, they would be romantic, kiss and hug in front of us kids.
And musically speaking, my parent's music impacted me as well because they'd play these great 45s. And when I was maybe 10 or 11, my mom gave me an old stereo and her old 45s and I would play them. All of a sudden, I felt as if I had a new bunch of friends playing on my record player. So being raised by a teen mom was beautiful a lot of the time. It was great to have them both as young parents.
50BOLD: Who were your parent's musical influences? I hear so much Nina Simone and Aretha Franklin when you sing, so it seems artists such as these influenced you greatly.
Lisa: There was a little Nina Simone in the house, there was a lot of Nat King Cole, and Morgana King. I didn't realize that Morgana was also the actress who played Carmela Corleone in both versions of the film The Godfather.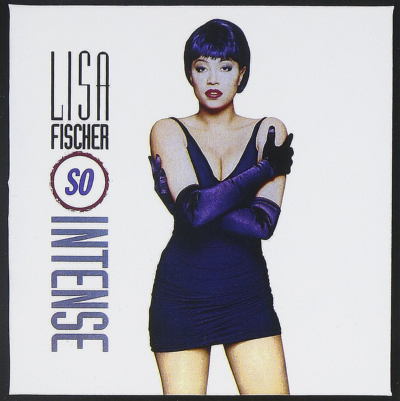 50BOLD: Oh really?
Lisa: Morgana King was one of my favorite singers. She covered a Nina Simone song called Little Girl Blue. And we also listened to a lot of Motown like Marvin Gaye, Sam Cooke, Stevie Wonder. My dad was deep into doo-wop groups as well. And my mom liked Nat King Cole, and plenty of soul music. There wasn't a whole lot of blues in my household. There was a wide selection of musical tastes in my home and my parents would play these records over and over again.
50BOLD: Well, you've done session work in recording studios and backup singing during live performances, besides the obvious, is there an emotional or artistic difference between the two?
Lisa: When I started working with Luther Vandross, he had a really clear vision of what he wanted to give his audiences. And he so loved them and gave his best. And so he would be in the studio thinking of ways in which to make his sound even greater. He would work on vocals and then transfer the results onto the stage. You can go in the studio and work on your sound but then it might be difficult to replicate this on stage. I don't mean note-wise but emotionally. And so, Luther always kept the same intent from the record to the stage. But when on stage, there'd be a little extra sauce and a little extra gravy. For Luther, every note had to be and feel absolutely correct. When working with Luther, we rehearsed really, really hard.
On the other hand, when working with the Rolling Stones, there were a lot of rehearsals, but there was more…. Luther was a background singer as well, so he knew how to help us give him what he wanted for his audiences. But with the Stones, there was a different kind of freedom. They breathed music differently. And so, when we'd go on stage, Mick wasn't trying to tell me what not to sing. And that was cool. There was a certain kind of looseness and freedom with Mick. And I think the looseness and freedom is a huge part of the Stones' sound, you know.
Everyone has their own way of communicating. I think the Stones' audiences really connected with the group's sense of freedom and just really being in the moment. And then for Luther, it was more about precision mixed with absolute deep emotion. So each performer had their own unique footprint. Keep in mind too that Luther was not a band so performing was more personal. It was just interesting to watch the dynamics involved with both performers which was all so beautiful to me.
50BOLD: I am a fan, so I have watched you perform with both Luther and the Stones. I did sense a lot more freedom in your performances with the Stones. As a backup singer with Luther, it was evident that every move was precisely timed, but it all looked so very classy. In all of your performances, you were clearly so very present, making sure that you helped to make the production top-notch.
Lisa: What I'm learning is that we can make choices and we can grow. So, it was really a beautiful opportunity to kind of find my way with every performance.
50BOLD: Speaking of performers, you have worked with the best of them—Melba Moore, Luther Vandross, Chaka Khan, Al Jarreau, Patti LaBelle, Sting, Tina Turner, the list goes on. The fact that you have worked with such stellars is a testament of your phenomenal artistry. No question!
Lisa: Thank you so much.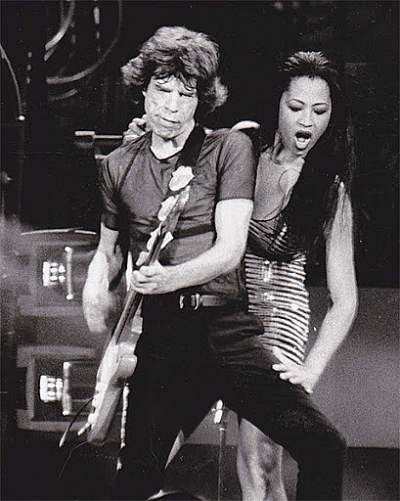 50BOLD: What made you step up front-and-center to become a solo artist? Did the decision happen accidentally or was it planned? Did you experience a feeling of trepidation or comfort after you had done so?
Lisa: I think there were two stages to my decision-making in becoming a solo performer. In New York City, I got to do a lot of session work. So sometimes, instead of just singing background, producers would ask me to sing a lead or what they called a 'stepping out' part. And so, I was given the opportunity to kind of just figure out my sound.
There were times that I would play demos for Luther that would impress him. He would give me pointers, and his opinions about stuff. And after a while, he told me I could land a record deal. And so Luther introduced me to Daniel Markus who was with Alive Enterprises and they managed performers like Stephanie Mills, Teddy Pendergrass, Blondie, and Luther. I felt really blessed. Daniel managed to get me a deal with Elektra Records. It was mainly because of Luther that I was able to secure a record deal; I wasn't looking for one. I wasn't like beating down doors on my own to try and get a record deal. I was just kind of following the path that had been placed before me.
After I recorded my solo project with Elektra, they dropped a lot of artists from the label after they merged. The company had a new president, Sylvia Rhone, who was amazing, but my manager felt it was time to go before Lisa Fischer got lost in the shuffle. We asked to be released from Elektra and they were kind enough to let me go. And then a new deal was offered and then, they changed their minds. So, I was left with no record deal. So, I just thought, Ok, cool. I returned to doing what I loved which was background vocals.
I was very happy singing, touring and all that. So, a wonderful gentleman approached me about his idea for a documentary, 20 Feet From Stardom about background singers. He was just so beautiful and so loving. And you know, the success of the project gave me the opportunity to live and breathe music as an interpreter. And I really enjoyed that process because it was personal. As a background singer, I don't have a record company telling me what I can and can't do; it's a beautiful, lovely existence.
I would welcome a record deal but only if I could record songs that I believe in, then see what's before me. So to me, sometimes it's better to just create and then name it, as opposed to having a set plan. But then sometimes, a plan is really great. So I guess, I would go 50/50 on this thought process. There's a place for plans and a place for just following the spirit.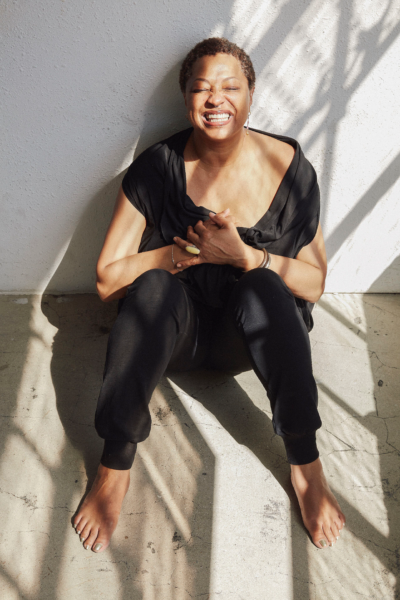 50BOLD: I absolutely agree with your 50/50 outlook! Plans can be good, but a less stringent method can also work. Now, tell us about the upside of singing background and then the downside. Have you maintained a camaraderie with the people you've worked with over the years?
Lisa: Yeah, the upside of my business is the camaraderie maintained. You know, singing background oftentimes involves touring, being on the road. You are actually living and traveling with people. So, there's a certain kind of awareness that you develop as you learn to accept people as they are. Listen, none of us are perfect. I would say in all of my touring, I've been really lucky. I've been able to get along with everyone. When someone is going through something rough, they might appear to be difficult. I can always see the beauty behind the difficulty.
50BOLD: Tell me Lisa, do you have a wish list of performers whom you have not worked within the industry?
Lisa: Oh wow, I would love to work for Dionne Warwick!
50BOLD: Okay, we interviewed her recently.
Lisa: I really, really love Dionne! Working for Phyllis Hyman would have been amazing. You know who I think is really interesting is Laura Mvula. She's a beautiful chocolate British girl singer who has done some amazing work. She's so wide open and so free to be her. I find her really interesting. Another artist who I think is really cool is Sampha who is out of the UK. He thinks outside the box. What I love about Laura and Sampha is their sense of freedom. I also love Beyoncé and Sam Smith who are amazing singers. I'm always open to singing with anyone; I really am. Singing is just my joy!
50BOLD: You are such a spiritual person. Tell me, what fuels Lisa on a daily basis?
Lisa: Some days you feel like you're running out of that certain fuel to be quite honest. With every waking moment, it seems there is some tragedy or madness to deal with. And so, what fuels me is silence and trying to figure out what is gnawing at my peace. And once I get to the truth, music is another form of escapism and healing for me. And being with Spirit, you know. I'm just trying my best to understand that inner voice we all have that I'd like to think is the Creator. So yeah, being with Spirit, music and silence fuel me.
50BOLD: You won a Grammy Award for Best Female R&B Vocal Performance in 1992 and the documentary 20 Feet From Stardom received an Oscar Award for Best Documentary Feature in 2015, correct?
Lisa: Yes, the film won an Oscar Award and also a Grammy Award for Best Music Film, so I have two Grammy Awards now.
50BOLD: When you won the Grammy for How Can I Ease the Pain you beat out Aretha Franklin, Gladys Knight, and Vanessa Williams. Was it just one of the greatest moments of your life? And if not, what is?
Lisa: Winning a Grammy was one of the most magical and confusing times of my life, if this makes sense. It was emotionally confusing only for me because when I made the recording, I was just happy to record. And when my manager called to inform me that I was in the same category as the ladies you mentioned, I could not believe it. I did not expect anything on the night of the Grammy Awards. And to share my joy with Patti Labelle, who had never won a Grammy but did so that night, was just amazing! So, it was a tie and ties don't happen very often.
The win was very special for me because I sang background on her record. You know, all of the work that Gladys Knight, Vanessa Williams, Aretha Franklin, and Patti LaBelle had done over the course of their careers is part of my DNA, you know. So, to me, they will always be winners. They are beyond winners, they are history and part of the quilt that makes my musical life so sweet. When everyone gets nominated, there are no losers in my mind.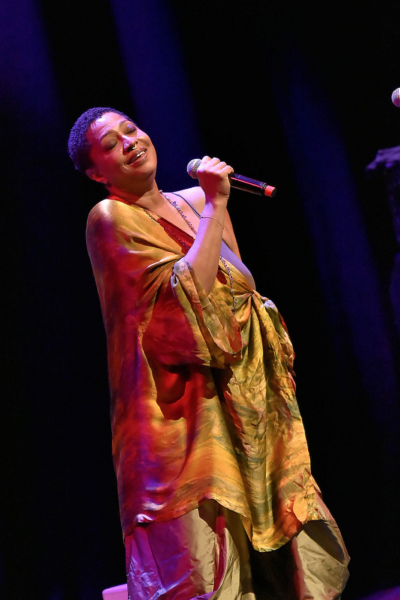 50BOLD: You keep your personal life very personal. You have so many fans including me, who just love your vocal gift and the positive/upbeat aura that you radiate. You are also kind and extremely humble. Is there a special someone who puts a smile on Lisa Fischer's face day-to-day?
Lisa: No, I'm still single. I have had beautiful relationships in my life that I'm very grateful for. But I feel like I'm married to the music at this point, especially at age 61. I'm so used to living on the road and living at home on my own. I never had children. So especially now at this age, my relationships are more focused on family, my audiences, and of course, my music. Now, if some fine tall man comes around, I'm going to take a peek (laughter)! But at this point, if I were to contemplate marriage with a man, I would straight-up want my own bedroom, and I know this sounds really insane (laughter).
50BOLD: Wanting your own space at times does not sound odd to me at all! Two people can always come together at any point in time, but there's nothing like peace and space when you need it. I truly understand where you're coming from!
Lisa: I don't want to be sharing a bed with someone then wondering if I'll wake them up when I need to go to the bathroom; you know what I mean (laughter).
50BOLD: You appear comfortable with your spirit, and the course of your life so there really is no need to change. Let me ask you this, is another solo project out of the question?
Lisa: I'm not opposed to doing another solo recording. I just think you have to sort of be invited to do that kind of thing. I think a record company has to see an artist's worth. The artist in turn, has to envision having a relationship with a company and feel they will do right by them.
50BOLD: It appears as though you have fulfilled all of your career dreams. Am I wrong? Are you still dreaming, and if so, what's left for you to do careerwise?
Lisa: You know, I dream all the time. I think I was born a dreamer. I want to keep dreaming outside the box. I want to dream beyond my dreams if this makes sense.
50BOLD: Oh, it does, absolutely. Dream on!
Lisa: And sometimes what we have in store for ourselves is teeny, compared to what life has in store for us. I want to do it all. I want to record in every musical genre.
50BOLD: And you have practically recorded in every musical genre from Nine Inch Nails, to the Rolling Stones to jazz to R&B. Your body of work is truly awe-inspiring!
Lisa: Thank you! I'm very grateful and so happy. Life is good. Life is good.
50BOLD: I must say, being comfortable in your own skin speaks volumes. Do you have a favorite biblical verse or motto that you live by?
Lisa: I know this sounds insane. When I was a kid, I had a dream of what looked like a church. There were pews, wood, and red carpeting. At the front of the church was an altar colored like a rainbow, it was vibrating. As a child, my prayer would always be, "God I really want to see you." The interpretation of that dream for me was that God is colors and light. So, my favorite biblical verse is "Let there be light."
50BOLD: One last thing. Where can our readers go to find out what's going on with the great Lisa Fischer?
Lisa: So, my website is www.lisafischermusic.com which lists all of my appearances. There is a new upcoming site that will have a lot more Lisa Fischer info. I'm also on Instagram at l.i.s.a.f.i.s.c.h.e.r and on Twitter @lisafischersing.
50BOLD: Ms. Lisa Fischer you have certainly brought light into my world, thank you!