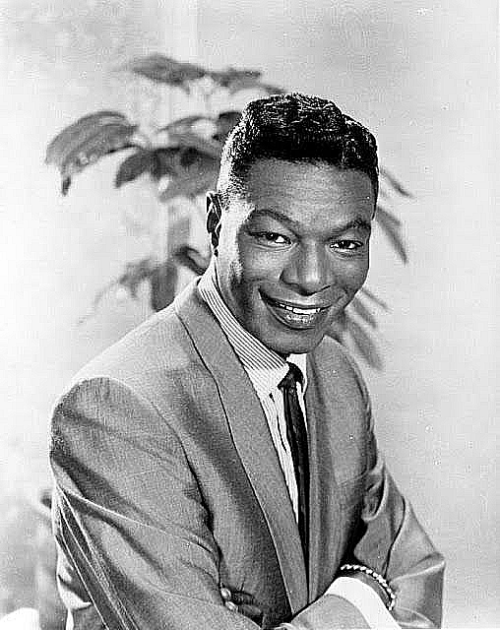 Growing up as a child in the sixties, many of my earliest memories are of watching variety shows in black and white on TV like Ed Sullivan's weekly program. I remember how eager we all were at seeing our favorite African American artists perform their current hits on the small screen. On one particular evening, while zoning out on Sullivan, he introduced to his stage a tall, slim, dark-skinned Black man with hair that was 'fried, dyed and laid to the side.' The performer was the absolute epitome of class, cool, and distinction. The man was Nat King Cole. When the crooner connected with his mic, his delivery was flawless. He was gifted with a rich and velvety baritone voice that was pure silk. Cole's effortless stage manner and mellow, relaxed style of singing influenced generations of singers, making him one of the most successful entertainers in the world.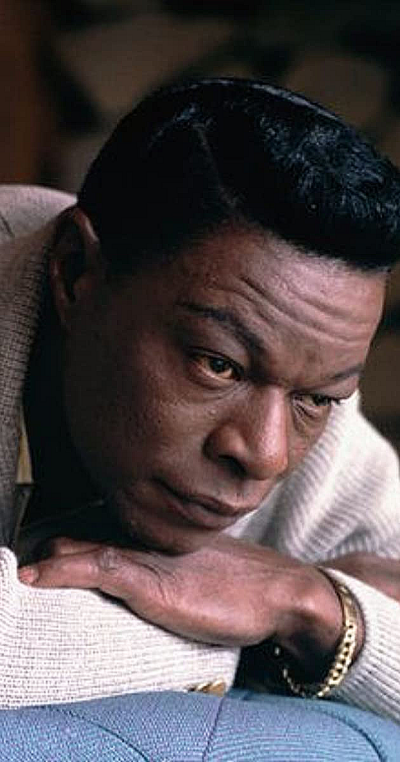 Cole was born Nathaniel Adams Coles on March 17, 1919 to Edward and Perlina Cole in Montgomery, Alabama. Edward was a Christian minister. He had three brothers Eddie, Freddy (still living), Ike, and a half-sister Joyce. The bright lights and promise of fame that show business had to offer lured all of the Cole brothers. At age four, Cole's family migrated to Chicago where his father would become a Baptist minister. Cole was taught to play piano by his mother, and had his first public performance before he even attended grade school. At age 12, he began playing piano at his father's church. As a teenager, Cole would seek out jazz clubs, park himself outside of them, and listen to such greats as Louis Armstrong, and Earl Hines.
At fifteen, Cole dropped out of high school to pursuit a career as a jazz pianist. In 1936, Cole and his brother Eddie would form a sextet called "Eddie Cole's Solid Swingsters.' The siblings would go on to record two singles for Decca Records. Not long after the recording, both brothers were hired for an all-Black musical, Shuffle Along. Cole would become part of the touring company where he met first wife Nadine Robinson, a dancer with the show. The couple married and relocated to Los Angeles where the tour ended.
Cole would work freelance gigs as a piano player in nightclubs across Los Angeles. He eventually formed a three-piece band called The King Cole Swingsters with Oscar Moore (guitar) and Wesley Prince (bass). The trio reportedly did not need a drummer because Nat's piano playing kept the beat so well. They renamed the group The King Cole Trio. At the same time, Nat also changed his name to Nat King Cole.
In 1940, the trio recorded Sweet Lorraine that would become a hit. Cole's singing career took off after being persuaded to do so by the owner of an L.A. nightclub. Cole was beginning to make a name for himself in the mid-forties. He was one of the first musicians to record with the new Capitol Records.
The trio charted big in 1943 with the song Straighten Up and Fly Right, inspired by one of his dad's sermons. Cole recorded hundreds of songs. Some of the most popular include Nature Boy, Those Lazy-Hazy-Crazy Days of Summer, When I Fall in Love, and Mona Lisa.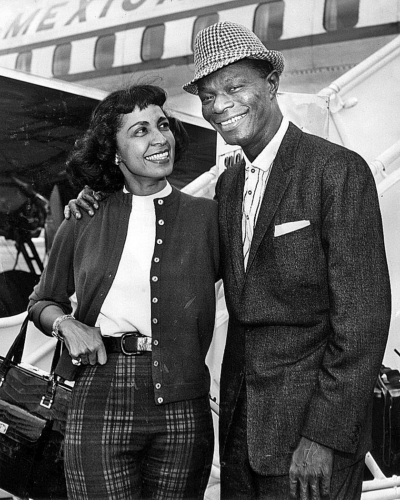 Cole's personal life would also face a few unwelcomed and welcomed changes. In 1948, the ink was barely dry on his divorce papers from Nadine when he tied the knot with Maria Hawkins Ellington at Harlem's famed Abyssinian Baptist Church. The Rev. Pastor Adam Clayton Powell, Jr. was the wedding officiant. Maria was a light-skinned widow who was raised amongst the Black elite. The wedding was rumored to have cost a whooping $25,000. Among the notable attendees were Hazel Scott (Mrs. Adam Clayton Powell), singers Sarah Vaughan, Nellie Lutcher and Maxine Sullivan, actor Canada Lee, bandleader Dizzy Gillespie and countless reporters from newspapers and magazines like Life and the Afro American.
The newlyweds would purchase a house in the then all-white section of Hancock Park in Los Angeles. The picturesque community of tasteful mansions and rolling green lawns was filled with old Los Angeles money, and families who had made their fortune in oil, banking, and real estate. When it was established in the 1920s, Hancock Park was put under a 50-year restrictive covenant, which stated non-whites could not live in the neighborhood, unless they were servants. The Coles tested the racist rule when they integrated the neighborhood in 1948.
In March of 1951, the Coles almost lost their home when the IRS came after them for more than $100,000 in back-taxes. Their Muirfield mansion was very publicly seized. The performer subsequently worked out a payment plan of $1,000 per week which saved his home.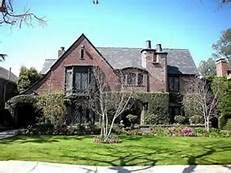 During the 1950s and 60s, the Coles also raised their growing brood, which eventually numbered five children, including the singer Natalie Cole. Cole and Maria had three children. They also adopted and raised two other children.
Cole became an actor as well in movies. The best known one is Saint Louis Blues. He acted the part of the jazz composer W.C. Handy. He also appeared in a film about himself called The Nat King Cole Story.
In 1956, Cole would launch his weekly television variety program on NBC-TV called The Nat King Cole Show.  Even though NBC tried supporting Cole at the time, the show fell victim to the bigotry of the times, however, and was canceled after one season. Few sponsors were willing to be associated with a Black entertainer. They were concerned that white people in the southern part of the United States would not buy their products.
When the civil rights era began to take shape, Cole basically kept his politics to himself and took racism on the chin. The singer's noncommittal stance would anger many in the Black community. Cole often performed in places that only admitted white people. Black leaders criticized him.
In 1956, he was attacked on stage before an all-white audience of 4,000 at a municipal auditorium in Birmingham. Before the attack, a drunken white man kept jeering at Cole, "Negro, go home!" Four members of the North Alabama Citizens Council stormed the stage as Cole performed and knocked him down. The attack resulted in a back injury; he was able to resume his performance but could not complete it because he was in pain. The men who assaulted him were eventually charged with conspiracy to commit a misdemeanor. Cole's comments after the incident further angered the Black community; he expressed surprise when attacked by the supremacists. He also publicly stated that he was an "entertainer not an activist."
The incident's backlash from the NAACP was swift. The organization's Chief Legal Counsel Thurgood Marshall called Cole an "Uncle Tom." The Amsterdam News saw Cole as an "insult to his race." Roy Wilkins who was then the NAACP legal secretary sent Cole a telegram that read:
"You have not been a crusader or engaged in an effort to change the customs or laws of the south. That responsibility, newspapers quote you as saying, you leave to the other guys. That attack upon you clearly indicates that organized bigotry makes no distinction between those who do not actively challenge racial discrimination and those who do. This is a fight which none of us can escape. We invite you to join us in a crusade against racism."
Finally recognizing his community's concerns, Cole did manage to donate to the Montgomery Bus Boycott. Cole said he attempted to take legal action against those performance venues that discriminated against Blacks but often failed.
Women loved Nat King Cole and he loved them back.  For years the Cole marriage was happy but eventually Maria tired of being constantly on tour with her husband and increasingly stayed at home with her growing family. Then in 1964, just after Nat King Cole's 44th birthday, he met Swedish chorus girl Gunilla Hutton.
Gunilla, not yet 20, had arrived in America to seek her fortune in show business and modeling. She got a place in the chorus of Nat King Cole's touring musical show Sights And Sounds and when Cole saw her, he was smitten. The actress would later appear in the recurring role as Billie Joe on the hit TV comedy series, Petticoat Junction.
It was said that Gunilla inspired all the album of love songs that Cole recorded in 1964. Reportedly, he admitted to close associates that he was pretty much obsessed by her. Maria hired a private detective who discovered that Cole was spending most of his time away from stage or studio in Gunilla's flat. There was a furious confrontation that ended with Maria scratching her husband's face.
Maria and Cole put their talk of divorce to rest when he was found to have terminal cancer. Cole's years of heavy smoking had caught up with him. He had his left lung removed in December 1964 and after the surgery, the doctors informed Maria that he only had months to live. Maria kept the news of her husband's terminal illness a secret from the public. While in the hospital, Maria made sure no outside calls were put to Cole's room. She even had Cole call Gunilla to inform her that he'd be staying with his wife.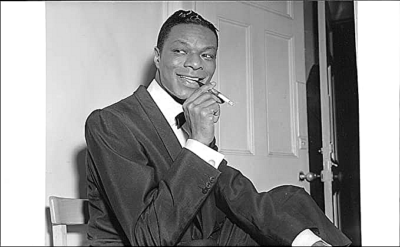 On February 15, 1965, Cole passed away; he was 45 years old.
Most famously, in 1991, Natalie Cole and her producer originated the "virtual duet" practice, now commonplace in the music industry, when they "resurrected" her late father to create a new version of his signature song "Unforgettable" featuring them both.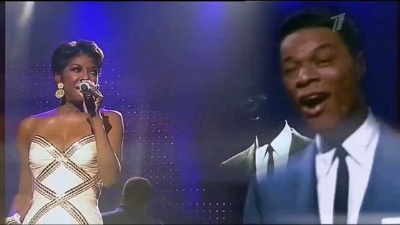 Singer Johnny Mathis summed up his dear friend Nat King Cole best, "He was the nicest man you'd ever want to meet in your life," Mathis recalls of his friend. "Just a very down-to-earth person who happened to be one of the greatest musicians of all time. And he became, of course, a model for so many people, especially someone like myself."