"Who is Hazel Scott?" That's the question some viewers asked themselves not too long ago while watching the 61st Annual Grammy Awards when hostess Alicia Keys acknowledged this legendary musician as someone who inspired her to play two pianos at the same time. It's also the very same question Barney Josephson, owner of Cafe Society, asked Billie Holiday nearly 80 years ago when the singer recommended he hire the 19-year-old pianist to replace her at New York City's first integrated nightclub in 1939.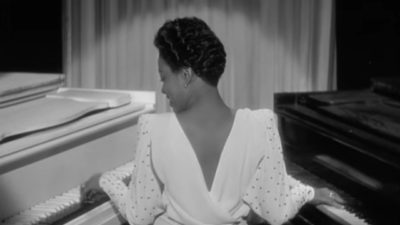 I first discovered Hazel Scott from a video clip posted on Facebook playing not one, but two concert grand pianos – one black, the other white – from the movie The Heat's On. Dressed in a white evening gown with her hair immaculately styled, Hazel goes between and also simultaneously plays both instruments with amazing alacrity, never missing a beat. My initial reaction to witnessing this feat was "Oh, my God! Who is this beautiful lady?" This short, two-minute clip would pique my curiosity to learn more about one of our greatest and influential musicians and activists who has almost faded into obscurity.
Hazel Dorothy Scott was born on June 11, 1920 on the island of Trinidad to Alma Long Scott and R. Thomas Scott. Hazel's mother had aspirations of being a classical pianist, but her dream was cut short due to pain in her wrists during her first performance. Shortly afterwards, Alma began teaching neighborhood children how to play piano inside her home. The Scott family discovered Hazel's talent when Alma's mother, Margaret, fell asleep while babysitting her three-year-old granddaughter and singing her a hymn.
Young Hazel soon wandered over to the piano and began playing the same hymn her grandmother would sing to her. Margaret woke up, thinking it was one of Alma's students playing the tune, but discovered that it was Hazel. She immediately called out to her neighbors; she wanted everyone to see what her granddaughter could do on the piano. Hazel was born with perfect pitch, the ability to duplicate a musical note without reading sheet music. Alma encouraged and supported Hazel's musical talents by having her play calypso songs at neighborhood gatherings.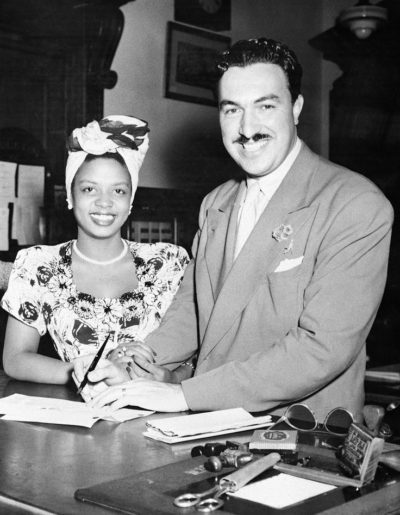 In 1924, Alma and Hazel immigrated to the United States, and took up residence in New York City's Harlem. Alma trained Hazel to play the piano and to also perform at local churches. In 1928, Alma arranged for her eight-year-old daughter to audition at the famed Juilliard School. Hazel's performance of Sergei Rachmaninoff's classical "Prelude in C♯ Minor" caught the attention of both the school's headmaster Dr. Frank Damrosch and Professor Oscar Wagner. Hazel was admitted to Juilliard as a private piano student under Wagner's tutelage.
The Great Depression of 1929 had an impact upon the Scott family's musical aspirations. Alma became fascinated with the burgeoning jazz scene, and especially with all-female bands. She self-taught herself how to play the saxophone and found steady work in various bands, meeting and befriending musicians like jazz pianists Fats Waller and Art Tatum, and singer Billie Holiday; all would become mentors to young Hazel and frequent guests in the Scott household. Hazel continued performing at venues throughout Harlem while still a teenager, even playing piano alongside Alma in her mother's musical group, the Alma Long Scott's American Creolians. In 1935, Hazel was co-featured at the Roseland Ballroom following the famous Count Basie Orchestra which furthered her growing musical career.
Hazel continued developing her musical gift during her adolescence. She auditioned and won a six-month contract to host a radio show on WOR where she would introduce and play classical music. In 1938, she landed a singing part in the Broadway musical revue Sing Out the News. She worked part-time as an intermission pianist at the Yacht Club where she incorporated the technique of "jazzing up the classics" into her performances. Hazel would begin playing a classic song, speed up the music, then add syncopation into the song with touches of improvisation.
Hazel's big break came in 1939 when she performed at Cafe Society, replacing Billie Holiday at the chanteuse's recommendation. The 19-year-old's debut at the New York City nightclub led to her not only becoming an overnight success, but also its headliner. Fans of her musical stylings included Paul Roberson, Duke Ellington, Frank Sinatra, and First Lady Eleanor Roosevelt. Hazel continued riding the wave of momentum her newfound fame brought her by recording an album as part of the Sextet of Rhythm Club of London in 1939 on Bluebird Records and also her first solo album, Swinging the Classics in 1940 on Decca Records. Josephson billed Scott as the "Darling of Cafe Society" featuring her at upscale venues where the pianist was in high-demand. Hazel stipulated in her contractual performances that she would never play to a segregated audience. She also returned to Broadway appearing in Priorities of 1942, which caught the attention of Hollywood.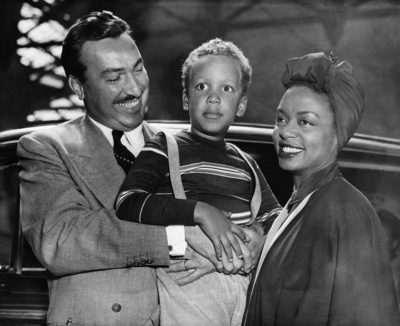 Hazel appeared in five movies portraying herself from 1943 to 1945. She adamantly refused to play stereotypical, degrading maid roles that were prominent in movies at the time. During the filming of The Heat's On, Hazel engaged in a verbal disagreement with the film's choreographer, David Lichine, who had been substituting for the film's director who became ill. The choreographer wanted to have the wives of Black soldiers wear dirty aprons as their spouses were heading overseas to war during one scene. The argument led to Hazel participating in a three-day strike from filming until the decision about the dirty aprons was changed. Lichine acquiesced to her demands, replacing the dirty aprons with floral print dresses so filming could resume, but the damage was done.
Columbia Pictures President Harry Cohn was informed about what had transpired between Lichine and the pianist and he vowed that Hazel would never step foot on another movie studio lot as long as he was alive. Cohn's decision didn't phase Hazel in the least bit; she resumed her musical career following her contractual obligations for the film Rhapsody in Blue.
Hazel returned to Cafe Society giving outstanding performances to the club's patrons. One guest caught Hazel's attention, City Councilman Adam Clayton Powell, Jr., who was also the head pastor of Abyssinian Baptist Church and also running for Congress. Hazel and Adam were attracted to each other but both were involved in relationships. Although Adam was married to his wife Isabel, it didn't stop him and Hazel from having an affair. Following his election victory, Adam informed Isabel that he was leaving her, but she already knew about the affair between Hazel and her husband. Four days after his divorce was finalized from Isabel, Adam Clayton Powell Jr. married Hazel Scott in 1945.
The Powells were the premiere Black power couple of the latter 1940s. Adam and Hazel were featured in publications like Ebony and Jet. Although they had different careers, the Powells were civil rights activists who crusaded for the betterment of African-Americans living in the United States. Hazel continued recording albums and performing concert engagements, but she quit the nightclub circuit including Cafe Society per Adam's request due to his church congregation concerns. Unfortunately, tragedy struck Hazel when her mother Alma passed away on December 14. 1945. The loss of her mother was detrimental to Hazel who she regarded as "the biggest single influence in my life."
The Powells welcomed the birth of their son, Adam Clayton Powell III, on July 17, 1946 who they nicknamed "Skipper." Following her son's birth, Hazel continued performing and also recording new albums such as 1946's, Hazel Scott: A Piano Recital and 1948's, Great Scott. In 1950, Hazel was approached by the fledgling DuMont network about hosting her own 15 minute television show. The Hazel Scott Show debuted in July, 1950 and it was a ratings success. She was the first Black woman to host her own television program. DuMont expanded the program airing from one night per week to three nights. Despite the success she was enjoying being a musician, and television host, along with her familial duties as a wife and a mother, Hazel's career would take an unexpected turn.
The rise of the Soviet Union as a superpower following World War II generated fear about the spread of communism in America. The House Un-American Activities Committee (HUAC) was formed and began investigations into any persons that were suspected of having communist ties. In 1950, the right-wing journal Counterattack  published the booklet Red Channels that listed suspected Communists in the entertainment industry, which included Hazel Scott. She volunteered to testify before HUAC in her defense against the advice of her husband Adam and her friends. Hazel reported to the Committee that she wasn't a Communist but also challenged their accusatory methods. The fallout from her testimony led to the cancellation of The Hazel Scott Show. In addition, concert bookings became scarce in the United States, forcing Hazel to perform overseas in Europe.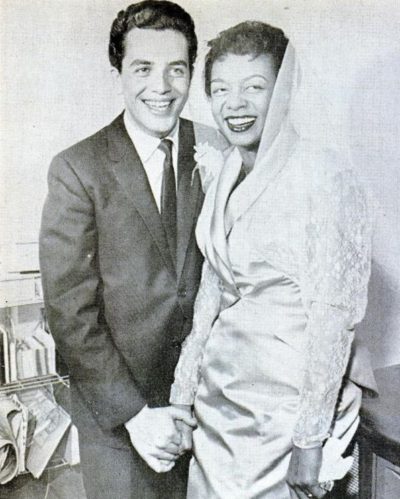 Hazel continued to salvage her career by accepting any dates she could get. The rigorous schedule, however, took its toll on her health where she experienced a nervous breakdown prior to going onstage at a concert in Paris in 1951. Hazel returned home to the United States to recuperate and manage her state of mental health. Upon full recovery, Hazel resumed performing and recording new albums like Relaxed Piano Moods in 1955 and 'Round Midnight in 1956, but her marriage to Adam started to erode. The couple spent less time together and she wound up purchasing an apartment in Paris where she divided her time between living across both sides of the Atlantic Ocean. The Powells initially put on a facade to the press that everything was fine, but the couple eventually separated and Hazel filed for divorce in 1960, obtaining full custody of their son.
Hazel attempted to rejuvenate her career overseas while living in Paris. Although Hazel was an expatriate, she kept abreast of the racial climate that was occurring on these shores during the Civil Rights movement. On August 21, 1963, Hazel joined author James Baldwin, photographer Richard Avedon, and other artists marching before the American Embassy in Paris in support of the 1963 March on Washington that would take place one week later in their home country. She also met and fell in love with Ezio Bedin, an Italian comedian who was 15 years younger than her. The two lovebirds married two months following a divorce from Adam. Unfortunately, their union didn't last long due to their differences in age, cultural backgrounds and financial troubles. Hazel encountered difficulty finding steady work and was not receiving adequate pay for her performances.
Hazel ultimately returned to the United States in 1967 at the request of her son Adam. The New York City club scene had changed since she initially began her musical career. Undaunted, Hazel continued to perform nightclub engagements and also continued recording albums in her latter years: Always in 1979 and After Hours: The Hazel Scott Trio in 1980. She briefly returned to acting on television in small roles despite Harry Cohn's vow, making guest appearances on daytime soap operas like The Bold Ones: The New Doctors and One Life to Live and also as Diahann Carroll's neighbor on Julia. She was also a loving grandmother and enjoyed spending time with her grandchildren.
In 1981, Hazel was diagnosed with pancreatic cancer after experiencing unbearable pain when she was unable to perform during an engagement; she passed away a few months later.
Hazel Scott was a musician's musician. One could argue that she was an architect of Black Girl Magic before the social media revolution began in the 21st Century due to her talent, passion, activism, and pride. Sometimes I wonder what impact she could've made in the entertainment industry had it not been for some decisions she made during her life. I'm grateful that her legacy lives on through the beautiful music she left us and also the powerful impressions she has had upon artists like Alicia Keys.
Bill Holmes is the author of the full-length poetry book Straight From My Heart, the spoken word CD, The Air I Breathe, and the ESSENCE bestselling fiction novel One Love. Bill's work has been featured in the Philadelphia Tribune, ESSENCE, African Voices, and the anthologies Journey Into My Brother's Soul, Erogenous Zone: A Sexual Voyage and Step Up To The Mic: A Poetic Explosion. Bill is the founder of the creative-writing course Write Here! Write Now! which he taught for five years at Temple University through the grassroots, non-profit organization PASCEP.