Margaret Porter Troupe is a special soul who is fully aware of her life's purpose. The arts administrator, writer, and educator is helping to fulfill a critical need in the Gloster, Mississippi community that will help develop characters, and expand the minds of children through her Values First curriculum, and most notably, a creative arts program, the Gloster Arts Project.
As founder of the Gloster Arts Project and Values First, Porter Troupe has brought arts education and enrichment to the youths in rural Gloster with a free arts camp that began in 2014. Children ages 6-17 are introduced to their inner creativity through three weeks of intensive workshops in poetry, music, dance, theater, and visual arts. The workshops are taught by distinguished artists and mentors such as Danny Glover, Terry McMillan, and Cassandra Wilson.
Porter Troupe is no stranger to the global arts community. For over 30 years, she has achieved high distinction as an arts organizer, producer of cultural events, and a community activist in both New York City and San Diego, California. She became a founding member of New Bones, a coalition of women poets who produced literary events in New York City.
Porter Troupe was the owner of the Porter Troupe Gallery in San Diego that was deemed "one of the best galleries" in California due to its notable roster of contemporary artists. The establishment also served as a forum for poets, writers, and musicians to showcase their work. In addition, Porter Troupe served as founder and director of VèVè: Visual Environments for Visual Education, an award-winning after-school program promoting cultural agility among youth.
When Porter Troupe returned to New York City, she held the post of executive director of Harlem Textile Works, a community-based nonprofit arts education program and social enterprise that trained youth in silkscreen printing and graphic design. At the same time, the cultural visionary opened the Harlem Arts Salon, an intimate salon fashioned after the Harlem Renaissance. At the salon, guests get to mingle with like-minded intellectuals and artists, interact with, and ask questions of luminaries like John Edgar Wideman, Ron Carter, Louise Meriwether, Ishmael Reed, Ta-Nehisi Coates, and a host of others.
In addition to her excessive workload, Porter Troupe has written articles on the arts while working alongside her husband poet and writer extraordinaire Quincy Troupe as the arts and copy editor for the highly respected journal, Black Renaissance Noire.
Porter Troupe invited 50BOLD into her beautiful Harlem renaissance-decorated home in N.Y.C.'s Harlem. She shared her passion and vision for the vital work she is doing in rural Gloster, Mississippi.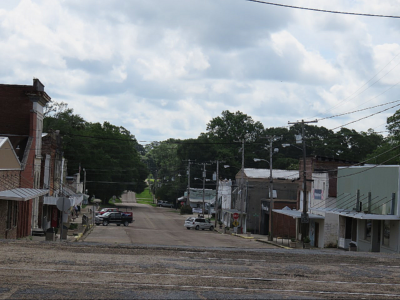 50BOLD: Tell us how your interest in the arts began and what was the impetus that led you to start the Gloster Arts Project?
Porter Troupe: When we moved to San Diego in 1990, I opened an art gallery there. Quincy took a position as Professor of Literature and Creative Writing at the University of California, San Diego in La Jolla, California. It was the first business I had ever started on my own. I had no business or real art gallery experience. I found my passion when Quincy and I moved to Harlem and I began exhibiting the works of art by friends who came through the apartment. I had a little weekend thing going that today would be referred to as a pop-up gallery. Most of our friends were visual artists, musicians and writers, so I got the bug to hold exhibitions for them. One day I walked into my gallery in San Diego and was amazed at how beautiful it was. I had started this business from scratch and created a wonderful cultural site.
When I was growing up in rural Mississippi, my mom would say that I could do anything I wanted. And so I had created this wonderful space and thought that if I could do this well, so can others. Kids need to know that dreams are possible. Being involved in the arts, I wanted to share my knowledge with children. At that time, the school day had been extended so that working parents would have childcare coverage in California. I was doing substitute teaching to supplement my income. When I'd go into schools, I noticed that children were just being housed in classrooms. So, I decided to send artists into various schools.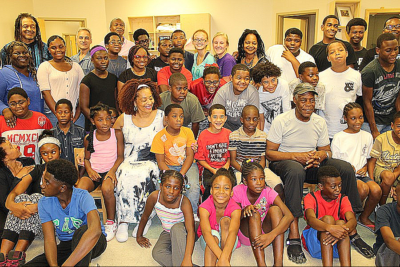 I created a nonprofit section as part of my gallery and called it VèVè. A vèvè is a sacred drawing in Haitian vodou. I hired Lynn Schuette who was an experienced administrator to run the after-school program for me, because I couldn't do both the gallery and children's program. Lynn came up with the acronym for VèVè: Visual Environments for Visual Education.
50BOLD: What a catchy name.
Porter Troupe: Yes! I would send artists into schools after the school day ended to teach the children. They would assign the students projects like poetry, bookmaking, drawing, and painting. Older high schoolers who self-identified as artists became interns and were paired with professional working artists. The program also provided mentoring. The students worked with these artists for a six-week period so that they could really grasp what life was like for creatives. The children got a good sense of what it meant to be a real professional artist. They also got to understand all about the artistic process, how to manage their careers, and how to secure exhibitions. They truly learned every aspect of what it meant to be a professional artist. The students and their mentors worked on projects together that we would auction off at our annual fundraiser for the program.
50BOLD: What an awesome program. Did you create a similar model in New York?
Porter Troupe: When we came back here, I closed the gallery in California and did not have the resources to maintain a public space like the one I had in California. My gallery in California was top notch, over 2500 square feet in size. It was a fantastic space with a garden. A space in New York City like the one I had in California would cost a fortunate and I just didn't have the money. So, I decided to focus on the Harlem Arts Salon. I started the salon to try and bring back the traditions of A'Lelia Walker and all those Harlem Renaissance historical artists in this wonderful historical building. The space that I have now is really suitable for this sort of thing. In fact, the great writer Zora Neale Hurston lived in this very building. Today, the northeast corner of 116th Street and Adam Clayton Powell, Jr. Blvd. is named Zora Neale Hurston Place.
50BOLD: How did you give birth to The Gloster Arts Project?
Porter Troupe: I started the Harlem Arts Salon in 2004. Some ten years later on a visit to my hometown in Gloster, I picked up the local paper and read some letters that children had written to Santa Claus. They were asking for things like piano lessons, a guitar, books. As I read through the letters, I realized that I could make the requests happen for the children.
All the arts programs had been erased from the schools and the children were hungry for the arts. So, I started The Gloster Arts Project in my tiny, tiny village in rural Mississippi where nothing was happening. No real industry is there. No jobs. No real recreation for children. So, I created a summer arts camp for them.
50BOLD: With no real industry, jobs, or anything cultural, how do people survive in Gloster?
Porter Troupe: Well, the people in Gloster are resourceful. You know we come from slavery honey! A lot of people in Gloster still own land so they make do. They figure out a way to live. They have to travel far to find jobs. The folks who do work have to travel far via car to maybe McComb, Mississippi, which is about 35 miles away. There are a few little retail jobs there like those dollar stores.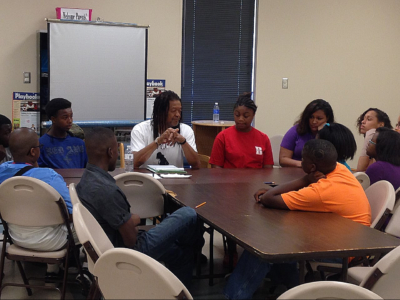 50BOLD: Do some of them have their own businesses?
Porter Troupe: Not many. There's an underground economy for others but most of them move away. And the Gloster residents survive because other people or family members provide financial help by sending money home. They also work cooperatively among themselves to help each other out. The biggest industry in Gloster is logging, so some people work hauling logs.
50BOLD: I had no idea what that life was like in Gloster.
Porter Troupe: So the project idea is about arts helping to rebuild a community.
50BOLD: What would you like to see happen in that community?
Porter Troupe: My dream is to start an artist colony in Gloster; I really, really hope to accomplish this. I am hoping to get artists to come and spend time there. It's extraordinarily beautiful. There are rolling hills, lush greens, lots of space, wildlife, lakes, rivers and streams.
50BOLD: Gloster sounds so picturesque! Are Blacks involved politically?
Porter Troupe: A lot of the city government now is run by Black people. The sheriff is Black. The police department is Black. The mayor is Black. The city council members are Black. They still don't have a lot of resources. A lot of the white people in town who could not afford to move or didn't want to, just retreated. You know, many have adopted the mentality that if they're not running anything in town, then, they don't get involved.
50BOLD: It would help Gloster immensely for those residents who have left to come back and help build it.
Porter Troupe: Exactly. It's very affordable to own your own property there and it's rich in soil. They just discovered the largest deposits of shell oil and natural gas in my county. The land is rich. You can grow your own food. And they just got a new Piggly Wiggly supermarket in Gloster which had been a food desert farm for many, many years. And now they have a real supermarket, a place where you can buy fresh fruits and vegetables just like anywhere else. And the store has brought together Blacks and whites all shopping together in this little place. It's like a little slice of paradise.
50BOLD: How exciting for your town!
Porter Troupe: As the young people graduate high school and go on to college, they want to leave Gloster. There's this residential high school about 50 miles from Gloster, School for the Arts, that accepts young budding artists from all over the state. Youths have to audition to get into the school. The school is on a beautiful former college campus.
The executive director, Susanne Hirsh, who runs the school is progressive and a visionary. The students who graduate from the school go on to college, graduate, then return home. So, what I'm trying to do now with the summer arts camp is to get kids interested in pursuing their creative talents. I'm trying to plant the idea that if the children excel, they can possibly get into the Mississippi School of the Arts, which is an almost guarantee to college. Seeing these children succeed would be my major contribution to my little hometown.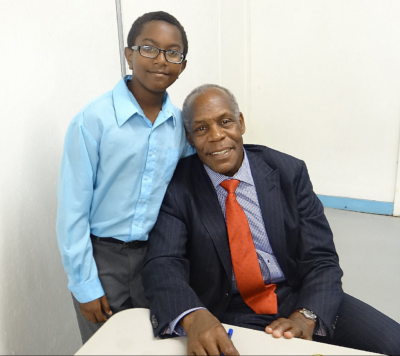 50BOLD: Oh wow that's fantastic!
Porter Troupe: And this school is located 50 miles from my little town. What I'm trying to do now is build a similar program, a summer arts camp to try and get kids interested in pursuing their creative talents. I'm trying to plant the idea that if the children excel, they can possibly get into the Mississippi School of the Arts and almost be guaranteed a pathway to college. Seeing these children succeed would be my major contribution for my little hometown.
50BOLD: Can you tell us what your life was like growing up in Gloster?
Porter Troupe: When I was growing up, my mom had 15 children. I was number 14. My mom married my father when she was 14 years old. My father was 29 years old. My father was the baby of his family. My mom was raised by her grandmother. My mother's grandmother was the housekeeper and caretaker of my father's mother. Well, my father developed leukemia, died and left my mom a widow at age 45 years old with 15 children to care for. But we lived on this farm and grew everything we needed.
50BOLD: And your parents owned the farm?
Porter Troupe: Yes, they owned the land and built a church and an elementary school on the land that I attended. I grew up during Jim Crow. I grew up on the farm with not very much to do being one of the youngest in the family. And I was educated in this little two-room schoolhouse until 5th or 6th grade. And then during 6th grade desegregation happened or as the white folks called it, "the incident" or "the event." And when "the event" occurred, the town built a school. I lived on the outskirts of town. The school was segregated. It was a brick building with a gymnasium. We had a band. We had all black teachers. Segregation. So, I went to a middle-school and high school there and joined the band when I was in 8th grade. And I took theater and all this kind of stuff and had a wonderful high school experience. I was the valedictorian of my class.
I went to college; the first girl in my family to go to college. Two boys had gone to college, but I was the first girl to go. I went to college on a scholarship because we were land rich but cash poor.
50BOLD: How did you meet Quincy?
Porter Troupe: I met Quincy while I was working at The New York Times. At the time, there was a lawsuit involving the Black employees who were suing The New York Times for equal pay and promotions. I joined the suit and became active immediately. I decided to do a fundraiser to raise money for the lawsuit, and I met Quincy. A friend of a colleague at work introduced me to her niece who was dating a poet. And I met them and Quincy at a poetry reading and we became friends. I asked him to organize a poetry reading for me and he did. And I started bringing poets to The New York Times during lunch time breaks. [laughs]
50BOLD: Wow, poetry readings at work?
Porter Troupe: I don't know where the idea came from for the readings, but I guess I was just inspired by the culture and meeting Quincy. He was at the center of that sort of thing in New York at the time. He was organizing the Black Roots Festival at the Frederick Douglass Creative Arts Center. And I just jumped on board, doing what he was doing, copying what he was doing, and doing it myself as well because I loved it. I felt I wanted to be involved with creative people, working with them, and producing cultural events. I had found my passion in creativity and this is how I ended up where I am today.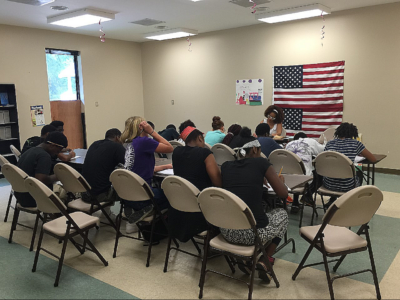 50BOLD: What a wonderful story! When did you organize the Harlem Arts Salon?
Porter Troupe: My second year was in 2004. We had moved back from California in 2003. I had my first salon in 2004. Maryse Condé was my first guest, the Guadalupian novelist and playwright. I then had Hugh Masekela, the South African musician.
50BOLD: Now, how did the children in Gloster react to the important work you're doing there?
Porter Troupe: Well, the first year that I did it, the children were like: "What? What is this?" They didn't know what the heck we were talking about. I brought six artists down there, and they were talking to them about writing poetry, and playing music. Professional artists who traveled with me were folks like Quincy Troupe, and Kelvyn Bell, the guitarist and composer who was the musical director for the Harlem School of the Arts for 14 years. People like Nambi E. Kelley accompanied us, she is a playwright and who now is getting lots of attention for her adaptation of Richard Wright's Native Son. Ebony Golden also joined us and she is a movement artist and does a lot of street theater and stuff like that in the city. Carlos Uribe, a visual artist silk screen printer and Rachel Eliza Griffiths who is a poet and photographer also came down to Gloster. They all visited this little town to teach children.
In Amite County where Gloster is located, the teachers are predominantly white and female. Imagine the irony! Southern white women are teaching these Black children. The kids never had an experience like the one we provided to them. So, the first year the kids said things like, "We ain't never had no teacher like this!" We thought this was camp. We thought we'd be swimming. And this is like school." [laughs]
What we would do is we give the children three weeks of teachings, and then at the end, they'd perform. They would have to come out on stage and read their poem, play guitar, or sing. They would have to dance or exhibit their artwork that becomes the set designs for these events.
50BOLD: And they'd perform for the community?     
Porter Troupe: It's open to the public. Danny Glover comes down. Terry McMillan came down. Tyehimba Jess has been there. Will Calhoun has attended the program. I bring artists who are very renowned, like Cassandra Wilson. And the children show off in front of everybody and they are just so…. The transformation is incredible to see over the three-week period because their lightbulb goes on. They finally get it that somebody cares about what they think.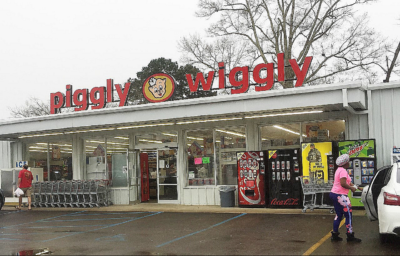 50BOLD: Do you have a memorable moment that stands out for you?
Porter Troupe: Well, last summer two of the kids who were in the program called to say, "Miss Margaret, I want to come and work for you this summer." The kids came and became my paid helpers. They had just graduated high school and were waiting to go to college. They wanted to come back and work in the program. And one of them, Kenneth McGowan, Jr., was my accountant registrar and he kept immaculate records! [laughs] He was so good. Vanessa Davis, she was my receptionist, and was also registrar. One young lady named Destiny Beverly hadn't written a poem before she started. And two years later she's winning prizes statewide for poetry.
A young man came to the program two years ago. The first time he had attended he was 14 or 15 years old. I have the teachers give a demonstration of what they do, so Quincy read his poem "For Magic." The kid stood up and said, "Wow, I can do that! I can do that!" Last year when I went back, he came in to say hello and to thank Mr. Troupe and Mr. Bell because he discovered his voice and is now rapping. He also produced his first CD. He's on his way to become whatever, a gangster rapper. Unfortunately, his language and content (laughs) are not to my suiting. But the fact that he discovered there was something creative he could and wanted to do is wonderful!
50BOLD: He found his passion.
Porter Troupe: Yes, he found his passion.
50BOLD: How many students are in the program?
Porter Troupe: It averages to about 40 children in the program, a decent amount. And the program is for first to 12th graders. They kids have to be able to read and write. In 2017, I thought I wanted more kids, so I offered teenagers ages 14 to 17 a stipend; I had 75 kids that year. Our camps are at The Gloster Head Start Center in town. It is the most modern building with classrooms and air conditioning. Temps can soar to 100 degrees in Mississippi in the summertime. The center is cool and has a kitchen which is great because the kids are given a free lunch.
50BOLD:  So many kids started from the beginning.
Porter Troupe:  Yes, and the children come back to the program every year. Parents are now seeing how much the program matters. One lady told me, "I couldn't get my children out of bed to go to school in the morning. Now they're like 'Momma! Momma get up! We're going to be late, Momma, we gotta go!'" They really love the program because they meet new friends. They love it because they discover themselves and discover that what they want to do is possible, and not weird or strange.
50BOLD: I understand you are organizing a trip to Cuba. When is it and what are some of the activities?
Porter Troupe: The trip is from May 22nd to the 26th during the Memorial Day Weekend. It's an art and cultural tour to help raise funds for The Gloster Arts Project. There will be a walking tour of historical downtown Havana. Travelers will also visit wonderful restaurants, attend cultural events at night, meet local artists and visit their studios.
50BOLD: How can people help support this incredible program so you can continue the important work you're doing in Gloster?
Porter Troupe: They can send donations. We're a 501(c)(3). I need money! I really need an endowment so I can build and grow the program. I need to have housing because there's no housing. There's one motel in town with paper thin walls. I can't put the teachers in the motel for three weeks. They need housing. I use my family property for the housing right now, but that's in disrepair, so I have to find funding. I have a small house that I donated to the organization, but it has to be renovated. So, I really need an endowment. I need a nice chuck of change to make sure that I have the proper facilities. I need my own space to run this program year-round because I'd like to run this year-round. I'd like to offer intergenerational programming so that parents who are living in public housing, unskilled moms and dads can also learn a skill that perhaps can be converted into some sort of income-earning project for them.
50BOLD: Do you have a final message for our readers about building strong communities?
Porter Troupe: It's important that we build the communities we want to live in. Each one of us is responsible for our own neighborhoods, and our own children. We are responsible for our own media. We can do this! We need to really put our energies and resources into making sure we have great education for our children and support the arts. We must support our writers, visual artists and musicians. We need to make sure that the arts are in schools and our children learn and appreciate their own creativity; this is how we build confidence in them. We empower them, so that they build communities they want to live in, and want their children to grow up in. Safety, literacy, humane conditions, and self-sufficiency are my messages.
50BOLD: If people want to make a donation, how can they contact you?
Porter Troupe:  I can be contacted through my website: theglosterproject.org. Your readers can donate online, or they can mail a check/money order payable to The Gloster Arts Project and sent to: 1925 Adam Clayton Powell Blvd., #7L, New York, NY 10026.