Pam Grier is best known as a 70's action-heroine cult figure who kicked, punched, shot, stabbed, crushed her way through her adversaries and made you think twice before taking her on. The kick-ass chick with the groovy fro battled drugs in the hood, female degradation, outwitted the po-po and got big-time drug kingpins locked up. Suffice it to say, Pam knew how to handle herself in all types of situations. She was the entire package—brains, beauty, and a body that could bring men to their knees.
We loved the foremost icon of the Blaxploitation era in such box-office hits as Coffy, Foxy Brown, Sheba Baby, and Friday Foster. Pam was always depicted as a fierce and sexy no-nonsense feminist who was willing to stand up to any villain, and no matter how powerful, she'd still find a way to bring him down.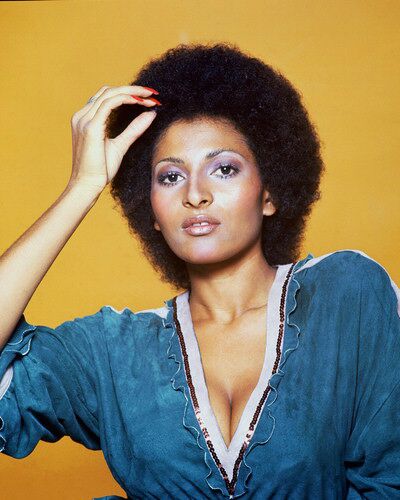 The military brat and cousin to gridiron great, Rosey Grier, was a struggling film student at UCLA in the '60s when she got a whiff of the Hollywood vapors. She caught the eye of "The Pope of Pop Cinema" director Roger Corman who was looking for a raw, and untapped natural to be in one of his films. With a lot of hesitation on her part, she decided to throw caution to the wind and try out for the role. When Pam met with Corman, she stressed how she was not an actress. She also made Corman agree not to fire her. Pam insisted that he meet her mom to assure her that he'd take care of her daughter while in Tinseltown.
Well, Corman apparently kept his promise, and the rest is herstory!
The statuesque beauty became a star and infused new meaning into the label femme fatale. When the Blaxploitation boom ended, Pam continued to work in theater, TV and had small roles in films. In the mid-90's longtime admirer and director, Quentin Tarantino came a-callin' and he cast Pam in a lead role in the film, Jackie Brown, a follow-up to his classic, Pulp Fiction.
The Tarantino film put Pam back in the spotlight.
Pam went on to win accolades for her Jackie Brown portrayal that included Golden Globe and Screen Actors Guild nominations for Best Actress. She went on to do more films and took on the memorable role of a straight character in the TV Showtime lesbian drama The L Word.   She also appeared on the TV series Smallville, and most recently on the NBC-TV hit show, This Is Us.
On a personal note, Pam, who never married and did not have children, did have high-profile relationships with such stellars as Richard Pryor, Kareem Abdul-Jabbar, and Freddie Prinze. The Winston-Salem, North Carolina native also had more than her fair share of life's curveballs thrown hard in her direction.
Pam endured two incidents of sexual assault first as a 6-year-old child when a group of older kids attacked her. And at the age of 18, Pam was a victim of date rape. In 1988, Pam was hit with the hardest news anyone could ever receive; she was given 18 months to live after being told she had cervical cancer. Instead of accepting her fate, Pam fought like hell to save herself. She turned to Eastern medicine and changed her eating habits to incorporate organic foods. Pam also added yoga into her newfound healthy lifestyle.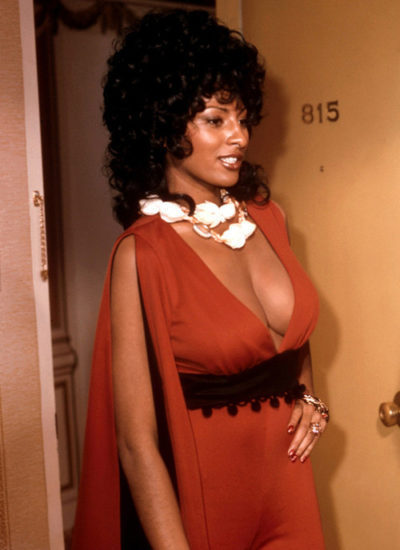 Pam Grier is still beautiful, vibrant and living her best life! She is the ambassador of BrownSugar.com where not only her classic films can be viewed but other iconic movies starring people of color are available to stream.
50BOLD.com chatted with Pam about everything under the sun from her beginnings to her now's. She was honest and held nothing back, and we still think she is an outtasight and groovy chick!
50BOLD: What was it like growing up in the Grier household?
PAM: Well, the Grier household was a military one. My family and I lived on air bases all over this country and in England. We lived a wonderful inclusive existence that in a sense, protected us from the Jim Crow incidents off the base. Whenever we would come home, and there wasn't a base available where we could live, we'd spend time at my grandad's house in Denver, and visit the farm in Wyoming where my mom was born; they're from the Black west. They're from the Underground Railroad.
My great-great-grandmother lived in Cheyanne, Wyoming. She owned a sugar beet farm that I loved visiting. She also owned a hotel for African American, Asian, indigenous, or first nation people, and they would stay there; many worked on the railroad. So, I had a great foundation of rural, military, and urban, the best of all three worlds. I got to learn a lot and don't pass judgment because I was taught to walk in the shoes of others.
50BOLD: Absolutely! I read somewhere that you were part Cheyenne Indian?
PAM: We're part of everything! I had a DNA done from Ancestry.com, and I'm 23% Nigerian, 18% Native American, and some other cultures thrown into the mix.
50BOLD: You've always portrayed such strong characters in films, are these the kinds of roles that you sought?
PAM: Not always. I like portraying characters who might have wound up strong at the end of the story, but who started out very vulnerable. Strength is not given to you, it's earned by walking through fire, swimming in a river, jumping out of a plane, skiing down a mountain. The experiences of life make you strong. I was sexually attacked as a little girl, and then again at age eighteen in college. There was also a third attack and with each, I found strength; I got stronger. Once you gain your strength, people can ask you where you got it, what it looks and tastes like, and how it feels to be so strong. Yes, you have definitely got to learn strength and earn strength.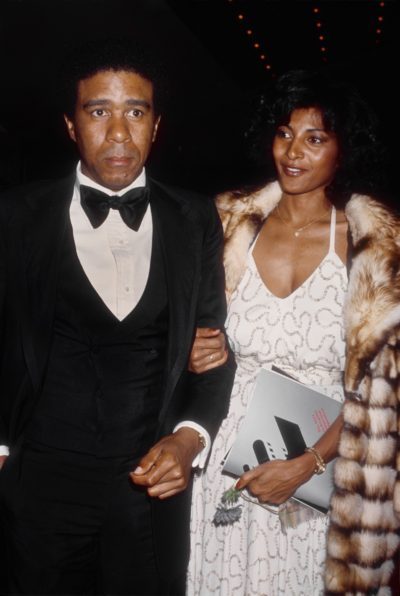 50BOLD: How were you discovered especially with all of your back and forth moves.
PAM: I wasn't really discovered. When I moved to California to get into film school, I had three jobs. I worked at a theatrical agency in the morning, a film studio at night, then as a DJ at a sports club for athletes also at night. There is this patriarchal culture of oppressing women that I was trying to break out of at the time. I had witnessed many generations of the women in my family in situations where they weren't allowed to be because their husbands forbade them to pursue their dreams. They did not want their husbands to feel like less of a man. I didn't want to be a part of any oppression. I didn't want to get married, have babies, and then get an education. I wanted to get an education!
I kept running into wonderful men who would find me attractive but who kept trying to get in the way of my pursuing an education! I was wearing Goodwill clothing, working three jobs to try and get into a college, and didn't consider myself a trophy! These men thought, however, that I longed to marry someone in the spotlight or who was affluent. NO! I wanted to get an education and to find out who I am, as a person, a human being.
I had no desire to be a baby-maker, homemaker or you know, the "little woman." I really wanted to be a financially supportive partner for my husband if he, for example, came home from Vietnam and was unable to work to provide for us. So I had to prepare myself to be that financially contributing partner.
It just so happened the director/producer, Roger Corman, was looking for someone unique from Colorado. Well, I drove my grandad's pickup and looked like Angela Davis, so he might have considered me a little unique. For me to be in a film, Corman had to ask my mom for permission. I was not an actress, and did not know how to be one! I didn't want to get fired from the acting jobs because I was leaving three jobs for the move. So my mother made Corman promise that he wouldn't fire me!  He also made sure that I studied acting. Corman offered me supporting roles in a series of women-in-prison movies like The Big Bird Cage and The Big Doll House. The films were low-budget, B movies.
And I didn't get fired!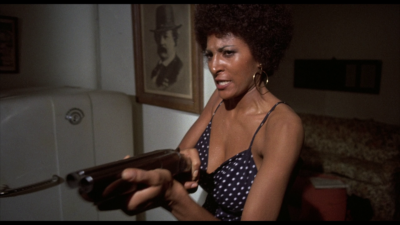 50BOLD: I remember those "B movies!"
PAM: I was good in my film roles; I studied and was believable! When I hit someone in a film, I actually did hit that person! I learned to bring a level of edginess to my work which looked a lot like strength and courage. I also brought a lot of my rage and frustration to my roles as a result of what happened to me as a child. I learned a lot about humanity when I stepped out on my own to find out who I was as a young woman in a world that is controlled by men.
At the time, I also learned about religion because my first real boyfriend was a Muslim and a basketball player (Kareem Abdul-Jabbar). And I remember I would have to totally give of myself to the religion, not to him but to the religion and I said wait a minute! So, I found myself saying I can't give myself to this religion; I need to find me first! If I do find me first, I might have something to offer to this world. (Note: Kareem wound up marrying another woman who accepted his Muslim faith on the day that Pam rejected his marriage proposal.)
You know, I always went back to my regular job after doing the movie roles.
50BOLD: You continued to work a regular j-o-b after making a film?
PAM: I sure did! I would appear in two or three movies but then always maintained my accounting job at a drugstore on the weekends! My agent was always looking for me! The monies I made went towards my tuition for school.
At age 68, my sister went back to school to get her master's degree two years ago while working full-time and raising two children.
50BOLD: Well, your sister's situation is an all-too-familiar tale as strong Black women have to do, what they have to do, in order to further themselves.
PAM: Some people in different cultures are stronger than others. We must increase our awareness of the various dimensions of cultural diversity and not generalize. There is no monolithic Black women's culture. We as women are multi-dimensional and come from all different types of cultures–fundamental, religious, conservative, moderate.
50BOLD: Very profound! BTW, do you have two honorary doctorates?
PAM: I was given an Honorary Doctorate of Humane Letters from the University of Maryland Eastern Shore and I also received an Honorary Doctorate of Science from Langston University, a historically Black university of agriculture in Oklahoma. And speaking of agriculture, the Black farmers are really going to be the game-changers. They agree with me that only organic food should be sold in supermarkets. They agree with me that water should be made in the home; they know how to do it. They agree that organic vegetables should be provided to low-income families. These farmers are going to save this world!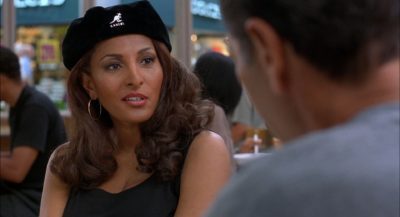 50BOLD: We interviewed the action-hero actor Fred Williamson who kind of took offense to the term Blaxploitation because he felt that the Black actors of the '70s were not exploited. Do you share Williamson's feelings?
PAM: Blaxploitation was a term to keep our movies out of theaters but out of necessity comes genius, okay. The Black actors during this era like Fred, Jim Brown, and Jim Kelly used the same formula in their films–sex, violence, guns, and music. At the time, these films were considered very stylish, very well done and are still viewed today almost 50 years later. But interestingly enough, the films were not referred to as Blaxploitation until actresses took on roles that involved the very same formula I mentioned.
I had planned on going back to my pre-med program at school when Corman offered me a three-picture deal in Hollywood. I was the only Black actress at the time to ever land a three-picture deal. So I became a writer, producer, you name it. I wore all these different hats, and wanted to get people involved in filmmaking so that we could document all the various cultures of African American life. We became very successful and as a matter of fact, our movies stayed in theaters way too long.
One of the owners of a theater chain called me one day; he became a dear friend. He said to me, "Pammy, your movies are staying in the theaters. A whole bunch of folks ain't going to like you." I asked my friend why and he responded, "Your movies are so successful; I'm not taking them out of my theaters!" And films with stars like Fred and the like found audiences that came back repeatedly for weeks with their families.
So at the time, theater owners wanted our movies! White filmmakers and white studios didn't know what to say because all of the Black movies during this so-called Blaxploitation era were doing well. So, our films forced movie theaters to expand, and then there was talk about creating one big theater with mini theaters within them so they can show perhaps a couple of Black movies, a martial arts, and maybe a Mary Poppins film. Today, the multi-film viewing idea turned into the multiplex theaters of today, and our "Blaxploitation" films sparked the entire concept. Thank you very much!
50BOLD: Now that is quite a history lesson!
PAM: Look at it from a monetary perspective. Our films from the era we spoke of are still playing. The Bounce TV network has a subscription-video-on-demand (SVOD) streaming service called BrownSugar.com and I am their ambassador and spokesperson. The service features the biggest collection of the most iconic African-American movies of all time. It is so important to keep and to further develop our brand to show there's a definite market for Black films.
Every Black actor, writer, producer, director, and movie is a brand. Getting a subscription to BrownSugar.com means that you support our culture. The service also brings wonderful nostalgia to many people who were around during the rise of Blaxploitation films which is your audience!
My 90-year-old mother didn't get to see my movies. She also didn't get to see half the movies that are in the BrownSugar.com catalog but she's certainly catching up on doing so now and loving every minute of it. We've watched so many movies over weekends, during snowstorms, and on holidays. So, when you support a brand, and there's an audience, there will be future films made for these viewers.
When you have a subscription to BrownSugar.com, you get to see a legacy of fine work by so many brilliant Black actors. You, for instance, are interviewing me because you're interested in our film culture. So, whether it be Black westerns, action movies, or dramas, keep watching and supporting our brands!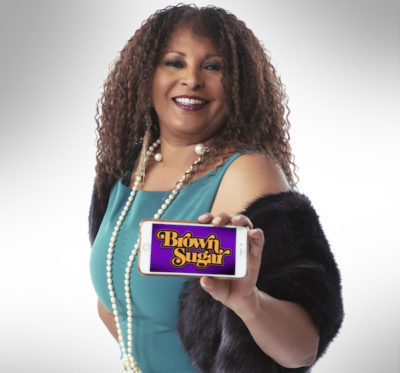 50BOLD: I am such a Bounce TV fan, and I always tout the network because it is phenomenal!
PAM. Oh my goodness, and Bounce is all we watch! Sometimes I make collard greens martini's, they are da bomb and my mom, her friends, my aunts, and I watch those wonderful Black films and let me tell you it's the greatest time. Just to see the joy in their faces when they see back-in-the-day idols! They are so busy yelling, "that's my film, that's my song, that's my favorite actor!" I am so proud to be a part of Bounce TV and BrownSugar.com and I hope the brands continue long after I'm gone.
50BOLD: I'm sure the company will be around for quite some time because of their quality products. You were every Black man's fantasy. I'm sure you had men falling at your feet because of your beauty!
PAM: My fro was tight and there was no lint in it! I was always patting it down (laughs)! You know, I just never thought I was attractive.
50BOLD: Well, you are attractive! You were our first female film action character. I'm sure you didn't receive the same accolades as your male counterparts at that time.
PAM: Well, I actually did receive many accolades throughout the years and I'm still receiving them now, so I can't complain.
50BOLD: You've had a lot of high-profile relationships. I think the one that our readers would be most interested in knowing about is Richard Pryor because he was a comedic genius. Can you tell us something about Richard that most folks don't know?
PAM: Richard was magical, his comedy was real; it was authentic. But Richard was just being honest and people thought he was being funny. When I was with him, I made him laugh. He'd say to me…"You're funny!" And when I put his injured horse in the backseat of my little Jaguar to take to the veterinarian, he looked at me and said, "You're funny!"   I looked at Richard and said, "Yeah, I know I'm funny, and that's why we're together!" So picture this funny scene like something out of a movie; two Black people in a yellow Jaguar with an injured horse in the backseat! You can't make this stuff up!
50BOLD: What was the cause of your breakup with Richard? Did your relationship end because you were two powerhouses?
PAM: My relationship with Richard really didn't end. I realized I needed to take care of my family. I also needed to be me. Richard basically kept falling off the wagon; I had promised people that he wouldn't do so and that he'd be strong, stay clean and be present when he needed to be. The studios would propose movie deals, and his extracurricular activities would cause him to fall off the wagon.
We were a power couple at the time, so I thought he would produce my movies and I would produce his films; I wanted us to do a lot of things together. But Richard kept promising that he would stay strong, he'd say, "Baby I'm strong, I'm strong!" And I'd say, "Okay!" He even asked, if I would move in with him and I said, "No."
I could only help Richard up to a certain point; you can lead a horse to water but you can't make it drink! Anyway, he tried to win me back and I just kept saying, "NO!" Once you break the trust in a relationship, it's broken and I can't move forward with you. He'd always bring up how independent I was and how he thought I did not need him which was not the case. Needing and wanting are two different things.
50BOLD: And a lot of people just don't understand the difference between needing and wanting.
PAM: So many couples need counseling. They need to figure out how to be a couple, how to grow with each other, and not divorce each other when they wake up feeling differently. And here's a little psychology folks, people change every six months according to the experts!
After Richard had his burn accident, Jim Brown called to inform me about it. Jim said Richard wanted to see me and that he might not make it through the night. Richard was freebasing and that thing I told him not to do, well, he did it, and it burned him. I'd warn him that he was going to burn himself up one day. I knew he was going to do it and if we had been together, I'd be crazy and kicking his ass everywhere. I was so upset with Richard. I told him, "You know I tried to warn you but you wouldn't listen!"
So Jim wanted me to come to see Richard. I told Jim that "If you can't tell me that Richard is going to get out of that hospital bed by himself then I am not coming. Jim said, "Oh Pam, that's cold." I didn't think my response was cold. I told Jim, "You know Richard. He is disrespectful, and if you stay, that means he'll never respect you because you're taking his bullshit, okay. You're taking his BS. And if you take it, that means you don't respect yourself. He will only love you if you respect yourself. So I respect myself, he'll love me more and we're good!"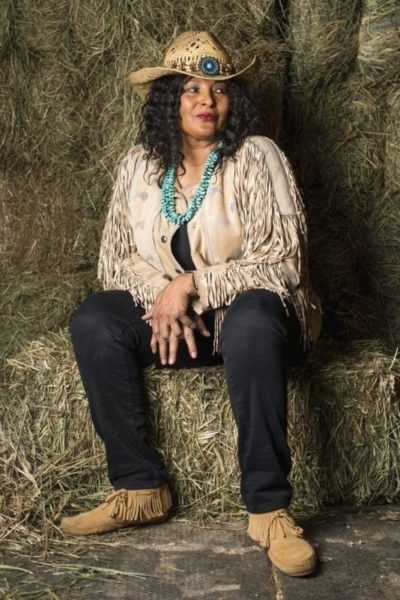 50BOLD: I don't even know what to say…
PAM: That's for real!
50BOLD: Is there a biopic of your life in the works?
PAM: Not true, that there's a biopic in the works. However, there is a production team in talks with directors about a narrative of my life. It involves the birth of the women's liberation movement as I searched for my independence without a hand from marriage and my rise as a cinematic storyteller when women's voices were pushing through to be heard. My voice has been screaming in films to motivate women to seek respect and liberate them from fear.
50BOLD: If you weren't an actress, what would be your profession?
I would be a veterinarian and a mentor to youth groups. Did you know there was a time when women were not even accepted at veterinarian colleges?
50BOLD: Did you ever think about getting behind the camera?
PAM: Personally yes, I love being behind the camera but have not done so professionally as of yet. I must place on hold any directorial effort as the care of family is a priority for now.  My family took care of me growing up and now it's my turn to care for them.
50BOLD: What's next on your radar?
PAM: I'm in the cast of an ABC-TV series called Bless this Mess that will premiere in April of this year. The comedy show is about a couple that moves from the Big Apple to rural Nebraska where as a child, I fished with my grandfather and relatives on the Platt River.  I will also be co-starring in a film opposite Diane Keaton called Poms that will be released in May.
50BOLD: Ms. Grier it has been a pleasure and an honor to chat with you, a true icon in every sense of the word! Thank you!
PAM: Thank you so much for helping to keep our cultural, historical legacies alive and read!