Doesn't the name Acquanetta remind you of hairspray? Well, it's not! Brunu Acquanetta was a beautiful and sultry B-movie actress of the 40s and 50s whose ethnicity and background was a mystery.
Where did "Acquanetta" come from?
Did the starlet make up the story that she was born Burnu Acquanetta, meaning "Burning Fire/Deep Water" in Ozone or was it Cheyenne, Wyoming?  Accounts are claiming the actress told the story that she was born on an Arapaho Indian Reservation in Wyoming. Acquanetta's mother was Arapaho Indian, and her white father took her to Norristown, Pennsylvania as a toddler to live with his then-wife.
There is yet another story Acquanetta recounted, whereas both her parents died when she was two-years-old. She then claimed to have lived briefly with one family, and then was taken in by another couple whom she remained with until she kind of emancipated herself at 15-years-old.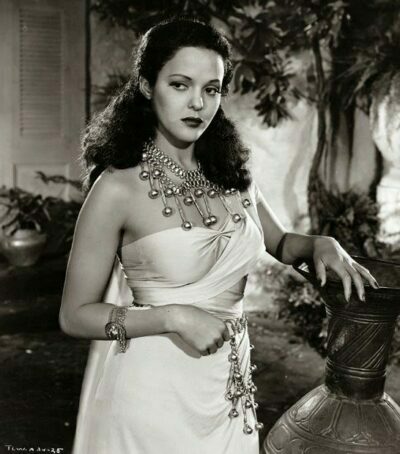 Is your head spinning yet?
Now there is yet another account that states Acquanetta was actually born Mildred Davenport to African American parents in Newberry, South Carolina in 1921. In 1942, LIFE magazine featured Acquanetta and outed her cloaked origins. The magazine reported that she lived with a Latin family in Spanish Harlem posing as a Venezuelan before moving to Mexico. She then later moved to Venezuela to obtain citizenship. The article also theorizes that Mildred's Arapaho orphan story was made up because she was unable to produce any identification for membership into the Screen Actors Guild.
Mildred's career was followed closely by the African American press. Did she purposely keep her background a mystery to help advance her career? Was Mildred trying to pass? The B-actress actually could never pass for a Caucasian but did look Indian or Hispanic. According to the 1940 U.S. Census Bureau, Mildred had five siblings, including a sister, Kathryn Davenport and a brother, Horace Davenport, who was the first African-American judge in Montgomery County, Pennsylvania.
A July 1950 edition of the Black newspaper, the Los Angeles Sentinel, recognized Mildred as a "beautiful Negro screen actress, known professionally as "Acquanetta." Jet magazine did a February 14, 1952 cover story on Mildred, and also featured her often amongst their pages. The cover piece mentioned how Mildred was from Norristown, Pennsylvania and left West Virginia State College for Negroes to start a career as a Broadway dancer.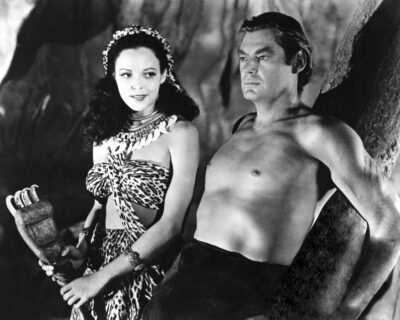 Mildred goes Hollywood
Mildred began her career as a model where she lived at New York City's famed Barbizon Women's Hotel. She eventually landed on the covers of Vogue and Harper's Bazaar and was escorted around the Big Apple by such A-listers as Prince Aly Khan and actor/director Orson Welles.
Mildren soon made her way to Hollywood and shortly thereafter was cast in her first film Arabian Nights in 1942; she played one of six harem girls, and the role was uncredited. Universal Pictures promoted her as an exotic Latina and dubbed her "The Venezuelan Volcano." Mildred became a B-movie star. She played jungle princess roles that were often reserved for non-white actresses. Mildred is best known for her role in the 1946 film Tarzan and the Leopard Woman with Johnny Weissmuller and his chimpanzee sidekick Cheetah.
Mildred was also cast for roles at Universal Studios in campy cult horror flicks. She played a silent and savage ape woman in the film Captive Wild Woman (1943) and Jungle Woman (1944). She was Universal's only female monster since actress Elsa Lanchester's Bride of Frankenstein (1935).
There was more ambiguity about Mildred's Hollywood life. One story states how she walked out of her seven-year contract with Universal with five years to go because she wanted to live a new life in Mexico, a country she found fascinating. In 1945, Acquanetta was one of President Theodore Roosevelt's Mexican Goodwill Ambassadors. She was also rumored to be engaged to several millionaires while residing in the Latin American country.
There is yet another account as to why Mildred was no longer with Universal Studios, and the story gets a bit more scandalous. Screenwriter Ed Hartman claimed that Universal learned (or came to believe) that Mildred was part Black. Word about Mildred's ethnicity was relayed to the producers. After the news about Mildred's ethnicity surfaced, the studio decided that she was not to have a romantic scene with a white man. As soon as Mildred's contract was up, the movie studio dropped her. Adding more fire to the scandal, Ed claims he knew a white actress who also knew Mildred. The actress stated how Mildred's mother was Black. The actress recounted the time she visited Mildred's home and met her mother, who was introduced as the cook (feelin' a little Imitation of Life vibe here!).
The Black, Hispanic, Caucasian, Native American's colorful love affairs
Mildred was known for her long black braids, turquoise jewelry, and prominent widow's peak. As far as Mildred's marriages, there was quite a bit of uncertainty and swirling questions. How many times was she married? Was her first marriage in 1947 to Mexican-Jewish millionaire Luciano Baschuk really legit? According to a January 10, 1952 Jet article, she sued the millionaire for divorce but lost the suit when the court could not find any record of a marriage. Luciano denied there was ever a marriage. They had a son, Sergio, who died of cancer in 1952 at age five.
In April 1951, Mildred married illustrator/painter Henry Clive in Juarez, Mexico. He was 71, and she was 29. She was his third wife and occasionally modeled for him. She divorced the artist in 1952 on charges of cruelty.
A year after her divorce, Mildred became a disc jockey working four hours a day for radio station KPOL in Los Angeles. According to Jet, she presented the tops in pop music, baseball scores, race results, and the latest news flashes.
In late 1950s, Mildred married businessman Jack Ross, then moved to Arizona where he became a successful Lincoln/Mercury car dealership owner in the Phoenix area. The buxom beauty starred in her husband's TV and radio commercials and became a caftan-clad local socialite and philanthropist. She helped build a hospital in Mesa, founded a theater and raised money for the Phoenix Symphony. Mildred had four sons with Jack and enjoyed a lavish lifestyle. On weekends, she and her husband would fly their own plane to San Diego where they kept a yacht that slept 27.
Married life for Mildred was far from boring! Having once caught Jack philandering, she filled the interior of his Lincoln Continental convertible with cement. The couple divorced in 1980. There were other legends that swirled around this couple for decades.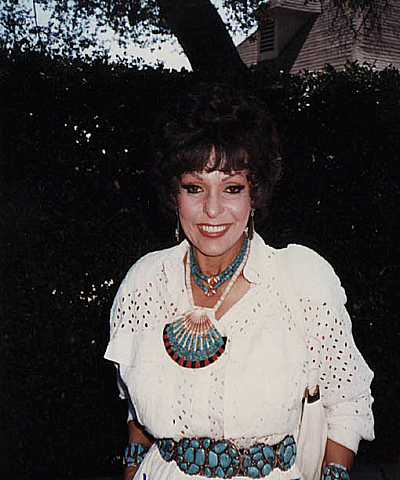 Life slows down for the former B-movie queen
In 1974, Mildred published a book of philosophical vignettes, The Audible Silence. In 1989, she acted in the direct-to-video release of Grizzly Adams – The Legend Never Dies. In January 2018, Mildred's movie career was the theme of a one-act opera, Acquanetta which premiered in Brooklyn, New York.
On August 16, 2004, Mildred succumbed to Alzheimer's at the age of 83. By the time of her death, she maintained her Arapaho identity. Mildred's life is still veiled in mystery, and she never felt the need to clarify a thing not even in her later years.  Yet the beauty's hazy past seemed to only add to the mystique of Brunu Acquanetta. Even though Mildred's heritage remains unconfirmed in records, to say the least, it's not hard to understand why she tried to pass in Jim Crow Hollywood. Sadly, many have never even heard of the alluring Acquanetta. Nonetheless, she was a trailblazer who left quite a creative legacy.