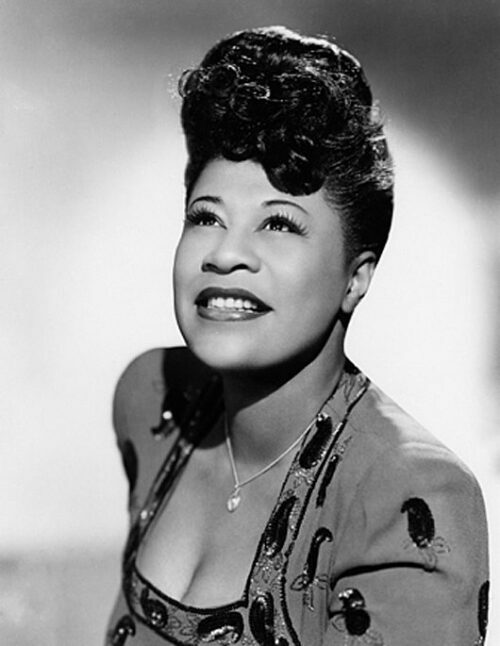 The year was 1991, I was on my lunch break from my job at Redbook Magazine located on 57th Street, one block from the world-renowned concert venue Carnegie Hall in Manhattan. Even though the streets were bustling with throngs of folks, I noticed an older African American woman walking towards me with a cane and a home health aide by her side. She immediately reminded me of my grandmother. The older woman's brown skin was smooth and virtually wrinkle-free. I noticed that her hair was impeccably styled and her manner of dress was so stylishly chic.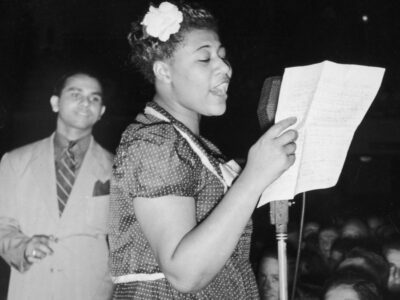 My heart suddenly began to beat rapidly after gazing at this woman, and finally realizing that the darkly-tinted horn‐rimmed glasses she sported had become her trademark in her later years. Yes, I was in the presence of the great jazz songstress Ms. Ella Fitzgerald!
There is a kind of unwritten rule in New York City that you should never gawk, or ask for an autograph when you spot a celeb. Well, Ms. Fitzgerald caught my eye, and I respectfully and lovingly blew an air-kiss in her direction. Ms. Fitzgerald smiled to let me know she had received my gesture. I will forever remember my very brief brush with a true legend and one of the most revered jazz performers of our time.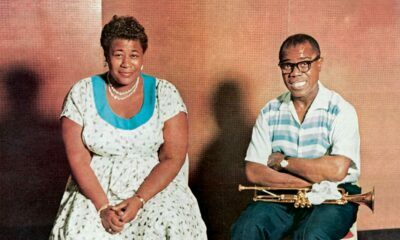 The life of Ella Jane Fitzgerald began on April 25, 1917, in Newport News, Virginia. Ella's parents, William Fitzgerald and Temperance "Tempie" Henry were in a common law marriage. When the pair separated 2 1/2 years after Ella was born, Temperance took her daughter and moved to Yonkers, New York where she moved in with her Portuguese boyfriend, Joseph Da Silva. The couple went on to have a girl, Frances, in 1923.
Ella was an excellent student who loved dancing. She also enjoyed listening to such greats as Louis Armstrong, Bing Cosby, but her favorite musical performers were the harmonious, Boswell Sisters, and in particular the group's lead singer, Connee Boswell. Ella enjoyed taking trips with her friends to visit Harlem's famed musical venue, the Apollo Theater to watch various musical acts perform.
In 1932, Temperance died in a car accident. After her mother's death, Ella was initially cared for by Joseph who according to biographer Stuart Nicholson, abused her repeatedly. In 1933, she moved in with her aunt Virginia in Harlem and immediately began to rebel. Soon Ella's grades plummeted because she played hooky. Ella soon found herself taking on small jobs to earn some money; first working as a runner for a local gambler. She also became a lookout for a bordello. Eventually, Ella's questionable jobs landed her in cuffs where she was first sent to the "Colored Orphan Asylum," and later to "New York Training Schools," a reformatory where she was physically bullied and taunted.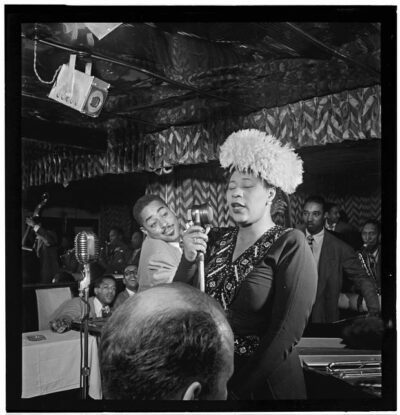 At age 17, Ella was randomly selected in a contest, and the winner would participate in the Apollo's Amateur night to compete for a $25.00 grand prize. Ella was prepared to dance at the competition, but after seeing a fabulous duo dance their shoes off, she decided to sing instead. When Ella made her singing debut, she crooned in the style of Connee Boswell. The Apollo crowd let Ella know that singing would definitely be in her future. On the night the young hopeful sang, part of the prize was a chance to perform on the Apollo stage for a week; the opportunity was not extended to Ella because of her unkempt, disheveled appearance. A member of Chick Webb's band was in attendance at the Apollo, and he persuaded Webb to hire Ella.
Ella accepted the singing gig with Webb's band despite the lack of a decent wardrobe and was hired at $12.50 a week. She made her first recording in 1936, Love and Kisses, under the Decca label. The swing era was on its way out, and bebop was on its way in. The young performer began using her voice as an instrument in the style that is now known as "scat." Ella developed a wide vocal range and had perfect intonation. She also developed an acutely sensitive ear for harmonic changes. Suffice it to say Ella was on her way!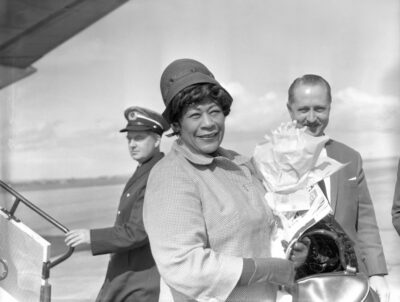 Ella wrote and recorded the nursery rhyme-based classic, A-Tisket, A-Tasket in 1938; the record launched her career and went on to sell one million copies.  A year after the wildly received recording, Webb passed away, and his band was renamed, "Ella Fitzgerald and her famous Orchestra."
After marrying Benny Kornegay in 1941, Ella soon discovered he had hidden his extensive criminal record from her. The marriage was quickly annulled; the union did not produce children.
Ella left her band in 1946 to pursue a solo career.  She hired  producer/manager, Norman Granz, who eventually founded Verve record; it was the beginning of a lifelong business relationship and caring friendship.  A year after signing with Granz, Ella married bassist Ray Brown whom she met while touring with trumpet great, Dizzy Gillespie. The couple later adopted a child born to Ella's half-sister whom they named Ray Brown, Jr. The couple shared a rigorous touring schedule and their son was cared for by Ella's aunt, Virginia. Ella's relationship with her son had been reportedly strained for many years but, they were able to reconcile in her later years. Ray, Jr. followed his adoptive parent's musical career path to become an accomplished jazz musician.
In 1945, she recorded a scat version of Flying Home that was described by The New York Times as "One of the most influential vocal jazz records of the decade."  She followed the critically acclaimed recording with Oh Lady Be Good in 1947, a recording that sealed her reputation as this country's leading jazz artist.
Even though Ella was adored by countless fans, it was the 50's and she was not immune to the turbulent racial climate. In 1954, Ella made her first tour to Australia. The inception of the tour was marred by a racial incident on Pan Am airlines when Ella, and her fellow bandmates were blatantly humiliated by airline employees because they were Black. Ella and her crew eventually sued the airline and won an undisclosed lawsuit amount, which she later described as a "nice settlement."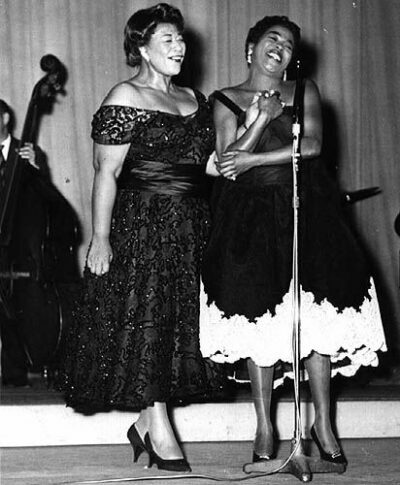 Ella left Decca records in 1955 and became the first artist to sign with Granz's label, Verve. From 1956 to 1964, she recorded covers of other artists`music, including Cole Porter, Irving Berlin, and Rodgers and Hart. A collection of those tunes was known as The Great American Songbook.
In 1958, Ella Fitzgerald won her first career Grammys at the first Grammy Awards. She won for Best Jazz Vocal Performance, Individual for Ella Fitzgerald Sings The Duke Ellington Songbook, and for Best Vocal Performance, Female for Ella Fitzgerald Sings The Irving Berlin Songbook.
Ella was known to suffer from performance anxiety but managed not to let it affect her career. Socially, she was insecure about her background and paranoid about her appearance. She rarely mingled with fellow band leaders, and only counted singers Carmen McRae, Sarah Vaughan as close friends. Ella never took to liquor or drugs; food was her high. Throughout her life, she would battle with binge eating and dieting.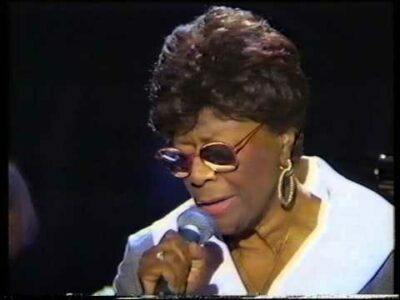 In later years as Ella aged, the grueling touring schedules began to take their toll on her health. Ella had open-heart surgery in the mid-80s. She suffered from diabetes which led to major health complications for many years. Poor eyesight and poor circulation eventually set in that resulted in both legs being amputated below the knee in 1993.
Ella passed away on June 15, 1996, at her home in California, and is buried in Inglewood Cemetery in Los Angeles. She was 79.
On that memorable day back in 1991 when I spotted Ms. Fitzgerald, I have since found out she was in New York to perform for the 26th time at Carnegie Hall. I'm grateful to have even gotten a glimpse of such a jazz icon who acknowledged me with a smile I will never forget.