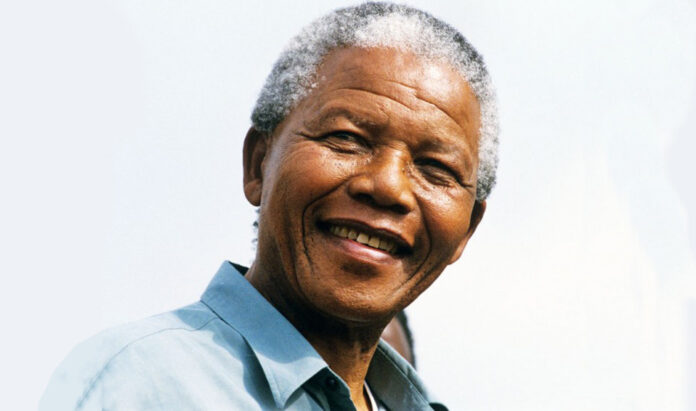 The Father of South Africa, Nelson Mandela, would have turned 101-years-old this month. The anti-Apartheid activist's life's work was to fight tirelessly for those who were disadvantaged by the country's system of racial segregation. He became South Africa's first democratically elected president in 1994 and stepped down five years later but continued to promote world peace and social change. Sadly, we lost one of humanity's greatest treasures on December 5, 2013, at age 95 but he forever lives on in our hearts.
50BOLD.com celebrates the anniversary of Mandela's birth by sharing some little-known facts about the beloved warrior of peace.
Mandela came from royalty and his patrilineal great-grandfather was the ruler of the Thembu people in South Africa's modern Eastern Cape Province. Mandela's father was a local chief and counselor to the monarchs.
Mandela's actual first name was Rolihlahla, meaning "pulling the branch of a tree" or "troublemaker." He was given the name Nelson by a teacher because, in the early 20th century, South African children were often given English names due to the colonial presence in the country.
Mandela would disguise himself to keep from getting arrested for his political activism. He would dress like field worker or chef to escape getting cuffed by police.
When Mandela was imprisoned, he lived in a teeny cell without plumbing or a bed. He was forced to do hard labor in a limestone quarry and the work caused a permanent injury to the tear glands in his eyes. The damage was so severe that he could no longer produce tears.
Mandela earned his law degree while in prison from the University of South Africa. He was the first in his family to receive a formal education.
Mandela had a total of six children, three of whom passed away–Madiba died of a car accident at 24, Makaziwe died in infancy and Magkatho died of HIV/AIDS complications at 55.
During the 27 years Mandela spent in prison, he never missed one morning of exercise.
While imprisoned on Robben Island, Mandela could only receive one visit and one letter twice a year.
Mandela began writing his memoir while in prison and buried the plastic wrapped pages in containers in a vegetable garden at the prison. The memoir was discovered when prison authorities began building a wall through the garden.
The anti-Apartheid activist was a strong advocate of education. During his administration, 1.5 million children were enrolled in school.
Mandela's first wife, Evelyn Mase, was a nurse and anti-apartheid activist Walter Sisulu's cousin. She supported Mandela while he studied law at Wits University and became further involved in politics. They had four children together and divorced in 1958.
Mandela loved boxing and trained as an amateur heavyweight and sparred with professional fighters including Jerry Moloi, a contender for the South African lightweight champion division.
Mandela made it a point to always arrive on time. He regarded lack of punctuality as a character flaw.
Making a bed every day was something that Mandela had to get done, do or die!
While in prison on Robben Island, Mandela and the other inmates would communicate by leaving notes in discarded matchboxes, under piles of dirty dishes, and taped to toilet tanks.
The beloved South African leader received more than 250 awards, including honorary degrees from more than 50 universities worldwide.
The U.S. and Britain recognized Mandela as a terrorist but in 2008 removed him from their terror watch list.
After his presidency, Mandela became a staunch supporter of education to combat HIV and AIDS.
Mandela's loved eating tripe, the stomach lining of farm animals like cows and sheep; it was his favorite food.
Mandela made a cameo appearance in Spike Lee's 1992 biopic Malcolm X. At the very end of the film, he plays a teacher reciting Malcolm X's famous speech to a room full of Soweto school children. Mandela refused to deliver a certain line of Lee's script; he didn't want to say the closing words "by any means necessary," so Lee cut back to some footage of Malcolm X saying those famous words.