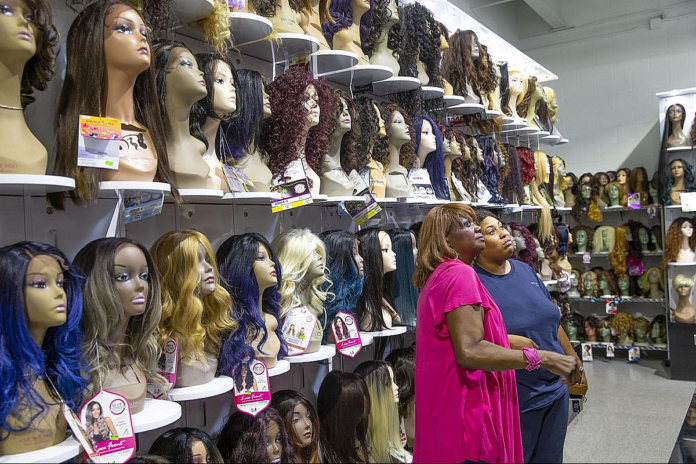 I
t seems everyone, young or seasoned, are into wigs these days. These head toppers are all the rage! A wig is hair generally made from either human hair or synthetic materials. Much of the hair on sale comes from small agents who tour villages in India, China, and eastern Europe, offering poverty-stricken women paltry payments to part with their hair. The wigs can be used cosmetically or as a medical necessity due to baldness. It is tempting to want to give your hair a break from all of the fuss, but before you invest in a wig, there are a few things you need to know.
Synthetic wigs
Synthetic

wigs

are constructed with artificial or man-made fibers. They are typically inexpensive, which is a draw for many buyers. Today's synthetics have come a long way, and many even have the look and feel of the more expensive human hair wigs. What's great about synthetic wigs is that they are usually ready-to-wear out of their packaging with little to no styling. The materials used to make these wigs have a memory for wave, curl, and volume, which lets hair bounce back into place with minimal effort — the curl pattern is permanently set. It can even hold up in bad weather and can guarantee minimal drooping or frizzing.
The cons that come with purchasing a synthetic wig is that unless it is heat friendly, you cannot apply heat from a curling iron to change the wig's curl pattern. These wigs also do not last as long as human hair. If you care for a synthetic wig properly, you might be able to get a good six months out of it. Heat-friendly synthetic wigs might last up to three months.
Human hair wigs
Human hair wigs offer a more natural look, feel, and last an average of one to three years with proper care. Many human hair wigs can be colored, permed, and styled just like your own hair. Human hair wigs come in a variety of textures, so that you can match them to your own.
Just like your own hair, human hair has to be washed and conditioned to maintain its luster and manageability. These types of wigs react to weather, so if it rains, the hair can get frizzy or limp. Styling the wigs can be just as difficult as styling your own hair, so if you are styled-impaired, take your unit to a professional hairdresser. The color on a human hair wig also tends to fade over time and exposure to light. One important factor to consider when buying human hair wigs is the cost, as they tend to be considerably pricier than synthetic.
Buyer Beware!
Wigs are big business. Annual retail sales top $2 billion in the United States.
Millions of Americans buy wigs, with the largest group being African-American women, according to Mintel Group, a global marketing research firm. Wigs are a booming business in China. Many Asian companies are pretending to be based in the U.S. but are not, and a number of them use PayPal as a payment service.
One of our editors purchased a wig from WigsBuy, a Chinese online wig retailer with a California address, but they are actually based in Beijing. The editor ordered two synthetic wigs and provided specifications as far as size and density. The company promised a timely delivery (within 8 to 10 days) and satisfaction. When the units arrived over a month later, they looked nothing like the depictions on the company's site. When the editor contacted the company via email requesting to send the units back for a refund on the same day they had been delivered, a WigsBuy rep kept dodging her requests. After countless emails over a matter of weeks, the retailer agreed to take the wigs back but would ONLY refund her $28. The rep claimed the company needed to keep the editor's remaining $110 she spent on the wigs for their labor!
When buying a wig online, it is best to keep purchases on these shores because if there is a problem, government agencies can intervene on your behalf to provide you with a better outcome. You can always escalate a complaint about a U.S.-based company to a corporate office. You can also take your complaint to the Better Business Bureau, Federal Trade Commission, or State Attorney General's Office; these agencies will target suspect companies and individuals for law enforcement actions.
Where should you buy a wig?
Well, many folks are turning to the internet for their wig purchase because of convenience. When buying a wig online, only purchase from an authorized retailer. Make sure they have a physical address and telephone number you can easily access. Call the listed company number on a retailer's site to make sure you can get someone on the line. Check the company's online reviews. Our editor did not perform her due diligence before buying wigs from WigsBuy.com. If the editor had done her homework, she would have seen countless negative complaints about WigsBuy from consumers who had issues with the company.
If you buy wigs from Amazon or eBay, know that many of the sellers are from China. Oftentimes the wigs that are pictured might not be what you'll receive in the mail.  Third-party sellers in China can put up any photo they want until they get caught by the legitimate copyright owner, which can take a very long time.
If you chose to go the brick and mortar wig shop route know that the wigs might not be returnable, so make sure you try them on before you buy. Some wig shops will push you to order a custom wig (which many typically order from China), try to avoid this, especially as a first-time wig wearer. Some shops order their wigs from China, so therefore you may not be getting a name brand. Check for authentic hang tags attached to the wig and follow up by checking the wig manufacturer's website to ensure that the shop is an authorized seller.
Buying a wig from your hairstylist might sound like a great idea, BUT you will more than likely be charged a hefty amount. Consider purchasing a wig from a trusted stylist you have had a long-standing relationship with and not from someone you just met.
Word to the wise
Do not fall for many of the YouTube videos that sing the praises of online wig retailers. The young women you typically see promoting the wigs are usually gifted with free products or paid for their services.
Do yourself a huge favor, make sure to do your homework BEFORE buying a wig by reading product and company reviews which can be found all over the internet.
Check out:  Wigology 101: The care and maintenance of wigs and Choosing the right wig