The year is 1974, and you're jammin' to the funk/soul track:
He met Marmalade down in Old New Orleans,

Struttin' her stuff on the street,

She said, "Hello, hey Joe, You wanna give it a go?"

Mmm, mmm,

Itchi gitchi ya ya da da, Itchi gitchi ya ya here,

Mocha-choca-lata, ya ya,

Creole Lady Marmalade…
Lady Marmalade was the biggest hit for the groundbreaking group LaBelle.  The trio wore flamboyant costumes, and sported cosmic-looking hairstyles as they rocked their glamfunk music with an incomparable epic stage presence. LaBelle made history as the first Black group to perform at New York's Metropolitan Opera House (1974) and the first to be featured on Rolling Stone Magazine (1975). LaBelle would disband in 1977. The ladies redefined what Black women and women, in general, could sing about by pushing the envelope, hell, they ripped it open with such provocative cuts as Going Down Makes Me Shiver which is a song about oral sex.
Among the stellar trio was the powerhouse Sarah Dash, who like her group mates Patti LaBelle and Nona Hendryx, would continue onto solo projects.
Sarah was born in Trenton, New Jersey. As a matter of fact, after several renovations, Sarah decided to reside in her childhood home. She is the seventh of 13 children born to the late Abraham and Elizabeth Dash.
As a high school teenager, Sarah was a founding member of Patti LaBelle and the Bluebelles along with Patti, Nona, and Cindy Birdsong who later left the group to join The Supremes. Patti LaBelle & the Bluebelles were among the most dynamic vocal groups of the 1960s.
Sarah has worked with such luminaries as Nile Rodgers, Keith Richards, Wilson Pickett, Alice Cooper, The O'Jays, and Bo Diddley. She has toured and recorded with Keith Richards' X-Pensive Winos band and appeared on the Rolling Stones' Steel Wheels album.
She has received the Rhythm & Blues Foundation's Pioneer Award and recorded the LaBelle reunion album Back to Now in 2008 featuring Lenny Kravitz and Wyclef Jean. In 2017, the members of LaBelle were inducted into the Philadelphia Music Alliance's Walk of Fame.
The singer, songwriter, producer is known for her disco dance classics Sinner Man, Low Down Dirty Rhythm and Lucky Tonight. Sarah credits the late rock music producer and talent manager Don Kirshner for actually saving her career by helping to develop her solo artistic skills.
Currently, Sarah is performing her autobiographical musical: Sarah Dash, One Woman. Earlier this month she premiered her new show, A Tribute to Aretha Franklin in three cities. The special concert featured Sarah singing all the great Aretha classics like Respect, Chain of Fools, Freeway of Love, and Jump to It. Sarah also reveals cherished stories of her lasting friendship with the Queen of Soul. With a deep commitment to her faith, Sarah released a gospel CD The Seventh Child in 2011. Every morning, she wakes up to read biblical verses from her tablet. She not only incorporates inspirational songs in all her shows but is her family's chaplain.
As the very first Music Ambassador of Trenton, Sarah has blazed a trail in every facet of her long and noteworthy career. Besides honing her craft, Sarah has been a mover and shaker with regards to arts and music education in her city. The city of Trenton's mayor even appointed her Music Ambassador for the city. She also serves on the Grammy Board of Governors, is the Grammy New Jersey Ambassador for the Advocacy Board of the Membership Committee, serves on the Board of Trustees for the New Jersey Capital Philharmonic Orchestra, and is a member of the Songwriters Hall of Fame. Sarah also created a course with two professors called Trenton Makes Music for The College of New Jersey based on the history of music in the city.
As if Sarah didn't have enough to keep her busy, she has tirelessly advocated for homeless women with children. In addition, she counsels and gives inspirational talks to women's church groups all over the country and youth in at-risk facilities.
Whew, there is no stopping Sarah Dash!
At 73, Sarah is loving life after having built a legacy of more than 50 years of music by using the power of her voice to entertain and inspire. The beautiful, timeless and illustrious
Sarah checked in with 50BOLD to give us a glimpse of her life's journey.
50BOLD: Let's start at the beginning. It seems you've been singing forever! Were you born with a microphone in your hand?
Sarah: I was born with one in my mouth. (laughs) I started singing in my dad's church at a very young age. I was part of the youth choir at the Trinity Church of Christ. The rule was if you were going to do the Thanksgiving ceremony or the plays in school, you had to be in the 4th or 5th grade; I was only in the second but had this big mouth. They added me to the choir and I was the first one to sing a solo with the bigger kids.
My father and mother recognized my talent and the next thing I knew, I was singing in church.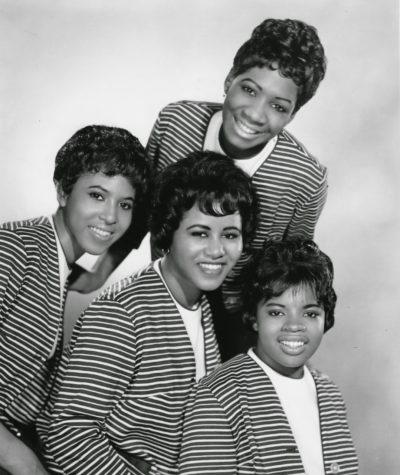 50BOLD: Shifting gears a bit how did you and the other members of LaBelle meet?
Sarah: I actually got Nona into singing. Patti and Cindy (Birdsong) were out of the Philadelphia metro area. Cindy was from Camden, New Jersey. Nona, two other people and I were in a group in Trenton. Patti's manager came to Trenton and he wanted to manage our group as well. We had the same managers so that's how Nona, Patti, Cindy and I became one group. Some of the people from Patti's group called The Ordettes dropped out. Some of the people from my group, Del Capris, dropped out.
Anyway, I was in church one Sunday morning with my youth choir and the alto singer in my group had quit. There was Nona leading the song. And I said to myself, "Wow, that girl can really sing. We need that voice!" Nona told me, she would have probably been a teacher had it not been for me.
50BOLD: You began performing as teenagers in high school. What was life like as a young member of a singing group, and traveling all over?
Sarah: In our early days it was more like pioneering. We traveled a lot in a station wagon. It took us a while before we felt comfortable flying. Sometimes I would just leave them and fly by myself when I just didn't feel like riding in a car.
We did the circuit. One day we would open in Baltimore, the next day we would open in Washington, then we'd travel to clubs in Atlanta and Florida. We would sometimes go to Philadelphia to the Uptown Theater, and then head to Chicago to the Regal Theater. There were theater owners that would buy Black shows. Say for instance, if you had Chuck Jackson, Ben E. King, Patti LaBelle and the Bluebelles, and the Dells, if the packaging did well in New York City, it would be brought to Chicago.
What happened with us as a group, we got caught up in bad management. We had gone to London many times and were well received there which was due to our television appearances. We were actually the first Black group to appear on UK television before The Supremes or anyone else. The TV producer who eventually became our manager was Vicki Wickham. I kept in touch with her and I would always reveal what was going on with us. She really liked our group. One day I told her, "Listen, we are having issues and I really don't know what to do?" I told her that our management is bad. Vicki then asked where we'd be playing? I let her know that we still had the Apollo to play and some dates in Brooklyn. Vicki encouraged us to keep the Apollo date. We knew there was a change coming down the pike.
Anyway, the rest is history how we transformed into LaBelle. Vicki renamed the group, took over as manager and changed our visual and musical styling. We toured with rocker groups like The Who and no longer with the soul circuit groups. Two weeks later we were on a plane going to London. We had rid ourselves of all the old-fashion ways of doing things and got rid of our uniforms that were the very same three dresses, three wigs and three pairs of shoes!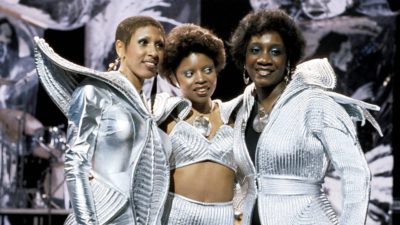 50BOLD: Would you say that LaBelle were innovators with a riveting fashion style and stage performance?
Sarah: Going through the transformation from Patti LaBelle and the Bluebelles to LaBelle set a precedent for performances and costumes for acts like The Rolling Stones and Earth, Wind, and Fire. We were the innovators of that change. It took me a minute to admit to this. When I look back, nobody was wearing flamboyant costumes, feathers, and chains. We really did change the form of female singers.
50BOLD: Absolutely, as we had never seen African American female singers wear outlandish costumes.
Sarah: And our record company didn't readily accept the costumes. Our fans thought we were the craziest, and loveliest things in the world, although some didn't think so at first.
50BOLD: What made you decide to quit the group in 1977?
Sarah: I think all of us knew in our own way that the group was going to dissolve. The style of music we were going for was not working. There were internal issues that weren't correct. The group's balance was not right. You can't have a group with three people, and only one is honored; the others might as well not be present. If one member wants rock and roll, the other doesn't know what they want, and I want R&B, and there is no discussion to be had, a break is needed.
We did come back together for a pseudo-reunion. I call it pseudo because not a lot of people knew about it. It was just about changing personalities, me growing up, and getting older.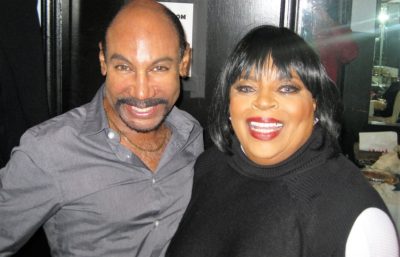 50BOLD: Switching gears, as a matter of fact, we have someone in common…triple threat, actor/dancer/singer Brian Alejandro Scott; we love him at 50BOLD, he has been a contributor. For your song, Sinner Man, which is one of my favorites, Brian was a backup dancer when you performed it live on stage.
Sarah: Yes, he was one of my dancers! Great guy, small world!
50BOLD: Do people still go crazy when you perform Sinner Man?
Sarah: Oh my God! People call me from time to time and say, "We're in the club, and they're playing Sinner Man!" Amongst the three of us, I had the international hit with that song! I received so much international exposure with Sinner Man. It was just heard all over the place.
50Bold: You also worked with rocker Keith Richards of the Rolling Stones?
Becoming part of Keith Richard's solo project…Keith Richards and The X-Pensive Winos, which was such a great time.
50BOLD: Wasn't The X-Pensive Winos Richard's group without the Rolling Stones?
Sarah: Yes, and I was the female in the group. We had a nice hit, Make No Mistake. We toured Europe; we went all over the place. We wound up doing three world tours.
I totally grew at that time. I became a solo artist, and give all the credit to the late Don Kirshner for helping me develop my solo skills.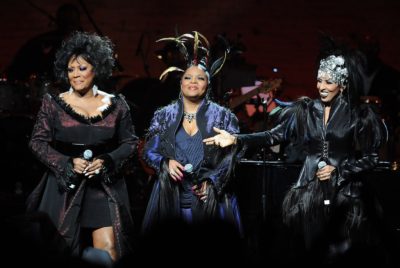 50BOLD: Really, why do you credit Don?
Sarah: When LaBelle first split up, I recorded a demo. There wasn't a lot of time given to it. I still had the same manager as the group, but the attention for me wasn't there. I was led blindly into creating some music that wasn't even me. It was horrible. I didn't understand the tone of my voice as a solo artist.
Recording the demo hurt me and almost destroyed me as a singer. It destroyed part of my spirit. I trained with Don Kirshner and his wife. They convinced me that I was not dying and signed me. He made me rehearse every day, two songs for about four months and that's all I did. I went to the studio three or four times a week. Hit the gym, four times a week. Hung out very little. All I did was work on my voice with his writers. The result was Sinner Man. I had trained so well that I recorded Sinner Man in just one take.
50BOLD: Wow, that's SO amazing!
Sarah: This is why I give all of my solo credit to him.
50BOLD: In the early days as a solo performer, did you ever regret your decision to leave LaBelle or as you've already mentioned, was it just time?
Sarah: It was weird. It was different. I have no regrets when it comes to growth. I miss Patti and Nona on stage. When we came back together, I understood why we separated.
I love where I am right now.
I still love to hear the sounds with the three of us together but where God has placed me, I can't erase where he replaces. My spiritual life has gotten stronger. I am my family's chaplain.
50BOLD: Born in Trenton, you also live in Trenton today.
Sarah: I do! I restored and live in my childhood home. I live in a neighborhood where people comment, "You live over there?" Yes, I do! When they ask me, "So, how do you live over there?" I say, "I breathe!"
A few people thought I was crazy when I began restoring the house. I had an open porch but I closed it and installed security cameras.
50BOLD: Do you still perform, Ms. Dash?
Sarah: Yes. I have a one-woman show that I am working on now. Sarah Dash, One Woman. I have performed it but I'm still working on it.
I had to take some time off last winter because I tore my Achilles; I didn't let anyone know. I was still making appearances from the phone and videos. I was on crutches. I am in the gym again. I do speaking engagements. I am a vocal coach. I sing gospel, blues, jive, all of that.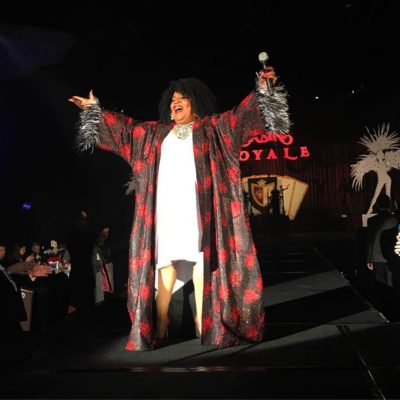 50BOLD: Do you have a favorite song that you like to perform?
Sarah: My favorite song, the one I like most, is the one I co-wrote with Donald Bolding, I'm Still Here. It says:
Been through so much in my life,

Everyday a different fight.

Been down the road of broken dreams,

they told me I was weak.

Somehow I got back on my feet

by overcoming my fears.

I survived through the worst of times,

but look at me now.

Because I'm still here.
50BOLD: Ms. Dash, I know you have collaborated with such wonderful talents as Keith Richards and Nile Rodgers. Is there anyone else you would like to collaborate with?
Sarah: Johnny Mathis. I love him! If Andy Williams were still living it would be him and Johnny Mathis. Sarah Vaughn was one of my favorites. What I learned from Sarah and Carmen McCrae; they had a style that was all their own. Both Sarah and Carmen had styles that were unique and got you to where your heart and your soul belonged.
Then along comes Aretha Franklin, who I would have loved to sing with. I knew Aretha since she was a kid. Aretha's father was a pastor, Reverend C.L. Franklin, and he would come down and preach.
I got to meet Reverend Franklin, and I would just sit there and look at him. This man had a sermon called "Open the Hell Gates," and Aretha sang Never Grow Old. She could sing! I also love Jeffrey Osborne; his voice is so wonderful.  But Johnny Mathis, I put at the top of my list. When Deniece Williams got to sing with him, I was like, 'Oh, God. I wish that were me.' I've never felt jealousy towards anyone who was making it, but that was the exception.
50BOLD: Are you married or have a significant other?
Sarah: I am a divorcee. I do have a significant other. The person in my life now, they taught me so much about freedom. They have a very strong position in society.
I also have many godchildren, nieces, and nephews that are always under my arms. I actually have a niece that was named after me, Sarah Ann.
50BOLD: What advice would you give to aspiring singers?
Sarah: First, get an education. Learn your business. Be open to your business. Secure what you are doing. Don't give up everything because you want to be in the business. There are some paths you have to walk to get your feet in the door but this doesn't mean you have to strip yourself of all that belongs to you.
You should learn your craft, and work on it as often as you can. If you have to do other things to support it, there is nothing wrong with this.
50BOLD: When you perform at your concerts, do your fans expect you to wear the cosmic costumes?
Sarah: Have you seen me lately? I used to have a 21-inch waistline. When I got sick and had to take steroids, my entire body changed.
People have commented about my weight, "Oh, she got so fat!" Yet, nobody knew I couldn't walk for four years. My knee was torn up in pieces. I've had some health challenges.
50BOLD: Ms. Dash, how would you like to be remembered?
Sarah: I'd like to be remembered as a human connector, one who loved and respected the arts.
The other day, music producer/songwriter Niles Rodgers was on Twitter. He said to someone who was talking about his clothes, "Oh, so you want me to dress like Sarah Dash when she was with LaBelle?" How funny! I was rolling! Niles is my buddy. I was indeed a style innovator in my time. I walked around in bras before Madonna, then everyone else followed suit.
50BOLD: Is there anything else you'd like our 50BOLDers to know?
Sarah: I want people over 50 to still be grateful for life and to truly treasure it. When I look at Tony Bennett and jazz singer Marilyn Maye, I'm a youngster compared to them. They are in their 90s, still tearing up the stage, loving what they do and loving life. I love their energy and attitude! If someone says you're too old to do something, tell him or her, they're too old for you and go for it!
Sarah singing her legendary hit, Sinner Man