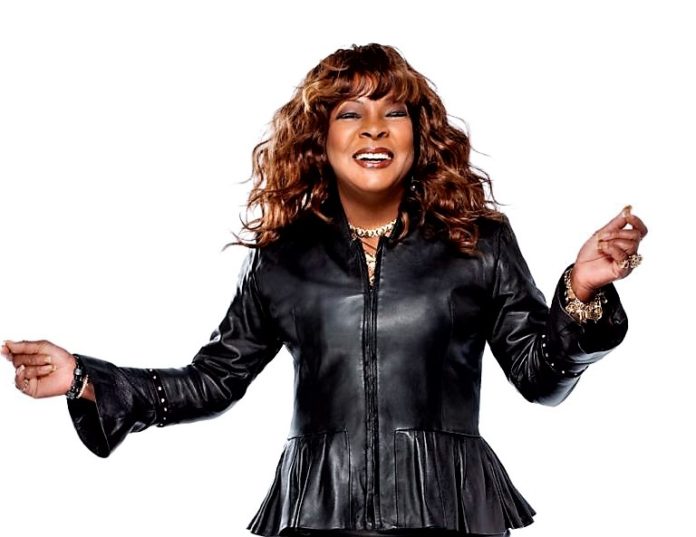 You may not know her by an early stage name, Martha LaVaille, given to her by an aunt who prophesized her world-renowned fame but when you hear the name Martha Reeves, a royal member of the Motown family of recording artists, resounding bells will go off!
The Eufaula, Alabama born singer who was raised and has remained in Detroit her entire life began singing gospel and classical music but was soon bitten by the R&B bug. She began performing in the late 50s under the name Martha LaVaille, briefly joining the Fascinations and then the Del-Phis. In 1961 she joined the fledgling Motown Records organization in Detroit, where she worked as a secretary in the A&R department. Looking back, Martha's duties were pretty enviable, she got to supervise a rambunctious little Stevie Wonder and got to sing background vocals on recording sessions.
Martha's strong, soulful and stirring vocals caught the attention of Motown head, Berry Gordy and he offered her a chance to record for his label. Martha Reeves and the Vandellas made their splash in 1963 and they became one of the company's most successful recording artists. The group which consisted of Martha as the lead, and Rosalind Ashford and Annette Beard as her backup singers, earned their first Grammy nomination in 1964 with "(Love is Like a) Heat Wave." A string of unforgettable hits soon followed that continued to keep the group front and center at the label—"Quicksand," "Nowhere to Run," "Jimmy Mack," and of course the 60's anthem, "Dancing in the Street."
In 1972 Martha left Gordy's Hitsville U.S.A. family, her group disbanded and she ventured out on her own. Martha spent a few subsequent years recording, but didn't quite reach the level of success she had achieved with the Vandellas. In 1994, she released an autobiography, Dancing in The Street:  Confessions of a Motown Diva. A year later, she and the Vandellas were inducted into the Rock and Roll Hall of Fame.
Currently, Martha is still performing her classic gems with two of her eleven siblings, Lois and Delphine Reese. She feels blessed to be part of the Motown sound that shaped a musical global culture. Martha, who has remained an avid lover of her city, served as a member of the City Council of the City of Detroit for 4 years from 2005-2009. She has one son, Eric Reeves, three grandchildren and two great grandkids. As far as marriage well, Martha admits, "I had a lot of frivolous relationships that didn't start out right and didn't end right either."
On July 18, Martha, who is still beautiful, glamorous and a style icon, will turn 77 and still, there is no stopping her. She and the Vandellas will not only perform in the States but are touring the U.K. and Spain as well.
Peep the recent conversation 50BOLD had with Her Majesty Motown's Queen, Martha Reeves.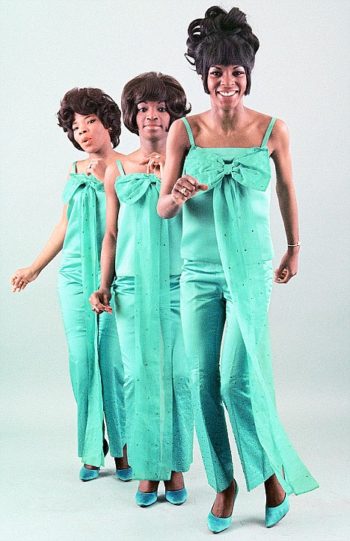 50BOLD:  First and foremost, I am so impressed that you were both an entertainer and politician.  I know the political part is sandwiched in between your entertainment career.  What was part of your decision-making process to enter the political world?
Martha:  As Motown artists, we were part of the Civil Rights Movement. We broke barriers down that were placed in front of us as we performed. The Motown sound and the words of love that we sang spread all over the world.
I feel being an ambassador and the experience of seeing countries and cities grow right before my very eyes over the 50 years that I have been performing; that I could help the growth and functioning of Detroit.  I was very interested in how this city is run.
50BOLD:  You are probably one of the few people who could actually say that you hung out with both Marvin Gaye and all of the other great acts of Motown and even spent time with President Barack Obama. 
Martha:  I spent time with President Bill Clinton, as well.
50BOLD:  Ok, so you are multi-faceted in the presidential world. Very nice! How did you come up with the name Vandellas?
Martha:  Vandella is a combination of Van Dyke Street in Detroit and my mentor actress Della Reese.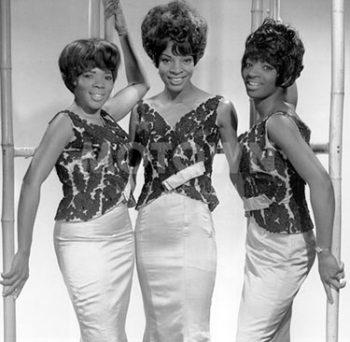 50BOLD:  I love it when folks pay tribute to history. Della Reese was wonderful.
Martha:  Della Reese…I saw her in church singing Amazing Grace and fell in love with her voice. I decided, if I ever got a chance, I would make sure people knew how much I admired her. She inspired me to continue as a singer.
50BOLD:  Ms. Reeves, how were you discovered?
Martha:  I was discovered by William "Mickey" Stevenson at a Detroit club called the 20 Grand. I was a winner of a talent show contest. I was awarded a three-night gig at the club during Happy Hour. The club which is no longer around was world-renowned where most of the big recording artists came to perform.
I had just turned 21. After my three-night appearance at the club, where I received $5 a night singing with the Levi Mann trio, I was approached by Stevenson. He walked up to me as I was exiting the stage, gave me his card and said, "You have talent. Come to Hitsville U.S.A. (Motown)."  I was sort of taken aback because I thought he was going to hit on me like most men do when you're a performer.
I went to Hitsville the very next morning by bus. When I got off the bus, I was looking for a big, tall building, a record company. Instead, Hitsville turned out to be just a house with a hand painted-sign. As I approached the house, there were about 25 to 30 people standing outside, waiting in line to see if they could get an audition with dreams of becoming an artist at Hitsville U.S.A.
I breezed by all of them because I had Stevenson's business card.  I approached the reception desk and there was this wonderful, beautiful lady sitting there; this memory is the highlight of my life. I asked the woman if I could see William R. Stevenson.  She replied,  "Who? Do you mean Mickey?" I was buzzed in and suddenly to my right, I saw the same good-looking man, Stevenson, whom I had met at the 20 Grand club. Stevenson's tie was loosened, and his sleeves were rolled up. He had been up all night writing a song for this young drummer named Marvin Gaye.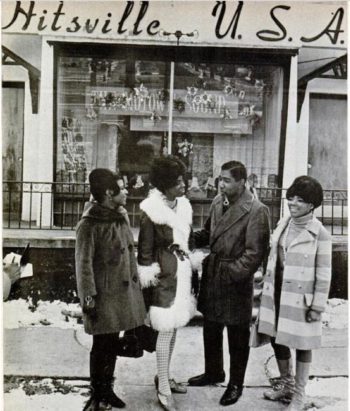 50BOLD: Wow!
Martha:  Stevenson asked, "What are you doing here?" I didn't know what to say. He said the auditions were every Thursday of the month. I thought, 'My God, I made a mistake. I moved too soon.' But I felt as though I had been led by the Holy Spirit going there. I felt so inspired by him even acknowledging my talent.
Stevenson left our meeting for what I thought would be momentarily and his phone just kept ringing off the hook, so I began answering calls and taking messages. People were calling every 5 minutes. I would answer the calls with.."Mr. Stevenson's office, A&R department." The callers would state…'We want an audition. We are musicians, what time is the session?' I helped schedule the sessions for Studio A, across the hall. It was a converted garage. I wound up staying there all day because Stevenson didn't come back until hours later! I repeatedly kept answering his phone and assigning musicians to sessions.
I knew some of the musicians from previous recording experiences. I got in, where I fit in. When Stevenson finally came back, he asked, if I could return the next day as the new A&R secretary. I know I made a big difference with Stevenson and Clarence Paul, the assistant artist & repertoire director. We had fun. There was music all around. There were people all around.   Hitsville was a place of magic. It was always a groove.
I feel I'm very special and very different because I had the A&R experience. I know how the sounds were produced. And I produced a couple of albums on my own, a couple of solo albums and used the technical techniques Motown used and I think I fared well.
50BOLD: Wow, your humble beginnings are so profound which reminds me of a quote by the civil rights leader, Whitney M. Young, Jr. It is a quote that has been frequently used but never credited to him… "It is better to be prepared for an opportunity and not have one than to have an opportunity and not be prepared." You were prepared and your trajectory was just off-and-running afterward. You've shared such a great and inspirational story.
Martha: It wasn't so much a miracle as it was divine order.
50BOLD: Yes, divine order. God places you in situations and you never know why but he does! Motown ran a really, really tight ship back-in-the-day and it seems, everyone played a role in securing the company's success. When it was time for you to bring your talent to the table, you were able to do so to propel yourself forward. Congratulations!
Martha: I recorded a lot of demo records. I wasn't just answering phones at the company. I was singing, performing and writing songs. Most of the writers were men. There was only one female songwriter, the late Sylvia Moy. She wrote Stevie Wonder's My Cherie Amour and was a very profound writer. Sylvia also wrote Honey Chile, My Baby Loves Me, and a few other songs that I performed and recorded. I made demo records for nearly every artist who followed me.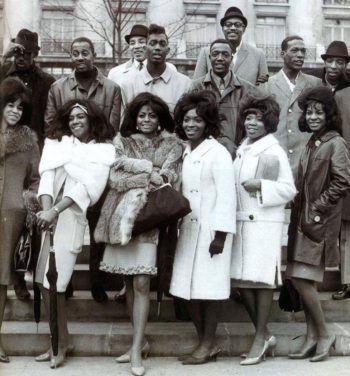 50BOLD: Is there one song recorded by another Motown singer that you think you could have sung better?
Martha: I sang most songs before other artists even heard them. I demoed records for the A&R department. I've recorded more than any other Motown artist. Universal Records produced a Martha and the Vandellas CD about 2 years ago. There were over 100 songs on the CD that I had recorded but had never been heard. So, totally, I have a catalog of over a thousand songs that I've recorded.
Motown was purchased by Universal. Berry gave his catalog and most of his songs to Universal. Martha Reeves and the Vandellas music is on Vintage; you'll find it if you look under the catalog of Universal Music.
50BOLD: Now, many of us from the outside looking in on Motown, see tight choreography, beautifully styled artists. What was it like to work in an environment where perfection is demanded of every single artist that is on the roster?
Martha: It was not so much that perfection demanded, it was part of a course; I call myself a cum laude graduate of the Motown University. We were taught music theory, we were taught choreography and basic steps from Vaudeville by Charley Atkins of Cole and Atkins. We were taught in the class collectively. I remember Professor Maxine Powell who taught us not only charm but class. She taught us how to carry ourselves. She instilled us with confidence. It was the type of schooling that you respected. Professor Powell made us all aware that people were watching us as we grew with the Motown sound. The classes helped us to bloom and the payoff was evident when we performed at our first Motown Revue.
50BOLD: Yes, tell me more about your famous Motown Revues.
Martha: I gave my job up as an A&R secretary after nine months. I boarded a broken down Trailways bus without a toilet along with the Supremes, Little Stevie Wonder, the Temptations, the Spinners, The Marvelettes, Kim Weston, Marvin Gaye, and a 12-piece band. We performed for 94 one-nighters, three months out of our lives, November, December, and January. We went all over the United States. We played before houses full of people who were anxious to see us. The world made us famous. When we got back to Detroit, all of our records had made the charts.
50BOLD: Very nice! When you often hear about artists who were out on the road back then, particularly Black performers, you hear mention of the Chitlin' Circuit. I don't remember ever hearing that Motown artists were a part of this period. Correct me if I'm wrong.
Martha: Motown exposed us to large venues–arenas, community centers, coliseums, theaters. Our first theater chain started in Philadelphia at the Uptown, followed by Baltimore's Royal. We left Maryland head for the Apollo in New York. Next stop, the Chicago Regal. Our performance venue here in Detroit was at the Fox Theater.
There was no chitlin' circuit for us.
50BOLD: When you were on the road can you talk about whether you played to integrated or segregated audiences?
Stay tuned for the answer to this question and lots more in the Part II interview with the great Martha Reeves in the next issue of 50BOLD.  Martha even spills some tea about a crush she had on one of Motown's most handsome and celebrated performers!
Author Leon Goodman hosted the Lou Rawls Parade of Stars for several years. A retired executive he is currently an actor who has appeared on such TV shows as Blacklist and Bull. Leon can be seen in the upcoming feature film, John Wick 3: Parabellum starring Keanu Reeves and Halle Berry.