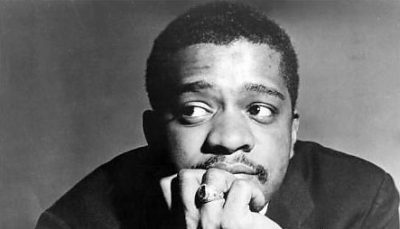 One of the most prolific hard-bop jazz trumpeters of our time, Donald Byrd was not only a gifted musician but a scholar as well. Recognized as a "technical master for his superb phrasing and glorious rhythmic tones," Byrd was a true pioneer who made significant contributions to the music world that many might not have been aware of. Byrd established jazz studies programs at academic institutions across the country and taught at a number of them as well. The jazz elder who later forayed into jazz fusion and hip-hop was also named a Jazz Master in 2000 by the National Endowment for the Arts, the country's highest honor for jazz musicians. Sadly, Byrd passed away four years ago at the age of 80 but the vibrant body of work he left behind will continue to be savored by us all.
Donald Byrd III, age 61, and founder of the Donald Byrd Cultural Foundation shared with 50BOLD, insights about his father's work and why he is committed to keeping his incredible legacy alive.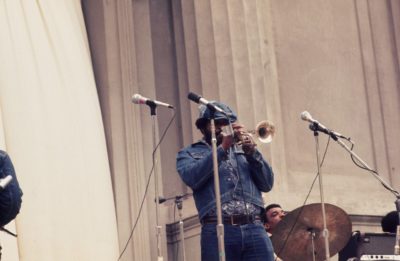 50BOLD: Please tell us about the mission of the Donald Byrd Cultural Foundation and why it was created:
Byrd: The Donald Byrd Cultural Foundation was created to support the development of youth through the arts by providing programs that build character, promote social responsibility, and enhance cultural awareness for the community. Its mission evolved from the inspiration of my late grandfather, the Reverend Elijah Byrd's philosophy on education and the accomplishments of my late father whose full name was Donaldson Toussaint L'Ouverture Byrd II. The Byrd family stressed education as the key to success. I feel that it is my birthright in namesake to be the custodian of my family's legacy because it's one that not only needs to be maintained but shared with others. Most notably his contribution to American music is enshrined in jazz almanacs and other Black music publications along with universities and schools where he taught or attended.
50BOLD: Before your father taught at Howard University in Washington, D.C., the study of jazz was not part of their curriculum. How was he able to get a jazz course instituted at the school? What was his experience like at the university and his interaction with the students?
Byrd: Before my father's tenure students were discouraged from studying jazz music. My father used his gifts and asserted his beliefs in youth empowerment while at Howard University. So in 1969, under the stewardship of my father, Howard incorporated a jazz studies program into their music department. My father led a jazz band and developed a music studies program that opened doors for many students. The move later led to the formation of a group called The Blackbyrds that consisted of students from the music studies program. During this time he also started to experiment with jazz fusion and R&B sounds and teamed up with recording producing siblings, Larry and Fonce Mizell also Howard students. This collaboration resulted in several major top-charting hits including "Happy Music," "Walking in Rhythm," and "Rock Creek Park." As a pioneer, my dad established jazz study programs at other American universities, colleges, and conservatories beyond Howard University.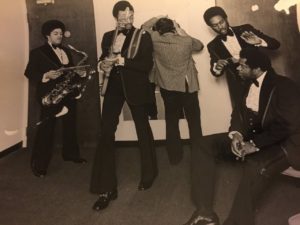 50BOLD: Who were some of your father's jazz and R&B musical influences?
Byrd: Some of the jazz artists who influenced my dad were such legends like trumpeters Fats Navarro and Clifford Brown, and jazz multi-instrumentalist Yusef Lateef. As far as R&B and soul influences, my dad was inspired by the music recorded by The 5th Dimension, Larry Graham, James Brown, and Earth, Wind & Fire.
50BOLD: Byrd was also influenced by jazz great Miles Davis. How did Davis encourage Byrd to take experimental liberties with his music?
Byrd: Although Miles Davis is a legend in his own right, my father was also influenced by those previously mentioned performers. However, my dad admired the level of success that Davis was able to attain as a jazz artist, as well as his lasting contribution to the music world. On the other hand, according to Kevin Toney, one of the founding members of The Blackbyrds, my father was inspired by Davis to do something different and significant. He, along with his producers and the Mizell brothers, created what is now known as jazz R&B. The style combines the elements of jazz improvisation, R&B rhythm of the day, and the combinations of R&B and jazz vocal stylings. Davis represented the fusion of jazz and rock, while my father's innovation was combining jazz and rhythm & blues, which made him one of the most successful jazz artists of all time. My dad's mainstream success also opened the door for other jazz artists to walk through such as Grover Washington, Roy Ayers and Herbie Hancock who landed his first major gig playing with my father.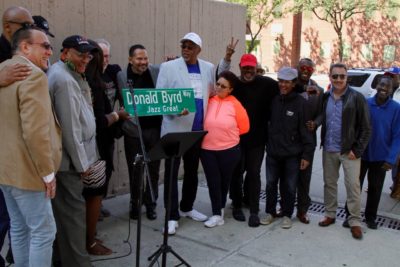 50BOLD: There is a newly named street after your dad in the Bronx, New York?   How did this naming come about?
Byrd: The Morrisania section of the South Bronx was a jazz cultural center beginning in the 1940s. A number of famous jazz musicians and singers lived in the community including singer Maxine Sullivan, trumpeter Henry 'Red' Allen, pianist Elmo Hope and my father who moved to Teasdale Place in the 1950s. Beginning in 2015 with the support of the local community board, Bob Gumbs, a Bronx Historian and former resident of Morrisania spearheaded a campaign to honor these jazz artists with local South Bronx streets co-named after them. On September 9th Teasdale Place between 163rd and 164th streets became "Donald Byrd Way."
50BOLD: Hip-hop music was greatly influenced by Byrd. Hip-hop recording artists like Public Enemy, Nas, Jungle Brothers and Ice Cube sampled your dad's trumpet solos from his recordings, how did he feel about this genre of music?
Byrd: The hip-hop generation totally embraced the music of Donald Byrd and the Blackbyrds. For instance, artists like Queen Latifah sampled the Blackbyrds "Theme" and Wiz Khalifa sampled "Mysterious Vibes" also written by Keith Killgo. Donald recorded with East Coast hip-hop artist Guru.  Songs like "Street Lady," "Think Twice," and "Dominoes" written and produced by the Mizell brothers have all been heavily sampled by hip-hop artists. Some pretty phenomenal music has come from the sampling of "Rock Creek Park" by the Blackbyrds.
50BOLD: Is there one special moment you had with your dad that you would like to share?
Byrd: One of my most memorable times with my father was when I attended my family reunion in Detroit. The city's mayor at the time, Coleman Young, was in attendance and he spoke highly of my grandfather's commitment to serving the less fortunate.
50BOLD: Are there any upcoming events in the near future that the foundation is organizing?
Byrd: On February 20, 2018, the Peaceful Warriors Project, iMichigan Productions and the Donald Byrd Cultural Foundation will pay tribute to the Allan C. Barnes Scholarship Fund at the Charles H. Wright Museum of African American History in Detroit, Michigan. The Blackbyrds will also perform some of Allan's most memorable compositions and solos. Allan was an original founding member of the award-winning Blackbyrds and wrote hits like "April Showers," "Summer Love," and co-wrote the Blackbyrds "Theme." Sadly, Allan passed away last year. The final record he recorded with the Blackbyrds was in 2012 in which he, Killgo and John Malone wrote the hit single "Gotta Fly." Allan will always be remembered for his moving flute solo on "Walking in Rhythm."
50BOLD: Is there anything else you'd like to share with your father's 50BOLD fans?
Byrd: Yes, most recently my father was inducted into the National Museum of African American History and Culture in Washington, D.C. It is my hope and vision with The Donald Byrd Cultural Foundation to further connect with schools and community agencies in order to engage young people in cultural educational programs. I believe that's how to best carry on my dad's notable legacy and his great contributions to the music world.