It takes a village to raise a child; committed souls to do the arduous work necessary to produce results that can help improve the quality of someone else's life. Esther Turner's missionary vision and undertaking is all about selflessness and devotion. She is the CEO and Founder of two organizations, Impacting Villages in Africa Ministries (IVIAM) and the Matthew S. Turner Foundation Inc. that she created to honor her father's legacy. The mission of IVIAM is to promote health, economic development, humanitarian relief and education in impoverished regions of Africa. It also provides them with the tools to build their own sustainable, agriculturally abundant communities. The Turner Foundation which is the domestic arm for IVIAM focuses on economic development in urban communities supporting youth programs, senior programs and educational opportunities.
Turner's foreign missionary work began in Uganda 13 years ago and has taken her to countries like Tanzania and Kenya where she partnered with other organizations and missionaries. She's even gone beyond the call of duty by adopting two African children, Nuwagaba Joseph and Namuwaya Brenda, whom she has sponsored since the age of six. Turner supported the children's schooling and continues to assist them with their college education in Africa today.  Turner's vision for expanding her impact as a missionary resulted in her establishing the non-profit, IVIAM. The organization works in areas of the continent where the rates of child mortality are alarming due to AIDS, malaria, and dracunculiasis or Guinea-worm disease, a parasitic infection occurring in parts of Africa without access to safe water. IVIAM also provides feeding programs, much needed supplies like clothing, shoes, mosquito nets to protect against contracting malaria, books, toys and the creation of recreational activities in six villages for approximately 400 children.  They also partner with a youth pastor's street ministry to help bring teen boys on drugs off the streets and into a shelter, until they're able to transition back into their communities.
The mother of two sons, grandmother of six and great-grandmother of one, who believes missionary work is her life's purpose is also in the throes of publishing two forthcoming books. One book is a memoir about her journey thus far and how her father, Matthew S. Turner, a politician devoted to helping the Harlem community, influenced her. The other book will discuss her missionary work in Africa. Turner discusses with 50BOLD her life-altering work as a missionary empowering underprivileged villagers.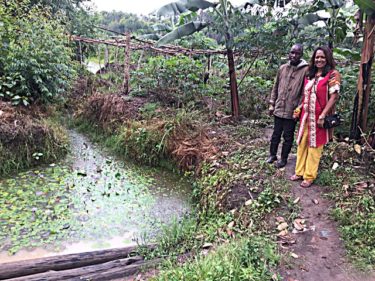 50BOLD: The missionary work you are doing in Africa with impoverished and under-resourced villagers is so important. What motivated you to get started as a missionary?
Turner: I first began 13 years ago when a former Ugandan colleague of mine, invited me to travel to their country on a mission trip.  The journey was life changing.  I knew within my heart that I was called to make a difference in the lives of the precious children there and to also offer support to the women in some small way.
I sponsored two children, Joseph and Brenda who were only six years old at the time, and I never looked back.  I've been to Uganda every year, sometimes twice a year for a 3-6 week stay each time.
50BOLD: Why did you feel the need to create Impacting Villages in Africa Ministries and what are some of the organization's initiatives?
Turner:  Impacting Villages in Africa Ministries (IVIAM) was created in 2012 after I had worked alongside another charitable organization in Uganda for seven years. I believe God sent me a specific vision. My mission was to establish projects in villages whereby residents would become empowered by learning how to start their own businesses.
50BOLD:  I heard you on a radio interview discussing a piglets business project you helped implement so villagers can become more self-reliant; so how did this idea come about?
Turner:  I wanted to start a project that would be easy, relatable and that could also teach villagers how to help themselves in the process. Many are natural farmers and understand how to raise pigs, chickens, cows and the like.  It's not a new concept.  I just needed to help them think outside the box and to show them how they could breed and sell pigs instead of eating their seed. The project has helped to sustain villagers by teaching them to start businesses that would generate income to support their needs.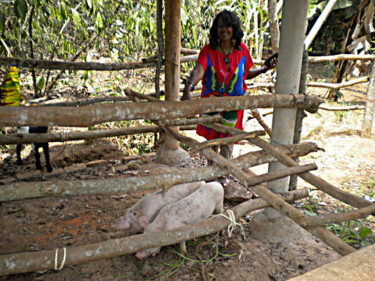 50BOLD: What an interesting and major undertaking. How did the process basically work?
Turner: The ministry purchased two female high breed pigs and one male pig.  Once the breeding process began, it went exactly as we had planned. The pigs kept producing. One produced ten piglets and the other eight; the process went on for three years.  We wanted to help families in the villages who are less fortunate, those who were stricken with AIDS, the elderly and children who are heads of households. Part of our teaching is to instruct the villagers on how to start their business of selling the piglets to gain income. Others learned to develop businesses where they sell fruits and vegetables that they themselves grow.
50BOLD: The piglets project sounds like a real winner.
Turner: Yes, the piglets project has proven itself to be quite successful. According to my Ugandan son, Joseph, with the monies villagers have made from selling piglets, some were able to build adequate homes, a few purchased toilets, while others bought supplies they needed. The people in the village have also been able to eat better because they now have the money to buy food and can even pay school fees for their children.
There is also a chicken project in place that IVIAM created for the villagers where we taught them the importance of "giving back." According to Joseph, most villagers will give the hens they produce to others.  He says the project has blessed so many.
50BOLD: I was surprised to hear in the interview that the girls in the village could not go to school during their menstrual cycles because they could not afford to buy pads.  Yet, you were able to help resolve the issue as well by providing the girls with "AfriPads."
Turner:  It is hard to believe but the lack of sanitary pads is a serious problem in Uganda and in other parts of Africa.  Many girls do not go to school during their menstrual cycle because they don't have the money to purchase pads.  They fear the embarrassment of spotting if they go to school so most of them stay home to prevent the potential for it.
About six years ago, I was mentoring some teen girls and this was when I found out about the pad situation. I wanted to do something to help so I went and bought some sanitary pads before I left Uganda but it was just a temporary fix.  Over the next few years, I would bring suitcases filled with sanitary pads and suddenly I realized I needed to investigate this problem further to see if there was something more sustainable.
I went online and found AfriPad, headquartered in Kampala, Uganda. The company manufacturers reusable pads that can be washed with clothing daily. The reusable pads can last up to a year. AfriPads are packaged in a kit with 4 reusable pads for morning, noon, evening and overnight.  The kits are approximately $4.70.  I was determined to get these kits for the teen girls in the villages.  At my 2017 fundraiser, I promoted this initiative and a supporter went on a campaign of her own to raise money for this cause. With the proceeds raised, IVIAM was able to buy 170 kits and we distributed them amongst six villages.
The girls are so happy and grateful. Things we take for granted here in America each month is a challenge in Uganda.  Providing the AfriPad kits to the teens has given them an opportunity to go to school.
50BOLD: After they've completed schooling in the village, are the children able to further their education in some way?
Turner:  You would be surprised as to how many children can't finish school because of their economic situation.  Obtaining the fees that are necessary in order to attend school is a major problem.  There are sponsors from our country and other European nations who might sponsor a child that helps with school fees and other needs.
I sponsored my two kids, Joseph and Brenda since they were six years old. They are now 18 years old and in college.  I paid for their boarding school fees, other requirements and the things they needed in order to survive.
I met a young man who had not finished high school.  I paid his school fees for two years so that he could finish school.  Another sponsor paid for his college tuition and now, he is a pastor and successful businessman in his country.
There are so many Ugandan children who are in dire need of educational sponsorship.
50BOLD:  If students leave the village to further their education, do any of them return to help the others? 
Turner:  The Ugandans I know always return to their villages to help their families. If the children are able to continue their education, they will do it.  Having a better way to support themselves and their families is important to them.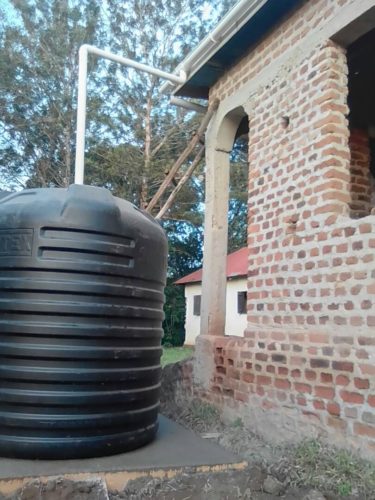 50BOLD: You were able to provide a water tanker in a village, so the people would not have to use contaminated water sources, how did this come about?
Turner: We wanted to build a well in a village but they are so very costly.  It is my understanding that the well is in excess of $30,000 depending on the size and other factors.  The ministry is not financially equipped at this time to service a project of this financial magnitude.  We will need sponsors to partner with us on such a project.  A temporary solution that would rid the contaminated water situation was to install a tanker that sits alongside a school. It collects water during the rainy season. Once the tanker is full, the children can collect water from the tanker instead of using contaminated pond water.
We recently installed a 5000-liter or 1300 gallon tanker. We have video footage of this. The villagers are very grateful and happy to have this project completed.  We want to put these tankers in at least five more villages.
50BOLD: Besides the work you do in Uganda, you are also busy with your ministry here. Tell us about the other volunteer work you do.
Turner:  Children steal my heart and I'm here to mentor them on so many levels.  I try to stay connected with my own community by supporting where I can.  Right now, I am taking care of my mother who has dementia and my other Dad, "Poppy," who has Alzheimer's. My life is all consuming and yet, I try to manage every aspect as best I can. I'm very close to my sons and grandchildren and I'm there to help and support them with their goals and initiatives as well. I am juggling quite a bit but God gives me strength.
50BOLD: You also wrote a book, a memoir. 
Turner:  The book has yet to be released.  Hopefully, it will be published within the next month or so.  It centers on my life and how being a politician's daughter was challenging.  My dad was so passionate about his work and made a positive impact in his village of Harlem.  Sometimes, there is a price to pay for loving your community.  There are things that will always go lacking.  I talk about my experiences in a positive way and hope to empower other women who have had similar experiences.  The book will hopefully make fathers rethink their engagement with their daughters and inspire discussions that would otherwise not happen.
I also have a second book in the works that will specifically address my mission work.
50BOLD: Tell us about your father, the Honorable Matthew S. Turner, and the work he did in Harlem as a politician. You were able to get a street renamed after him.  How were you able to accomplish this task?
Turner:  My father was an amazing man who changed the fabric of Harlem in his day. He was a politician, psychologist and a professor at Columbia University. He was responsible for helping David Dinkins become the first Black mayor of New York City.  He developed youth and senior programs and was a community activist who fought for equal justice for over 33 years. He was indeed an unsung hero in his own right.
Since my father had accomplished so much in his career, I went to city hall to ask Mayor Dinkins if a street could be named in honor of my father.  He signed the bill into law in July 1993, one year after my father's passing.  The renaming process was tedious but it was accomplished.  The street is the Matthew S. Turner Triangle at the intersection of St. Nicholas Ave. and Frederick Douglass Blvd. between West 120th and West 121st Streets. I later created a foundation in my father's memory that is the domestic arm for Impacting Villages in Africa. We are partners trying to make change domestically in this country and also on foreign soil.
50BOLD: You have said that the work you do in Africa is like following in your father's footsteps as he did much for Harlem.  What was it like being the daughter of such a distinguished figure?
Turner:  Interestingly, I am my father's daughter doing basically the same work he did, but on foreign soil.  My Dad's public life was fueled with a passion to excel that paved the way for many Black leaders to rise up to prominence in Congress, state and regional offices in government. He was extremely busy serving his community, and I longed for my Dad's presence as a child but learned from him the importance of serving and giving back.
50BOLD: How can people support the important work you are doing in Uganda?
Turner: Donations are great in that they help move my projects along. I, however, also need people who are willing to contribute to my organization's fundraising efforts and other initiatives so that we are better financially equipped to properly serve the people of Uganda.  We can be reached at our website– www.ImpactingVillagesinAfrica.org, email address–sujmedia@gmail.com or by phone–(609) 668-3355.