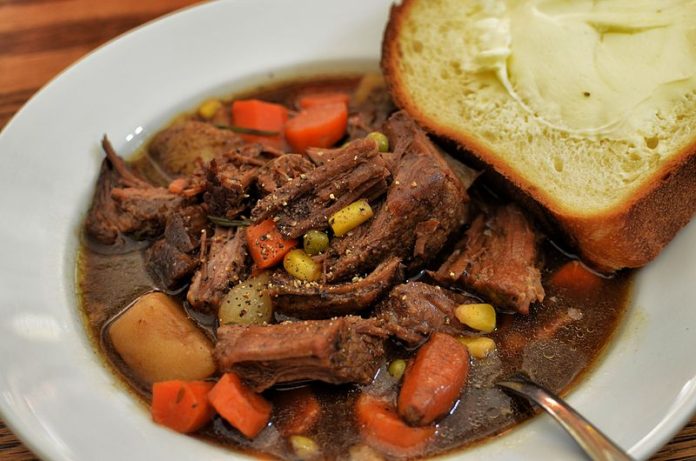 Fall is upon us, the weather is getting nippy, and our palates are crying out for some nice hearty stews to welcome the changing temps. Stews will help you ride out fall and winter with ease because they are comforting one-pot wonders.
You can throw in any combination of vegetables and either add in meat or not. Many prefer to slow-cook their stew, but if you don't own a slow-cooker, you can use one pot on top of the stove. Stews can also be made ahead for busy weeknights because they freeze well.
The dish of deliciousness has tons of flavors and is full of rich veggies, spices, and so satisfying; folks should not be hungry after dinnertime. Grab a bowl of stew, a piece of bread, kick back and let the world pass you by!
Here is a spicy, stove-top, soul-satisfying stew…
Beef Stew Barbados
3 lbs. stewing beef chopped into bite-sized chunks (rinse off the meat)
2 ½ tbsp. peanut oil
2 ½ cups water
2 tbsp. Teriyaki sauce
6 large cloves garlic, peeled and crushed
2 medium-sized onions, peeled and finely diced
3 medium-sized potatoes chopped into medium chunks
1 ½ tsp. smoked paprika
1 ½ tsp. of onion powder
4 large carrots, peeled and cut into large chunk lengths
1 small 8.75 oz. can of corn
3 stalks celery, finely chopped
1½ large stalk of fresh thyme
1 large stalk of fresh marjoram
3 bay leaves
1 Scotch bonnet pepper, chopped fine (make sure to wash your hands thoroughly afterwards)
1 tbsp. melted butter combined with 2 tbsp. of all-purpose flour
salt and black pepper to taste
Directions:
In a large bowl, marinate the beef chunks in black pepper, salt and 3 cloves of the crushed garlic.
In a skillet over medium heat, caramelize the onions and the remaining 3 cloves of garlic. Place in another bowl, and set aside
In the same skillet, over medium-high heat, fry the meat in hot oil, until well browned all over.
Now add in the Teriyaki sauce, bay leaves, thyme, marjoram, salt, black pepper, onion powder, Scotch bonnet pepper, smoked paprika and water, Cover the skillet, reduce the heat to a simmer, and cook for about 1-1/2 hours.
Remove the stalks of thyme and Marjoram, and the bay leaves; add in the celery, corn, potatoes and carrots. Replace the lid, and cook for 35 to 40 minutes more.
Towards the end of the cooking, vigorously stir in the butter and flour mixture, blend it in well to thicken the gravy.
Serve your Beef Stew Barbados hot