We loved Lady Day, Billie Holiday! She was one of the most beloved and influential jazz vocalists of our time. The singer/songwriter's vocal style was inimitable, distinctive, evocative, haunting, and ever-so-soulful. Much has been written about the songstress and yet, there are still many unknown facts about her.
Billie's life certainly ran the gamut from poverty to wealth. Fame brought her heartbreak and addiction. She led a life that was complicated, one part inspirational and the other, tragic, as she tried to keep demons at bay but in the end, they got the best of her.
We remember the woman whose very personal style continues to inspire singers decades after her death in 1959. Here are a few things about Eleanor Fagan Harris aka Billie Holiday that might surprise you: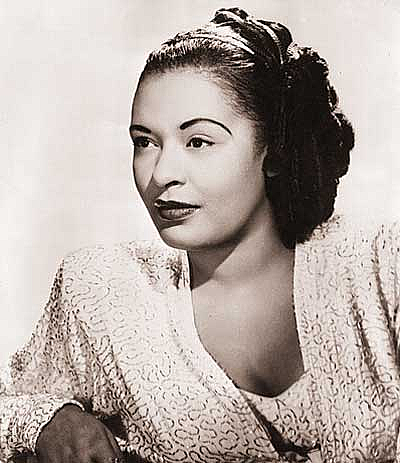 Billie Holiday was born on April 7, 1915 in Philadelphia, Pennsylvania to a teenage mother. Billie's father is widely believed to be Clarence Holiday, who was a successful jazz musician.
After being raped by a neighbor at age 10, Billie was sent to a Catholic reformatory in Baltimore shortly thereafter. While at the institution, punishment for misbehavior resulted in a night spent in a locked room as a child's corpse lay in a coffin.
By the late 1920s, both Billie and her mother, Sadie, turned to a life of prostitution in Harlem. Both were sent to prison after a house raid. At 14, Billie Holiday shook that life and, desperate for money, shopped her voice around the

jazz

clubs in Harlem.
Billie Halliday was the name the songstress used in the beginning of her career. By the time Billie appeared at Harlem's famous

Apollo Theatre

at age 19, she began using her dad's surname Holiday.
Friend and famed saxophonist Lester Young, a member of the Count Basie Orchestra gave the never classically trained performer the nickname "Lady Day" in 1937.
In 1937, Billie worked with white bandleader Artie Shaw becoming one of the first female African-American female vocalists to work with a white orchestra. When touring with Shaw, Billie was often forced to use the service elevators so as not to upset white patrons, prohibited from eating with the rest of the band, and confined to a dark room until she took the stage to entertain the same patrons who wouldn't share her elevator.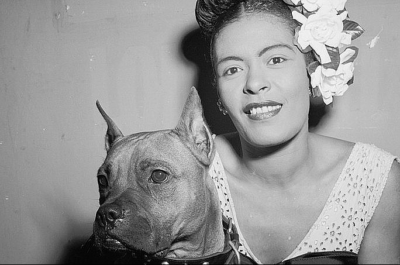 In 1939, Billie gained national recognition with the recording of Strange Fruit. The song was written as a protest poem that exposed the lynching of African Americans across the U.S. The song was written by a white, Jewish high school teacher from the Bronx and a member of the Communist Party, Abel Meeropol. Billie was somewhat fearful of retaliation given the song's charged content in those times. According to reports from band members, after performing the song Billie would sometimes break down emotionally. The song remained in her repertoire for twenty years.
James Monroe was a violent playboy whom Billie married in 1941. It was said he agreed to the nuptials to ride on her lucrative coattails. He introduced her to smoking opium, which along with her excessive alcohol consumption would eventually lead to her death.
Joe Guy, a trumpet player and boyfriend introduced Billie to heroin.
By 1945, Billie's use of drugs and alcohol escalated after her mother passed away. Two years later, she was arrested and convicted for narcotics possession, sentenced to one year in a federal rehabilitation prison. In those days, addiction to illegal drugs was a crime and not treated as an illness. Because of her narcotics conviction, Holiday's New York "cabaret card" – a license to perform in nightclubs – was revoked.
Just ten days after serving her term and leaving prison, Billie performed to a packed house at Carnegie Hall on March 27th.  She sang about 30 songs during that appearance and received three curtain calls.
During one performance at the famed Café Society, Billie felt the crowd was behaving disrespectfully. Many club performers at the time didn't wear underwear because of the hot stage lights. She became incensed at the crowd's rudeness, turned her back on them, bent over and mooned them.
Known for wearing a gardenia in her hair, Billie also typically wore long gloves to hide the track marks from her constant heroin use.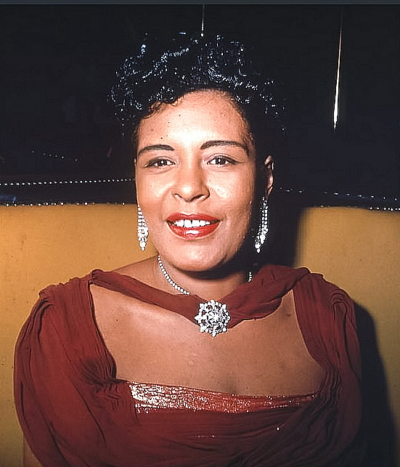 At one point Billie was spending

$500

 a week on drugs.
Billie's third husband, Louis McKay, worked as an enforcer for the mafia. He physically abused her as well, but also tried to get her to stop using drugs. The pair got arrested for narcotics in 1956, and married in Mexico the following year. He was also the sole heir of her estate. When McKay passed away in 2008, his wife at the time was entitled to an elective share of one-third of his augmented estate. Holiday's estate at the time of McKay's death was worth around $1,000,000 and brought in about $121,212 per year in income. In 2014, the estate's value grew to $14 million.
Unfortunately, Billie never had children even though she desperately wanted them. She did, however, develop an intense love for dogs, and purchased a boxer, mixed breed and Chihuahua who were her constant companions.
Billie loved cursing; motherf**ker was one her favorite words.
The woman who was known for her vocal delivery and improvisation skills never learned to read music.
Rumors floated around that Billie had affairs with both men and women, including a relationship with the white stage and screen actress Tallulah Bankhead.
Billie had a love for expensive fur coats and Coty perfumes.
The famed autobiography Lady Sings the Blues (1956), was written in collaboration by William Dufty. Later, Billie would claim in interviews that she had never even read the book.
On May 31, 1959, Billie was taken to Metropolitan Hospital in New York for the treatment of cirrhosis, a liver disease. She was under the watchful eye of the FBI who had raided her room looking for narcotics as she lay dying. Billie passed away on July 17, 1959; she was 44-years-old.
At the time of her death, the four-times Grammy Award winner was practically penniless and had

$750

strapped to her leg; she did not leave a will.
The jazz icon is buried in Saint Raymond's Cemetery in the Bronx, N.Y.
Since Billie's death, her God Bless the Child single was inducted into the Grammy Hall of Fame in 1976. The U.S. Postal Service also honored her with a stamp on Sept. 18, 1994. In 1999, Time magazine declared Strange Fruit the song of the century.
Check out the recently released documentary entitled Billie, on the life of Lady Day. The film discusses the legend as told through the voices of people who knew her. Catch the film at select theaters and on virtual cinema.