I had never been introduced to the free and soulful musical genre of jazz until my neighbor Miss Boots played Misty sung by the legendary Sarah Vaughan.
The year was 1970 and I was always dropping by Miss Boots' house. She was a registered nurse by profession but it seems, she also had somewhat of an alter ego. According to the neighborhood gossip, Miss Boots was living a life that was a bit risqué. She was a beautiful divorcee who had supposedly posed for a few nude pictures that had been taken by her ex-husband, a cop.
Miss Boots, who never had any children, was also an avid reader of naughty books that she would share with me. The books were written by authors like Jacqueline Susann and Harold Robbins whose many literary works had been labeled 'dirty' at the time and whose novels were totally inappropriate for a 10-year-old!  I used to hide those racy books under my mattress for late night consumption!
On one particular visit to Miss Boots' house, she was blasting the song Misty on her record player. The magnificent sultry voice that emanated from the speakers seemed otherworldly to me. When I asked Miss Boots who the singer was, she responded, "Sassy Sarah" or Sarah Vaughan.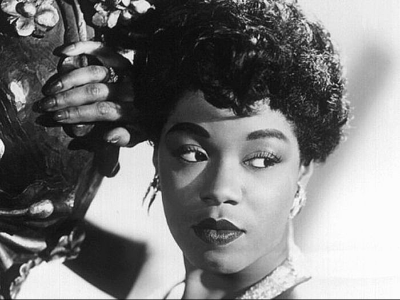 The great jazz goddess, Sarah Vaughan, was born March 27, 1924 in Newark, New Jersey. Sarah's father, Jake, a carpenter by trade, was a very religious man who also played the guitar. Ada, Sarah's mother, was a laundress who also sang in the church choir. Raised in a strict baptist household, Sarah, who had extensive piano lessons, was a church organist by age 7 and then a choir soloist. Sarah also loved listening to secular music by various artists, and as she entered her teens, she managed to perform, albeit illegally, at Newark nightclubs as both a pianist and singer.
At age 18, friends dared Sarah to enter Harlem's renowned Apollo Theater's Amateur Hour. She performed an electrifying rendition of Body and Soul and it was her multi-octave vocal range and swooping highs and sensual lows that won her first prize and a week's engagement at the show venue. The jazz/pop singer and bandleader Billy Eckstine was in the audience on the night that Sarah performed. Six months later, Sarah joined Eckstine in Earl Hine's big band as a second pianist and singer. She was now rubbing elbows with such jazz nobility as Dizzy Gillespie and Charlie Parker. Jazz stellars Miles Davis and Art Blakey eventually joined the band as well. In 1944, when Eckstine left to form his own band, Sarah went along as singer. She remained with the band for a year.
After leaving Eckstine, Sarah worked briefly in the John Kirby band, and thereafter was primarily a vocal soloist. Charlie Parker and Dizzy Gillespie often sang her praises, assisting her in gaining recognition, particularly in musicians' circles. Along the way, jazz pianist John Malachi gave the songstress the nickname, "Sassy Sarah." That nickname was as fitting for her performing persona as Sassy was for her private, fun-loving self. She was also one of the first singers to include "bop phrasing" in her singing. While performing at NYC's famed Café Society nightclub, she met jazz trumpeter George Treadwell who became her manager, and eventually, her husband; the couple married in 1946. The musician became Sarah's svengali manager, working for years to makeover her appearance from having her teeth capped to hide a gap, to styling her wardrobe and makeup, to create a glamorous diva that he deemed easy on the eye. He was dedicated to establishing her career as a top jazz singer and even continued his duties after they divorced.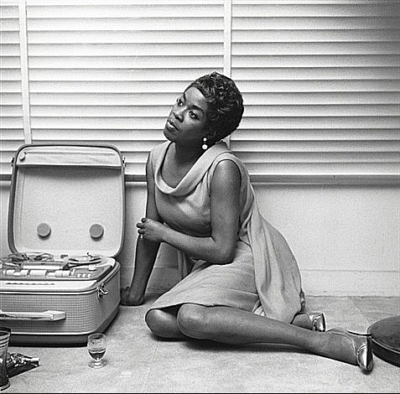 In 1947, Sarah had her first hit for a small label, Musicraft, where she was the first to record the classic love song, Tenderly. The song would become a pop hit in 1947 and other smashes like It's Magic and If You Could See Me Now helped to put Sarah on the jazz map as a powerful vocalist. From 1945 to 1954, which included her signing a four-year contract with Columbia Records, Sarah became one of modern jazz's top singers and earned the name "the Divine One."
When the Columbia contract ended, Sarah signed with Mercury records as a pop hitmaker and a jazz artist for its EmArcy subsidiary. She recorded several memorable classics such as Misty, Make Yourself Comfortable, Broken-Hearted Melody, How Important Can it Be with Count Basie and one of my favorites, Whatever Lola Wants. She stayed with Mercury from 1955 through 1959.
In 1959, Sarah married Clyde "C.B." Atkins who had a rather dubious background. She also signed a contract with Roulette Records and while there, she worked with Eckstine, Quincy Jones, Benny Carter, and Lalo Schifrin. Sarah and Clyde also adopted a daughter, Deborah Lois Atkins who later became actress Paris Vaughan.  She ended her second marriage in 1963 after reported incidents of violence. She later discovered that Clyde had a gambling addiction and had accumulated a debt of about $150,000 which caused her to lose her Englewood, New Jersey home. The man who helped get Sarah out of her husband's gambling debt was  Clyde "Pumpkin" Golden Jr. who first became her manager, and then lover.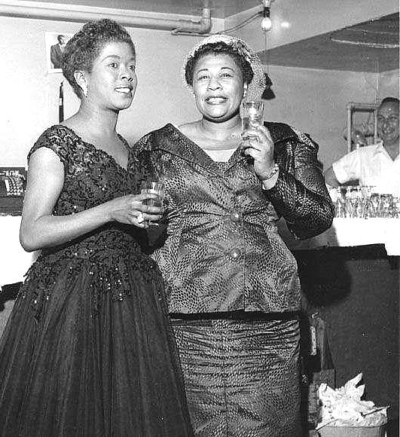 The 60s marked a drastic change in the music scene, Sarah would eventually leave Mercury in 1967 without having another record deal, but by 1971, she was living in Los Angeles with her newest lover, and personal manager, Marshall Fisher who was white and seven years older. Marshall, who had no prior management experience, loved Sarah and worked diligently to help get her career back on track.
In the 70s, Sarah's career experienced a resurgence. She signed with Bob Shad on his new label Mainstream. She released a collection of ballads written, arranged and conducted by  Michel Legrand. Sarah also recorded Send in the Clowns, a song from the musical, A Little Night Music, that would now become her signature song.
By 1974, Sarah had performed for President Gerald Ford, and traveled the country playing with various symphonies. By the time 1977 rolled around, she signed with Pablo Records where she would release five albums, and receive one Grammy Award nomination.
The final album released by Sarah was Brazilian Romance in 1987 produced by Sergio Mendes. In 1986, Sarah and Ella Fitzgerald both made an appearance on the Quincy Jones album Back on the Block where they scatted together in a duet; this would be her final studio recording.
Over the years, Sarah's golden voice had deepened. The vocalist's health had also taken a turn for the worse and in 1989, she was diagnosed with lung cancer, after years of smoking two packs a day, drinking and later, developing a taste for cocaine. She returned to California where she passed away at age 66 at her home on April 3, 1990. Music critics globally heralded Vaughan, as the jazz world's Marian Anderson or Leontyne Price, and surely, one of the greatest singers of the 20th century.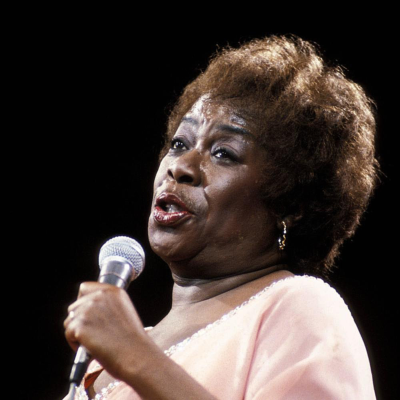 Come hell or high water in Sarah's erratic romantic life, and despite her alcohol and drug abuse, her voice kept sounding good and remained rich with possibilities.
Even in Sarah's final years, she could still sound like a million bucks.