Fall is here! Nippy days, long nights, autumn is about cozying up with a hearty, belly-warming, and satisfying bowl of soup.
Here are a few recipes for soups that are sure to make you feel warm and fuzzy all over: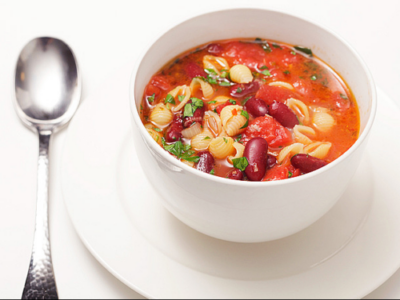 Pasta Bean Soup
Ingredients:
1 (28-ounce) can of whole tomatoes packed in juice
2 tablespoons extra-virgin olive oil, plus more for serving
1 tablespoon butter
3 ounces bacon, finely chopped (optional)
1 medium onion, finely diced (about 1 cup)
6 cloves garlic, minced on a microplane grater
1/2 teaspoon dried oregano
1/2 teaspoon dried red pepper flakes
1 quart homemade or low-sodium canned chicken broth
2 (15 ounce) cans of dark red kidney beans
2 bay leaves
1 cup small pasta such as shells or elbows
Kosher salt and freshly ground black pepper
2 tablespoons chopped fresh parsley leaves
Directions:
Pour the tomatoes into a medium bowl and using your hands, squeeze each tomato through your fingers to break it up into small pieces (be careful, they can squirt). Set aside.
Heat olive oil and butter in a large saucepan over medium-high heat until butter is melted. If using pancetta, add to pan and cook, constantly stirring, until fragrant, about 2 minutes. Reduce heat to medium and add onion, garlic, oregano, and red pepper flakes.
Cook, constantly stirring, until fragrant and softened but not browned, about 3 minutes. Add tomatoes and their juice, chicken broth, kidney beans, and bay leaves. Bring to a boil over high heat, then reduce to a bare simmer. Cook for 20 minutes, adding pasta to soup for the last 5 to 10 minutes (depending on the package directions).
Season to taste with salt and pepper. Discard bay leaves, stir in parsley and serve, drizzling each serving with extra-virgin olive oil at the table.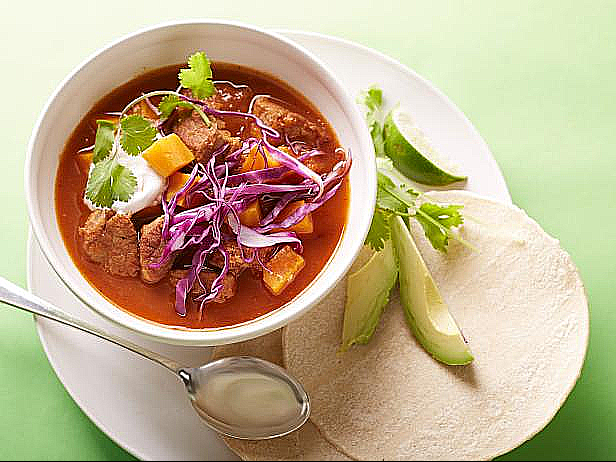 Spicy Pork and Sweet Potato Soup
Ingredients:
1 cup canned unsalted diced tomatoes
1 medium white onion, quartered
2 cloves garlic
1/2 chipotle in adobo sauce, plus 1 tablespoon of the sauce
2 tablespoons vegetable oil
1 large pork tenderloin, trimmed and cut into 1-inch chunks (about 1 1/2 pounds)
Kosher salt and freshly ground black pepper
1 tablespoon chili powder
One 8-ounce sweet potato, peeled and cut into 1/2-inch chunks
2 cups low-sodium chicken broth
1 tablespoon pickled jalapenos
1 cup 2 percent Greek yogurt
1/4 medium head red cabbage
1 medium Haas avocado
1 lime
1/2 cup loosely packed fresh cilantro
Eight 6-inch corn tortillas, warmed
Directions:
Puree the tomatoes, onions, garlic, chipotle, and adobo sauce in a food processor until completely smooth.
Heat the oil in a large Dutch oven or pot over medium-high heat until nearly smoking. Add the pork in a single layer, season with 1 teaspoon salt and 1 teaspoon pepper, and cook, undisturbed, until beginning to brown, about 5 minutes. Turn the pieces and cook until brown, about 5 minutes more. Sprinkle the meat with the chili powder, and add the tomato puree, sweet potatoes, chicken broth, 1/4 teaspoon salt, and a few grinds of pepper. Bring to a boil, reduce the heat to medium, cover and gently simmer until the meat is cooked through and the potatoes are tender about 45 minutes.
Meanwhile, prepare the toppings: Chop the jalapeño, and whisk it together with the yogurt in a small bowl. Shred the cabbage, cut the avocado into chunks, and cut the lime into wedges.
Ladle the stew into large, deep bowls. Top with the yogurt mixture, garnish with the cabbage, avocado, lime, and cilantro, and serve with the tortillas.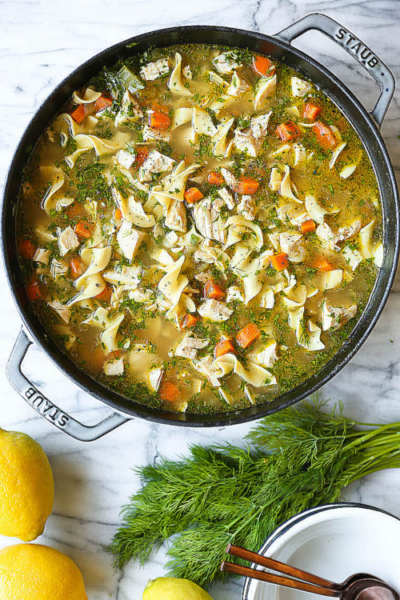 Darn Good Chicken Soup
Ingredients:
2 tablespoons butter
1 teaspoon pepper
1 onion, diced
2 carrots, peeled and diced
2 stalks of celery, diced
3 cloves garlic, minced
8 cups chicken stock
2 bay leaves
Kosher salt freshly ground black pepper, to taste
2 1/2 pounds bone-in, skinless chicken breasts
2 1/2 cups wide egg noodles
2 tablespoons chopped fresh parsley leaves
2 tablespoons chopped fresh dill
1 tablespoon freshly squeezed lemon juice, or more, to taste
Directions:
Melt butter in a large stockpot or Dutch oven over medium heat. Add onion, carrots, and celery. Cook, occasionally stirring, until tender, about 3-4 minutes. Stir in garlic until fragrant, about 1 minute.
Whisk in chicken stock and bay leaves; season with salt and pepper to taste. Add chicken and bring to boil; reduce heat and simmer, covered, until the chicken is cooked through, about 45 minutes. Remove chicken and let cool before dicing into bite-size pieces, discarding bones.
Stir in chicken and pasta and cook until tender, about 8 minutes.
Remove from heat; stir in parsley, dill, and lemon juice; season with salt and pepper, to taste.
Serve immediately.