Before Martin Lawrence's Sheneheh Jenkins character, or Tyler Perry's Madea, there was Flip Wilson's portrayal of the irrepressible, flamboyant and foxy Geraldine Jones on his hour-long NBC-TV comedy variety hit, The Flip Wilson Show.
Every Thursday evening, millions of viewers, both Black and white, were captured by one of the country's best-watched programs. Flip, with his array of characters and guests was a welcomed form of escapism during the still heavily segregated America of the early 70s. The man whom comic Richard Pryor once referred to as the "NBC house Negro" had a brand of funny that steered clear of politics and social satire.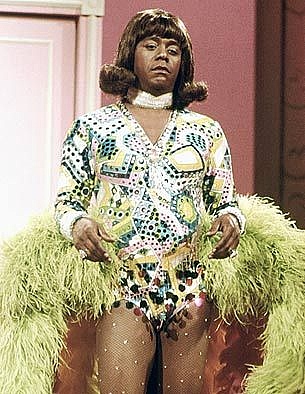 Flip was born Clerow Wilson, Jr. on December 8th, 1933 in Jersey City, N.J. He was one of ten children born to Cornelia Bullock, and Clerow Wilson, Sr. When Flip was age 7, his mother cleared out the family apartment, withdrew all of the monies in her husband's bank account and ran off with another man, abandoning her children. Flip's siblings were all sent to live with various family members. He, in turn, was placed in several foster homes.
After running away more than a dozen times from the homes, Flip was placed in a reform school. At the age of 13, Flip was returned to his father who was oftentimes unemployed. At age 16, Flip lied about his age to join the United States Air force. The teen, who was also introduced to marijuana at this stage in his life, quickly became known as a charismatic and affable guy with an incredible gift for telling whimsical stories. At a drop, the talented teen could tell riveting stories in various dialects; many in his outfit viewed this as him "flipping out," ergo, the nickname Flip.
Flip was discharged in 1954 from the Air Force and relocated to San Francisco where he worked as a bellhop at a hotel. At the hotel, he was tapped to perform as a drunken patron between acts at the hotel's nightclub where he worked. The act became such a hit that Flip decided to take it to other hotel clubs throughout California.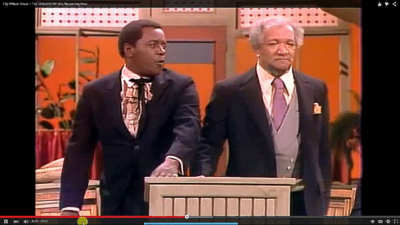 During the 50s and 60s, Flip worked the Chitlin' Circuit entertaining Black audiences at clubs throughout the U.S. By the mid-1960's, he would make his debut as a comic and master of ceremonies at New York's famed Apollo Theater. Flip's big break came in 1965, when talk show host Johnny Carson asked comedian Redd Foxx who was the funniest comic around. Without hesitation, Foxx responded to Carson's question with "Flip Wilson." Flip's career immediately soared.
He became a regular on both Carson and The Ed Sullivan Show. He would also go on to make guest appearances on some of the most popular shows on TV at the time–Here's Lucy, The Dean Martin Show, Rowan & Martin's Laugh-In, and Love American Style. In 1970, Wilson won a Grammy Award for his comedy album The Devil Made Me Buy This Dress.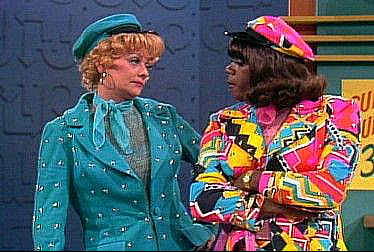 Because of his television exposure, Wilson went on to host his own weekly variety show in the early 70s. The Flip Wilson Show was an instant success with viewers and earned him a Golden Globe Award and two Emmy Awards. The variety program featured a host of stellars during its run. Behind the scenes there were such staff comedy writers as Richard Pryor and George Carlin.
On the show, Flip rubbed elbows with guests like Muhammad Ali, Bob Hope, Lucille Ball, Redd Foxx, Louis Armstrong and The Jackson Five. The once popular variety show was even given the distinction of the highest-rated show on the NBC television network at one time. Flip was the fifth African-American to host a weekly variety show but he was the most successful one. The Black comic who by 1972 was making over one million dollars yearly, appeared on the cover of Time Magazine in 1971 which named him "TV's First Black Superstar."
The most popular character on the comedy show was Geraldine Jones, who was always dressed to the nines in a tight-fitting mini, and sporting a flip wig a la Marlo Thomas in the famed 60s TV show, That Girl. Flip wrote the character's material himself, carefully crafting the jokes to not demean or portray stereotypical images of Black women. Geraldine was liberated and demanded respect, while hopelessly devoted to her never-to-be-seen boyfriend, "Killer." It also helped that Flip had an incredible gams for the role; they were the envy of every woman! Geraldine's famous one-liners like "the devil made me do it" and "what you see is what you get" became familiar catch phrases all across America.
Flip also portrayed the Reverend Leroy from The Church of What's Happening Now, and Herbie, the Surly Ice Cream Guy. He also created a signature handshake to greet all of his guests that was coined the "Flip Wilson Handshake." It consisted of four hand slaps, two elbow bumps, and two hip-bumps.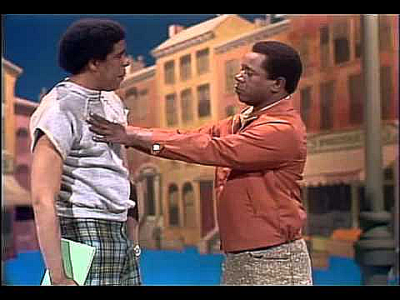 During an era of racial tension, urban unrest and self-definition that percolated through all strata of Afro-America, Flip continued focusing on the lighter side of comedy, and keeping his funny colorless. One one hand Flip was praised for his apolitical stance. On the other hand, he was criticized for defusing his Blackness.
In response to his critics about a seemingly apathetic stance toward the African American community's plight at the time, Flip was once quoted as saying, "Funny is not a color. Being Black is only good from the time you get from the curtain to the microphone. My main point is to be funny; if I can slip a message in there, fine."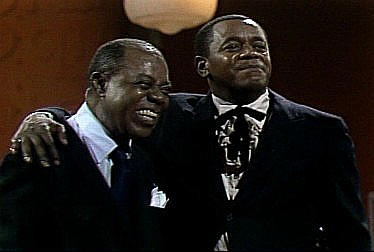 Flip released six successful comedy albums, including Flip Wilson,You Devil You, which won a Grammy Award for Best Comedy Recording in 1968. As an actor, Flip appeared in the memorable film Uptown Saturday Night (1974) with Sidney Poitier, Bill Cosby and Harry Belafonte.
After the 1974 season, Flip left his weekly variety show, while it was still a television chart-topper. He decided it was better to leave and concentrate on his family.
Flip was tight-lipped about his private life. He was married and divorced twice. Flip's first wife was Lavenia Wilson; the pair divorced in 1967 after ten years of marriage. He then had four children with common-law wife Blonell Pitman and gained custody of them in 1979. Flip's last marriage to Tuanchai MacKenzie produced another child; the couple divorced in 1984.
Flip arguably never had a healthy relationship with a woman, and while at times he could be a doting father, he also put his kids to work processing his marijuana according to the 2013 autobiographical book Flip: The Inside Story of TV's First Black Superstar by Kevin Cook. The author shares that behind the seemingly jovial screen personality, however, was a seriously flawed human being. There were rumors of nervous breakdowns and other troubles like palimony issues. Flip trusted no one, and would frequently rage over real and perceived slights. He also drank and smoked pot heavily.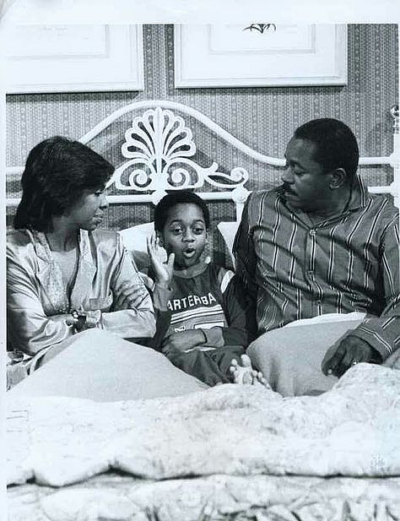 In 1981, Flip made headlines when he was dropped from a 7-Up advertising campaign after he and his nephew Rashon were arrested with 2.5 grams of cocaine, some hashish and marijuana at LAX. Two years later, however, the California Supreme Court would throw out the case based on Fourth Amendment rights against illegal seizure. Flip would battle alcohol and drug problems until the end of his life.
In 1984, Flip made a brief return to television as the game show host of a reconstituted version of People Are Funny; the show lasted four months. A year later, he starred with Gladys Knight in a situation comedy for CBS called Charlie & Co. which on lasted only one season.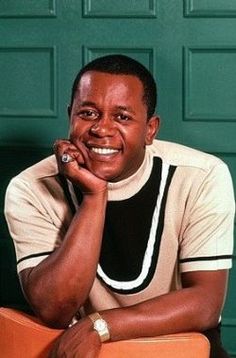 Flip retired from show biz after stint on the CBS sitcom and spent his remaining years golfing, racing hot air ballons, taking ocean cruises and studying the works of Kahlil Gibran, a Lebanese-American writer, poet and visual artist. Since the comedian had invested his money wisely, he lived a very comfortable life.
On November 25, 1998 Flip Wilson died of liver cancer after undergoing surgery for a malignant tumor that was close to his liver. He was only 64 years old.
Flip, thank you for making television worth watching!