We all have one friend who loves funeral-hopping. They actually look forward to attending funerals PERIODTTT! They are always ready on the spot to attend the funeral of  any family member, friend, or even someone they met at a laundromat some 30 years ago! These taphophiles (funeral lovers) even love reading stranger's obituaries.
One of my favorite tombstone tourists of all time was "Weeping Wanda," a character portrayed so convincingly by actress Helen Martin on the popular 70's sitcom Good Times. Wanda was also a good friend of the show's main characters, the Evans family.
Whenever there was a death in the Cabrini-Green housing projects where Wanda and the Evans family resided, she was guaranteed to show up. Wanda showed up wailing inconsolably, sporting a church lady hat and clutching an old-school embroidered hanky to wipe away her copious tears.
Martin was the actress hired throughout the 70s and 80s to play grandmotherly or nosey neighbor roles on popular sitcoms, and her performances seemed second nature to her.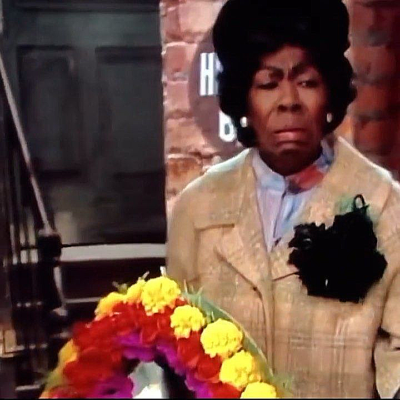 Helen Dorothy Martin was born in St. Louis, Missouri, on July 28, 1909, to William Martin, a minister, and Amanda Frankie, a housewife. The family later relocated to Nashville, Tennessee, where Martin attended segregated schools throughout her childhood.
The diminutive and feisty lady was drawn to performing at an early age. Martin stated during various past interviews how her desire to be in show biz was inherent. She began her career working with local theater groups singing and performing. However, Martin's parents insisted she attend college, so she enrolled at Fisk University and gave it two years. She also did a stint at A&I State College in Tennessee, then dropped out to pursue acting.
Martin moved to Chicago and managed to land a theatrical job under the Federal Theater Project (FTP) that provided Depression-era families with inexpensive entertainment and out-of-work directors, actors, and writers with employment. She then moved to New York City to study acting. Martin was one of the founding members of the Harlem-based American Negro Theater that launched the careers of stellars like Sidney Poitier, Harry Belafonte, Ruby Dee, and Ossie Davis.
The play, Orchids Preferred in 1937 was Martin's stage debut. The actress then appeared in Richard Wright's 1941 stage production of Native Son, directed by the great Orson Welles, who personally gifted her with the major role. Martin, who was typecast as a stage character actress, had a long career on Broadway. She appeared in such notable staged works as The Blacks, Raisin, Purlie, Period of Adjustment, and The Amen Corner written by the great James Baldwin. During her expansive theatrical career, Martin appeared in over 40 stage productions. When Martin transitioned to film, her first movie role was in "The Phenix City Story" (1955). She didn't appear in another film until 15 years later. Martin co-starred with Godfrey Cambridge and Raymond St. Jacques in the 1970 hit film Cotton Comes to Harlem. Martin played a stereotypical church sister in the film, and little did she know, the role would be her unofficial introduction as a comedic character actress. She then won the role of Alma Lee Brown in the 1974 mega-hit Death Wish starring Charles Bronson.
During the 70s, Martin became a familiar face on such hit shows like Maude, Good Times, That's My Mama, What's Happening!, Sanford and Son, Starsky & Hutch, and the list goes on. Martin also played meddling mother-in-law, Luzelle Carter, a featured role on the sitcom Baby, I'm Back, starring Denise Nicholas and Demond Wilson.     Martin landed the role of the busybody and cantankerous neighbor, Pearl Shay, on the hit sitcom 227, which ran from 1985 to 1990. The series starred Marla Gibbs, Jackée, and a young Regina King. We loved seeing Martin perched on her windowsill pillow, gossiping about the goings-on of her neighbors. Martin also landed the unforgettable role of Bobby's feisty grandmother in Robert Townsend's hilarious satirical 1987 film, Hollywood Shuffle, which garnered her an NAACP Image Award. Martin's tried-and-true character could be seen in films like House Party 2 (1991), Beverly Hills Cop III (1994), Don't Be a Menace to South Central While Drinking Your Juice in the Hood (1996), Kiss the Girls (1997) and Bulworth (1998). Martin's final film was Something to Sing About, an indie released in 2000. In 1996, Martin appeared on Late Nite with Conan O'Brien promoting the film, Don't Be a Menace, where she played a pot-smoking grandma. During the performer's appearance, Martin shocked Conan admitting that like her character in the film, she "loved the reefer." Conan was left speechless, and the audience burst into hysterics. Martin also quipped that stripping would have been her chosen profession had she not pursued acting. The then 87-year-old got up from her seat to perform an impromptu bump-and-grind. Martin's antics displayed a playful side that was rarely seen off-camera.  On March 25, 2000, Helen Martin was found dead in her Monterey, California home. The cause of death was a heart attack; she was 90 years old. Martin was a widow who never had children. She kept her personal life under wraps and often talked about her love of God and church. Martin did not like to socialize with Hollywood folks and would never divulge information about the countless celebs she had worked with throughout the years.