It is hard to find a more respected saxophonist than Najee. The musical phenom is a two-time Platinum, four-time Gold, multi-Grammy Award nominated artist with six number one albums and five number one singles on the Billboard charts. Najee's virtuosity and velvety lyrical tones have accompanied stellars such as Stevie Wonder, Quincy Jones, Chaka Khan, Stanley Clarke, Babyface, Roy Ayers, Prince, George Duke, Patti Labelle, Meli'sa Morgan, Herbie Hancock; the list is endless. The artist who is known for velvety smooth jazz, also moves deftly from R&B to classical music.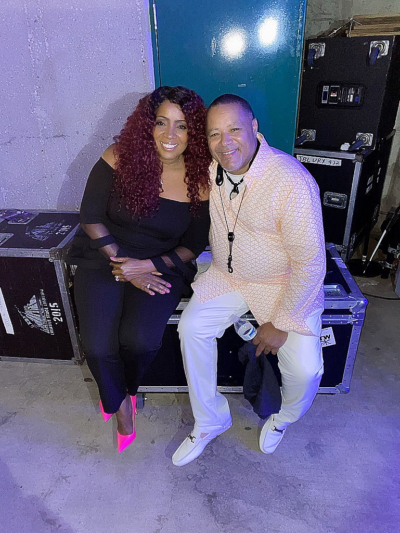 Najee, whose birth name is Jerome Najee Rasheed was born in New York's Greenwich Village but raised in nearby Jamaica where at age 8, he began playing the clarinet. By the time Najee entered high school, he switched gears and began playing the saxophone influenced by jazz virtuosos John Coltrane, Joe Henderson, and Ronnie Laws. He played for his high school band but his musical gifts also led him to become a member of Dr. Billy Taylor's Jazzmobile program, where he studied with Frank Foster, Jimmy Heath, and Ernie Wilkins. He also honed his skills as a flautist at the Manhattan School of Music's Preparatory Division where he took private lessons with American Symphony Orchestra and Brooklyn Philharmonic, flautist Harold Jones.
Upon graduating high school, Najee's melodious sounds landed him a two-year gig with the band Area Code. In 1978, after parting ways with the band, he secured a stint touring and playing backup for R&B vocalist Ben E. King. After the tour ended, Najee decided to give New York City's Bronx Community College a try but left to enroll as a performance and composition major at the prestigious Boston's New England Conservatory of Music, where he studied alongside his brother, guitarist/producer Fareed Abdul Haqq, who currently manages him. An opportunity to tour with songstress Chaka Khan pulled the brothers away from their academics.
Najee's first solo album Najee's Theme (1986) went Gold, propelled him to the number one spot on Billboard's Contemporary Jazz Albums chart, and earned him a Grammy Award nomination for Best Instrumental R&B Performance. Najee's third album, Tokyo Blue (1991), produced by Fareed, also went Gold, held a top spot on the contemporary jazz charts, and garnered him a Soul Train Award for Best Jazz Album.
Najee's musical catalog is extensive with numerous albums, singles and collaborations. His Poetry in Motion album released in 2017 was dedicated to the memory of Prince and beloved jazz artist, the late Al Jarreau.
Najee is a multi-faceted instrumentalist who masterfully plays the soprano, alto, and tenor saxophones; flute, clarinet and keyboards. On his last album, Center of the Heart (2019) he worked with Kenny Latimore, Greg Manning, Darren Rahn, and Demonte Posey.  Currently, he is working on a new album, but is keeping the particulars about it undercover.
Spanning a nearly four-decade career has taken Najee all over the globe performing his music and becoming an international sensation. One of the highlights of his musical journey was performing at a concert in South Africa, Gift to the Nation, that was held in honor of Nelson Mandela's 80th birthday. He also had the privilege of being a special guest of President Clinton at the White House during an event honoring the late President Jerry Rawlings of the Republic of Ghana.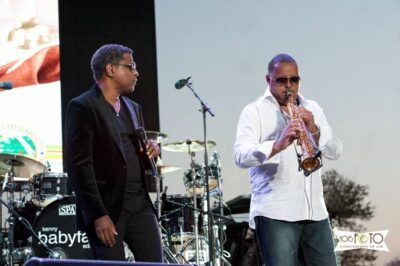 On a personal note, Najee is the father of six children and seven grandkids. However, the performer is tight-lipped about the rest of his private life. (Ladies I tried!!!)
Looking nowhere near his 64 years, Najee says retiring is not a word he'll be using anytime soon. "I choose not to retire because I can still hear music. They say musicians don't retire; we just don't hear music anymore," enthuses the handsome creative.
Suffice it to say, we are thrilled Najee has no plans to pack away his instruments anytime soon!
50BOLD chatted with Najee about his phenomenal career and life's journey. So, kick back and immerse yourselves in all of his positive energy and honest talk.
50BOLD:  Najee, what was your family life like growing up?
Najee:  I grew up in New York City. I was born and raised in Manhattan and at age 11, we moved to Queens. I came from a single mother family. My dad was a very famous classical player. He played in the New York Philharmonic, the NBC Orchestra, the New York Metropolitan Opera. When he died, I was about six.
I really didn't get a chance to know my dad. It wasn't until I became an adult that I realized my appetite for music was because of him.
50BOLD:  Is your dad the only other relative who is musically inclined?
Najee:  My sister, and my brother Fareed are musically inclined. Fareed plays guitar; we both played together in Chaka Khan's band back in the 80s.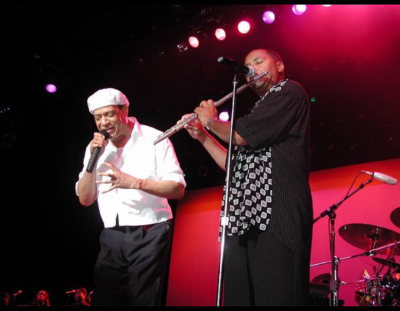 50BOLD:  What are some of the first albums you purchased on your own?
Najee: I remember the very first album I bought was Kool and the Gang Live at the Sex Machine. I was a fan of Robert Bell who played tenor saxophone in the band. I used to love his playing.
As a kid in high school, all the saxophone players would try to learn all of Robert Bell's solos and compete against each other.
50BOLD: Is there any other album you can remember purchasing back then as a kid?
Najee:  My mother had a great collection of jazz growing up. I grew up listening to artists like Joe Henderson, John Coltrane, George Coleman who was with Miles Davis Quintet, their sounds were always in my head.
50BOLD:  Your first musical instrument was the clarinet which you played at school. What lead you to it?
Najee: How I ended up on clarinet, is that all the saxophone chairs were taken. My teacher said, "Listen, it's a woodwind instrument. If you play it, you would have gained your entry to the saxophone because woodwind players play them all." You wanted to be hired as a woodwind player, so you played clarinet, flute, saxophone. But I lost interest in the clarinet once I knew the saxophone was a sexy instrument.
50BOLD:  (Laughs) You're referring to the tenor sax initially and then you progressed to the soprano sax?
Najee: Well, I didn't go to soprano until my career began to take off. I played tenor, flute, and alto as well. Fareed had written some songs for Grover Washington, Jr. and had wanted me to play soprano. So, I played soprano even though I hated the sound of the instrument.
Fareed was like, "You've got to play soprano man!"
I said, "I'm not playing that little girl horn!"
I went into a music store and purchased an $800.00 soprano saxophone. I recorded Najee's Theme and before we knew it, I had a Gold album.
50BOLD:  Woooow! Amazing!
Najee:  Needless to say, I play soprano now. (laughs)
50BOLD:  You were formerly trained at the Manhattan School of Music and Boston's New England Conservatory of Music, were you self-taught before your music education?
Najee:  Oh, yeah! My musical experience as a teenager came from playing in local bands in Queens, New York.
50BOLD:  Najee, did you start off as a studio artist?
Najee:   Honestly, I began touring as a musician at the age of 18. I played in a band called Area Code. We were an R&B band. We were a show band. We had the horns with the steps, the singing, and the whole bit. When I left high school at age 18, I toured with the band overseas. We played with the USO all over the world for about a year. We were then signed to CBS Records for a one-album deal, but that really didn't take off.  We ended up getting dropped. Then I quit the band and decided to go to college and the rest is history.
In high school I had the opportunity to study the flute with flautist Harold Jones because my saxophones were stolen when I was 16. For a whole year, I didn't have saxophones, all I had was a flute. Harold was one of the few African Americans to play with the American Symphony Orchestra and Brooklyn Philharmonic. I also studied at Jazzmobile in Harlem with Jimmy Heath, Bill Taylor and all of them. These guys always encouraged us.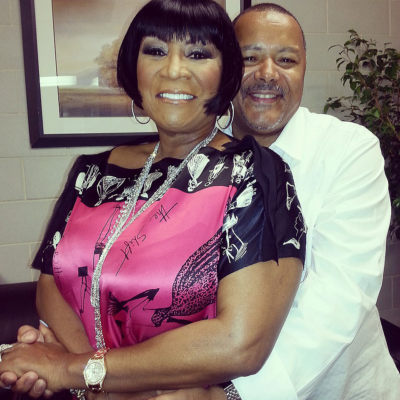 50BOLD:  So, when you studied at Jazzmobile was it at its peak?
Najee:  Yes, it was. The program was federally funded. We got to study with these great masters. For a student like me it was $5.00 for the year. Young inner-city kids at the time were in masterclasses with legends.
50BOLD:  This is a two-part question. You have worked with so many great artists. Is there one performer whom you admire that you haven't worked with yet but would like to do so? And is there a deceased performer whom you regret not working with?
Najee:  Wow, that's a loaded question. Well, people I haven't worked with yet…
50BOLD:  You have worked with literally everyone.
Najee:  I have! I have been very fortunate. Pianist Robert Glasper and I played together once, at George Duke's funeral.
50BOLD:  Wait, back up! You played at George Duke's funeral?
Najee:  Yeah, you know George Duke and I were very good friends. He produced a couple of my records. We toured all over the world. We worked under Quincy Jones, and we did tours here in the United States. Back then they were called the Jazz Explosion. It would be Dianne Reeves or Rachelle Ferrell, me, Jonathan Butler, and George Duke. We did this for a couple of years and then George and I would go to Asia. When he passed, of course, we were all hurt. At his funeral Robert Glasper, Stanley Clarke and I got on stage, and we played a nice tribute. You can find it on YouTube.
Robert Glasper is someone whom I would love to record with; I like what he does.
50BOLD:  What about a deceased performer whom you regret not playing with?
Najee:  I never worked with Michael Jackson. I would love to also have worked with Minnie Riperton.
50BOLD:  Now, you worked with Prince. Do you have any Prince stories you'd like to share?
Najee:  Oh my God, if you had time, we'd be here all night. I have a lot of stories with Prince. Let me first say, when he passed, I received a lot of calls, particularly from overseas in Europe, from media outlets looking to get quotes from people like me who played with him. I'd tell them I have no bad stories to share regarding Prince; not one.
I can tell you this, they say he died taking an opiate which I can see how that could happen because he was in a lot of pain. He had a knee and hip operation too.
When I was working with him, he wasn't doing those famous splits as much. I know he was in severe pain and those painkillers are a crisis in the country. I was around him for three years, on tour almost every day. Listen, he might have some wine for his guests, but I never saw the guy drink or saw him drunk; I saw none of that.
As an artist, Prince was one of the greatest people I'd ever worked with. I learned a lot from him. Also, he was one of the most generous musicians and artists I had ever worked with on so many levels. He was one of the smartest people I ever knew as well.
50BOLD:  Your catalog is so extensive. Do you have a favorite?
Najee:  No, not really. Maybe the one I'm recording right now. You know, a current project is  always a favorite. As a musician, you just move on and do other things.
50BOLD:  I know you have mentioned John Coltrane, Charlie Mingus, and Grover Washington, Jr. as some of your musical influences. Who else has influenced you? George Duke, would he be considered an influencer?
Najee: Absolutely. Every person whom I have worked with, I learned something from. You take a piece of them with you, and you apply it as part of your experience. I've been very fortunate that I'm able to flow into different genres of music.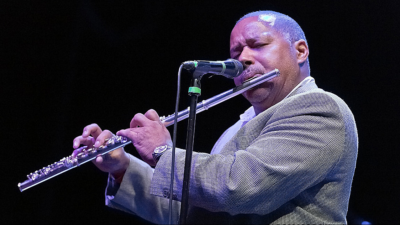 50BOLD:  I know Miles Davis played the trumpet, but did he also influence you?
Najee:  Absolutely. I used to always love the saxophone players Miles Davis had in his band. He had John Coltrane. He had George Coleman, He had Wayne Shorter, he had Cannonball Adderley. All those folks were part of my musical history influences for sure.
50BOLD:  You performed at Nelson Mandela's birthday celebration. Can you share a story about that experience?
Najee: Yeah, what can I say? It was a beautiful experience. This was when he was President of South Africa. He had just recently remarried. He held a Gift to the Nation concert and invited a bunch of us artists from the United States to perform, as well as some of the local South African performers. Stevie Wonder, Chaka, Dru Hill, and I, we all went over to South Africa to perform.
We played in Durban and Johannesburg. The real gift was being able to have lunch with Mandela at his presidential residence. I have a beautiful picture of Mandela, Fareed, and I together. We are standing in the garden of the presidential residence.
The one thing I loved about that man was his sense of humility. You never felt like you were in the presence of a powerful giant. You never sensed any arrogance. You felt like you were at home with a family member.
50BOLD:  You have six number one albums and five number one singles on the Billboard Charts, multi-Platinum and Gold albums; you've been multi-Grammy Award nominated but you've never won a Grammy Award?
Najee:  I've never won a Grammy Award.
50BOLD:  It just doesn't make any sense! How can this be?
Najee:  The Grammys is an organization that's political. I'm not really part of the inner circle.
There was a New York Times article a few years back, where they said all forms of jazz and classical combined represented less than 1% of music sales.
We have no skin in the game anymore because we don't represent much in terms of commerce; not like a Rihanna, Drake, or whomever. At one point we had to fight to keep the jazz category because they were ready to eliminate it. I think there was probably some young people who came in and it's a different day for them. They just can't relate to jazz and its contribution to the culture.
50BOLD:  How has jazz managed to sustain its life because it's not where it used to be back in the day?
Najee:  You're right, it's been a struggle to keep jazz alive. We're fortunate in the sense that we still have festivals and cruises. I talked to Kirk Whalum a few hours ago. He said he was scheduled to perform on two cruises this year and they both got cancelled.
Ever since Napster, the record buying game changed. Napster which led to iTunes, killed the retail game for the industry; killed record stores. Gone are the days of digging into record crates.
If a jazz record sells a thousand, 2,000 copies, that's a successful jazz artist –unfortunately. When I came out, we had disappointing sales if we went from 15,000 a week to 8,000. It's a whole different game now.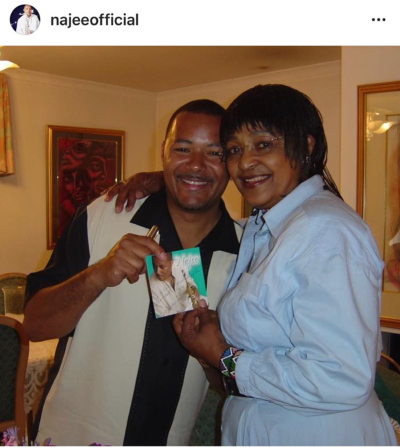 50BOLD:  I see on your website you'll be working practically all year.
Najee:  Yes, I have some things lined up. But of course, we're hoping these dates happen.
What happened in 2019 and 2020 is that we had to wind up giving back a lot of money because scheduled dates weren't going to happen. We pray that the concerts will happen, but it's a very strange time.
50BOLD:  What's left to do on your bucket list that you've yet to accomplish?
Najee:  I don't know if I really think about it that way. I don't plan to retire not because I can't afford to because I can. I choose not to retire because I can still hear music. They say musicians don't retire; we just don't hear music anymore. (laughs)
50BOLD:  So, there's nothing you'd like to do? How about jumping out of a plane?
Najee:  No, no, no.! I used to fly planes.
50BOLD:  Wait, wait, wait! You used to fly planes?
Najee:  I went to August Martin High School in Queens. Russell Simmons and I were classmates. Until he got kicked out of school for punching a teacher in the face. I was there the day that happened; I was in the 11th grade.
August Martin was an aviation school for African American students in the community. It used to be Woodrow Wilson High School. Because the aviation industry was big then in terms of recruiting people, I went there to be a pilot. I studied until I took my first tenor saxophone solo at a school concert. After that all the girls knew my name, so I did a career change. (laughs)
50BOLD:  Give us a motto that you live by these days?
Najee: I don't work with people I don't like!  I believe in controlling my environment, thereby controlling my energy and who I choose to associate with.
Over the years I've learned that you can't change people's being when they are in a negative space. That's a self-discovery thing they must find on their own.
But in the meantime, my motto is like when someone comes to your house to take a dump. They leave the bathroom door open, and don't flush the toilet. You don't need it!
50BOLD:  Oh, my God! That's a funny analogy. (laughs)
Najee:  That to me is how people come with that kind of energy. Nothing is good in the world. Everywhere is sunny, except where-I'm-standing type people.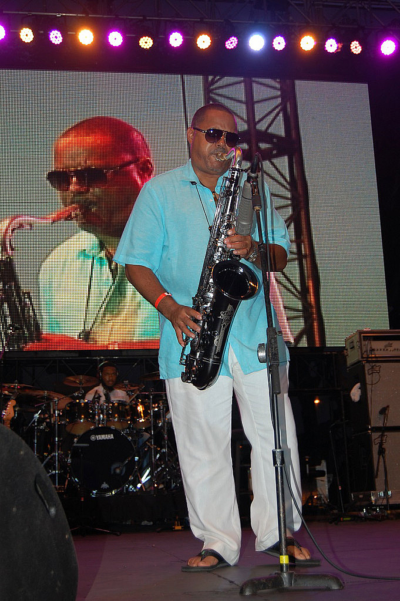 50BOLD:  Najee, are you working on an album now?
Najee:  I am, yes.
50BOLD:  Do you have a title for the album?
Najee:  I do, but I'm afraid to share it. The reason why I won't share it because every time I do something, and it gets out into the press that I've done it with so and so, some competing artists wind up doing the same exact thing.
50BOLD:  That's pretty messed up!
Najee:  It is! Some famous vocalists featured me on two albums and brought in some very prominent R&B singers and my competitors went and got them too.
50BOLD:  What is the something about you that most people don't know about?
Najee: I am a very simple guy. A lot of times when people call me to play on their records and they're speaking to me as if I'm royalty. I'm like, "Man, I don't come from that!"
I'm from a New York City, working class, poor family. The name is the brand. But me, personally, I am a very simple guy from humble beginnings.
50BOLD:  Your real name is Jerome Najee Rasheed?
Najee:  That is correct. I don't use the full name. Back in the 80s when I started out, the one-name thing was really big–Sade, Kashif, Prince, Madonna.
When I came out, I was told that my name wasn't very sexy. So I went with my middle name. And I'm always running into people who tell me, "I named my son after you."
50BOLD:  Najee, you have such a great musical legacy, how would you like to be remembered?
Najee:  It would just be leaving here with no debt. And I don't mean financial debt. I'm talking about emotional debt. I've gone back to people; I may have hurt willingly or unwillingly and been able to make friends again. Just patch things up because this life is too short. No emotional debts.
50BOLD:  When you get to the gates of heaven, what is God going to say to you?
Najee:  I can't think for God, but I do know one thing. I saw this documentary recently by Ken Burns, the great filmmaker. He did this wonderful documentary on Muhammad Ali.
Muhammad Ali's gravesite is marked with the following quote: Service to others is the rent you pay for your room in heaven. That one stuck with me. I'm like 'Okay, I love it!'
Here is Sumthin' Sumthin' from Najee's Center of the Heart album