When anyone over age 50 is asked "Who was 'the King of Funk'" in the 70s and 80s the answer will most likely be Rick James. Rick's legendary performances involved him inexhaustibly striding across the stage in spandex and thigh-high boots, whipping his long braided hair dusted with glitter all about his face as sweat oozed from his every pore, radiating a raw eroticism that made women hot to trot! Rick lived a life of sex and drug excesses, and sadly, it all caught up with him at the mere young age of 56, when he left us too soon.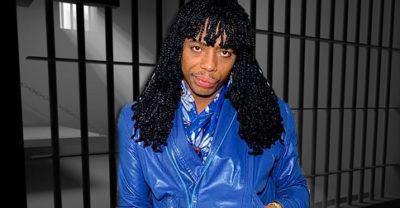 Rick was born James Ambrose Johnson, Jr. on February 1, 1948 to Mabel Sims, and James Ambrose Johnson Sr. in Buffalo, NY.  He was the third of eight children. James Sr., an autoworker, later abandoned the family when Rick was only 10-years-old. Rick's mother, a former dancer for Katherine Dunham, hustled to support her large family as a single mother. She became a number's runner and Rick would accompany her on occasion. On these runs, Rick got to glimpse the goings-on at bars, and speakeasies. He also got to see performers as John Coltrane, Miles Davis, and Etta James. Rick later bragged that he lost his virginity at age 9 or 10 which marked the beginning of a long road of sexual prowess. Even as a Catholic school student and altar boy, Rick began dabbling with drugs at an early age, committed petty crimes and did time at juvenile detention centers.
Rick, who was always musically inclined did not seriously consider a career in music until he performed in a high school talent show.  Rick formed a musical group called The Duprees and also joined the Naval Reserves to avoid the Vietnam draft; he was only 15 and had lied about his age.
As The Duprees gained in popularity, Rick would oftentimes neglect his mandatory reserve duties of two weekends a month. Soon Rick got placed on active duty but instead, he hightailed it to Toronto, Canada in 1964 where he befriended musicians Neil Young, and Joni Mitchell. While AWOL he used the alias Ricky James Matthew to avoid the military authorities.
Rick immediately immersed himself in the Canadian music scene forming a group called "the Mynah Birds" that produced a folk and R&B music sound. Members of the band were Neil Young, Bruce Palmer and Goldie McJohn who later became a Steppenwolf band member.  The band was never able to record an album because it was discovered that Rick was a draft dodger so they eventually disbanded.
Rick, however, had to settle the score with Uncle Sam with regards to his draft evasion and so he turned himself in to the FBI and was handed down a prison sentence. He actually escaped from a naval brig after serving 6 weeks in prison and was on the run for six months before surrendering again to authorities. Rick hired a lawyer, entered a plea deal. After serving time in Toronto for yet another crime involving stolen property charges, Rick was deported to the U.S.
Melvin Franklin, the legendary bass singer for The Temptations helped Rick to secure a recording contract with Detroit's Motown Records label. Despite his problems with the law, Motown recognized James' talent and hired him as a songwriter in the early 1970s. He produced and wrote for famous artists like David Ruffin, Bobby Taylor and The Spinners. He met musical icon Stevie Wonder while at Motown but did not produce any music for him. Wonder did wind up suggesting that the name Ricky James Matthews was much too long and that Ricky James was more recording-friendly. Rick became dissatisfied with his working experience at Motown and quit. For the next several years he kicked around the U.S. and Canada. He was a pimp for a while, smuggled cocaine from Colombia and hash from India.  He also learned how to play the sitar.
Eventually, Rick, who now dropped the 'y' in his first name, signed with A & M records and in 1974 released his first single under the name Rick James titled My Mama which was a European club hit. He then returned to Buffalo, New York where he formed his Stone City Band. Eventually Rick was able to record an album on his own, and took it to Motown, who re-signed him as a recording artist immediately. That LP, Come Get It, and its first single, You and I solidified Rick's career as a singer/songwriter as the 1978 single reached No. 1 on the R&B charts and hit double-platinum status. The song also became the anthem of the famed New York City dance club Studio 54. The album produced yet another mega hit and love song to marijuana, Mary Jane. Rick's second album Bustin' Out of L7 released in 1979 was yet another success followed by his third album Fire it Up a year later.
The successes of Rick's albums led to a self-titled tour that featured the then new artist, Prince, and his protégée and former lover, soulful songstress, Teena Marie. The tour ignited a lifelong rivalry with Prince; Rick accused the diminutive performer of stealing his dance moves and style.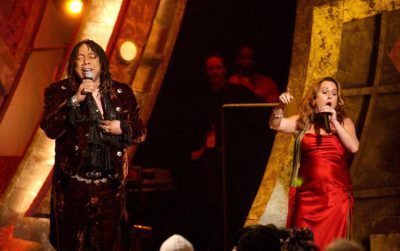 In 1980, Rick released Garden of Love. The following year Rick's bestselling album to-date, Street Song that was labeled "punk funk" produced a string of hits–Ghetto Life, Give it to Me Baby, Superfreak and the forever timeless duet with Teena Marie, Fire & Desire. In 1983 Rick produced the all-girl group The Mary Jane Girls which they recorded the hits, All Night Long, Candy Man, and In My House.
In the five years that followed Super Freak, Rick earned two Grammy nominations, produced Ebony Eyes with Smokey Robinson and Standing on the Top with the Temptations. In 1985, he produced the ill-advised single, Party all the Time recorded by close friend, Eddie Murphy which surprisingly reached to No. 2 on the charts.
As Rick's fame hit the stratosphere, so did his spending and drug habits. For ten years, with brief periods of sobriety, James would smoke up to $10,000 worth of coke a week yet he continued to make hit records.
"I found myself isolating more and more," James writes in his autobiography. "If I wasn't in my room (where my housekeeper would leave food by my locked bedroom door). I was flying here and there in private planes getting high in the clouds. I was slowly but steadily losing control. I'd stay up six or even ten days straight. I had my staff put aluminum foil on all my windows so no sunlight could get in.

"I OD'd a couple of times, but it had been kept a secret. My security or a doctor I had on the payroll would bring me back. My life on the inside was dark and lonely, while on the outside I always made it look like I was together. I felt like I was the loneliest person in the world. When I would try to explain my pain to friends, they would just laugh. 'You're Rick James,' they'd say. 'It will be all right.'

"It got to the point where I lost my desire to write music. When it was time for my eighth album, I had nothing in my head. It seemed my creativity was gone, lost in a world where smoke was all I could create and rock coke was the only music I understood."
Rick's personal life began to crumble. The drugs began to take over and Rick's creativity took a serious hit. He became withdrawn, had aluminum foil placed over the windows of his home to keep the daylight out.  he would stay awake for ten days at a time and stopped writing music.
He had always had a thing for the ladies and had affairs with some well-known personalities.  The song Cold Blooded was one that Rick wrote about The Exorcist film star, Linda Blair, whom he had dated.  Rick also had affairs with Elisabeth Shue (Leaving Las Vegas), Catherine Bach (The Dukes of Hazzard TV show), Ola Ray (the star of the video for Michael Jackson's Thriller), Iman (the supermodel), Teena Marie (his protégée), and Jan Gaye (wife of friend and mentor, Marvin Gaye).  Rick stated in his autobiography, Glow, that after his mother died, he reported, "There was nothing to keep me from descending into the lowest level of hell. That meant orgies. That meant sado-masochism. That even meant bestiality."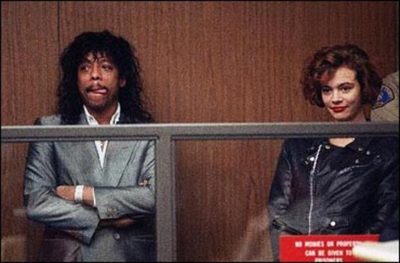 But in 1991 Rick's sexual behaviors went too far left. He and then girlfriend Tanya Hijazi (he later married her) were accused of holding Frances Alley hostage during a cocaine binge while sexually abusing and torturing her over several days at his home. The couple had befriended Frances and then accused her of stealing drugs. Rick and Tanya were arrested and charged with nine felony counts, including supplying cocaine, assault with a deadly weapon, aggravated mayhem, torture, false imprisonment and forcible oral copulation. A year later, another woman came forward and she also filed assault and torture charges against Rick.
L.A. prosecutors combined both cases and Rick faced three life sentences for a total of fifteen felonies. Luckily for James, a deal was cut as the result of prosecutorial misconduct and he received a two-year prison sentence at Folsom State Prison.
While in prison, Rick converted to Islam and joined Narcotics Anonymous. Rick guesstimated that during his career he squandered about $400,000 a year on drugs over a ten-year period.  He was released on parole in 1996 and subsequently, declared bankruptcy. In an interview, Rick told Rolling Stone magazine that going to prison was the best thing that could have happened to him…
"It stopped me from doing drugs. It gave me a good chance to get clear. It gave me a chance to rest, to get my thoughts together, to eat three meals a day, to get healthy again. I see now that I can love again, that I can love me again. I'm not a has-been and I'm not just a nobody. I'm not a cold-blooded maniacal killer and I'm not a black Marquis de Sade.

"What I am is James Johnson, also know as Rick James, who happened to let his life run amok because of a fucking pipe and a rock of cocaine."
On June 29, 2004 Rick and Teena Marie would reunite on the televised BET Awards to sing their hit song Fire & Desire, their performance was one that will forever be etched in the minds of all who experienced it;
this would be their last performance together.  On August 6, 2004, Rick James' housekeeper would discover his lifeless body at his Los Angeles home.  He was only 56-years-old. The official cause of death was heart failure. Rick was a diabetic, and had undergone hip replacement and had a pacemaker.  He had also previously survived a minor stroke and a heart attack. The coroner found nine different drugs in Rick's system. He left behind three sons and a daughter. Ironically, four months before Rick passed, he'd mocked his own drug taking on the TV comedy hit, Chappelle's Show, and was working on an album as well.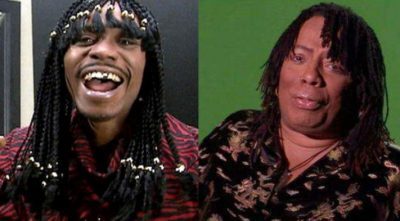 Rick's death marked the end of an incredible career that was tinged with plenty of highs and personal lows. The legacy that the sexy bad boy of "punk funk" left behind will forever Glow!