We loved The Jones Girls, Shirley, Brenda, and Valorie Jones! They were not only beautiful but oh-so-talented! Harmonizing seemed to have come relatively easy to the trio because it was obvious, they were born to sing! The sibling's signature impeccable vocals blended so perfectly with each one being lead singer material.
Jones matriarch, Mary Frazier Jones was one of RCA Records' first gospel artists, and it was obvious early on that the trio inherited their mother's vocal talents. Shirley and middle sister Brenda began singing with their mother and later, younger sister Valorie got in on the act. As the girls entered their teen years, they sashayed to secular music where they became opening acts for such performers as the Four Tops and Little Richard.
As the trio's recording career began to really take off in the 70s, they became backup singers for stellars such as Lou Rawls, Teddy Pendergrass, Aretha Franklin, and Diana Ross before stepping out on their own.
In 1979, The Jones Girls brought their Detroit vocal flavor to the International Philadelphia Records label where they recorded their first album and worked with the incredible and famed songwriting/producing team of Leon Huff and Kenny Gamble. The self-titled classic landed in the Top 10 spot on Billboard's R&B charts and produced such timeless hits as You Gonna Make Me Love Somebody Else and Who Can I Run To; the latter was covered by the group Xscape in 1995.
A year after their debut album, the Jones Girls released At Peace with Woman which reached the number seven spot on the Top Soul Albums chart. The album produced a back-in-the-day club fave Dance Turned Into A Romance and the slow jam I Just Love The Man.
In 1984, the trio disbanded. Brenda got married, Valorie decided to continue her education, and Shirley decided to stick with her musical career. Two years later, Shirley returned to Philadelphia International as a solo artist where she recorded the R&B chart-topper, Do You Get Enough Love, a song that had been originally slated for the O'Jays. Shirley went on to record the albums Always in the Mood and With You which solidified her standing as a solo R&B artist. After the success of her albums, Shirley went on a little hiatus to take care of things on the homefront. She married Harlem Globetrotter Harold Hubbard and raised their son Cameron.
In 2001, tragedy struck the Jones family, Valorie passed away at age 45-years-young from complications of alcoholism. And in 2017, an intoxicated Brenda died tragically after being hit by several cars as she was crossing a Wilmington, Delaware street while visiting her daughter; she was 62.
Even though Shirley has suffered heartbreaking losses she still manages to count her blessings. She continues to record and perform. In 2015 Shirley released My Time To Shine. A year later, she switched her creative gears and to try her hand at acting, appearing in Shelly Garrett's 30-year anniversary of his historical play Beauty Shop, in the role of Mrs. Henderson. Over recent years, Shirley has performed at various venues throughout the country where she is met with overly generous applause by enthusiastic audiences.
Next year, we can expect to be treated to her long-awaited album In Loving Tribute which is a creative tribute to her late sisters Brenda and Valorie. Shirley currently has a single out, Soul Steppin, that is reminiscent of the sound she created along with her sisters that is being met with rave reviews.
Shirley sat down with us to discuss life, loss, and lessons.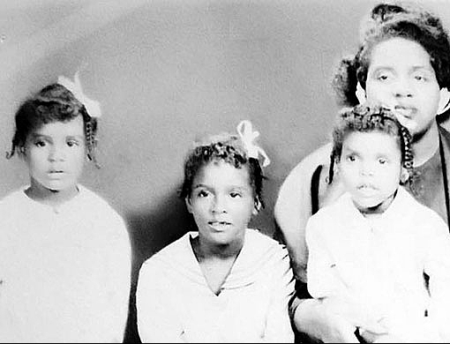 50BOLD: I know that your mom was the first Black gospel singer signed to the RCA Records label. But is it true that she and Little Richard signed with the label on the very same day?
Jones: Yes! And I had an article about the signing, but I can't find it. Someone gave it to me at her funeral back in 2006 and I don't know where it is, but yes, it is true.
50BOLD: At what age did you, Valorie, and Brenda begin singing professionally? Your gift, evidently, came from your mom.
Jones: We were singing background for our mom at early ages. We were known around Detroit, Chicago, and Ohio as Mary Frasier Jones and the Jones sisters. We had to be around maybe 9, 10 years old. I'm the oldest and we were all stairsteps like a year and a few months apart in ages. We sang background for mom really up until about age 15 or 16. We also had our own little records out with a local label, GM records. At age 13 or 14, we put out our very first secular recording on the GM label entitled Learn How to Love.
50BOLD: Speaking of record companies you signed with a few of them. What was it like back then for very young and beautiful girls in the recording industry? Was it hard to secure a proper deal? Did folks try to take advantage of you?
Jones: My mom was very protective. She definitely watched over us. Even though mom worked as a nurse, she would still make sure to be at our recording sessions, every last one of them, until I was 18 years old. Mom would sit and watch over us because she didn't want any hanky-panky going on. Mom would also always make sure that our contracts were good because she knew attorneys. So, we were very well looked after by our mother, and everyone in the industry kind of knew that you didn't mess with Mary's kids.
50BOLD: You got to work with the great Curtis Mayfield, what was it like?
Jones: Oh my God, yes, we worked with Curtis and he was extremely hot back then when we were young girls working on his label. Working with Curtis was an absolute honor. He taught us so many things about recording in a studio. He would tell us to try different ways of doing things that came in so handy when recording a song.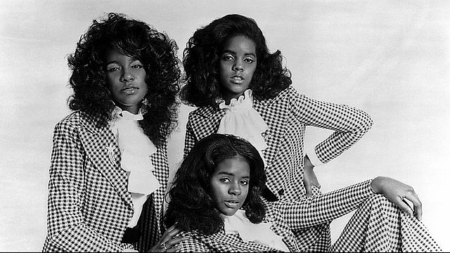 50BOLD: In 1979, you guys struck gold when you signed with the Philadelphia label. You had a string of mega-hits–You Gonna Make Me Love Somebody Else, I Just Love That Man, and Nights Over Egypt. How did you all handle the fame/recognition that came with having chart-toppers during a crazy time that centered around drugs and disco?
Jones: Awww man, yes, the 70s were all about drugs, alcohol, but thankfully we held onto our strong belief in God. My mom would also constantly tell us that if we ever made it, we should always remember that we were no better than anyone else. Our mom's words kept us very grounded. The alcohol, alcoholism aspect, sadly, my sisters would ultimately get into that world but never got into drugs. They struggled with drinking.
50BOLD: Did all three of you struggle with the bottle or just Brenda and Valorie?
Jones: Both Brenda and Valorie struggled with alcohol and this is what ultimately broke us up. And alcoholism is also what lead to their deaths. Valory passed away in 2001 and then Brenda died in 2017.
50BOLD: I know Brenda was struck by a car.
Jones: She got struck by three cars!
50BOLD: Alcoholism is a horrible disease.
Jones: YES! Alcoholism is a horrible disease and unfortunately, it runs in our family. Back then, we hid my sisters' battles with alcohol as much as we could because we just didn't want it exposed. But now I realize that if I would have exposed it earlier, they might have gotten help in some way. I hope that telling my sisters' stories will help those who are struggling with alcoholism.
50BOLD: Revealing the truth about your sisters' struggles will definitely help others! Thank you so much for being so candid about your tragedies. Now, did you all get to write or produce any of your songs?
Jones: Yes, for every album I recorded, I wrote the majority of the songs on them. Valorie and Brenda also wrote a song with McKinley Jackson who was our manager for many years. And even now, I continue to write songs. In fact, I wrote most of the songs on the upcoming In Loving Memory CD that's a tribute album to my sisters. That'll be coming out soon.
50BOLD: You went solo after your group disbanded and recorded a number one hit, Do You Get Enough Love. Did you feel out of place singing without your sisters? 
Jones:  At first, I did feel weird singing without my sisters because Valorie, Brenda, and I had sung together for so many years. I performed my first show as a solo artist with Frankie Beverly and Maze and toured for seven months with them. I decided to just change things up a bit as far as my performance and used two men and a female as my background singers. Even though I still performed Jones Girls songs and everything, I thought I needed the change. Performing solo was a challenge at first but I got used to it because the tour was so successful.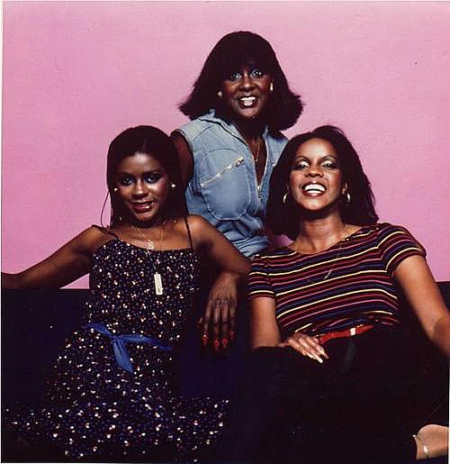 50BOLD: How did your sisters handle your solo career?
Jones: Honestly, they were not overjoyed about my solo career. They were not happy at all but we did manage to reunite briefly to do the Coming Back album in '92.
50BOLD: What was that reunion like and who sparked the idea?
Jones: Our manager at the time, Myrna Williams, suggested a reunion. We also got approached by a label over in London and we said yes to the idea. We went to London and had a successful tour there because the album was very well received.
Unfortunately, the very same old problems that broke us up initially reared their ugly head yet again. And so, we never reunited again after the London tour. In 2000, Brenda, her oldest daughter, and I tried to get together.  Valorie was not able to join us and of course, she passed away a year later.
After Valorie passed away there were no more reunions. In 2017, I informed Brenda, right before she passed that I'd be doing the Essence Music Festival. Mary J Blige had a Woman's Night Only concert and asked me to perform. Mary wanted women on the show who had influenced her. I told Brenda to not be surprised if I called her up on stage to help me perform one of our songs. Brenda said she'd be fine with the request and said she'd be ready. But Brenda was quite ill and I didn't even realize it. The Essence Festival is on the 4th of July weekend. Brenda was killed on April 3rd before the festival had taken place.
It was hard for me to perform at the festival because Brenda's passing was still so new. It was tough to get through the show.
50BOLD: And it is also so tough to hear… In 1994, you had a second album but then you took a long hiatus from the industry. What did you do during your time off? 
Jones: Well, I was married and had my son in 1988. I still performed occasionally here and abroad. And I would also perform at private gigs. But I raised my son and made sure he was great. I also married one of the Harlem Globetrotters. Even though I still loved performing, my focus was on my son.
50BOLD: You've toured with some really phenomenal performers. Who was your favorite and do you have any interesting stories to share about anyone? I saw a picture of you and your sisters with Diana Ross. 
Jones: We were doing background for Diana Ross in '76 and '77. We were young girls and she was the hottest entertainer in the world. So, for us to be able to travel with Diana Ross and watch her perform every night on stage was an incredible experience! We learned so much about performing and entertaining from Diana because she's the best at it, even to this day. So, Diana Ross is probably the most exciting person that we've ever worked with during our career.
50BOLD: When we were on lockdown during the pandemic, I discovered the DJ D-Nice on Instagram. He hosted the Club Quarantine on Instagram Live segments from his home as a way for people to come together and help others cope with the COVID-19 global health crisis. He played a lot of your music and has introduced your recordings to his younger audiences.
Jones: I did a brief interview with D-Nice, virtually, he's a huge fan. You Gonna Make Me Love Somebody Else is one of his favorite songs. I hope to meet and thank him in person one day. Fat Joe also played Nights Over Egypt during his show for many months during the pandemic. So, both D-Nice and Fat Joe really helped with this resurgence of the Jones Girls.
It is such an exhilarating feeling to know these young people, who were just introduced to our music, love and appreciate our sound. So, I know my sisters are smiling because we've always wanted to just make people feel good through our music.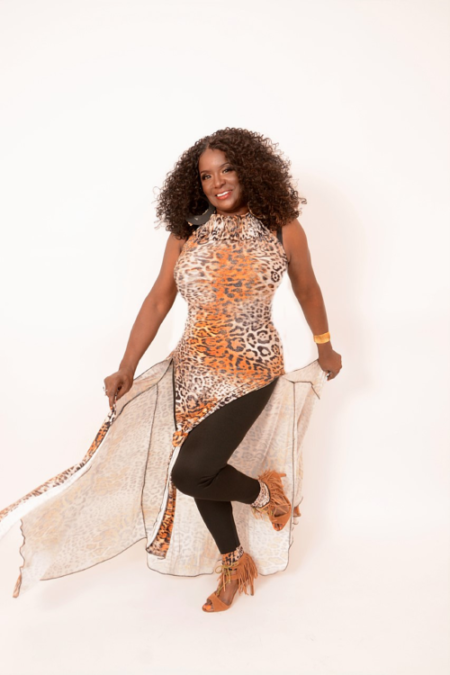 50BOLD: So, what makes Shirley Jones happy these days?
Jones: What makes me happy these days is the fact that, well, the pandemic is easing up to the point where I'm booking dates again. I have a booking on December 12th in Los Angeles at the Globe Theatre. And the fact that I'm able to get back out there and keep doing what I'm doing to make other people happy, makes me happy! I also have a single out, Soul Steppin, that is doing quite well. And I am finishing up an album, In Loving Tribute, that will be released next year. The album is a heartfelt dedication to Brenda and Valorie.
I am happy that my son Cameron and my nephew have an EP of six remixed Jones Girls' songs, hip-hop style and it is terrific! I'm getting ready to push their project independently so that the hip-hop world, someone like perhaps Jay-Z, will pick them up. They are SO good! The EP is streaming on our platforms, they're called the Jones Connections. And they even perform, you can see their videos Who Can I Run To in our Unsung segment.
And I'm finishing up a book which makes me very happy! So, in a couple of years be on the lookout for the Jones Girls movie. Everything has been finalized. The project is going to keep me busy because the producers want the movie to be based loosely on the book that I began writing on-and-off after Val passed. I'm now trying to get the book finished and it has to get done within the next two or three months.
So, thankfully, I have a lot going on these days and this makes me happy.