No one would argue that Telma Hopkins is our sweetheart—beautiful, smart, talented, and lovable with the right dash of sass. The stars seemed to be aligned in Telma's favor because, at the ripe young age of 14, she joined the Motown stable of mega talents as a background singer for such stellars as Marvin Gaye and The Four Tops. Telma was a fixture at the sound of 'young America' for a few years until she was asked to join Stax Records to sing background, and tour with Black Moses, Isaac Hayes. Telma's famous vocals were part of a chorus on the '71 Academy Award-winning "Shaft" theme song where they hushed the phrase of that decade, "shut your mouth."
Having already established herself as a much-in-demand background singer, Telma was recruited by Tony Orlando. Soon thereafter, Joyce Vincent Winston joined Tony and Telma as well. Telma rose to prominence as a member of the pop music group Tony Orlando and Dawn. They had a string of 70s memorable chart-toppers such as Candida, Knock Three Times, Tie A Yellow Ribbon Round the Ole Oak Tree, and Say, Has Anybody Seen My Sweet Gypsy Rose.  The group sold 27 million albums, received three gold albums, five gold singles, three platinum singles, and two Grammy Award nominations for Best Song.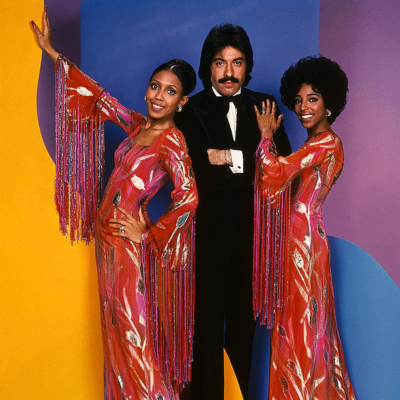 CBS Television gave Tony Orlando and Dawn a variety show (entitled Tony Orlando and Dawn) from the summer of 1974 until December 1976. The show included sketches featuring sarcastic back-and-forth banter between Orlando, Hopkins, and Vincent and became a Top 20 hit. In 1977, the group parted ways, each pursuing a solo career. Telma set her sights on Hollywood and never looked back.
Telma's Hollywood star never seemed to dim as she was consistently cast in a supporting role in a string of successful sitcoms—Bosom Buddies ('80-'82), Gimme a Break! ('83-'87), Family Matters ('89-'97). As a lead performer, the TV veteran also starred in Getting By ('93-'94). She was a series regular on Half & Half ('02-'06), Are We There Yet? ('2010-'13) and Partners (2014).
On the big screen, Telma appeared in the '84 Sci-Fi films Trancers and its sequels Trancers II ('91), Trancers III ('92), and Trancers: City of Lost Angels (2013). She also co-starred in the classic coming-of-age film, The Wood ('99) and The Love Guru ('08).  You can also look for Telma in the upcoming The Matrix: Resurrections, the fourth installment in the high-concept sci-fi series that will land almost two decades after the trilogy ended.
Telma is co-starring this month in the Lifetime film Blending Christmas (premieres Dec. 12 at 8 p.m. ET/PT) that tells the story of the chaos that ensues when Emma (Haylie Duff), and her man, Liam (Aaron O'Connell), bring their families together for the holidays. A few of those family members are played by none other than the original Brady Bunch stars Barry Williams, Christopher Knight, Mike Lookinland, and Susan Olsen.
Telma Hopkins chatted with 50BOLD.com about the nearly 60-year career she's been blessed with and how her wheels aren't falling off anytime soon!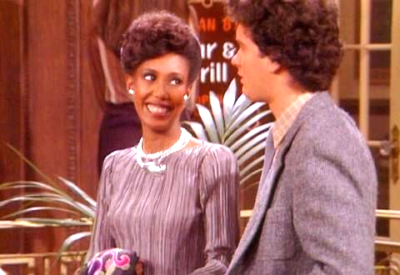 50BOLD: First, let me start by saying you are our sweetheart—beautiful, charming, grounded, talented. You've had an incredible acting career and are still going strong!
Telma: I am so blessed! I've been very blessed in my career.
50BOLD: Can you share with us a little about your upbringing? I know you were raised in Louisville, Kentucky; what was it like growing up there?
Telma: I actually didn't grow up in Louisville; I was born there. I was raised in Detroit, Highland Park for the most part. My grandmother, Bertha Shaw, basically raised me and she was tough but was a wonderful, wonderful pillar in my life. And really, she was tough because of her own personal struggles and what she had to go through in life.
My grandmother really believed in the empowerment of women back then, when she didn't even know what it meant. She used to always say 'What's good for the goose, is good for the gander.' And I would think, 'What is she talking about?' My grandmother's saying actually meant that whatever was good for a man, a woman could excel at it as well.
50BOLD: Tell me, did you come from a musical family?
Telma: Not really. I mean there were a couple of family members who could sing but we weren't a real musical family. My grandmother, of course, took me to church so there was that musical family.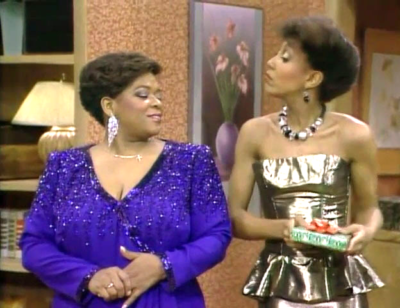 50BOLD: I was blown away when I found out you were one of the background singers on the Isaac Hayes' Theme from Shaft recording famously exclaiming 'Shut Your Mouth.'
Telma: We're talking about Shaft, and we can dig it. [laughs]
50BOLD: The line from the song is a forever classic!  I don't think many people know you were one of the vocalists on the recording.
Telma:  I think many people over the age of 50, might be familiar with the background singers from the Shaft theme song. I became a background singer because of Motown. You know, living in Detroit at the time, all anyone ever wanted to do was to somehow get to Motown. I was lucky enough to be in my early teens and to be schooled by one of the members of The Andantes, who were not a performing group at Motown but who sang background on many of the company's recordings. They were highly valued at the label and were phenomenal background singers.
One day, an Andante could not perform backup, so, I was asked if I could cover for her. I was about 14 years old at the time. I showed up to the session in a plaid skirt and everything and was teased horribly. But my very first session at Motown was with The Andantes as a background singer on The Four Tops' hit recording Reach Out (I'll Be There).
50BOLD:  You've had quite the career and are so accomplished! How old were you when you recorded the Shaft theme?
Telma: Let me think…probably about nineteen.
50BOLD: Isaac Hayes was truly a huge sex symbol at the time. Can you share an Isaac Hayes story for our readers?
Telma: Actually, I was not a member of Isaac's Hot, Buttered & Soul backup group but became their substitute singer which meant I would fill in when someone was unable to make a gig. And my very first concert was in Detroit. One of the backup singers became ill. So, I had to basically learn an entire album. But I got to sing at Isaac's very first concert in Detroit. And that's when I started traveling with Isaac as a substitute singer.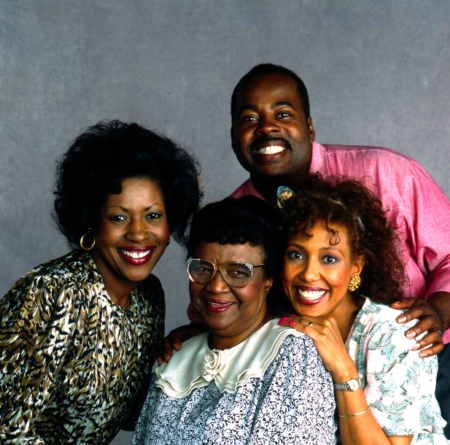 50BOLD: It is just amazing to visualize you working with such a mega-talent as Isaac.
Telma: So, Russell, I really did not appreciate what was happening to me at the time. I don't know….  I just don't think I comprehended some of the things that I was asked to do until much later in my life when I looked back on it all, you know. At the time, I was young, and everything was just fine. I was also traveling. I knew Isaac was HUGE because every forum was jam-packed; I had never seen anything like it.
I guess the significance of my career really got into my spirit at a much later time. Even when I was a member of Tony Orlando and Dawn, there was so much going on, it was hard to even keep up with it all.
50BOLD: It was probably all so overwhelming. Even bigger than Isaac Hayes, you sang with Marvin Gaye.
Telma: Yes! When I was at Motown and singing background with The Andantes, I sang on a few of Marvin's recordings. I sang background on I Heard It Through the Grapevine, That's The Way Love Is and there's just one more recording that I can never remember. But my favorite recording of course was I Heard It Through the Grapevine. I also sang background on The Four Tops' Bernadette and Standing in the Shadows of Love. I sang on a lot of recordings over at Motown. And when the songwriting team of Holland-Dozier-Holland left Motown, Joyce Vincent Wilson (from Dawn) and I became like the label's official background singers.
50BOLD: Now, I'm assuming you and Joyce are still friends.
Telma: Oh yeah, oh yeah!! As a matter of fact, Tony Orlando has a radio show, and he did a birthday show for me. Joyce called into the show, wished me happy birthday, and even sang.
50BOLD: You've worked with so many entertainment greats. How much fun did you have while working on the Tony Orlando and Dawn TV variety show? I remember watching it as a kid and so many of the skits with you and Joyce were hilarious.
Telma: Those characters on the show were comprised of different parts from relatives and people we knew that we just kind of smushed together; it all worked and was funny.
50BOLD:  The Tony Orlando and Dawn TV variety show was just so good.
Telma: There are no more variety shows, it's a bygone era of wholesome entertainment you know. And the people who appeared on our show from Jackie Gleason to Sly Stone, you know what I mean, just the best talents. The show was a phenomenon! We knew it was big, yet it was hard for us to take it all in and really get a sense of how it positively affected people.
I think the first time we realized how much people loved our show was when we had performed at the New York State Fair before we landed our TV show. There might have been 300 people [laughs] in attendance. After our variety show had aired and we returned to perform at the New York State Fair, and there were now 30,000 people eagerly waiting for us to perform.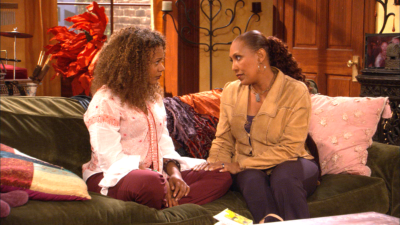 50BOLD: What a difference a TV show makes!
Telma: We were asking people who they had come to see without realizing they came to see us! [laughs]
50BOLD; You all were SO very huge!
Telma: Yeah, but we had no idea how huge we were. We didn't understand the magnitude, the power of television. It was a lot for us to absorb. It wasn't like we could just sit back and relax. We were always doing something. We were always running something. We were always performing, and doing press, you know.
50BOLD:  I must say, you were one of the most beautiful women at the time. Glamorous, funny, talented. You must know that many viewers were tuning in to see you.
Telma: I was just a girl from Detroit and then I was having to work at this glamorous career, that included wearing makeup, beautiful gowns, sporting fancy hairstyles, I mean, it was just crazy. How did it all happen? [laughs]
50BOLD: It was all meant to be for you! You've performed in some of my favorite sitcoms. You were a regular on the Bosom Buddies sitcom with Tom Hanks. Tell me, did you ever think that he would be so highly revered as an actor?
Telma: Tom? Oh yeah.
50BOLD: You knew it all along?
Telma: Well, Tom was just so good. He was equipped to handle whatever he tackled. And the thing that I love most about him is that he's such a good guy. He's always been the same despite the huge film career and accolades. Even with my son who grew up on Bosom Buddies. Tom is just a phenomenal person. You know we lost Peter Scolari recently who co-starred with Tom on the show. It just breaks my heart, that was a tough one for me. I had no idea he was even ill. It's such a shocker.
50BOLD: You co-starred in the sitcom Gimme a Break! with the late Nell Carter. I didn't like the way she treated your character. You were so sweet.
Telma: It's funny because I was probably a big challenge for Nell in a way. We were also close in age. We were both raised by our grandmothers. She had gone through a lot. I mean we were able to share a lot of stuff that made it easier for us to work together because she was not the easiest person in the world to get along with.
50BOLD: Oh, I could tell she was a piece of work.
Telma: We had a lot of fun on the set, and I give her a lot of credit for my ability now to learn a script. You can't do physical comedy with a script in your hand, so the day after getting a script, she'd toss it aside. Nell taught me to think on my feet. It was the only way you could work with her. We managed to have a great four years together. Yeah, I mean it was an experience at times. She could intimidate a lot of people. Nell was phenomenally talented, but most people weren't in a position to get in her face. [laughs]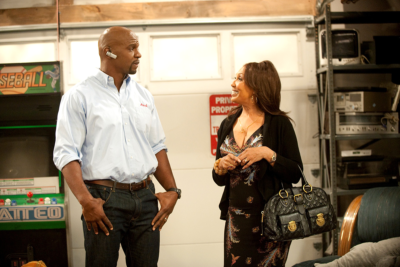 50BOLD: Come to think of it, many of the roles you've played were that of a sweetheart. You were always sweet with a tinge of feisty. Which takes me to my favorite sitcom, Half & Half. I loved that show and have seen every episode about 20 times!
Telma: We had so much fun on the show.
50BOLD: And it showed! Any chance of a reboot?
Telma: Naw. Everyone in the cast has gone on to do other things but we're still in touch.
50BOLD: Of course, I loved your character on Family Matters, this goes without saying.
Telma: The show has been on the air for over 30 years! All the kids on the show now have children of their own. I mean they were babies when we worked on the show. Family Matters is on somewhere all the time! And we all, of course, have stayed in touch throughout the years.
50BOLD: You've not been involved in any scandals, or public embarrassments, how rare! How have you remained so upstanding in Hollywood?
Telma: Well, I was busy working and raising my son, you know. I always say my son is my best work. I'm not from Hollywood. I'm from Detroit, so I was raised differently. [laughs]
50BOLD: Okay, okay, let me have it! [laughs] And Detroit women, I know, do not play.
Telma: And my grandmother didn't play; she raised me right!  My grandmother was very, very straightforward about what she expected. And I knew this, and always tried to deliver. I mean, I have always tried to honor her and don't know what I would have done without her! She instilled values in me at a very early age. She told me to give one hundred percent to everything I do.
50BOLD: And you have done so, rest assured. What kind of beauty regimen do you follow? You have truly discovered the Fountain of Youth!
Telma: I honestly don't have a beauty regiment. I find that the older I get, the less I do. I just stay moisturized and keep my face clean. And I also try to keep my weight down. I'm back to exercising. I got lazy after the pandemic because I didn't want to be around anyone. But I'm back to self-care. Your body will tell you a whole lot about what's going on if you just pay close attention.
50BOLD: Is there a project in the works that you'd like to discuss?
Telma: I have a role in a Christmas movie, Blending Christmas, coming out this month (premieres Dec. 12 at 8 p.m. ET/PT) on the Lifetime channel. A few of the Brady Bunch cast members are also in it.
50BOLD: We'll be sure to tune in! Now, I'm sure a lot of those celeb male sex symbols were hitting on you back in the day. Who was your favorite crush? Can you share?
Telma: Who was my favorite crush or who had a crush on me? [laughs]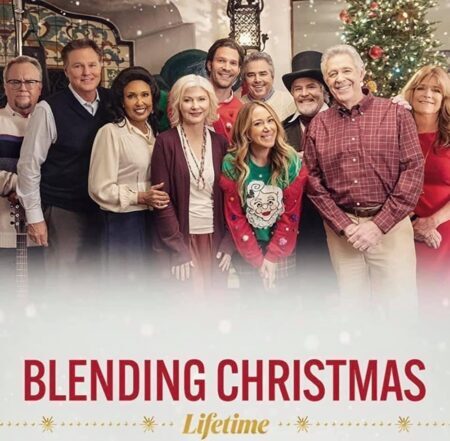 50BOLD: Both. We would love to know both!
Telma: My favorite crush was always Billy Dee Williams. Always! When he came to CBS (the Tony Orlando and Dawn variety show aired on CBS), I ran and hid. I was so excited to see him that I couldn't deal with it. So, that was my secret crush. Well, it wasn't a secret, everybody knew it. And then, I went to my first Hollywood premiere with Jim Brown who escorted me to see the film Which Way is Up? starring Richard Pryor.
50BOLD: Jim Brown! Now, he was a sex symbol back then, if memory serves me correctly. Switching gears, what perks Telma up these days, even though we are still in a pandemic.
Telma: Well, I worked during this pandemic. The pandemic has changed the way we work. I do a lot of stuff for Nickelodeon; I provide the voice of Maybelle on The Loud House and The Casagrandes. I also play the role of Celeste in the new Rugrats cartoon. Yeah, so work has been great. I've learned to be with myself. I do gardening, I read, I relax, and I work. During the pandemic, I spent a month in Atlanta working on a pilot. So, despite the pandemic, I have been so, so blessed.
50BOLD: Where can our readers find you on social media?
Telma: They can follow me on Instagram.