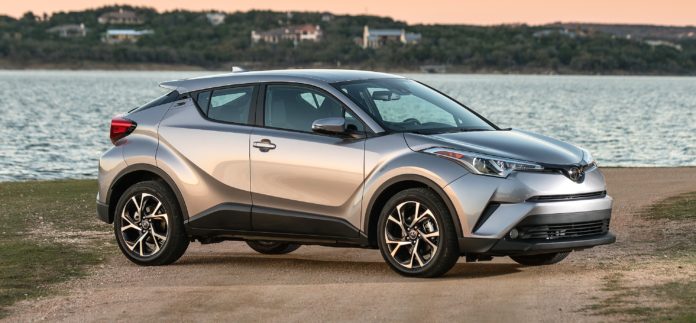 I'm a SUPER car aficionado and a man who loves a good baseball game. So when I was given the opportunity by Toyota to not only experience three spring training baseball games but to travel to each one in a 2018 Toyota Camry and C-HR, well, I could not blurt out "YES," fast enough!
My #ToyotaGrandSlam road trip adventure began in Orlando, Florida. After schlepping through the snow and ice to get to my home-based airport, the warm and balmy Orange state rays that greeted me when I arrived were soothing. After getting my bags, I was transported to my first game where the Pirates and Braves were playing. Overall, the game was pretty exciting and a definite tip-off that both teams might be in for a stellar season.
Although I was enthusiastic about the first baseball game, the anticipation I felt for what was coming down the pike later in the evening would be my absolute thrill for the day. A few other writers and I would be checking out the 2018 Toyota's popular line-up of vehicles—Camry, C-HR, Prius Four, and Corolla. On the first night we could only view the eye candies, but on the next day, we'd be in the driver's seat of a vehicle of our choosing.
To channel Bart Scott…"CAN'T WAIT!"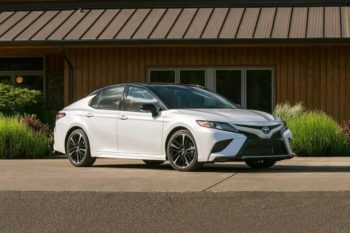 Day two marked the beginning of our Ride and Drive experience which would wind up in Fort Myers. I selected the fully redesigned Camry XSE that has the stop-you-dead-in-your-tracks aggressive visual appeal I'm usually attracted to in a vehicle. I was anxious to get into that bad boy because I knew it would make me misbehave on the road!
The Camry long, low and racy with emphatic lines and angles, flared fenders, sculpted hood, oversized front air takes, dramatic front grille, sleek LED headlamps, quad exhaust tips. The Camry sports an energetic design along with a total look of solidity.  As I gave this Camry the once over I thought to myself, this sedan is certainly nothing like its predecessors.
Since I am quite a bit north of 6 feet, I worried about the Camry's fit but I pretty much always do this before stepping into any vehicle. Once inside the five-passenger sedan, I felt it was a comfortable fit. There was ample room to accommodate my large frame. I had no complaints or doubts about the car's comfort level with regards to my upcoming road trip. The seating was perfectly bolstered and extremely lumbar supportive which worked for me mainly because I was in for a four-hour drive to our next spring training game in Fort Myers. The overall cabin styling of the Camry is appealing with soft touch trims, and the fit/finish and appointments are very premium. The Camry's trunk measures 15.1 cubic feet which are not class leading, but it'll do.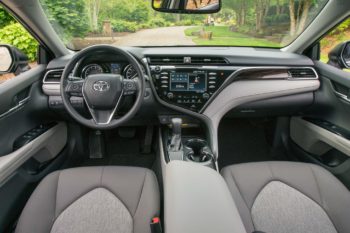 The dash on the Camry is very driver-centric; the overall design layout presents itself well. The smartly placed controls and all markings are bright enough for aging eyes. The vehicle's dash controls are intuitive and ergonomically right. Excellent driver footwell that taller drivers will appreciate. The telescopic steering wheel is also a welcomed plus. The backseat can comfortably accommodate passengers who hover around 6-feet. The slim pillars add visibility points.
On the tech side, the Toyota Entune infotainment system lacks Apple CarPlay and Android Auto which might be off-putting to a few Millennials. Pairing my smartphone via Bluetooth was a cinch. The embedded navigation system was not a finicky exercise to set. As far as safety, the Camry has it covered all the way around with the Toyota Safety Sense P driver aid technologies that are standard for each 2018 model. The features include Pre-Collision System with Pedestrian Detection, Dynamic Radar Cruise Control, Lane Departure Alert with Steering Assist and Automatic High Beams. However, additional features like Blind Spot Monitor with Rear Cross Traffic Alert, Intelligent Clearance Sonar and the Rear Cross Traffic Braking system are also available. Each Camry has also had a standard backup camera thrown in for good measure.
Driving the Camry XSE was effortless, sporty, smooth, engaging with decent reflexes. Four hours in a car can be pretty taxing especially for tall folks, but in my case, it wasn't. The XSE has 301 horsepower, 267 lb-ft of torque, a 3.5-liter V6 engine coupled with an eight-speed automatic. It handles road bumps and dips in a composed manner thanks to a MacPherson strut front and double-wishbone rear suspension that keeps the Camry planted.
When I arrived in Fort Myers, Florida's Hammond Stadium for the next day's training game to watch the Orioles, my mind kept going back to that Camry and I felt a little disheartened to have to give it back to the Toyota trip organizers. The game was not as exciting as the first one, but then again, I am not particularly an Orioles fan.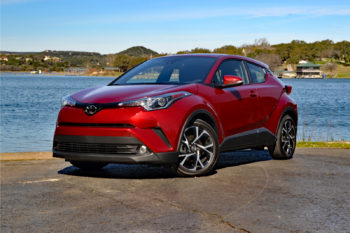 On the final day of my #ToyotaGrandSlam road trip adventure, I felt quite a bit of angst when I saw the vehicle Toyota had in store for me to drive to our next spring training destination in Port St. Lucie.  The trip was timed to be four hours and fifteen minutes away to see my home teams, the Mets, and Yankees play. Have mercy, I thought to myself!   The compact vehicle is the Japanese automaker's latest starlet, the C-HR.
Well, as I stood there giving the vehicle the once-over, I was trying to quickly figure out, how I was going to contort this 6'5-inch body to fit the assumed possible room-pinching dimensions in the C-HR.
The C-HR is reminiscent of the Nissan Juke but perhaps a bit flashier. It is a bulbous, tall/small vehicle that is sharply angled and steeply raked with bulging wheel arches. The C-HR's swoopy styling is, well, aggressive, expressive, and appealing even to the 20-plus-years-past Similac set.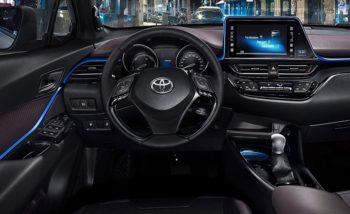 As I settled into the vehicle's interior, I immediately exhaled because I was shocked by the fact that I had so much room! The interior dimensions of the car are so accommodating. The overall design of the cabin is attractive, purposeful and blemish-free. The materials used are better than first-rate with soft touches and well thought out controls. The seating is extremely comfortable with excellent lumbar support, and the overall more substantial width of the vehicle gives you room to stretch. The controls on the dash are also pretty logical. Nice number of stash spots too.
The 20-plus-years-past Similac set will not, however, like the fact that there is no Apple CarPlay and Android Auto in the C-HR, not even optionally. Factory navigation is also unavailable. No bueno! Bluetooth connectivity does, however, work like a dream.
All C-HR's receive active safety system technologies that include forward-collision warning with pedestrian detection, auto emergency braking, lane departure with steering assist, adaptive cruise control, and ten airbags. Since the C-HR has a rising windowsill line and a shallow rear window, the available blind-spot monitoring system is something you will have to add-on.
Under the hood of the C-HR lies a 2.0-liter, 4-cylinder engine that cranks out 144 horses and 139 lb-ft of torque. Driving the CH-R was a pleasant experience, but truth be told, she is not the spriest one in the bunch and its 3,300 lb. heft does not help matters any. Even though acceleration was at times an uphill battle, maneuvering the crossover was easy, ride quality was noteworthy and road thump absorption, admirable. The C-HR is also pretty agile despite the heft.
Overall the trip was every baseball aficionado's dream come true. I got to experience baseball spring training games with four phenomenal teams.  The trip's topper, however, was getting behind the wheel of two 2018 Toyota vehicles that were not only a pleasure to pilot but offered a nice blend of style and practicality.
Hmmm, the NBA basketball playoffs are upon us, wonder if…. Toyota?
Need more info?  www.Toyota.com