Remember when The Pointer Sisters burst on the scene with their 1973 self-titled debut album where they were pictured sporting 1940's vintage clothing that cultivated a fashion retro trend? The then quartet with their 'born to sing' quality had voices that blended so perfectly; we just knew they had been harmonizing since birth.
The Pointer Sisters and their two brothers were raised by religious parents, who both ministered over a small congregation in West Oakland, California. All of the children in the household were encouraged to sing gospel music by their parents who abhorred secular music. On the sly, however, the children did manage to get a healthy dose of rock and roll music now and then. Ruth began her formal vocal training at the church as director of the junior choir.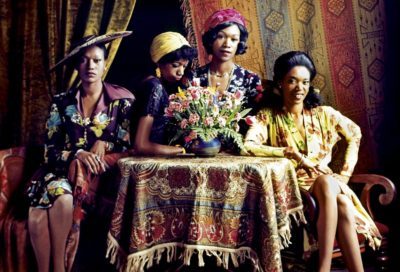 Upon graduating from high school, Ruth, the eldest child, got married and had two children. She landed employment as a keypunch operator prior to joining The Pointer Sisters in 1972. Sisters June and Bonnie decided to venture out and try their hand at singing together professionally and formed a group called Pointers, A Pair. Anita, the second oldest sister, decided to quit her job and join her musical siblings. Soon the trio began touring as they tried to make their musical mark in the industry. They not only performed but provided background vocals for such stellar talent as Boz Scaggs, Grace Slick, and Sylvester. In 1971, the trio signed a recording contract with Atlantic Records and the following year, Ruth finally decided to join her siblings on their quest to make a musical name for themselves. The now quartet signed with Blue Thumb Records, the label that produced their debut album.
The siblings not only sought to create a unique sound but also wanted to make a distinct visual presence. They rummaged through various thrift shops to come up with a nostalgic look that made them fashion standouts and the talk of the town.
The sister act's first hit from The Pointer Sisters album was Yes We Can Can. The group went on to win a Grammy Award for best country vocal for the crossover hit "Fairytale" (1974 and written by Anita and Bonnie), making them the first African American act to win that category. The group's high point came with the 1983 release Break Out. The triple-platinum album produced a string of hits, and the Pointers collected Grammys for the singles "Automatic" and "Jump (for My Love)." The songstresses were also among the first Black women to play at the Grand Ole Opry and the first pop act to perform at San Francisco's Opera House.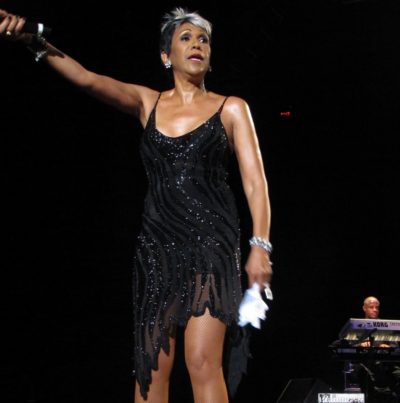 In 1977, Bonnie exited the group for a solo career, making Ruth, Anita and the youngest sister June, a trio. The group then decided to go in an all-around different direction both musically and visually. They developed a more high-tech sound and sleek, high-end look. The Pointers recorded several more albums, including "Break Out," in 1984, which won two Grammys. A song from the album, "Neutron Dance," was featured in the movie "Beverly Hills Cop." In the '90s, the sisters found a new outlet on stage with the hit show "Ain't Misbehavin'."
By the time the year 2000 rolled around, June had developed a drug problem, and her behavior was interfering with the group's performances. Sadly, she passed away in 2006 at age 52 after a bout with cancer. Anita decided to retire from the group to pursue country music interests and is still involved in musical endeavors. 
The Pointer Sisters legacy continues to this day with a couple of new recruits, Ruth, her daughter Issa Edwards and granddaughter Sadako Pointer who tour all over the world.
In 2016, Ruth released a heartfelt memoir Still So Excited!: My Life as a Pointer Sister (Triumph Books). In the book, she expounds on her mental illness, cocaine addiction, overeating issues and a near-fatal bout with meningitis in 1984. She has embraced a life of sobriety for over 30 years. She was married five times, once to the late Dennis Edwards of The Temptations fame. She is presently happily married to Michael Sayles and they will be celebrating their 30th anniversary this year.
The energetic powerhouse is a mother of five adult children, including twins, which she gave birth to at the age of 47. Ruth, now a fabulous 72-years-young, is an international spokesperson for the USO and has traveled all over the world to perform for our troops. She also finds time for other charitable causes such as the Special Olympics and Best Buddies, organizations that are close to her heart.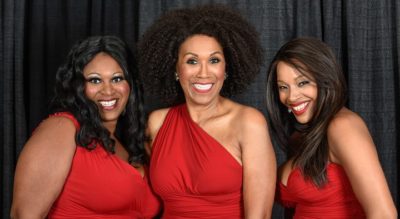 From humble beginnings to sky-high success, then a downward spiral, to a phenomenal comeback, Ruth Pointer is the embodiment of female empowerment. Like so many of us who are battling the effects of aging, Ruth is now grappling with an upcoming knee replacement operation, but this is not stopping her. It's physical therapy and back on tour with her daughter and granddaughter.
Ruth Pointer gave 50BOLD some real talk on her rollercoaster life that is now filled with love and an extra helping of harmony.
50BOLD: The Pointers Sisters were one of the country's best-selling girl groups. You always hear about discord in girl groups, did you experience this or was it all Kumbaya because you were sisters?
Ruth: Of course, we experienced discord in our group; we're sisters and we're ladies! (laughs)
50BOLD: When you began singing there were four members you, then Bonnie left to go solo. How did her departure impact the group?
Ruth: We were upset with Bonnie when she exited the group because we were really just getting started. We had only been singing professionally as a group maybe two or three years. We all thought about Bonnie's exit, "What made you think that this was a good time to leave?" We were very upset.
50BOLD: You've won three Grammys, and your songs ran the gamut from R&B, electronic, country, jazz, to pop. Some folks still refer to you as an R&B group; does this bother you to be pigeon-holed?
Ruth: We never wanted to be pigeon-holed musically, which is why we put so much variety into our singing styles. We didn't grow up in a Pentecostal-type church that sang a lot of gospel.
Our music growing up consisted of a lot of country. My parents were very strict about what we listened to musically. My father pretty much listened to patriotic and country music. We weren't encouraged to listen to secular music very much. We didn't want to be pigeonholed in R&B because we didn't feel like that was who we were as a group.
50BOLD: So, you didn't grow up listening to Motown and music of this genre? 
Ruth: We did listen to Motown, but this came later in our teenage years when we were going to our friend's houses and discovering it. I had a very dear friend in high school who had many comedy records from comics like Redd Foxx, Richard Pryor, and Rudy Ray Moore. She also had Motown recordings. I loved going to her house to just sit and listen to her Motown offerings.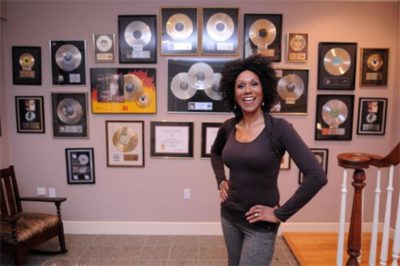 50BOLD: In your autobiography, Still So Excited, you are very candid. You discuss your downward spiral with drugs and alcohol addiction. You've been sober over 30 years.
Ruth: Yes, Yes, I have been sober for over 30 years!
50BOLD: Your sisters Bonnie, and June also traveled down the path of addiction. What was rock bottom for you and did fame somewhat contribute to your addiction?
Ruth: I think fame had a lot to do with my addictions. My rock bottom was thinking about my children. I had three children at the time. Most of the time I was a single parent, even though I was in and out of marriages. The marriages were never stable as far as parenting and I was always on the road. I was really all that my children had to rely upon as a role model. I started envisioning my two older children going down my same path and this just frightened me.
I also became ill with viral meningitis. And as I stated in my book, a physician told me that I needed to change my lifestyle or I was not going to be around for very long. I wanted to live as long as I could and be as healthy as I could. I got into a few recovery programs.
50BOLD: I remember the early Pointer Sister's fashions, they were '40s-inspired vintage clothing. What made you decide to go retro fashion-wise?
Ruth: We grew up wearing hand-me-downs. My parents didn't seek out retail shopping for us. The only time my siblings and I received new clothes was a couple of times a year and they were for church. All the time in-between, we relied on clothing from second-hand stores, or from church donations. And we realized early on that a lot of vintage clothing were really nice name brands. (laughs) We liked the way the clothing looked. We always liked being different. My mother used to always say to us, "dare to be different!"
50BOLD: The Me Too Movement is on everyone's lips these days. In the predominantly male music industry was there ever any Me Too moments in your career as a girl group? Was there anything that you and your sisters experienced? And do you think female performers are more respected these days? 
Ruth: I think female performers these days are more respected. Personally, I went through a personal Me Too period. My first husband was extremely abusive and it didn't occur to me until later on in my life what he had put me through. Even now, I'm still coming to grips with the things that I went through in that marriage that were really traumatic and that helped to shape how I conduct myself.
50BOLD: Were you ever pulled aside by a well-known performer or schooled about what to watch out for in the entertainment industry? 
Ruth: Yes, several people pulled my coattails about the recording industry. The Temptations were very dear friends of ours. I ended up marrying one of them (laughs). My daughter is Dennis Edwards' child. We were the opening act for Dennis, Melvin (Franklin) and Eddie (Kendricks) at one point. We would hang out with them after a show. They would just sit down and advise us like big brothers and warn us about the things to look out for in the music business. After taking their advice, we fired everyone on our team and started setting up shop all over again. A lot of experienced performers loved telling us about the things managers, producers and lawyers would do to performers who did not know better. Sonny Burke, who used to be the musical director for Smokey Robinson for so many years, really sat down and spoke with us a lot. Even Smokey advised us too. We got advice from mostly men in the business.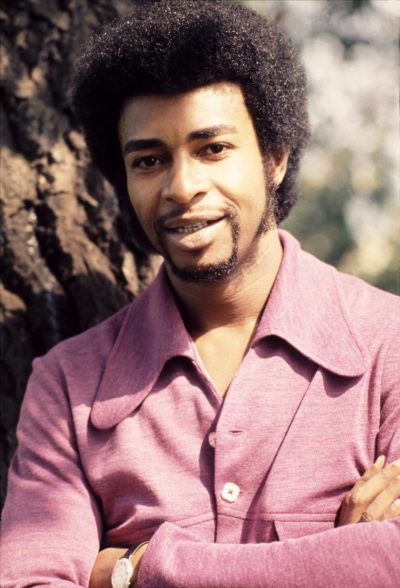 50BOLD: You've been through addiction, meningitis, and you had a blood clot in your lungs?
Ruth: Yes to all you've mentioned, and I also had a blood clot in my lungs back in 2012.
50BOLD: Did you have major surgery to remove the clot? 
Ruth: I was put on a particular blood thinner to help dissolve the clot. As a matter of fact, I spoke to my cardiologist yesterday about clotting dangers because I'm getting ready to have knee replacement surgery.
50BOLD: Get out of here!
Ruth: A little bit too much Neutron dancing and jumping (laughs) in those high heel shoes. Yes, in 2012, I felt something in my back and chest. The feeling was annoying to me and I was getting ready to take a trip to Germany to do a Christmas show there. I decided I had better check the sensation out before traveling to some strange land, then trying to seek medical attention. The doctors discovered a blood clot in my lungs. They said that it had probably traveled to my lungs from my leg, after years of sitting on planes and not moving for long periods of time.
I would get on the plane, secure a window seat, then go to sleep. The doctors advised that I should have gotten up and walked the aisle, or just stood up to move my legs. I should have also worn support hose. I was on the blood thinner for a short while; it created a dalma hematoma the size of a tuna in my abdomen.
50BOLD: What!
Ruth: Yes, Yes! I didn't know how that entire episode was going to go. I was hospitalized and treated to dissolve the blood clot. I was stuck with this hematoma which is like an internal bleeding sac. I wondered if the doctors could take a syringe and just suck it out, but they could only let it dissolve. The clot could prove to be fatal if it were accidentally punctured. 
50BOLD: Oh, my God!
Ruth: Yeah, girl. As a matter of fact, I was reading shortly after I had that clotting issue that Serena Williams experienced the same thing! It took about a year for the clot to completely dissolve; it was excruciatingly painful. It was during my bout with the clotting issue that I decided I needed more spiritual and emotional support, so I went back to my Christian faith.
50BOLD: Wow! I know you perform with your daughter and granddaughter. What keeps you going?
Ruth: I really think my faith keeps me going. I try to do things to keep my health in good shape. I'm now reading a book about plant-based eating. I'm always interested in trying to better my health. My energy is good. I pray every day. The moment I wake up, I read the word every day. I have an amazing group of women friends with whom I take vacations with once a year. They are all women of faith. We talk a lot and share issues about our families and lives. These kinds of things just help hold me together. I have to add my daughter and granddaughter into the mix who fuel me by throwing in youthful elements.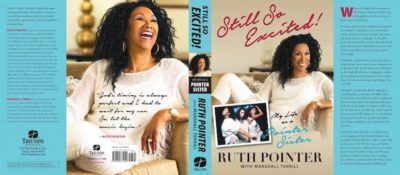 50BOLD: You look fabulous! How do you keep your weight down?
Ruth: I watch what I eat. Sometimes I'm just watching while I'm eating it.
50BOLD: (laughs) Too funny!
Ruth: I do the best I can for me. I know I'm not perfect. I go off on a binge every now and then and don't exercise as much. If something's coming up, I'm like, "Oh, my God, I better get my stamina up. I have to hit the treadmill and work it out!" I do the best I can as far as my health. I have 25-year-old twins, a girl, and a boy; they keep me youthful. They always want to take me out socially.
50BOLD: I remember when you were pregnant with them. You were 47, right?
Ruth: Yes, I was 47-years-old when I had my twins. My husband is eleven years younger than me. My girlfriends always say, "Couldn't you have given him a tie?" (laughs) He didn't have children so I felt like it was an opportunity for me to get a do-over. God gave me that wonderful gift of children. My babies were premature. I had to leave my baby girl at the hospital for two weeks, and my son for one week because they were both underweight. They had apnea because their lungs weren't developed completely. When I brought them home, they were on monitors for eight months.
50BOLD: Oh, no!
Ruth: Yes, honey. When I say God is good, I am serious. Now, my children are thriving!
50BOLD: Wonderful. Now, who do you listen to these days music-wise?
Ruth: I listen to a lot of gospel. I love Kirk Franklin's new song Love Theory. Oh, my God, it's so good. Musically, I listen to a lot of everything. In the dressing room me, my daughter and granddaughter all love James Brown. (laughs) We listen to James Brown, and a lot of Motown music. Of course, the girls want to get into some current stuff like Drake and Ariana Grande, Beyoncé. It's fun to listen to it all!
50BOLD: I hear you. What advice would you offer to an aspiring performer these days because the industry has changed so much.
Ruth: Yeah, the industry is totally different now. I would tell young performers to be patient. Don't be in such a hurry to become a star because it takes time.
50BOLD: You mentioned your former husband Dennis Edwards earlier before he passed away, were you still in touch with him? Were you still friends? 
Ruth: Dennis and I were still very good friends. He never stopped calling me his wife!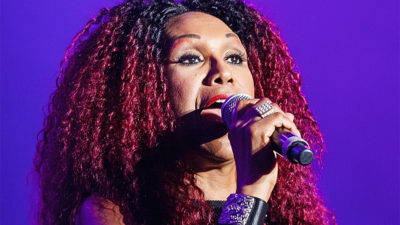 50BOLD: What? Really?
Ruth: I'm telling you, Dennis and I had a lovely relationship. I think it was just the drugs that interfered with who we could have been. Dennis was such a lovely human being. We loved each other. We had a lot of fun together. We were a beautiful couple. I mean when we would walk into a room, it was magical. We didn't stay in touch on a regular basis, but we were always happy to speak to each other. Our daughter stayed in touch with him more than I did. Every once in a while, we would cross paths in our working environment. It was always a pleasure and joyous reunion. I have always appreciated and loved him.
50BOLD: Oh, that's nice. Now, when are you having your knee surgery?
Ruth: Oh, I'm having knee surgery in a couple of weeks. I just got going through a bunch of tests to make sure all my vitals are in order so that there's no big risk. At my age, I'm sure there are certain risks with surgery. I have good physicians in Boston where some of the best hospitals and doctors are located. I'm feeling good about the surgery.
50BOLD: After your recovery period, are you still going to perform?
Ruth: I hope to continue performing. There was a time when I was making these plans to have the knee surgery and was thinking I was going to shut it down. We just finished seventeen concerts with Night of the Proms in Germany last November. We went from Germany to doing New Year's in New York City. We then went from New York to doing seven concerts in Australia with The Jacksons, Sister Sledge, Kool and the Gang, and The Village People. I just returned from touring that a few weeks ago. I had such a good time with my daughter and granddaughter. I thought to myself after the tour, "Wow, I'm really going to miss doing this."
I'm going to wait and see how my recovery goes and try to do everything the doctors advise me to do. I'm told that the recovery process is going to be painful and that physical therapy is done right away. Maybe, I can get back out there touring. I was receiving calls yesterday from people in Belgium who want to book me. I also have book signings planned at a gallery and all sorts of things. People are just waiting to see how I recover. I love it. I love that they still want to see The Pointer Sisters. I really do.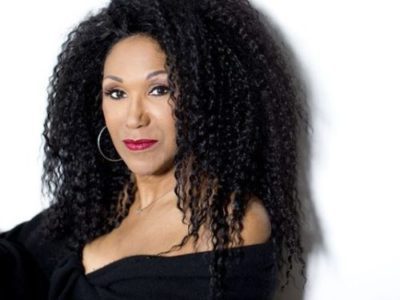 50BOLD: You have been married for 30 years?
Ruth: Yes. My husband and I got married in 1990 and this August we'll be celebrating 30 years. Girl, it ain't easy. (laughs)
50BOLD: You had four husbands previously. And your marriage now is an interracial one. 
Ruth: Yes, it is.
50BOLD: Have you experienced any issues with being in an interracial marriage?
Ruth: We run into issues every now and then but nothing major. We notice people looking at us. A couple of times people have made comments. My husband is shocked at the reactions because he grew up in a small community in Milford, Massachusetts. There weren't many Black people there. He wasn't educated on what racism really, really looks like.
50BOLD: At the time you met your husband Michael had you been sober? 
Ruth: Yes, by the time I met my husband, I had been sober for three years. It was the first real relationship other than with my first husband, where I was clean and sober. Michael is just a clean, decent guy; he is so different than any of my other relationships. We started going out together to the movies, dinner; we just enjoyed each other's company. We'd drive up the coast to The Four Seasons Resort, The Biltmore Santa Barbara on weekends and just hang out. We did nice, easy things and it just evolved into love.
50BOLD: So what's next for Ruth Pointer?
Ruth: I'm taking it a day at a time. Let God lead. I just try to do what's going to make my life greater. Life throws a lot of obstacles but when I take a deep breath and pray about it; I usually get some decent answers.
50BOLD: One last question Ms. Pointer, how would you like to be remembered?
 Ruth: I would like to be remembered as someone who kept it real. I feel like my life has been a blessing with so many surprises. I'm not one of these performers who studied and groomed themselves to be a star. God gave me this platform, and I'm trying to do the best I can with it. I want to be remembered as someone who tried to contribute to the community and to the world. I feel, yes I can and have made positive contributions to this world through my songs, and by my actions.