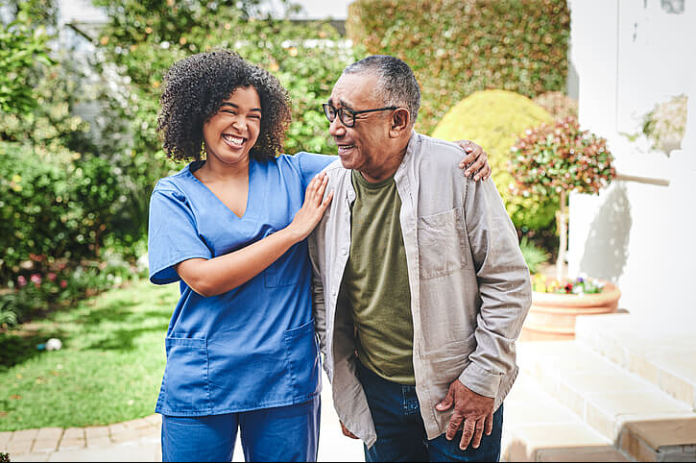 By 2030, minorities are expected to be overrepresented in nursing homes. The U.S Department of Health estimates that 70 percent of Americans over age 65 will require long-term care at some point. The nursing homes that predominantly serve Black residents typically tend to experience financial struggles and ultimately, provide a lower quality of care to their patients, according to a study from University of Central Florida.
In recent years, many of us have faced the problem of aging parents, who require long-term skilled care that we just cannot provide. Nursing homes are skilled nursing facilities that offer a wide range of health and personal services with an emphasis on medical care. They also offer residents daily meals and help with everyday personal and social activities. If a resident needs physical, occupational, and speech therapy, these services are also available.
Some individuals go to a nursing home following a hospital stay just for temporary assistance and are then discharged to go home. Other people need constant care and monitoring because of physical or mental issues and become residents at a nursing home.
If you need to make an informed decision about a nursing home that will truly care for your loved one, do consider these tips:
Inquire. Speak with your loved one's physician, friends, co-workers, and relatives for a nursing home recommendation. Call your healthcare provider to see if they can offer some advice on the homes in your area that provide decent care.
Set up a visit. Call each nursing home recommendation on your list to check out their waiting list. Make an appointment to visit each home on your list for a tour of the facility. Revisit the facilities again without calling ahead and do so on a different day and time to observe the interaction between staffers and residents.
Ask questions. Don't be afraid to ask as many questions as possible about the services offered by the home.
What is the cost?
How many residents?
Is the facility Medicare or Medicaid certified?
Is it clean and well kept?
Can the home provide the level of care your loved one needs?
Does the home offer special services like for those with dementia, respiratory illnesses, and rehabilitation care?
Is the home located in an area that is easy to travel to for you and others who wish to visit your loved one?
Are the common areas quiet and comfortable?
Is there good lighting?
Is the staff adequately vetted?
Are there staff nurses 24/7?
Are there physicians on staff in case of emergency?
Are personal belongings locked up nearby?
Are there working smoke detectors and sprinklers?
Is the facility entirely wheelchair accessible?
Are there handrails and grab bars where needed?
Are dietary needs met and do residents have daily choices for meals?
Are there social programs in place for entertainment?
Are care plan meetings regularly held with family members?
Has the home corrected all deficiencies noted on its last state inspection?
Decide. When you select the home of your choice, do read the small print of anything you sign. Ask questions about anything you don't understand. Better yet, take the contract home with you and ask a trusted someone to go over the document as well to make sure you have not overlooked anything.
The Centers for Medicare & Medicaid Services requires each state to inspect any nursing home that receives money from the government. Homes that don't pass inspection are not certified. Ask to see the current inspection report and certification of any nursing home you are considering.
If you need to check on a rating for the quality of care and staffing information about a nursing home in your state, visit Medicare's Nursing Home Care Compare site.