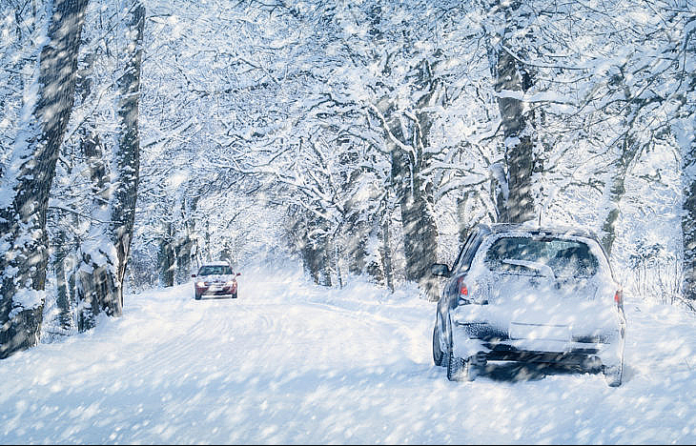 Rough winter weather can produce treacherous driving conditions such as snow and even worse, black ice. Slippery roads can be a downright nail-biting experience for even the most seasoned older driver. So when you're behind the wheel this winter, put a lid on those foolish driving maneuvers and consider safety above anything else. Here are ten winter driving tips you should take heed of so that you and others, can remain safe on the roads:
Don't think your vehicle is invincible!  It does not matter if your vehicle has all-wheel or four-wheel drive, traction or stability control, driving fast in inclement does not make you car invincible! Many drivers believe that vehicles equipped with features that can help to prevent loss of traction have a miraculous grip on even the slickest roads. Truth be told, all vehicles can slip and slide if road conditions are bad enough.
Don't drive on gas fumes. During

winter

it's smart to keep your gas tank full in case you're faced with long, slow stretches of driving with no services in sight. Driving with at least half a tank of gas will also prevent gas line freeze ups.
Don't overlook winter tires. Winter tires sort of fell by the wayside when all-weathers picked up in popularity. Now winter tires have made a comeback; they have improved gripping power and are made with high-tech treads to ride more softly on ice and snow, than the ones from yesteryear. According to tire expert Woody Rogers, a product information specialist for Tire Rack,"With top-quality winter tires you're no longer at the mercy of the weather or drivers around you." So winter tires are a safer investment for all types of vehicles. Word to the wise, if your treads are worn, junk those tires now before they leave you on the side of the road waiting for a tow truck, or even worse.
Don't forget to check before your trek. Essentials such as your vehicle's heater, defroster, and windshield wipers can be your salvation during rough winter weather; so make sure they work. Is your car battery able to make it through those bitter cold days? Are your brakes up to par?
Don't drive back roads. When bad weather strikes, back roads should take a back seat! Don't risk getting stuck on a road that might not get traffic at all during a bad snow or ice storm.
Don't drive with poor visibility. Don't take the lazy route and not clean off your windshield entirely of snow or ice. In some states, it is illegal to drive with poor visibility. Make sure to use a good brush or scraper to thoroughly clean off your glass. Never, ever, use hot water to get ice off your windshield because you might crack it.
Don't let the car heater make you sleepy. You should be fully awake, as a matter of fact, all of your senses should be on high alert when driving a motor vehicle especially in inclement weather. Vehicle heaters have a tendency to make drivers sleepy, so don't set it on full blast. If you have to kick the heat up, crack your windows to let some fresh air circulate in the cabin which should help keep your eyelids from drooping.
Don't drive without an emergency kit. Always carry in your vehicle an ice scraper, blanket, flashlight, portable jump starter (for battery boost), versatile shovel, a couple of nutrition bars, emergency road flares and a first aid kit. In winter, you might want to throw some snow socks in your trunk as well; they're an alternative to snow chains. These fabric doughnuts fit easily over the drive tires and can increase grip enough to extricate a stuck car, or get it up a slippery hill.
Don't drive if you don't have to do so. If the weather outside is frightful, why venture out at all? Let the road crews do their jobs, and clear off the highways and byways to make them passable again.
Don't forget to let someone know where you're going. Inclement weather is risky business, especially if you're driving in it. Don't neglect to tell someone where you're going and what route you're taking because you just never know….