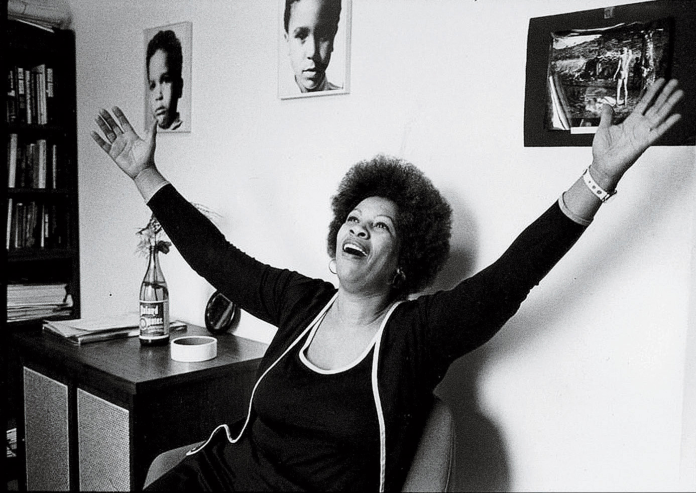 A Song of Toni Morrison My Soul Now Sings
1.
Am I to present a black rose
sparkling with fire-blue diamonds
to a black rose sparkling…with fire-blue…diamonds?
Remembering, now, Ida B. Wells-Barnett's favorite pistol
and James Baldwin's deep-sea-diving eyes.
Kinfolks to your pen and ultimate purpose.
Remembering: what it means to tend with Love
language distilled from bones and blood reclaimed.
2.
Maybe feeding my heart
to the pink-indigo-sun-and-flame of your heart
is how we should begin this shy kiss of gratitude.
In a circle of lynched grace you and I stand with
Sula and Nel, Milkman and Guitar, Beloved
and her mama Sethe, all those hungry dreamers
drunk in Paradise. Frank and Cee not so different
from Hanzel and Gretel. Tears and smiles weaving
nets of light for hauling up discarded history.
3.
My skin melts to supply your ink with lyrics and i
don't mind at all. Could never mind (at all) giving
an extra-honey serving of service to such a rare breed of mind.
The supple syntax of your eyes, gentle clarity
of your mystical flow, and radical species of commitment
conjures songs of revolution and redemption.
Dogon masters communing with flaming black skies
and slow-dancing with constellations shining prophecies.
Cosmic Jazz for a Tar Baby of Nobel distinctions.
4.
Your voice came once before storming gentle wrath
down upon apocalyptic swamps of ball-and-chain ignorance.
Are we learning better this time? Will it be enough?
You are not coming back again. Your books have told me so.
Laughter and lovers and trembling sacred hands have long
been waiting–like Rumi's whirling genius–for your wings' luminous rhythm.
A daughter of the first moonrise and mother of dawns
yet to come. Your leaves of gnosis still the breath of dragons…
and their fragrance…heals…the scars of generations cursed.
Aberjhani
17 April, 2019
Harlem Renaissance Centennial
Aberjhani is an author, poet, and artist whose most recent book is Dreams of the Immortal City Savannah. Learn more about his work, visit the Bright Skylark Literary Productions website at https://www.author-poet-aberjhani.info/