Starting any business involves a certain amount of risk, especially attempting to do so during the COVID-19 pandemic. That fear didn't stop Rosemari Hicks from pursuing her dream when she opened Nuanced Café in 2021 at the age of 50-plus. Located in the business district of Camden, NJ, between City Hall and the Camden Waterfront, friendly baristas serve coffee, lattes, espressos, juices, sandwiches, and baked goods to customers.

I met Rosemari at a luncheon one Sunday afternoon earlier this summer, where I learned about herself and her establishment. Out of curiosity, I made my first trek to Nuanced Café the following Saturday to check it out. Walking through the front door, I fell in love with the ambiance, from the tasty treats on display; to the soothing R&B and jazz music; to the exquisite artwork on display, while indulging in some writing and sipping organic jasmine tea. 

Nuanced Café has become my Saturday morning self-care sanctuary. 

I had the pleasure of sitting down with the gracious Rosemari to chat about how her café has become a place where folks can relax and unwind from the myriad and seemingly constant stresses of these trying times.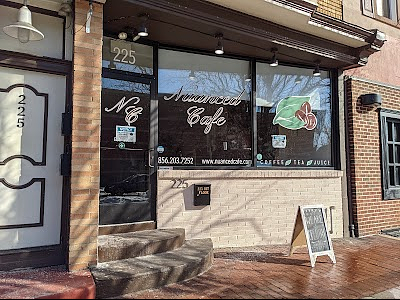 50BOLD: What inspired you to open Nuanced Café?

Rosemari: The bottom fell out of one of my businesses due to COVID-19, and everything shut down. I needed a different revenue stream and had always wanted to own a coffee/tea shop. The spot opened because someone had closed their business. I thought it was a wonderful opportunity to follow my dream, so I closed my eyes and stepped right into it.

50BOLD: Wow, so you opened Nuanced Café during the pandemic?

Rosemari: Yes. I was scheduled to open in June 2020 but pushed that back until January 2021.

50BOLD: Were you always in the restaurant business?
Rosemari: No. My mom had a catering business when I was growing up. I learned my entrepreneurship from her. I've had consulting and event planning businesses. I used to do weddings and parties.
50BOLD: Do you live in Camden, NJ?
Rosemari: No. I live in Merchantville, NJ with my husband of 16 years, Chester. I was conscious of bringing my business to Camden because it is a Black and Brown city. I wanted to be a part of its revitalization and show the possibilities of owning your own business outside of cleaning, construction, and security work to its community.
50BOLD: Do you have any children?
Rosemari: No, I don't have any children.
50BOLD: Did you have any fears about a café?

Rosemari: I did have some fears about opening a café. I figured my fears would allow me to make mistakes early on when things were slow. Being fearful also compelled me to do more research because I had no foundational experience in running a café: making lattes and coffee, selecting baked goods, etc. I now know how to make a great latte and espresso (laughs). 

50BOLD: You mentioned this was a dream. Why coffee?

Rosemari: Actually, the dream started out as tea.

50BOLD: Okay, interesting.

Rosemari: Tea shops were not gaining traction. I knew coffee was a big thing from all the research I had done before opening my café. I thought I would have an extensive product line of teas without solely relying on a tea shop versus a coffee shop. Also, the idea of offering a small batch of wonderful and quality baked goods at my café also appealed to me.

50BOLD: What are some of the featured beverages at Nuanced Café?

Rosemari: One of the most frequently purchased items at the café is our lavender latte with oat milk. Another popular item is a smoothie made from spinach, pineapple, and ginger. All our smoothies are made from 100% fruit. And then we also have cool bottled waters and juices from HumanKind. They're a socially conscious company that believes in giving back to underserved countries. Other drinks we sell are San Pellegrino, Perrier, and water.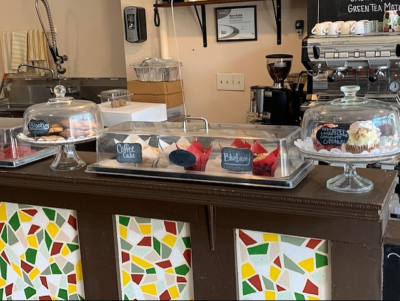 50BOLD: How about your baked goods?

Rosemari: Brookies (laughs) is a half-brownie/half-cookie fan favorite. Maple bacon scones are also extremely popular. The coffee cake and blueberry muffins are baked goodies that people tend to love. We hired a chef who creates all our sandwich and salad items. In addition to sandwiches, we also have hummus and various spring and pasta salads.

50BOLD: You do have a wide selection of food offerings here. What distinguishes your establishment from any other small café? 
Rosemari: What sets us apart from other cafés is that we are community-focused. I was very intentional in finding vendors who were community micro-business owners. It was important for me to give micro-businesses a chance. So often, they're taken advantage of because they can't handle large volumes. I wanted to support folks out here trying to realize, create and grow their dream.  
I also wanted my café to be the place where people who needed a spot to relax could settle into the comfort of a Black-owned coffee shop. I wanted the vibrancy of my customers to match my place. My customers are a mixed crowd, and folks come to my spot to mingle, enjoy the moment, read, do homework, vibe off the music, learn from the presentations, or just chill with a great beverage and wonderful baked goods, salad, or sandwich.

50BOLD: The word comforting was my initial impression of your café during my first visit. You have some amazing artwork displayed throughout the café. Were they created by local artists?

Rosemari: Yes, local artists create the artwork and photography displayed around the café. I have oils, chalk, and watercolor pieces. As a matter of fact, four pieces from our current photography exhibit were recently sold. Our exhibits successfully generate business for the artists. We support these creatives and give them the opportunity to display their art which can also be purchased. Typically, if a piece of art sells, I don't take a commission. I don't think everything needs to have a price tag.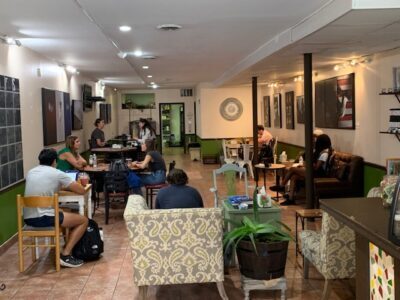 50BOLD: Fair enough. What are some past events you've held at your café?

Rosemari: I have something called Corner Concerts, a takeoff of NPR's Tiny Desks. Every month, we have local artists – singers, spoken word poets, jazz musicians – and they'll perform from an hour to ninety minutes. It exposes them to the greater community of Camden in an intimate setting. We also have other events like poetry jams, book clubs, and birthday parties. The café has the flexibility and capacity to accommodate a customer's needs based on the event type. Some people from nearby Rutgers University will even come by for meetings. It's been a wonderful experience blending the community.

50BOLD: What is your vision for Nuanced Café?

Rosemari: My vision for Nuanced Café is for it to become a destination spot, and I think we're almost there. We have been blessed and supported by people from the community at large and Rutgers. We're also getting noticed by larger businesses in the city that know about us and have visited. We've catered events for a few of these businesses, and they, in turn, have encouraged their employees to come through. I want Nuanced Café to be recognized as a place for people to come and enjoy themselves. People always say how the café has a good vibe, and we want to take this to an even larger scale. 
Nuanced Cafe is located at 225 Market St. in Camden. To contact the cafe call 609-332-3084. For more information visit www.nuancedcafe.com/ or www.facebook.com/NuancedCafe.
Bill Holmes is a writer, poet, and author of the poetry book Straight From My Heart; the spoken word CD, The Air I Breathe; the ESSENCE bestselling fiction novel One Love, and writer/director of the independent, award-winning, short films, The Program, and Butterflies. As a poet, Bill has opened for artists such as The Last Poets and jazz musician Roy Ayers. Bill's work has been featured in publications such as 50BOLD, African Voices, and ESSENCE. Bill is also the founder of the creative-writing course Write Here! Write Now!, which he taught at Temple University in Philadelphia through the grassroots, non-profit organization PASCEP.