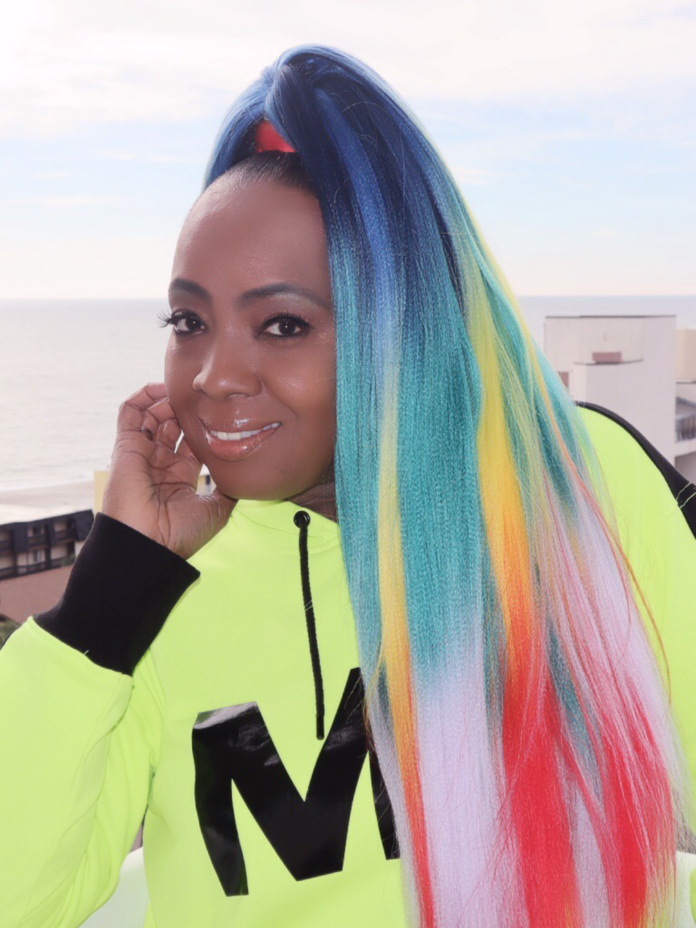 When Meli'sa Morgan hits those first few notes, it is nearly impossible to dislodge her from your soul because the girl can saaang! Even though there was fierce singing competition from the divas of yestercentury's 80s and early 90s, Meli'sa found firm recognition by helping to further mold the pure R&B sound of the times.
Meli'sa's silky vocal blend of R&B and jazz influences is evidenced by her impressive nostalgia-tapping playlist–Do Me Baby, Fool's Paradise and Love Changes (featuring Kashif), just to name a few. When Meli'sa uses her vocal gifts to impeccably channel the anguish and hurt she feels when she asks the question, Do You Still Love Me? as a woman or man, the soul-oriented cut makes you brace yourself for an answer you do not want to hear.
The singer/songwriter, who was born in Queens, New York, grew up in a household where music reigned supreme. Not only was Meli'sa's immediate family members music aficionados but the appreciation for the art form extended to her other relatives as well. She'd love going from family house-to-house on the weekends to celebrate occasions and music was always front and center. As a youth, singing in her church choir also helped point Meli'sa in the direction of a singing career later.
Meli'sa, who graduated high school at age 15, and began writing songs at 16, eventually landed singing gigs. She was tapped to be the lead singer of the group, Shades of Love, who recorded the 1982 dance club smash, Keep In Touch (Body to Body). The songstress briefly went on to perform with the group High Fashion, who recorded Feelin Lucky Lately. She then made the switch from singing in the foreground to the background for such creatives as Chaka Khan (a strong musical influence), Whitney Houston, and Melba Moore.
In 1986, Meli'sa challenged herself musically and embarked on a creative pursuit of self. She recorded an iconic debut album, Do Me Baby, that heralded her as a solo artist. Meli'sa went on to record several more albums over the years. Currently, the sultry performer continues to tour the country showcasing her vocal prowess and reminding her fans how she has cemented her standing in R&B herstory.
The still ever beautiful and vibrant Meli'sa Morgan chatted with 50BOLD.com about all things Meli'sa.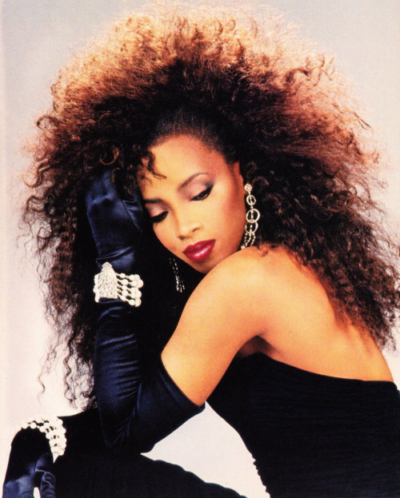 50BOLD: You are a homegirl, I just found this out recently. You're from my hometown of Queens, New York. I am from St. Albans!
Meli'sa: I'm so proud to be from Queens. I'm from Corona and 34th Avenue. I will always love Queens and as a matter of fact, I still have a condo there. I've always just enjoyed being a part of the Queens community.
50BOLD: Let's chat for a brief minute about your upbringing. Was music always front and center in your life?
Meli'sa: In our home, we always listened to music. In my family from my mother and father, to my aunts and uncles; we would party every weekend. They'd go from club to club, bar to bar, house to house if it was someone's birthday or for some event. We always had music, happiness, partying, and fun around our household. And no matter what was going on during the week, or on the weekends, there was always a party.
50BOLD: It was on and poppin' in your world for sure! (laughs)
Meli'sa: And growing up when we'd see our parents dressed up and going out on the weekends, we wanted to emulate how they dressed. So, when they'd leave and we kids would be left with a babysitter. We'd be listening to music, dancing, and singing. We'd dress up and act like the Supremes. And one of my sisters would say, "Let's dress up for mommy and do a show for her." And we did. We did the Supremes and I did Aretha Franklin. There certainly was talent in our house.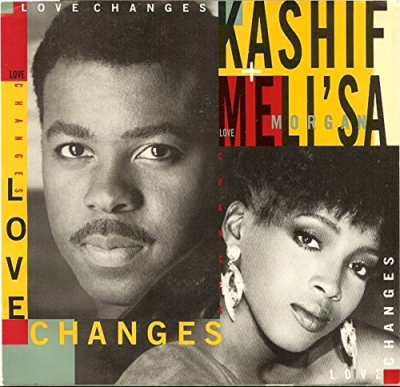 50BOLD: And lots of it from what you've described!
Meli'sa: Yes, and then my mother would ask us to perform for my aunts when they'd come over. And my mom would say that if we did well, she'd take us to amateur night at the Apollo Theater in Harlem. And this was just her way of getting us to perform. She never took us to the Apollo, but you know, years later when I became famous, I graced that stage several times.
50BOLD: So, you were given a little nudge towards becoming a performer.
Meli'sa: Yes.
50BOLD: You graduated high school at age 15. Wow! What an accomplishment!
Meli'sa: Yes, I'm thankful to my parents for putting me in preschool, preschool, preschool. (laughs). So, by the time I graduated, I was 15 ½ and was like, OK, what do I do now? So, I toured Canada. I joined a group, Business Before Pleasure, and toured Canada for a year.
50BOLD: If it wasn't for music, what career path would you have pursued?
Meli'sa: Well, I was going to be an executive secretary and on my way up the corporate ladder of Chase Manhattan Bank when Keep in Touch (Body to Body) became a hit record. So, I think I would have remained in banking as an executive of some sort. I was doing really really well before leaving my banking job.
50BOLD: Wait, you just blew my mind! You mentioned the song Keep in Touch (Body to Body) which is an all-time favorite dance tune of mine. Are you on that recording?
Meli'sa: Yes, I am on that recording. (laughs) I sang on that record. I sang the heck out of that recording because the lead singer never showed up!
50BOLD: You know, I can actually hear your voice singing that song. And I don't know how in the world did I not make the connection! I think the group was Shades of…
Meli'sa: Shades of Love. So, the lead singer of the group never showed up and we were happy about it! In New York, we were paid $50 each for singing background back in the day. When the lead didn't show up, we were offered an additional $75 if one of us background singers would step up and take her place. I volunteered.
I sang the song and literally two weeks later, it was on the radio. Yeah, and it became like a smash hit but there was no real group. I was sort of thrown together to form a singing group with these pretty young ladies who could not sing. I tried to rehearse with them and do the choreography and all but it was never going to work because they could not sing. Anyway, I was booked as the lead singer of Shades of Love. This was the beginning of my getting into the recording world.
50BOLD: I just can't believe I didn't connect your voice with Keep in Touch. I LOVE when you really start wailing.
Meli'sa: Yeah and it was a good time. We did all the gay clubs back in the day, especially in NY. It was so much fun, you know. The LGBTQ community just loved me from the beginning. And we had just the best time. I mean it was just a wonderful time musically back then.
50BOLD: And it's a shame because these kids today don't have a clue as to what good music is all about.
Meli'sa: It is very scary! The kids today know the current music, but don't know their music history. They don't know Martha Reeves and the Vandellas. Now, I'm going to tell you what is, even more, scarier is that they don't even know Marvin Gaye!
50BOLD: Truth! I get into discussions about music all the time with my nieces and nephews! Ok, so you are a Juilliard School-trained vocalist. And we all know the school is one of the most highly respected institutions in the country with an admissions process that is rigorous. How difficult was it to keep it up once you were accepted?
Meli'sa: Well, the wonderful thing about Juilliard is that I was accepted after singing a song. But I didn't go there for singing. I went to Juilliard to learn music theory for a better understanding of chordal and vocal structure. I didn't go to Juilliard to sing opera. I wanted to sing in the why of A, B, C, D, and all that.
I eventually left Juilliard to go out on tour with Chaka Khan because I was like, OK, I can stay at the school or go out and learn from someone I idolized.
Chaka just taught me so much, she really did. And then after her, I learned a lot touring with Kashif and working on my own album. What I learned from Juilliard became very instrumental; so when someone would play something, musically, I understood how it all came together.
50BOLD: You sang background for most of the greats like Whitney Houston, Chaka Khan, and one of my favorites, Melba Moore, whom I interviewed. Who were some of your favorite artists to work with back then?
Meli'sa: I really enjoyed working with Chaka. She was just wonderful on the road. She wanted to teach you and then after you're taught, she'd tell you to fly; go do your thing. And she wanted to hear about you. Besides me, Vesta Williams, we were a few of the ones who had worked with Chaka and really flew.
I also enjoyed working with Kashif because he was a wonderful teacher. He helped you understand how to make things work in the studio. There are different levels of being a good artist. The talent is something you have but how to use the talent in different scenarios of the music industry is what's most important. What you do as a singer is different from what you do in the studio. You have to know how to use your instrument. So, each person taught me different things.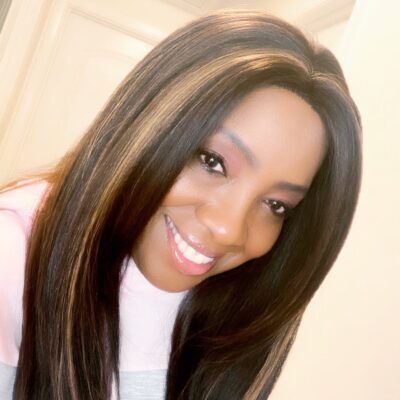 50BOLD: How did you meet Whitney?
Meli'sa: Working with Kashif is how I met Whitney Houston because he was producing two songs on her album. So, when I met Whitney, she walked into the studio as she was speaking to someone on the phone.
"Mom, if you don't call me I'm going change my number. I'm changing my number! I mean it Mom! I mean it!" I thought, 'Oh my God, who is she talking to like that? You can't talk to your Mom like that!' She was probably speaking to her mom, Cissy Houston? That's the kind of command she had.
Whitney went on to say, "I told her. She wouldn't stop calling because she's driving me crazy! I'm changing my numbers." I was like, 'Oh my God, why is this 18-year-old girl telling her mother she's going to change her number!' WOW!
50BOLD: Did you have a relationship with Whitney and if so, what was it like?
Meli'sa: This is how we met. "You can't tell your Mom…" And she was like, "Yes I can! Who's telling me I can't?" I responded, "This is Meli'sa!" Whitney then says, "Oh you're going to be a background singer? Oh really? You've got some nerve talking to me like that. Where you from?" I told her I was from Queens. Whitney then said, "Well, I'm from New Jersey, dah dah dah!" I said, "Girl come on in here, and let's go do this thing!"
50BOLD: How did Whitney's tragic death affect you?
Meli'sa: I was devastated. Just devastated! I never talked about this; it's the weirdest thing. We knew that she was going through things, you know, before her death. Actually, Whitney's people called me to say they were going to do an intervention and asked if I would go and speak with them. They felt that hearing from someone Whitney knew from the beginning like me, would maybe trigger something.
We wanted to let Whitney know that we all loved her. And I was like sure, sure, I'll do something like that. But unfortunately, she passed away before anything took place. It was really sad. I always loved running into her. We didn't talk all the time, but I know her family. I just went to Pat and Gary Houston's (Whitney's brother) house for a birthday party for their daughter. Whitney's death was life-changing, a big wake-up call for me that tomorrow is not promised.
So, I treasure every single day and every moment. I treat myself right because you just never know. And then to go to Whitney's funeral and see her daughter Bobbi Kristina… I gave her a hug and in just a few short years later, she was gone!
50BOLD: It is all so tragic but thank you so much for sharing. Your timeless hit, Do Me Baby was sexuality to the tenth power back then. What was the inspiration for the cut? And did you receive any backlash for the raciness of the lyrics? I love Prince's version of the song but Meli'sa Morgan, well, you blew the previous rendition away!
Meli'sa: Well, you know, we've had previous female singers who touched upon sexuality like Millie Jackson. And don't forget Sylvia Robinson's song Pillow Talk, which was very sexual. Groups like the Supremes fluffed sexuality with songs like You Can't Hurry Love.
I was one of the few female singers who sang a sexual song that was very direct and Do Me Baby told you what I wanted and needed. The song was a different level of sexual expression. And I didn't receive any backlash after recording it. I think I didn't receive backlash because of my talent and delivery of the song.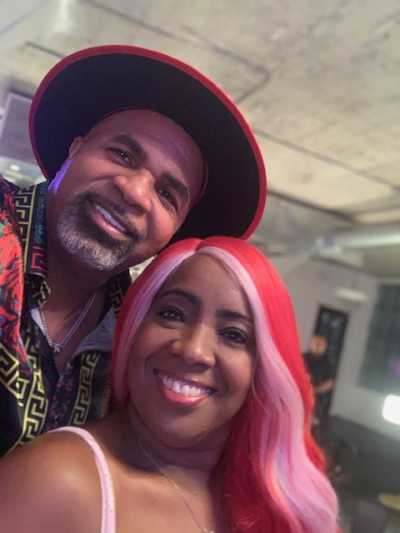 50BOLD: What do you think of today's R&B? Who do you listen to when you want to just kick back and chill or shake a leg?
Meli'sa: Well, my fiancé is younger and a product of this new era of music. He listens to performers like Lil Baby, Drake, and other rap artists. But he also knows the Supremes and my music.
I didn't do an album for a few years after Still in Love With You because I wanted to buy a house and do all this stuff—live, work and make money. During my break, I realized that R&B was dying from the end of the mid-90s until the 2000s.
Hip-hop and what they call urban music were killing R&B off because it was just another generation that was stronger in the music industry. They were also cheaper to produce. By that time a Meli'sa Morgan album would've cost you half a million dollars to put out. By that time doing a Stephanie Mills album would've been 750K to a million dollars to make it work.
Now, you have these performers coming into the game saying, 'Hey give me $100,000 and I'm yours.' Why do a Meli'sa Morgan album for half a million dollars, when we can work with this performer for much cheaper? These kinds of performers changed the game.
R&B music has transformed into urban. R&B is not even used as a label anymore. So, literally, we lost R&B for like 10, 15 years, it got shoved to make way for hip-hop, urban, neo-soul, and all that stuff.
Our young people are not being exposed to our R&B history. We need to do something to preserve this legacy of R&B because it is going to be completely gone if we don't. And that's why I fight to stay visible and do cover shows.
I really do love what Ledisi is doing btw. My hat's off to her. I pray for her all the time because I'm like girl, you're paving a new yellow brick road for our genre of music.
50BOLD: Well, it's good to know you're making moves to keep the real music alive. You spoke about your fiancé; so you're engaged! You mentioned, how he is younger so, is he keeping you youthful and vibrant? You are still so beautiful and fit, what is your regimen?
Meli'sa: Well, you know, we started walking. I don't know about you but a lot of people I know have high blood pressure. We had to learn to reel in the worry, stress, eating, and everything! Walking helped us lose weight. During the COVID quarantine, we walked, exercised outside, took our vitamins, and all that stuff. Now, we're about to get back into the gym.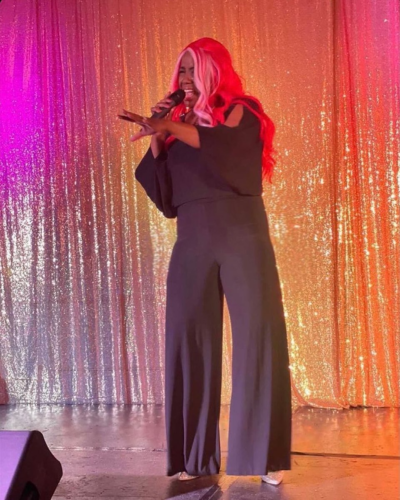 50BOLD: I put on the quarantine 20 instead of 15 pounds during the pandemic. But I received a good tip from Melba Moore when I interviewed her. I asked Melba about her exercise regimen which she does on her bed. She flexes and stretches her entire body and all from the comfort of her mattress! Melba is 75 but sure doesn't look it! Switching gears, what have you got going on these days?
Meli'sa: I've got some wonderful stuff going on these days. I have a song coming out. We are so excited about the cut. It really captures the heart of R&B with an urban twist. I'm really excited about my new music.
I also did a movie called Footprints of an Angel and it previewed last month in Southampton (NY). The film will tentatively be out next year in March. I act and also get to sing a lead song in the film. So, we're very, very excited! I play the mother of a young girl who is dying from cancer. Acting was an entirely new area for me to tap into but I've been wanting to get into the field for many, many years. It was all such a great experience.
50BOLD: Wow, it will be so good to hear you sing again. Any plans for a memoir? I also think you'd be an outstanding spokesperson to address the state of music as it stands now in a documentary.
Meli'sa: You know, I would love to do something like a documentary and memoir. Regarding writing a book, I'm going to have to explore this a little bit more. And now, I'm involved in this movie and working with people who can help me in this area. I'm more interested in it. So yeah, I would like to do something down the line soon.
50BOLD: I sure hope so. I think it would be great to discuss the rise and perhaps fall of R&B along with creatives like Melba Moore, Regina Belle, and Valerie Simpson whom I also interviewed. These are all phenomenal women who can speak on the topic of R&B in a documentary.
Meli'sa: Oh, my goodness, you just put a stamp on it! These are my aunties, I'm telling you. I love them! I do like what you said about an R&B documentary and getting the message out about how we should not lose this legacy. It is music that was created as part of our history.
50BOLD: How has COVID changed or altered the music biz?
Meli'sa: We used to have great managers. We used to have record companies that would work with you, attentive agents, and all of that. And I want to tell you right now, COVID has changed it ALL! Agents can barely book you. Now, you really have to be self-contained so to speak. I have my own management company. We basically incorporate management and production to streamline things. You have to be hands-on with your career these days to make it go in the direction you want it to go.
50BOLD: Now, tell me Meli'sa, where can folks find you on social media?
Meli'sa: Oh, I'm on Instagram, Facebook, and Twitter. I also have my own YouTube channel, I'll be building that up because you need it nowadays. YouTube is great for letting people know what you're doing.
I also have a website, melisamorgan1.com. On my site, there is updated info on my concerts and everything like that. On Instagram, I showcase my wonderful hobbies like my chocolate-covered strawberry edibles, crochet pieces, and love of flowers. I do enjoy it all.
I also do renovations. I just bought land and will be building my dream home from the ground up. So, my fans can follow my lifestyle journey on the sites.