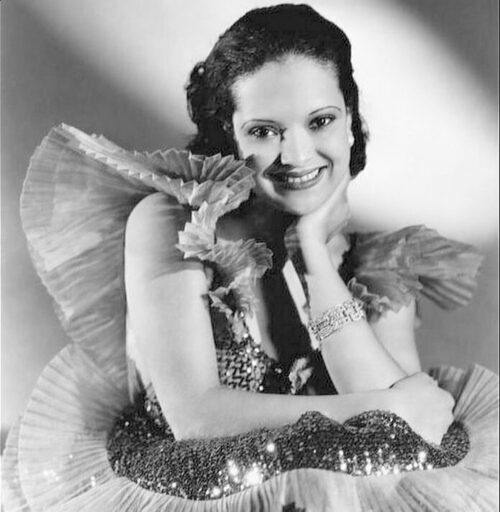 One of those yesteryear race films produced outside the studio system for 'colored' audiences recently caught my eye as I searched YouTube for something interesting to watch. I decided to rent the 1929 film Hallelujah, the first all-Black, all-sound musical telling the story of religion versus sin in the deep south. It follows a young sharecropper-turned preacher who must fight the temptations of a beautiful city seductress played by Nina Mae McKinney. This was the first time I heard of McKinney, who was stunningly beautiful, and made the film a success at the box office. Suffice it to say, I wanted to learn more about the actress critics called the 'high yeller little Black Garbo.'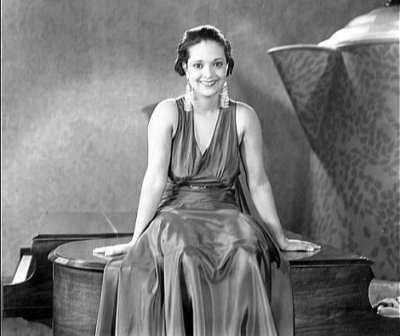 Although her potential as a major actress was never really established, Nina Mae McKinney paved the way for other Black actresses. "She could act, sing, dance and wisecrack with the likes of them, but she came along too early and there was no place for her," Fayard Nicholas of the dancing team the Nicholas Brothers was quoted as saying about the beauty.
Nannie Mayme McKinney was born to Hal and Georgia (Crawford) McKinney on June 12, 1912, in Lancaster, S.C. When she was 12, her parents moved to New York City looking for new job opportunities. McKinney stayed behind for four years, living with a great-aunt and appearing in plays at Lancaster Industrial, an all-Black school. She then moved to New York City to see where her talents would take her.
The part Kewpie doll, part vixen, got a lucky career break during her first year living in the Big Apple. She landed a job as a chorus girl in the Broadway musical revue Blackbirds of 1928. The famed white director, King Vidor, spotted the young beauty in the musical drama and offered her a sweet starring role in the 1929 film Hallelujah. McKinney's star shone brighter than any of her co-stars in the film. She was soon also referred to as the 'first Black movie star,' as well as 'the screen's first Black love goddess.' New York's Daily News newspaper hailed her as "an honest-to-goodness screen star — the first colored girl to attain this distinction."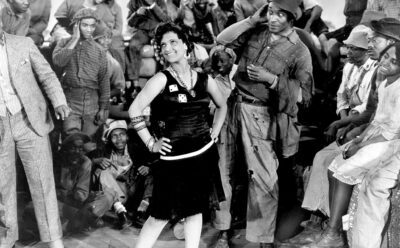 MGM, a major film studio, gave McKinney a five-year contract which was a rarity for Black actresses in the 30s. The studio touted the then-17-year-old as one of their 'galaxy of stars,' even though substantial roles for actresses of color were practically nonexistent. The doe-eyed performer appeared in more than two dozen films and shorts over two decades, but about half of those were uncredited roles— often as a maid (the kind of part she despised and fought against doing but she had to make a living), or as a random entertainer in a nightclub scene. As in the 1935 musical comedy Reckless, also for MGM, the only mainstream white film in which she appeared as herself, in a nightclub sequence. McKinney's voice, to which the film's star, Carole Lombard, lip-synched her own musical numbers, was uncredited.
McKinney was an actress during a time when Black leading ladies rose such as Lena Horne and Dorothy Dandridge, two other glamorous light-skinned Black women (colorism made it nearly impossible for darker Black women to get top roles). McKinney's big-studio credit was in William A. Wellman's 1931 pre-code thriller Safe in Hell, where she played a hotel proprietress. She also appeared in Pie, Pie Blackbird (1932), an acclaimed musical short with musician/composer extraordinaire Eubie Blake and his band. Another one of McKinney's most acclaimed performances was as an undercover agent posing as a cabaret singer in Gang Smashers (1938), the most memorable of her three race movies. She also had roles in the films The Devil's Daughter (1939) and Danger Street (1947).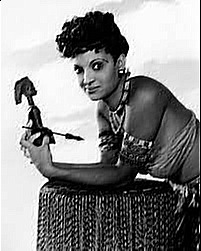 McKinney's last credited screen appearance came in Pinky (1949), Elia Kazan's drama about a young Black nurse passing for white. The title role was played by caucasian star Jeanne Crain. But McKinney livens up the movie with her memorable turn as a jealous girlfriend, telling police officers Pinky's "nothing but a low-down colored gal trying to steal my man."
After being dissatisfied with Hollywood, McKinney set her sights on Europe. She found fame singing in clubs in Paris, London, Berlin, Monte Carlo and beyond. While in England, McKinney starred opposite Paul Robeson in the film Sanders of the River (1935), portraying an African tribal chieftess. She also had the distinction of being the first African-American entertainer on British television, as part of the BBC's experimental broadcasts in the 30s. McKinney's last recorded public performance was less successful: as prostitute Sadie Thompson in a short-lived staging of Rain at Harlem's Apollo Theater in 1951.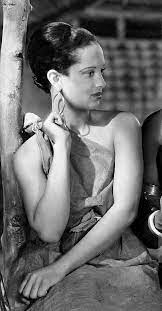 McKinney was the first African-American actress to win wide acceptance and recognition among white audiences; and was among the first of her contemporaries to legitimize African-American culture, first in Europe and, later, in films produced by and for black American audiences. Although little is known about McKinney's final years, she died in 1967 at age 54. The performer's death certificate described her as "widowed" and a "domestic servant," a role she despised. Even though her short career was overlooked, she was inducted into the Black Filmmakers' Hall of Fame in 1978.