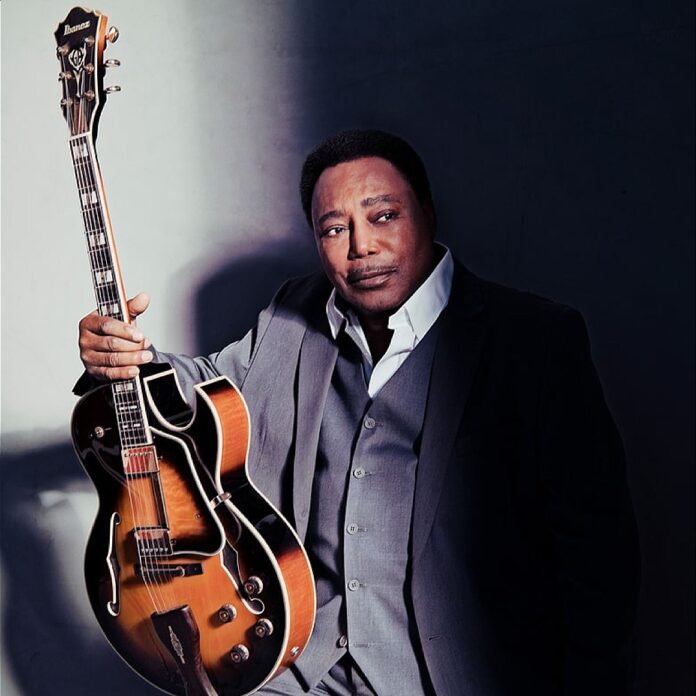 A child prodigy from Pittsburgh, Pennsylvania, little Georgie Benson made his first records for RCA Victor at age 10. As Benson grew up, and after somewhat successful jazz stints on Columbia and CTI Records, he exploded onto the popular scene with the triple-platinum, number-one album from Warner Bros., Breezin'. It contained the recording that would win Benson his first Grammy Award for Record of the Year for the song "This Masquerade." A series of albums followed in a similar vein, with Benson's greatest success coming with In Flight and Weekend In L.A. – which brought us the mega-hit remake of the Drifters classic "On Broadway."
Benson then flipped the script, as he's been known to do throughout his illustrious career, with a Quincy Jones-produced project entitled "Give Me The Night." This collection of tunes, mainly written by Rod Temperton (Heatwave and Michael Jackson), brought us the chart-topping title tune, as well as "Love X Love," "Midnight Love Affair," the beautiful Ivan Lins composition "Love Dance," and the Eddie Jefferson-penned lyrics applied to a solo played by saxophonist James Moody, "Moody's Mood."
A pioneer and architect of what would become referred to as "smooth jazz," as well as a consistent hit-maker, adding "Turn Your Love Around" and "Never Give Up On A Good Thing" to the soundtrack of our lives, no one has played guitar with the deep feeling and inventiveness of Benson since.
Benson has deftly doubled many of his intricate, soulful guitar lines with his singing voice – a technique often imitated but never duplicated. He is a down-to-earth family man who doesn't base his friendships on fame or money. The popular superstar still gets the highest respect from the greatest jazz musicians, which is rare. We talked to Benson from his home in Phoenix, Arizona.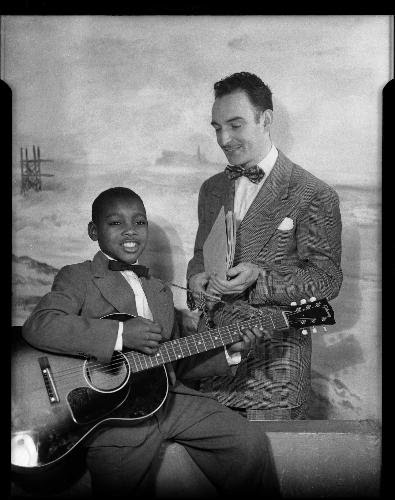 50BOLD: So, I just got word that you signed again with Warner Bros. First of all, I want to say congratulations.  
Benson: It's all right man; it's good to be back with them. They're treating me well. We have a lot of success over there. 
50BOLD: That's where you had your first really big selling records–the Breezin' album, In Flight, Weekend in L.A., Give Me the Night. You won your first Grammy Award there for This Masquerade. We all know Warner Bros. is a big conglomerate with money. They cast a huge net in terms of distribution and access to radio, movies, film soundtracks. But for you personally, what is the significance of being back with Warner Bros. after all these years?  
Benson: Well, all the things you just mentioned are true, and the fact that they are so diversified. You know, they are known all over the world. It's like the air we breathe. People know Warner Bros. because they've been dealing for so long. The real truth is, I made recordings before there was a Warner Bros. I was with a record company that was number one in the world at the time, RCA Victor and this is where I made my first recording. 
50BOLD: Were you little Georgie Benson? You were a kid, right? 
Benson: [laughs] That's true. Little Georgie Benson. The year 1953 was the beginning of that record-making career. But yeah man, I started with RCA and ended up with a giant record company because their distribution was so incredible. So, I was very happy. I'm very happy now to be back with them.  
50BOLD: Alright, that sounds so great. We look forward to hearing new music from you. I want to throw out some names from a group that you know very well. We're going to start with Ronnie Foster on keyboards, the late Jorge Dalto on piano and clarinet, Harvey Mason on the drums, Ralph MacDonald on percussion, Phil Upchurch on guitar and bass on Breezin', and my good buddy Stanley Banks who I've played with myself for many years on bass. This was the core brand starting with Breezin' and you stayed with them for a minute. Can you talk to us about that group and that time. It was like a magical time that was special. 
Benson: If you can imagine I had been hanging out and making records with some of the stars of the time—Freddie Hubbard and Stanley Turrentine, we had some success and then, Lou Donaldson, Dr. Lonnie Smith, and quite a few others.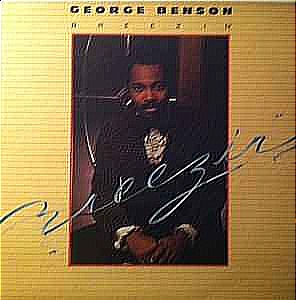 50BOLD: You had some great CTI Records as well.  
Benson: Man, so I was coming off a very successful period in my life. I was involved. So, I was very happy with the way things were going. But everyone was saying 'No, there's a future for you that you can't see yet.' I didn't know what they were talking about. But I did what I always do. Yeah, I had no idea that I would rise to the top and start something brand new, what we call smooth jazz today. So, I got these young people that I've only heard about through the grapevine. And someone asked if I knew Ronnie Foster, yeah, I knew him. I met Ronnie when he was fifteen years old in Buffalo, New York.  
50BOLD:  Really, wow! 
BENSON: And Ronnie sat in with me, no, he sat in with Jimmy Smith. And he was so dynamic, I had to get his number. I told Ronnie that when I started my band, I would call him. So, I did. Ronnie's mother made me promise that I would not take him on the road until he graduated school. So, I didn't.  
Jorge Dalto, the great pianist on the record, The Masquerade, tore that record up with his ability. He was from Argentina. And he was playing in Buddy Rich's nightclub down on the east side of Manhattan. And so, I went down to hear him, He was a wonderful musician. Way back then he wanted to play jazz. And he had moved to New York from Chicago. So, I went down to listen to him, I had no space for him then, because I had just hired Ronnie. A year later I called him. And he asked, what took so long! I told him I wanted him in the band. So, he came up to me and rehearsed with us and the other guys I had met throughout the years. I knew Phil Upchurch because he was one of my favorite guitar players in the beginning, and one of my favorite bass players too. And Ronnie brought Stanley Banks into the band. So, we went out on the road and found that people were knocked out by our band.  
50BOLD: That's right—we were, we were, yeah. 
Benson: We were just opening acts for people but when we left the stage, half the audience left with us. So, we knew we had something powerful, but we didn't know where it was going.  
50BOLD: I want to talk to you a little bit about my buddy, Stanley Banks. I've been in NY now for 40 years and have worked with Stanley maybe for the last 25 of those, something like that. You've been through a lot of musicians since the Breezin' days. What is it about Stanley that made him stick and stay? He's like a fixture with George Benson for 47, 48 years. If you saw George Benson, you saw Stanley Banks. What is it about Stanley? 
Benson: Well, Stanley was a kid when he joined my band; he was only maybe like 23 years old. And Ronnie brought him around. He said, "Man, you've got to check this cat out!" So, I did. And I said well, I wouldn't know anything until we take Stanley out on the road and put him through the real test in front of an audience. And he held up, because what he gave me was what I thought a bass player should give–great bottom stability. Stanley is not a fancy bass player. Although, he can play all of that crazy stuff too. Stanley was good for what I wanted him to do.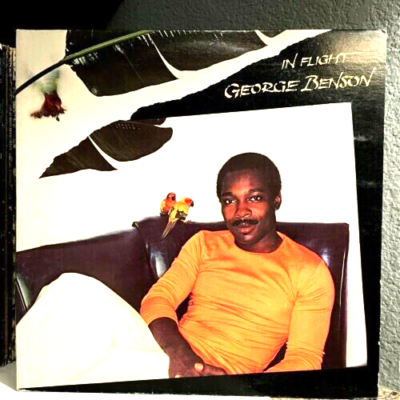 50BOLD: Oh, I get it, and he's got a great ear. He can follow you really well. I like Stanley's enthusiasm and he's got a great ear.  
Benson: And he's loyal.  
50BOLD: And that's the next thing I want to talk to you about is loyalty. I want to throw out a couple of names that the general public may not be familiar with. But I know the guys were your good buddies. One of the names is the late Seleno Clarke, a great organist and the other is a guy who is still doing his thing, Melvin Davis, a wonderful keyboard player.  
Now, it's no exaggeration to say you are a superstar. George Benson is a star! There is no way around it. You've hung out with Prince, could easily hang out with Stevie Wonder, Quincy—whoever. But when most people achieve your kind of status, they kind of isolate themselves. They have a lot of 'yes' people around them, a lot of people running interference. You can't get to them—they become kind of untouchable.
So, I want to ask you about loyalty and also why have you made yourself so accessible. You know I have friends and all these cats say, 'Yeah, I'm going to hang out with George when he's in town. I'm going to go to George's sound check.' When you lived in NJ they'd say, 'I'm going out to George's, he's going to have a cookout.' What is your philosophy? Why are you so loyal? Why do you stay with people like that? Why are you so accessible?  
Benson: Those guys are like family to me. And they grow, as I grow. I'm still in that family of musicians. Those guys grab things as they hear them and they turn them into something usable, musically that is. And they remain friends; they don't have an agenda that's different from yours. We're all family men trying to make a living, you know, trying to hang in there. I've been very successful so they're trying to repeat that success by taking some of the things we've learned by working together. And being friends makes life worth living you know. I enjoy it.  
When I get an idea, I'll call one of the guys or they will call me. I'll invite them over to check it out. And we'll turn on the music equipment downstairs, if it's worth it that is, and we'll jam. And I'll say, 'Wait a minute, what is that you just played? Why did you play that against this?' And they'll tell me why and I'll tell them what works. So, this is how we've grown—we've grown streetwise.  
50BOLD:  Yes sir, that's so refreshing to hear and inspiring. I can recount one story, when you lived in NJ. Do you remember this restaurant called Assembly in Englewood? 
Benson: Yes, I do. I remember it very well. 
50BOLD: I was playing with a band there. I sang the John Legend song called "Ordinary People." You were there sitting at one end of the bar. You stood up and came into our sight line after we finished that performance. You then shouted out to us, 'Hey man, I just recorded that tune. I recorded that tune with the same vibe. I did it instrumentally but you did it vocally, it had the same vibe.' Just that little interaction with you meant so much. It's so important to a musician to connect with someone like you. I really appreciated that meeting which must have been almost 17 years ago and I'm always going to remember it.  
Benson: That was one of my favorite hangouts, man. I used to hang out with the owner who started that restaurant. The restaurant used to be in New York, and I used to have lunch there all the time. So, he had that one built and then turned it over to his son who was a family man like me. We became very good friends. And plus, he was a big fan of my shows. He came to a lot of my shows when I played in the area.  
50BOLD: Yeah, I didn't know the background about that place. For me it was just another gig, and I look up and there's George Benson talking to me. That was great! 
Benson: Here's some more background about that place. Years ago, the restaurant was a place where Frank Sinatra used to hang out. When he came to New Jersey, he hung out at the Assembly. It was a smaller place then, almost like a corner bar, very dark. At one time, I remember going into that restaurant and just being proud to be in a place where Sinatra had been. I was like wow, this is alright. The restaurant was then torn down and made bigger.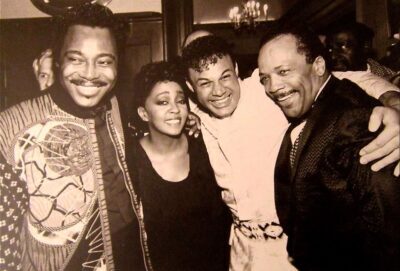 50BOLD: Yeah, you know that was a big beautiful place. 
Benson: So, you know life is incredible.  
50BOLD: It is, it is! I want to talk shop a little bit more. Guitars. There are a lot of guitars out there with your name on them now. You started a relationship with Ibanez like decades ago.  Can you talk to us a little bit about this relationship and what it's about?  
Benson: Well, one day Phil Upchurch, who was in the band at the time, asked if I had tried out this new guitar called Ibanez. I had never heard of it. He said, 'Man, check it out!' So, I was in a Seattle store and there were several of them all along the wall, so I picked up a couple. I thought the guitars were very well made but they had no originals.  
About a year later, while we were working on the album Weekend in L.A. and had just finished "On Broadway." The Ibanez representatives came upstairs to my dressing room. They said, 'We're from Ibanez and would love to have you join our company.' I told them, 'You make great guitars, but haven't seen any originals yet.' They said, 'You have any ideas?' I said, 'Most definitely!' So, this is how I hooked up a relationship with them.  
50BOLD: That's so cool. I have to let our readers know that when you play guitar, you also suffer from a malady we call G.A.S. which stands for Guitar Acquisition Syndrome. I'll be 62 years old this year, and I started playing guitar when I was 40. Now, I'm up to about 15 guitars. So, I'm just curious. Roughly how many guitars does George Benson own? 
Benson: I stopped counting them but I got maybe about 57 guitars right now. Some of them are real classics. You know, I wish I had held onto a lot of them because now they would have been worth a fortune.  
50BOLD: Tell us about a few of your favorites, or some of your more interesting guitars.  
Benson: Guitar players will recognize the D'Aquisto and D'Angelico guitars. These two names are related because the elder, who was the D'Angelico, taught his nephew D'Aquisto, how to make guitars. I think in the latter years, the nephew actually outdid him as far as making guitars. Well, anyway, I bought a guitar for $800; I remember walking into a store on 52nd street in New York; no, 48th street is where all the music stores were at the time. I walked into a music store, and a guy said, 'George, I have got to show you this guitar.' He took me upstairs and opened up a case. I saw this beautiful instrument and said, 'Man, wow!' So, the guy made me play it. I played it, and the guy told me it was only $800. I said, '$800, I ain't got no $800!' He told me to bill it to the record company. I said, 'Yeah, I'll do that; bill it to the record company.' So, he did, and the record company paid for it, you know.   
For $800, I got a guitar that's now worth $150,000. So, I have a few guitars like that in my closet. The rest of the guitars came from associations, from cats I had been dealing with over the years. Some of the guitars I've traded in. Some of my friends passed away, and their wives would call me, and I'd say, 'Yeah, I'd like to have their guitar,' and I'd buy them, you know what I'm saying. 
50BOLD: You had a Wes Montgomery guitar at some point, right?  
Benson: Yes, I did. I remember when he first owned those guitars. I couldn't believe that the guitar company he was working with actually sold him the guitar. He was the greatest guitar player in the world. And they were selling him guitars. They should've given him ten of them you know. 
50BOLD: Totally, I agree. 
Benson: So, he played the guitar but didn't particularly like it that well. So, later in life, I saw a friend of mine. I sat in with Wes. I have to mention this. Wes would make me sit in when I came in the club to see him. I wasn't worthy of that believe me. But he could hear something in me that I couldn't hear in myself. He said no you're not going to be an ordinary guitar player. A lot of guys told me that, BB King told me that, and some of the other blues guitar players also told me that. So, Wes told me that when he first bought that guitar. Later, I saw one of my friends with it. Wes had passed away by then and I said, 'Man, how did you get this guitar? I know this guitar very well.' He said, Wes Montgomery had given it to him. So, I said, 'Wow!' The guitar had gotten in such bad shape that I traded with him. He got a brand-new guitar plus, I gave him some money, and now I own that Wes Montgomery guitar.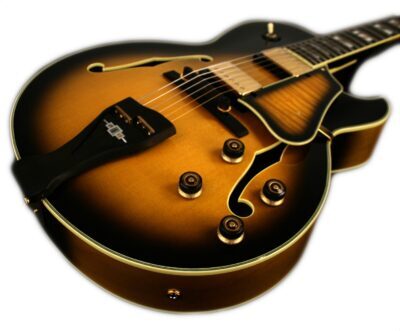 50BOLD: Listen, you are highly respected by every jazz musician I know. You clearly play in the jazz language as a soloist. And I have to tell you, you were the gateway for me to understand jazz through something that was not a jazz record. I was a kid studying the drums. I was probably aged 12, 13, or 14, somewhere in there. And I also started playing the vibes with the same teacher.  
At a certain point, my teacher asked me what I wanted to do on vibes. I said, and I remember this like it was yesterday, I said whatever George Benson is doing on the song "On Broadway," I didn't know what to call it, but just wanted to play like that. And it was my introduction to the language of jazz in a context that was not jazz. Nobody else on popular radio soloed like that and I heard it. So, in nearly 50 years, with all the jazz you've played, and all the jazz you know and respect, would it be fair to say George Benson has very rarely made a jazz record? Would you say that? 
Benson: In the early days we did that. We tried that and we couldn't collect an audience, which is the reason why we started playing things that would attract people. We realized that the rest of the world was uneducated. I'm talking about the average ear was uneducated where jazz was concerned.  
Yeah, if you smoked a little bit of reefer, and wore a pair of sunglasses that hid your eyes, you could go to a jazz club and hear modern jazz. Modern jazz was different from the jazz music they used to swing to and dance to many years ago. It was accessible by the average Joe. But the harmonies do not change. We're still dealing with improvisation. When I improvise my interpretation of the song, I interpret it differently. You know after listening to Charlie Parker and seeing how he tore songs up, you know to just grab notes out of the air, I said the same thing you mentioned a while ago. I want to play like that. [laughs] And that's how I got into that mode.  
50BOLD: That's beautiful, beautiful. I want to talk to you about singing. When the world started to get hip to you, immediately you were compared to Stevie Wonder and Donny Hathaway. Again, I remember this as if it were yesterday. It seemed like you came out of nowhere, even though we knew that wasn't true. And it's like you went to the head of the class as a vocalist. We heard the way you sang "The Greatest Love of All." When we first heard that recording, we didn't even know who it was, but it was mind blowing. Wow, there's another guy who can sing those fluent licks, a melisma like Stevie and Donny. I mean today, many singers male and female can sing like that. But back in the 70s it was rare. What brought you to that style of singing? What brought you to that approach?  
Benson: One thing I do know, and that's talent when I hear it. And of course, I've been knowing those guys since they were young. And I started my career as a singer, Little Georgie Benson, the singer who happened to play ukulele and then guitar later. The guitar was not featured because I had no real ability. I had good ears, and later, it became valuable to me. But as a singer, I could hear what these guys were doing. I couldn't emulate it because now I was starting to get older. This Masquerade came out when I was 33 years old. And I hadn't sung in years. But the producer heard me sing five years earlier. He said, I could never understand why they don't use your voice on records. And I told my manager that's the guy who's going to produce my next record for Warner.  
50BOLD: That was Tommy LiPuma right? 
Benson: Tommy LiPuma came up with the song This Masquerade, and that's how my career got started, big time.  
50BOLD:  Beautiful! I've just got to tell you the vocal on "Down Here on the Ground" from the live album Weekend in L.A. is amazing. That cut blows my mind. Where did the idea come from to do the song in that way. It's so different from the way Wes Montgomery did it, which was instrumental. But where did all that come from, you know the lyrics and vibe? 
Benson:  Lou Rawls. I heard his version of it years ago, and I liked it. The song was beautifully done. So, I tried it with my band a couple of times and people kept asking me to sing more. The only thing I could sing was what I had sung years ago. And I came up with that song.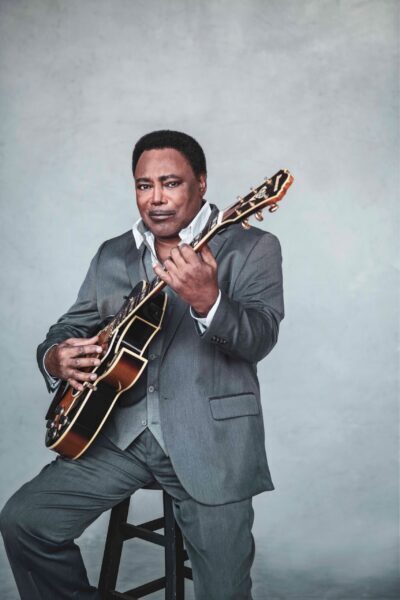 50BOLD:  Well, thank you a million for this interview. Any quick thoughts on your span as a phenomenal musician?  
Benson: [laughs] No quick thoughts, no. Time does not stand still for anybody. I'm glad I've always had a great band; the key to my success. Having a great band, and a great presentation is everything. And I try to stay on top of my instruments. Thank you for this interview. I appreciate it brother.