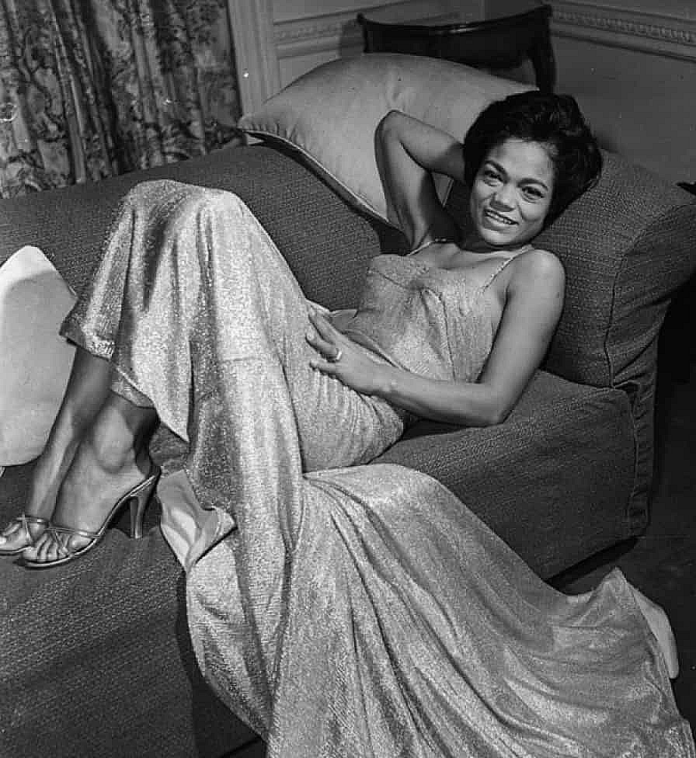 Classic TV programs like The Flip Wilson Show, Sanford and Son, and Good Times, kept us glued to our small screens. These types of shows were relatable representations of Black people that had previously not been depicted. The year was 1967 when the campy hit show, Batman, hired the purrfect embodiment of a villainess, Catwoman. A smart, petite, and sexy actress, Eartha Kitt, took on the role that had belonged to a white actress and became the first Black Catwoman.
When Eartha took over the TV role, the other villains paled in comparison as she won us over with her iconic husky cackle, soothing purrs, and sultry saunter. We were also awestruck when this Black woman very openly flirted with the show's Caucasian lead, Batman, played by Adam West. Suffice it to say, my siblings and I were all in when Catwoman appeared as the villain of the week. We'd sit in front of our Zenith color TV to watch the Dynamic Duo tussle with the greatest Catwoman to date.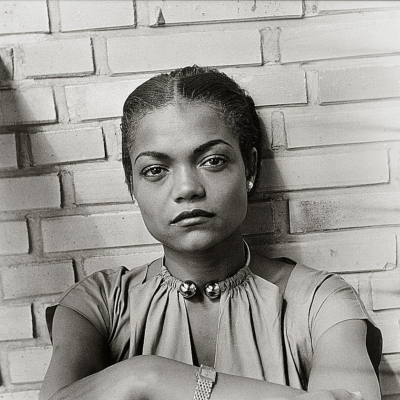 Eartha Mae Keith, was born near the town of North, South Carolina, on January 17, 1927. Eartha's mother, Annie Mae Keith was of Cherokee and African descent. The singer stated that her father was the white son of a plantation owner and that she had been conceived by rape. Eartha lived with Anna Mae in grinding poverty until her mother married a man who refused to accept her because she was mixed race. So the young child was sent to live with her Aunt Rosa, who mistreated her. Eartha was physically and sexually abused and forced to pick cotton to help pay her way. She was only 8 when her mother mysteriously passed away; Eartha believed she had been poisoned.
After her mother's untimely death, Eartha was sent to NYC's Harlem to live with another aunt, Mamie Kitt. She was told Mamie was her aunt. Years later, however, the young songstress believed the woman was, in fact, her biological mother who had given her up because she was unmarried.
Eartha experienced a cultural explosion in the famed Black mecca—jazz, jukeboxes, dance, the arts. She fell in love with singers like Billie Holiday and Billy Eckstine.
Meanwhile, Mamie and Eartha battled constantly, and the young girl would often run away from a home where she felt unloved. She'd find temporary digs on rooftops or abandoned buildings. At age 18, Eartha, who had always had an affinity for the arts, appeared by chance at an audition for the performance school run by the legendary Black dancer Katherine Dunham. She managed to snag the audition and landed a Broadway gig as a member of Dunham's dance company.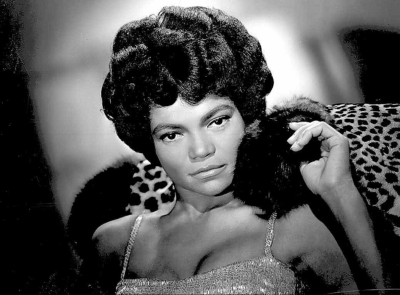 The pretty, petite, lithe, and graceful Eartha would dance with the Dunham troupe for three years. While touring with the company, she traveled to Paris, Britain, and eventually decided to leave the company to pursue a singing career performing in small entertainment venues.
In 1951, Eartha got her first big break in the City of Lights, Paris. After giving a spectacular performance at a Parisian venue, Eartha was approached by the famed actor Orson Welles who had been in the audience. Welles approached the young songstress about a part in his play Time Runs, based on the Faust legend. Welles chose Eartha because he thought she was a perfect representation of "all women of all times." Over the years, there had been rumors that she and Welles, a notorious womanizer, had been lovers, which she vehemently denied.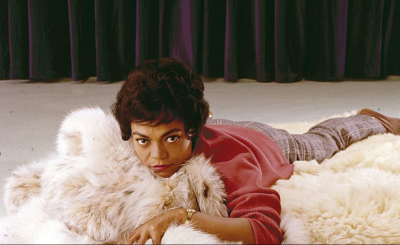 While Eartha learned French, she discovered she could suggestively roll her 'r's, and in doing so, created her famous trademark grrr-owl. Eartha performed at venues in London, where she began carving out her smoldering on-stage sexual persona. The sex kitten's allure eventually landed her a recording contract in 1954. The album cuts included, I Want to Be Evil, C'est si Bon, and what was to become her most recognized song, Santa Baby. Eartha's reputation as a talent grew immensely, and she continued to perform in clubs on both shores, on Broadway, and now Hollywood also came a-calling.
In the late 50s and throughout the 60s, Eartha would share the screen with Sidney Poitier in The Mark of the Hawk (1957), and in Anna Lucasta with Sammy Davis, Jr. (1958). She also appeared in the Broadway musical, Saint Louis Blues with Nat King Cole, Pearl Bailey, Cab Calloway, and Ella Fitzgerald.
During the 60's she was active in the civil rights movement and refused to play in segregated venues. She appeared on the hit TV show I Spy with Bill Cosby that earned her an Emmy Nomination in 1965. In 1967, she was tapped to play the sinuous villainess, Catwoman.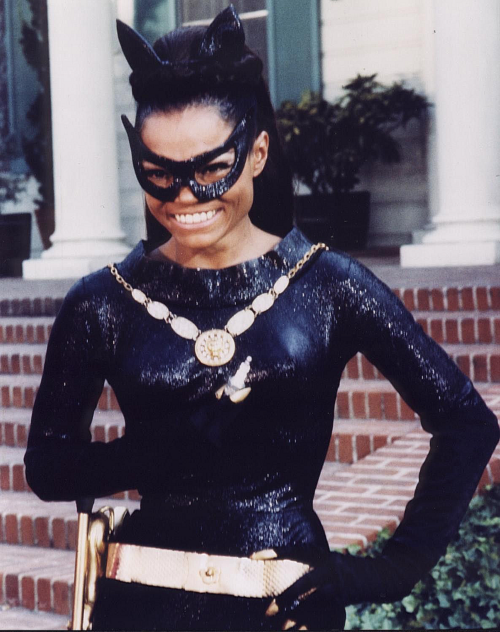 In 1968 during the height of the Vietnam war, Eartha, along with 41 other women, was invited to a White House luncheon hosted by the then First Lady, Lady Bird Johnson. When the performer was allowed to speak, she stood on a chair and made an impassioned speech about her discontent with the war and other aspects of life in this country. Well, suffice it to say, after the controversial speech, the First Lady was in tears. The press made mincemeat out of Eartha. She was blacklisted by President Lyndon B. Johnson and investigated by the CIA. The government agency compiled a dossier that categorized Eartha as "a sadistic nymphomaniac whose escapades and loose morals were the talk of Paris." Of course, the CIA's alleged discoveries were all gossip and innuendo.
Eartha's career in the U.S. had been ruined by the White House incident, so she was forced to retreat to her beloved Europe, where she worked in exile.
Eartha came back home in 1979 with a stellar return to Broadway in the show Timbuktu!, it was a revised version of Kismet with an all-Black cast. She was nominated for a Tony Award for her brilliant performance. Soon, the once blacklisted star would become a favorite at the famed Café Carlyle in NYC in the 90s. Eartha also appeared in the Broadway production of The Wild Party (2000), where she was again nominated for a Tony Award.
Eartha holds Daytime Emmy Award records. She is both the only performer to win the Outstanding Performer in an Animated Program award three times, as well as the only winner to win three consecutive awards.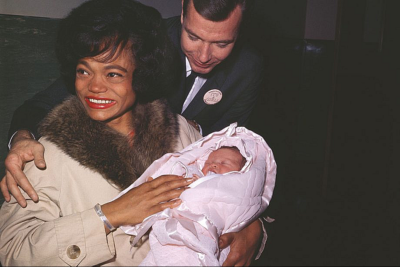 Throughout her life, Eartha had always wanted to know the name of the white man who had fathered her. In 1998, she was finally given a copy of her birth certificate only to see that her father's name had been blacked out by the clerk's office. After reviewing the document, Eartha openly wept; she was struck by the fact that the racist south still managed to protect this white man even decades after his death. Eartha also discovered her birthday was actually January 17, 1927.
The globally beloved performer would later consider herself an original "Material Girl" because of her liaisons with wealthy men. She dated Charles Revson (Revlon cosmetics founder) and banking heir John Barry Ryan lll. In 1960, she would marry John William McDonald, a real estate investor. The couple would have one daughter, Kitt McDonald. Eartha and McDonald divorced in 1965; she never remarried. She was once quoted as saying, "a man has always wanted to lay me down, but he never wanted to pick me up."
The woman who once admitted she did not carry herself as a Black person but as a woman who belonged to everyone, was a staunch supporter of LGBT rights, and advocated for AID/HIV research and same-sex marriage.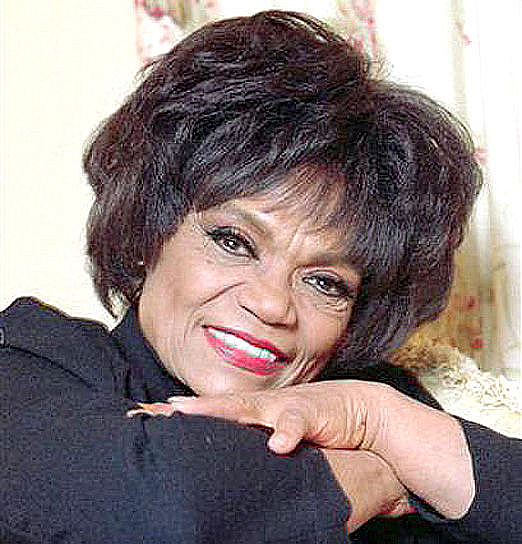 Eartha Kitt passed away from colon cancer on December 25, 2008, at her home in Weston, CT., three weeks away from what would have been her 82nd birthday.