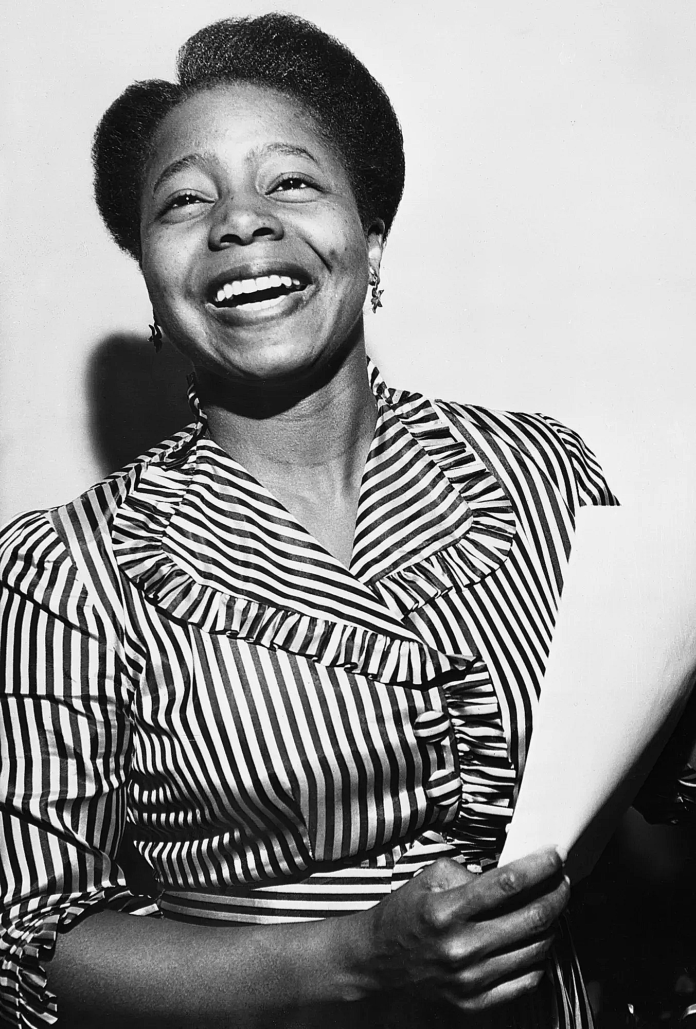 I
was about 12 years old when I saw the film
Gone with the Wind.
One of the characters in the movie, an enslaved woman named Prissy, played by Butterfly McQueen, was a real standout for me because of her high-pitched, itsy-bitsy voice. I couldn't help but chuckle every time the actress spoke. After viewing the film, I had to learn more about the diminutive Black woman who managed to create such an iconic character in the 1939 motion picture classic.
Thelma McQueen was born in Tampa, Florida, on January 7, 1911, and was the only child of a single-parent mother. Butterfly was trained as a nurse and then a dancer and stage actress before being cast in Gone with the Wind. She followed up this performance with memorable supporting turns in The Women (1939–her role was uncredited), I Dood It (1943), Flame of Barbary Coast (1945), Mildred Pierce (1945–her role was uncredited), Cabin in the Sky (1943), and Duel in the Sun (1946), where she invariably played simple-minded servants or slaves. Gone with the Wind was Butterfly's first major screen role, where she portrayed a 14-year-old enslaved servant, but she was actually 28 years old at the time of filming. Even though the film had been a monumental success, Butterfly hated Prissy. In the wake of the movie's success, the actress thought her contribution to the film fell right in line with the perpetuation of the negative stereotypes of Black performers at the time. About her role as Prissy, Butterfly was once quoted as saying, "I thought the movie was going to show the progress Black people had made, but Prissy was lazy, stupid, and backward."
Behind the scenes, Butterfly was a bit of a rebel. She battled the white Hollywood power brokers by refusing to say lines and do scenes that were beyond humiliating in their representation of her people. In one scene, she was asked to eat a watermelon and spit out the seeds. She refused! During a take of the birth scene in Gone With The Wind, the film's star, Vivien Leigh, slapped Butterfly so hard she insisted on an apology and that the slap be mimed in future takes: "I was suffering the whole time," she said. "I didn't know that I'd have to be just a stupid little slave." 
Butterfly tried to escape the roles that deemed her practically a non-person, but she had to make a living at her chosen craft. In spite of her obvious talents as a singer, actor, and comedienne, she was stuck in a cycle of playing variations of dimwits with little allowance for personhood. She managed to inject into every one of her roles her own brand of funny mixed with pathos. But after filming Duel in the Sun, Butterfly threw up her hands; she'd had enough! She was done working in what she referred to as "handkerchief head" roles. When Butterfly would no longer accept the racially demeaning Hollywood acting jobs, her phone stopped ringing. 
Butterfly still had to eat, so she took on numerous casual jobs, including working as a sales assistant at Macy's toy department in New York, a cab dispatcher in the Bronx, and gave music lessons. In 1963, Stone Mountain Park, near Atlanta, employed Butterfly to actually live in a plantation house kitchen and greet visitors. She left the park in 1965, and by 1968, the park ceased using her photograph to promote the plantation attraction after she threatened a lawsuit. Other than a part in the all-Black film Killer Diller (1948), she had no movie offers for the next 20 years but was determined to stand her ground: "I didn't mind being funny, but I didn't like being stupid."

There were a few radio, TV, and stage bit parts that Butterfly managed to work at over the years, but her stardom had faded to black. Once while traveling back to her birthplace of Tampa, Butterfly, who was then in her sixties, had passed through the Greyhound Bus Terminal in Washington DC, stopping briefly to use the ladies' room. Suddenly, she was confronted by a security guard who mistook her for a pickpocket. The guard's aggressive assault resulted in Butterfly being thrown against a bench, cracking several ribs. She sued the bus line for $300,000, and after years of litigation, in 1980, she was finally awarded $60,000, saying: "It was absolutely the most embarrassing thing that ever happened to me."

During the early to mid-seventies, Butterfly involved herself with social and educational projects in Harlem. She also made the decision to attend college, earning a bachelor's degree from the City College of New York at the age of 64. She also won the Black Filmmakers Hall of Fame Award in 1975. In 1978, Butterfly toured her one-woman show Butterfly McQueen and Friends, despite her insistence that "Show business is only my hobby, my main job is community work." She received an Emmy in 1979 for her role in the children's television special The Seven Wishes of Joanna Peabody. In 1986, Butterfly appeared in what was to be her final film, Mosquito Coast, starring Harrison Ford.

Butterfly died tragically in a fire caused by a kerosene heater at her Augusta, Georgia home on December 22, 1995; she was 84 years old.