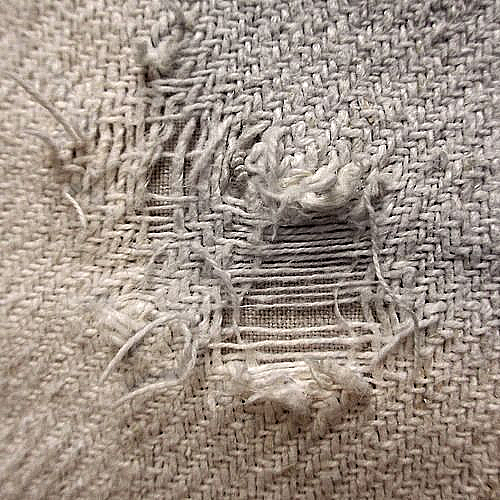 Racism's Hem 
Some days, 
I think it's possible 
the tearing away of it 
the pulling at its frayed hem 
its full 
unraveling 
the way it could 
(eventually) 
dismantle 
become unspooled 
thread 
some day. 
But 
Most days, 
I realize the improbability– 
the strengthening 
of its seam  
the inestimable tightening 
of its durable cross stitching 
the way it remains 
so firmly  
in place 
over time. 
Then 
From time to time 
I remember  
its ability to 
regenerate 
reinvent itself 
fashion itself anew 
give itself a new label 
alt right strand 
tea party twine 
proud boys (and girls) cord 
readied to weave 
reimagined patterns 
on  
antiquated 
confederate cotton 
But 
as time tries 
to unstitch its 
ubiquitous hem 
new string 
a new needle  
more exacting hands 
sharper eyes (with a repurposed vision) 
an adjusted 
customized pattern 
a new design 
emerges 
each time 
more decidedly 
will safeguard 
racism's  
reinvention. 
Always 
I see 

the way it 
re-dresses 
hems itself back into 
place 
into eternal 
permanence. 
Copyright © 2021 by Uva Coles
Uva Coles is a professional keynote speaker and writer whose work has been featured in the Philadelphia Business Journal and The Philadephia Inquirer, among other publications. She is also a guest columnist for Al Día News and a recurring bilingual (English/Spanish) television guest commentator and analyst on inclusive issues for Telemundo and NBC. A native of the Republic of Panama, Uva is an orgullosa (proud) Afro-Latina who lives in Delaware with her husband and two sons.