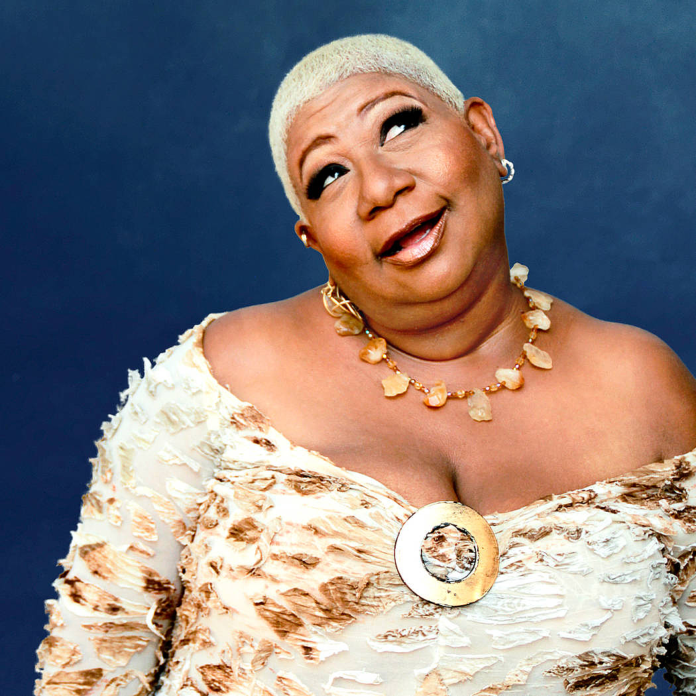 Branded as the 'Original Bad Girl of Comedy,' Luenell Campbell certainly lives up to the moniker. She has been breaking the mold from her humble beginnings in Arkansas. The performer's conveyer belt includes acting, stand-up, podcasting, modeling. To merely label the creative as a hard worker would be an understatement.  She has used her strengths and funny to grow into a successful, empowering and inspirational performer.
Luenell is not one to bite her tongue when it comes to speaking her mind, her brand of comedy is as real as it gets. When fans come to experience the performer's shows, they are sure to get an earful! She is not afraid of the cancel culture and has a way of finessing topical issues in ways that are both deeply biting and perfectly funny.
Besides stand-up, Luenell has appeared on the big screen in such films as Borat! Cultural Learnings of America for Make Benefit Glorious Nation of Kazakhstan, Think Like a Man and Coming 2 America. She has also appeared on such popular TV shows as Black Jesus, The Last O.G., and Power Book II: Ghost. We also loved Luenell's feisty character as Aunt in the Netflix film Dolemite Is My Name.
The lady with her trademark cropped hair, long lashes and jeweled nails is working hard at propelling her career forward at warp speed. In addition to her stand-up and acting. Luenell is the creator of Hey Luenell! on YouTube, a show that manages to keep conversation going that is engaging at all times. Luenell does deliver the funny on the show but when it comes time to speaking her mind on topics that are controversial, she is unfiltered and has you hanging onto her every word.
The busy performer stayed true to form as she chatted with 50BOLD about all things that make up Luenelle.
50BOLD:  You are truly one of my favorite comediennes. There are so many things I admire about you—your humility, loyalty, gratitude towards life and realness.  There is no artificial anything about you! You have certainly been around for more than a minute and I am ecstatic that you are finally getting the props you so deserve.
Luenell:  So am I! And thank you for that! I am trying to put it into words as I think about my career. My career is a marathon, and the marathon is continuous. I've been running this race on a dirt road for a long time, and now, the dirt road has turned into pavement; this is how I feel about my career. I'm still running a race but at least, I'm no longer running on dirt.
50BOLD:  What a great way to summarize where you are at now. You've actually come full-circle because you're now able to help other comedians. So, I'm sure, you are appreciated by so many. Let's talk about your roots. You come from a large family of seven siblings. What was it like growing up in your household?
Luenell: Well, I was adopted by relatives and this is how I came to live in California. Even though I wasn't raised with my siblings, we've always been very close. I wasn't raised with them because there were some mishaps in the family. My mother had seven children and then became a widow. My father was killed while she was pregnant with me. I was born in Arkansas but was sent to stay with my aunt and uncle; this is how I came to live in California.
50BOLD: Was your mom funny?
Luenell: No, not at all.
50BOLD: So, you didn't come from funny in other words.
Luenell:  My brothers and sisters are really funny, but I don't know about my father's sense of humor.
50BOLD:  You've done quite a bit of acting on the small and large screen. Was acting more so on your radar than doing stand-up comedy because you seem to have mastered both.
Luenell:  Thank you very much! I knew I wanted to be an entertainer. I started out, of course, in the church choir which is a form of entertainment. I went from singing in the church choir, to performing in theaters, and eventually appearing on local regional television shows. I began getting small acting roles in films and on television shows, soon my career just snowballed from there. Comedy wasn't my first pick, I don't think. But if I think way back, I use to listen to albums by such comedians as Redd Foxx, Bill Cosby, Dolemite, George Carlin and the likes.
50BOLD:  You mentioned quite a few comedic greats. Now, there are so many comedians. Who makes you laugh?
Luenell:  Well, of course, the one comedian who makes me laugh that I can name off the top of my head is Katt Williams who I toured with last year. Katt has been my very good friend for probably 22 years. He cracks me up personally and he cracks me up professionally.
50BOLD: Well, Katt Williams cracks everyone up. Here's what I admire most about you, your loyalty.  I watched an interview where the host was trying to get you to say something negative about Katt Williams. You stated in no uncertain terms, "Listen, if you're trying to get me to say something negative about Katt Williams, it's not going to happen."
Luenell: It hasn't happened and it won't happen!
50BOLD:  Well alright now! You've lost a lot of comedic friends as of late. You have my condolences. Paul Mooney, a dear friend of yours also passed; he was loved by so many. Is it true he got you on the bill at the famous NYC comedy club, Caroline's?
Luenell: Yeah, he put me on the bill at Caroline's in Times Square. Mooney allowed me to open for him. And we were friends for many, many, many, years. I knew Mooney before I had my child and she is 25-years-old now. Mooney and I were from Oakland as is Mark Curry, who was also on the tour with me and Katt.
50BOLD:  You're known as the 'Bad Girl of Comedy' hands-down.
Luenell: I am the 'Original Bad Girl of Comedy!'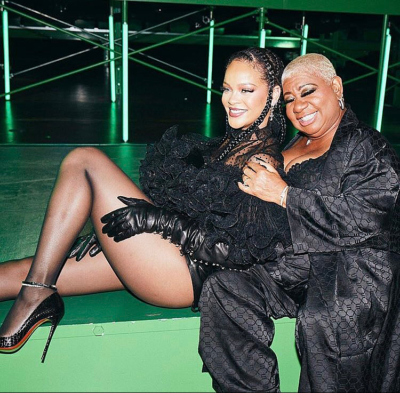 50BOLD: OK, let me self-correct! You are the 'Original Bad Girl of Comedy!' How did you get the name?
Luenell:  Rick Sullivan is a comedy promoter out of Oakland and a friend of mine for years. I guess some of my language and behavior at the time warranted the bad girl label. I had quite a mouth on me, so, Rick gave me the name the 'Original Bad Girl of Comedy' and it just stuck throughout the years.
50BOLD: Comedians nowadays have got to be so politically correct. Look at how Dave Chappelle was practically crucified for his Netflix special, The Closer, which in my opinion, was not offensive. 'They" came after Dave for speaking about a relationship he had with a trans friend. When you perform, do you fear the cancel culture?
Luenell: No! Those cancel culture people can do what they do, and I'm just going to do what I do.  I don't really subscribe to the fear because I think it's mean spirited. If you don't want to be bothered with someone, don't be bothered with them. The cancel culture ruins the lives of people who are trying to work, eat, and support their families.
50BOLD: I agree! Everyone has choices, if you don't like something, move on! You were blessed with a Las Vegas residency at the SLS Hotel which was the former site of the old Sands Hotel made famous by the likes of Rat Pack members, Sammy Davis, Jr., Frank Sinatra and Dean Martin. What was that experience like working at such a historical location?
Luenell:  It was a three-month residency and it was great, so very nostalgic for me and I have pictures of them as well.
50BOLD:  Your name is on the Wall of Fame at the famed Comedy Store on Sunset Blvd. in West Hollywood. What a great honor!
Luenell: The Comedy Store has featured lots of comedians who became famous or who just came through those doors to work on stage. It is an honor to have my name written on the wall of the club.
50BOLD:  You are so deserving for sure! Now, you've been married for 20 years and have been able to keep your relationship and family life under lock and key. However, last year you actually posted an Instagram picture of your wedding day (you looked beautiful, by the way). What made you post the picture?
Luenell: That was in Las Vegas as well and I don't post about my husband. The Instagram picture was the only time that I've posted about him. I do keep my relationship pretty much under wraps for several reasons. But my husband is alive and well.
50BOLD:  Well, alright! What makes your lasting relationship work?
Luenell:  Having separate bedrooms helps our relationship (laughs). It works for us (laughs). We didn't always have separate bedrooms but for the last few years it has worked because I come home late or I leave early. And I don't fall asleep well, I keep late hours. I sleep with all kinds of things on the bed—tissue boxes, TV remotes, glasses, iPad, phone and all that stuff. But, when it's time for us to get in the same bed, we do so.
50BOLD:  Can I get you to tell us about about your wonderful YouTube show Hey Luenell!?
Luenell:  Oh my God, I love my YouTube show but right now, because I'm constantly working, I haven't been able to keep my weekly commitment. I have like 116 episodes on YouTube and I film it from my studio at home. So, we're on hiatus right now until further notice. Many of the shows are really, really funny and some deal with serious subjects. So, people should tune in and watch.
50BOLD: Now, you speak things into existence. There was a conversation you had with Rihanna where you mentioned how she should consider making you a Savage X Fenty model. And it actually came to happen. Can you tell us about that experience?
Luenell: I was very shocked to be talking to Rihanna on the phone, the same phone I'm talking to you on, but we were on FaceTime. She is apparently a big fan of mine. So, Rihanna calls me and we were talking. I was really shocked. And then I told her that my daughter was a fan of her products. Rihanna has the lingerie and makeup line. And I told her I like the lingerie too. I mentioned how I wished she would make the lingerie in larger sizes for big girls and she said, "I do." I said, "You do?" And she said, "Yeah." I said, "Well, I would like to be a lingerie model." And she said, "Let's make it happen."  I was like hmmm…okay and we got off the phone.
Two days later, Rihanna personally hit me on my DM and asked for my email. I sent her my email, soon contracts began coming in with all of the particulars involved. I was able to do the line's fashion show that was filmed in LA and streamed on Amazon Prime. But I'm done with it all now. It is the last time you'll ever see me in lingerie.
50BOLD: What an incredible experience to say the least! You are a very proud mom and have mentioned your beautiful daughter Da'nelle Garrett. Can you tell us a little bit about her?
Luenell: Well, the thing that I'm most proud of is that she's not a celebrity kid who fell by the wayside like so many others. When these kids don't know what they want to do, and don't know the direction they want to follow, that's when they get lost. But luckily, my daughter fell in love with dance. As a young girl in church she did praise dancing. And she picked dance as a career and is very good at it. She's very independent. I'm very proud of her and of her career choice; she is making it happen. She was also cast as a dancer in Coming 2 America.  
50BOLD: I saw a clip of Da'nelle on the Wendy Williams show; she is really good.
Luenell: She is very focused, and as a matter of fact, her middle name is Focused. My daughter is a legitimate dancer. I want her to see the world. I don't want her to leave me, but I do want her to go see the world as I have.
50BOLD:  Should I bring up your social media battle with reality show star Joseline Hernandez?
Luenell: No! I'm not addressing that situation.
50BOLD:  What puts a smile on Luenell's face nowadays?
Luenell: My kid, good R&B music, concerts and my grandpuppy makes me smile. My daughter's dog puts a smile on my face. I don't have grandchildren yet so…. Happy times, fun times with good friends and stuff like that makes me smile.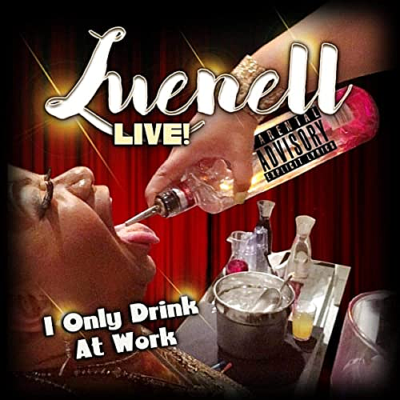 50BOLD: I've mentioned some of the qualities that I love about you, what do you love most about yourself?
Luenell: I love my tenacity, determination and my never-take-no-for-an-answer attitude. If I am forced to deal with a "No" response, then I'll ask why. Tell me why you said "No," make me understand, and then we can move from there. But you just can't tell me "NO!"
50BOLD: Your trademark are your long fancy nails, cropped hair and long lashes. You remind me of that auntie who is always dressed to the nines and looking fly.
Luenell:  I've been wearing my nails long since 1977 and now, I wear jewels on all of them.
50BOLD: How can our readers catch up with you?
Luenell: I am on Facebook, Instagram, YouTube, and Ticketmaster for info about appearances and tickets. I also have a comedy CD, "Luenell Live: I Only Drink at Work" that is available on digital platforms everywhere.