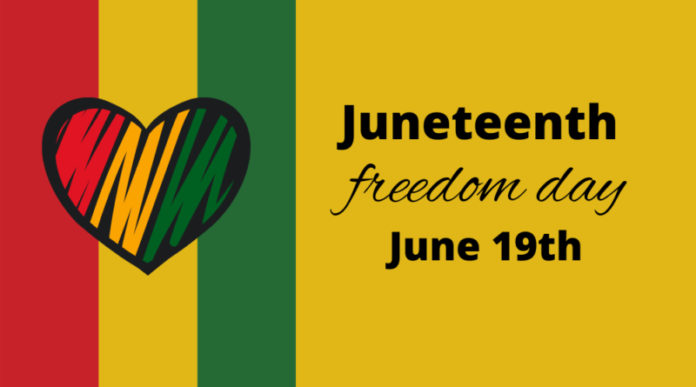 Juneteenth became a federal holiday two years ago across these shores. But there are many of us who still haven't a clue about the historical celebration of the holiday's liberation, culture and sheer jubilation. 
What is Juneteenth? 
President Abraham Lincoln issued the Emancipation Proclamation in 1863, a document that declared free only those slaves living in states not under Union control. The change, however, did not happen instantly.   
On June 19, 1865, General Gordon Granger informed the enslaved African Americans of Galveston, Texas, that freedom had come at last. Issued two-and-a-half years after President Lincoln signed the Emancipation Proclamation, Granger's decree marked the end of slavery in the rebellious Confederate states. Juneteenth has been observed in communities and states as a holiday, but officially recognized as a federal holiday in 2021.  
How did the name Juneteenth come to be? The name blends the month and the day that the news of freedom reached the people of Galveston: "June" plus "nineteenth" is Juneteenth. It's also often referred to as Emancipation Day or Freedom Day.   
Juneteenth and July 4th two Independent days 
The 4th of July is about independence at the national level: dissolving the political bands that connect one people to another, in the words of the Declaration. Juneteenth is about individual freedom: breaking the chains of slavery.  
How we celebrate Juneteenth 
The bill's passage was signed into law on June 17, 2021, by President Joe Biden, making Juneteenth the nation's 11th federal holiday. Texas made Juneteenth a state holiday in 1979. The last time the government added a new holiday to its calendar was in 1983, when the third Monday of January was declared Dr. Martin Luther King, Jr. Day.
Early Juneteenth celebrations involved prayer, family gatherings, or political rallies that educated Black folks about their voting rights. The day was also marked by annual pilgrimages to Galveston by former enslaved people and their families.  
The festivities soon morphed into parades, family reunions, picnics, guest speakers, and the consumption of specific foods with a red color. These foods included barbecue, watermelon, and "red soda water" (primarily strawberry soda). The use of the color red in ceremonies is a practice that enslaved West Africans brought to the United States. Federal and school closures are observed nationwide during the holiday. 
Why celebrate Juneteenth?  
Juneteenth has become not only a time to commemorate Black liberation from the institution of slavery, but also a time to focus on the resilience, solidarity, and culture of the Black community. It is a time for African Americans to reflect on their ancestral roots. It is a time to come together to celebrate the freedoms and lives that generations have fought to secure. 
The holiday also serves as a reminder of the work yet to come that will be necessary to ensure a brighter, more equitable world for all children and future generations. Let this celebrated day be a time of reflection on how far we have come. We can also use it as an opportunity to reignite our passion for fighting for liberty and justice for all.