It's summertime and the eating is light! Besides, who wants to slave over a hot stove or oven when the temps outside are high? Not you! Easy, breezy in the kitchen is the way to go on those scorching hot days. We have a few go-to salads that will simplify your summer meals and make your tummies feel oh-so-satisfied!
Shrimp and Avocado Olé Salad
Ingredients:
1 tablespoon olive oil
2 large limes (juice from limes)
½ cup chopped red onion
Salt (to taste)                                                                                                              ½ teaspoon of garlic powder
Fresh ground pepper (to taste)
½ teaspoon celery salt
1 cup cucumbers, diced
1 lb. cooked shrimp, peeled, deveined and chopped
1 cup fresh tomato, diced
1 avocado, peeled and diced
3 tablespoons chopped fresh cilantro                                                                    Romaine lettuce
Directions:
In a small bowl combine red onion, lime juice, olive oil, celery salt, salt, garlic powder and pepper and let stand for about 10 minutes in the fridge.
Next combine chopped shrimp, avocado, tomato, cucumbers, cilantro, and lettuce. Drizzle dressing over mixture and gently toss once more to evenly coat.
Serve chilled.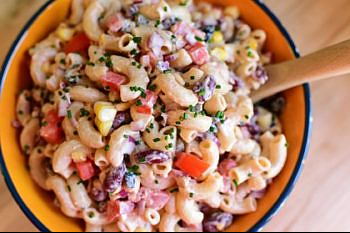 Mac Daddy Macaroni Salad
Ingredients:
8 oz. elbow macaroni
½ cup mayonnaise
¼ cup sour cream
2 tablespoons fresh lime juice
Kosher salt (to taste)
½ teaspoon of onion powder
¼ cup red onion finely chopped
Fresh ground pepper (to taste)
2 small bell peppers finely chopped (1 of each–red, yellow)
2 stalks of celery, finely chopped
1 15 oz. can of black or red kidney beans
1 tablespoon of sweet relish
1 small can of corn
½ cup roughly chopped fresh cilantro
1 small jalapeño finely chopped
1 large diced beefsteak tomato
Directions:
Cook the pasta according to package directions. Drain and run under cold water to cool.
In a large bowl, whisk together the mayonnaise, sour cream, lime juice, Kosher salt, onion powder and fresh ground pepper.
Add the cooled macaroni and toss to coat. Gently fold in the tomato, peppers, celery, corn, beans, red onion, sweet relish, cilantro, and jalapeño.
Serve chilled.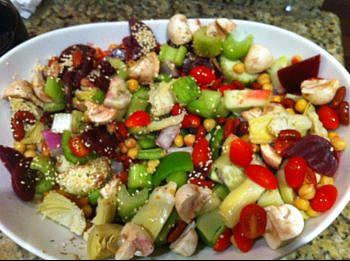 Chilled Mediterranean Salad
½ can of artichokes, chopped                                                                                          ½ can of red kidney beans (or black beans if you prefer)                                                                                                                         ½ can of garbanzo beans                                                                                                ½ red bell pepper, chopped                                                                                            ½ yellow bell pepper, chopped                                                                                        ½ green bell pepper, chopped                                                                                        1½ cups celery, chopped                                                                                                1 cucumber, diced                                                                                                          1 cup of canned beets or fresh, sliced                                                                              ½ cup Feta cheese, crumbled                                                                                          ¼ cup sesame seeds                                                                                                      1 whole lemon (juice from lemon)                                                                                    ½ cup balsamic vinegar                                                                                                ½ cup extra virgin olive oil                                                                                              1 c. cherry tomatoes, halved                                                                                          1 c. white mushrooms, washed, chopped                                                                        Add salt and pepper to taste
Directions:
Place all vegetables in a large mixing bowl, add cheese, lemon juice, sesame seeds, vinegar, olive oil and gently toss. Feel free to add ingredients like diced chicken, steak or even salmon.
Serve chilled.