The 2019 Hyundai Elantra has managed to hold its own, and maintain its high standards in the heavily populated playing field of compacts. For the 2019 model year, the little Hyundai receives its most major update since this generation of the sedan was introduced in 2016.
Underneath the metal of the packaging lies a frisky little daredevil that makes an otherwise very humdrum commute, a trip to actually look forward to every single day. The Korean automaker has certainly stepped up its game in the refresh that was given to the Elantra's looks in and especially out. The sedan's former swoopy exterior has been kicked to the curb and now it is really evident, maturity has set in design-wise. The latest Elantra has a few sharper angles and bolder character lines from nose to tail sporting an overall sleeker appearance. The compact also looks more solid and stylized than before. Triangular headlights, a large hexagonal grille, and sloping rear glass design that kind of flows into the decklid, adds a touch of fastback sportiness to an overhaul that gives the Elantra more visual appeal.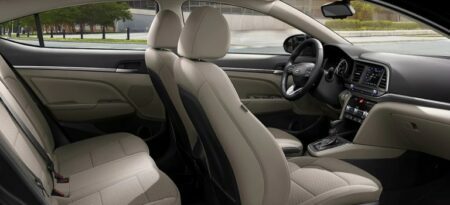 Adding room to roam in a compact is a nice dimension that enhances anyone's driving experience. Folks will find their happy perch inside the Elantra and don't think, just because it's smaller, comfort will have to be sacrificed. Overall seating in the compact is well bolstered and provides good lateral support, a boon for staying comfortable on long trips. Space in the Elantra is surprisingly very obliging to NBA hopefuls or the bootylicious set; rear seating is kind to long legs as well. The once whimsical dash is now driver-centric and appears more buttoned-down and straightforward with easy-to-read-and-use controls. The infotainment system is very intuitive. The base touchscreen measures 5-inches, the higher trims come fitted with a 7-inch and 8-inch screen and the latter appears wide enough for a split view (Apple CarPlay and Android Auto compatibility are standard with the two larger screens).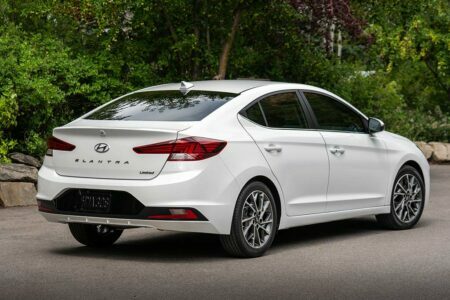 You'll appreciate the large dead pedal where you can rest your weary left foot. The tilt/telescopic steering wheel is always a welcomed feature. Here is a real plus, the Elantra's cool coupe-like styling cues does not compromise all around visibility. As far as cargo, the Elantra offers 14.4 cubic feet of trunk space that should suit your average Big Box store shopper.
You won't win any NASCAR races in the Elantra (the Limited was the test vehicle) but once you get behind the wheel, the fun factor gets a smidge ramped up. The snap-to-maneuver compact is responsive, nimble especially around turns, and very well-controlled on ruts and bumpy roadways; it truly has the makings of a great urban tool. The vehicle's interior also nicely quells wind and road noise at highway speeds. Powering two of the Elantra's trims, the SE and Limited, is a 2.0 liter four cylinder engine that cranks out 147 horses and 132 lb-ft of torque. The fuel-sipping Eco trim comes in a turbocharged inline 4 cylinder with 128 horses and 156 lb-ft of torque. The Sport models are fitted with a 201-hp, turbocharged 1.6-liter four-cylinder.
EPA estimates for the base Elantra are impressive averaging around 32 mpg city/40 mpg highway. The 2019 Elantra piles on some safety niceties that include forward collision avoidance assist, lane keeping assist, electronic stability control, traction control, ABS, and driver attention warning. Forward collision-avoidance assist with pedestrian detection is available, though only on the Limited trim.
The 2019 Elantra with its newfound conservatism is a no-brainer choice for especially young families or retirees for its styling, roominess, pep, fuel economy and overall high quality fit and finish. The compact has a lot going for it and can pretty much stand fenders above the crowd in its market.
–Car Chick™
Prices start at $ 17,200. Need more info? www.hyundaiusa.com