There are a few compact cars that just don't cut the mustard when it comes to not only exterior design but overall room and comfort. Hyundai has tried to give small car buyers vehicles that are easy on the eye, roomy, and not too thirsty at the pumps…enter the 2018 Hyundai Accent, small, with a pretty big tude!
The Accent gives good face–long, lean and chiseled, it looks good coming and going. A cascade design grille, wraparound head and taillights, sweeping roofline, and prominent character lines, all give the Accent aerodynamic visual appeal.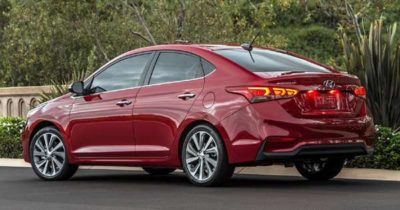 Now longer and wider, roominess was factored into the Accent's design because there is ample space front and back which buyers will find surprising. Seating in the Accent feels comfy, providing enough bolstering for stressed backs and thighs. Talls won't find the four-seater's space encroaching which is unheard of in a compact. The rear seats also fold with a 60/40 split rear seatback and the cargo space stands at 13.7 cubes which is more than enough space for those who need to make mad dashes to big-box stores.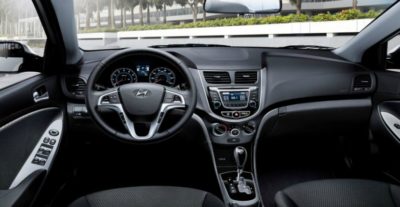 The vehicle's interior does have hard plastic surfaces here and there but soft touch ones have been thrown in for good measure. The cabin has a modern look sans the fancy schmancy; wide dash with unfussy controls, and 5 or 7-inch touchscreen infotainment display (depending on the model) with vivid graphics. Front visibility is excellent but the rear, not so much, so enter the rearview camera. Nothing rattles in the Accent, everything in the car's innards looks pretty solidly put together. On the tech front, the Accent offers a Bluetooth hands-free phone system, and available Android Auto and Apple CarPlay.
Giving the Accent (the Limited was the test vehicle) some gas will not take your breath away. The 1.6-liter four cylinder engine that provides 130 horses is a weenie but it has enough giddy-up to take you around town. The Accent offers a ride that is stable, nimble; it also soaks up road warts with ease. Braking in the Accent is firm and receives high marks. Fuel-wise, the Accent comes in at an impressive 28 city/38 highway.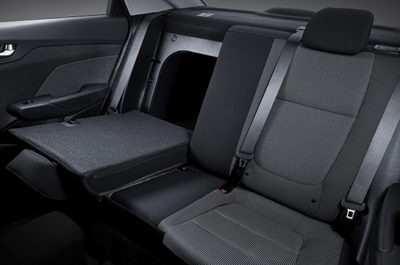 Depending on the trim, safety offerings on the Accent include a blind spot mirror, auto headlight control, airbags (standard), forward collision avoidance assistance, side mirrors with turn indicators and auto emergency braking. The Insurance Institute for Highway Safety awarded the Accent a rating of 'Good' all around with an 'A' for passenger side crashworthiness protection, and 'Superior" for front crash prevention.
The 2018 Hyundai Accent has a price tag that is hard to resist–$14,995. The sedan is practical, and a good buy if you're looking to get from point A to B. The car is overall simplicity when it comes to just getting in and heading out which many will find appealing. The Accent offers no flash but you'll get spaciousness, good gas mileage and a nice overall design that might snatch a few looks every now and then.
Need more info? www.HyundaiUSA.com