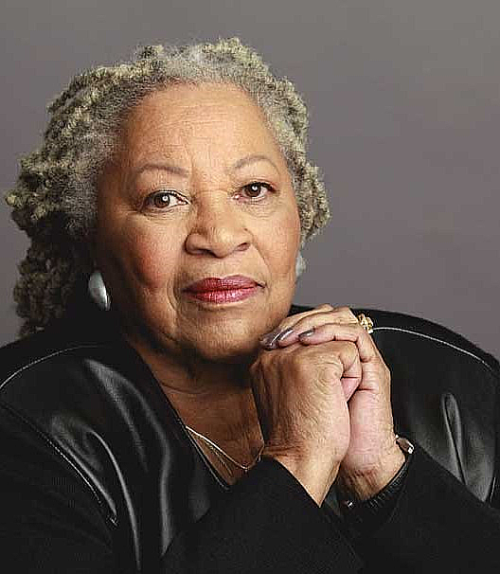 When it comes to being one's authentic self, to answer the call within by continuing the work of moving humanity forward through the accomplishments achieved during one's life, that was the mission of the American novelist, essayist, book editor, and college professor, Toni Morrison, who left a great legacy to the world. Toni's life and profound books that included Song of Solomon, Beloved, Paradise, Sula, and others inspired so many across the globe. Even before her first book, The Bluest Eye was published in 1970, Toni leveraged her practiced rhetorical and linguistic prowess in service of editing groundbreaking tomes from prominent civil rights figures like Muhammad Ali and Angela Davis.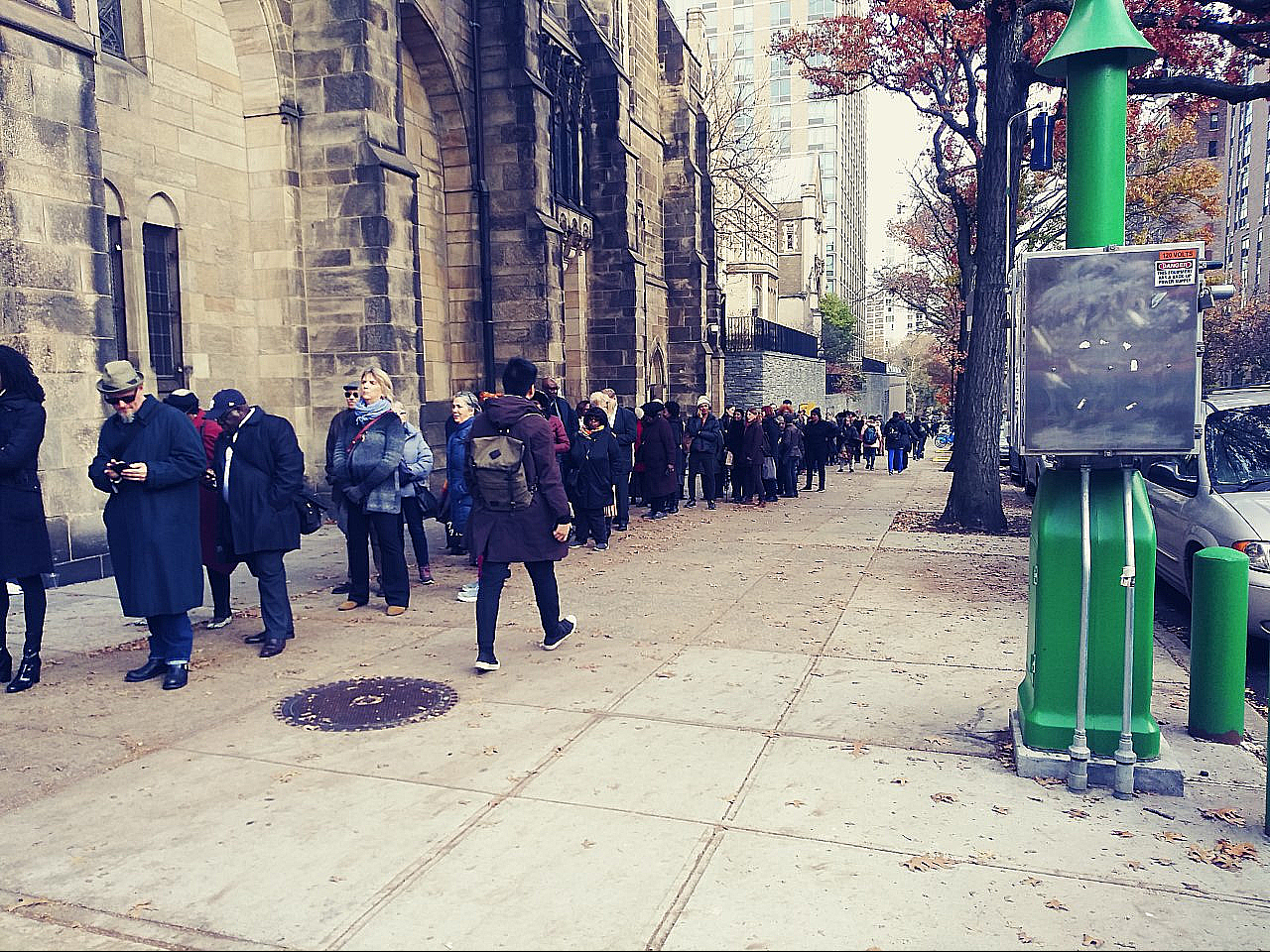 The novelist whose singular determination was to elevate African-American narratives received the Pulitzer Prize for fiction for the critically acclaimed novel Beloved and the Nobel Prize for Literature. Toni Morrison had a life well-lived, and that is why luminaries from all walks of life gathered to celebrate her at a grand memorial service held on November 21st at The Cathedral of St. John the Divine in New York City.
The year was 1986, it was the first time I saw Toni Morrison in person. At the time, I worked at Essence Magazine. I had accompanied an editor to a private reception for Toni that was being held in Manhattan. When we arrived, Toni was sitting and conversing with the then young up-and-coming film director, Spike Lee, who had written/directed his first feature-length film, She's Got to Have It. As I observed Toni interacting with those who approached her, I knew I was in the presence of someone who embodied greatness. The special moment in time has vividly remained with me to this very day.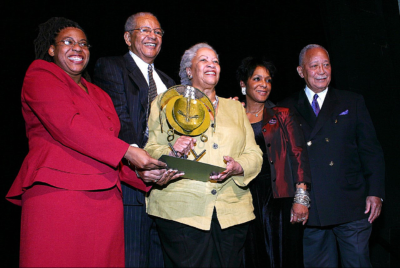 As I approached the church, there was a line that went all the way to the end of the block and I worried, if I would be turned away at the door. As I began walking towards the end of the line, I spotted a friendly familiar face, it was poet, educator, and editor, Eugene B. Redmond, who had actually traveled from St. Louis to attend the event. Eugene and I embraced. The last time Eugene and I spoke was when I asked him to send a dedication poem for the African Voices special tribute issue to honor Ntozake Shange. He contributed a beautiful poem honoring his friend that was published in Part 1 of the tribute in the publication's Summer/Fall issue. I asked Eugene if he was a participant in Toni's celebration of life program; he was not.  He then snapped a picture of me and we said our goodbyes. Since Eugene had been Toni's friend, I just knew he'd have no problem making his way into the celebration.
Well, I finally made it into the historical event and much to my amazement, as there were legions of Toni Morrison fans who had been waiting in line to pay homage to the literary icon. Once inside, surprisingly, there were still available seats in the back of the church. I continued walking down the aisle until I found my friend, Carolyn Butts, the publisher and founder of both African Voices and Reel Sisters Film Festival, who had been saving a seat for me.
African Voices had honored Toni in 2007, and I later asked Carolyn, how she had been influenced by the legendary giant. According to Carolyn, "I first met Toni at age 15 through her books when I read The Bluest Eye and Beloved. The books touched my core and made me realize, I was not alone as a Black woman in America carrying secrets and trauma." Carolyn went on to say how Toni was a close friend of her mentor, Ellie Charles, and that honoring the author in 2007 was a special gift. "I got a chance to truly thank her for giving me ownership over my life as a publisher and poet. Having Toni figuratively and physically embrace me as her literary family member was one of the greatest moments in my life. She was saying 'girl, you've got this.' I felt that same energy and responsibility at the memorial as we celebrated her life. Toni's message to everyone who loved her and gathered in her name was that she was living through us."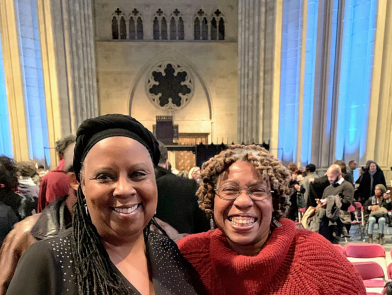 I felt Toni's presence as I listened intently to the speakers who sang praises to Toni's brilliance. The musicians swept me away with their rhythms. The overwhelming love in the room for Toni was almost palpable. The speakers and performers at the event included Angela Davis, Oprah Winfrey, Edwidge Danticat, Jesmyn Ward, Ta-Nehisi Coats, Fran Lebowitz, Kevin Young, and David Remnick. The musicians who performed were also outstanding: David Murray, Toshi Reagon, Brandee Young, and singer Andy Bey, who delivered a heartfelt rendition of Someone to Watch Over Me.
I was especially moved and fortified when Angela Davis shared fond memories of her over half-a-century friendship with Toni. "She was my big sister, a friend who made me feel that without her friendship, I could never have become who I imagined myself today." She went on to mention, how Toni was on a mission to open the publishing industry to Black writers and activists, and that was her way of giving back. "Toni also understood better than anyone else I believe, that deep radical change happens not so much that people march and put themselves on the line, no matter how important this kind of activism might be, but rather, because we collectively learn to imagine ourselves on different terms with the world. We realize that we can change along with the conditions of our lives. And that it is the task of writers and other artists to help produce these profound shifts." Davis also said that what she valued most of Toni's many gifts was "how she demonstrated a way of being in the world that allowed her simultaneously to inhabit multiple dimensions. She was totally present with you, but also at the same time creating new universes."
In the presentation given by author and educator, Jesmyn Ward, she reminded us of the many sacrifices and inhumane atrocities our ancestors had to endure during slavery. Jesmyn's opening speech was quite riveting: "In the beginning, we were stolen…. We were stolen as we walked to our wells, we were stolen from our gardens…. We were stolen from our mother's breasts, our father's hands, our grandmother's lap…. We were stolen and forced here…. Toni Morrison found us in the desert of the self…. She freed us…."
Toni Morrison influenced and empowered so many people, as those who came to celebrate her legacy affirmed. Oprah Winfrey spoke of rereading Toni's essays stating, "She was one of our most influential intellectuals." She quoted from one essay where Toni had said, "If writing is thinking and discovery and selection and order and meaning it is also awe and reverence and mystery and magic and this: facts can exist without human intelligence, but truth cannot." Oprah added that Toni, "believed it was a writer's job to rip the veil off, to bore down to the truth. She took the canon and she broke it opened."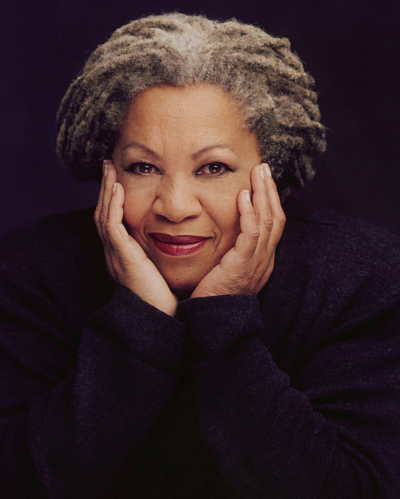 The Nobel Laureate, who was ahead of her time, raised the bar of literary excellence up several notches. She created a rich and varied African American world. Toni was a maverick who had an ability to write really complex and painful things in a way that felt boundless and her legacy is greatness. Through her many works, Toni encourages us to go within, dig deeper, and to be committed to the work of moving humanity forward. She forces us to use our imagination—figure things out for ourselves. Toni also councils us to take heed of the "distractions" that can keep us from doing our most important work.
At the end of Oprah's speech, she read a passage from Toni's book Song of Solomon that was enthralling. When Oprah went into character to deliver a monologue that made us feel that through her, Toni was alive and delivering a special message to us all, we were left spellbound. The inspiring lines stayed with me as reminders to always do your best, never give up and know what is possible: "This here is what man can do when he puts his mind to it and his back in it…," Oprah read. What echoed for me were those final important three words Oprah repeated with an unshakable conviction of what we must give to those coming up behind us. We must give them our knowledge, our insights, our guidance, our achievements, our encouragement, our love and oh yes, we must, "PASS IT ON, PASS IT ON, PASS…IT…ON!"
African Voices Ellie Awards Presentation to Toni Morrison