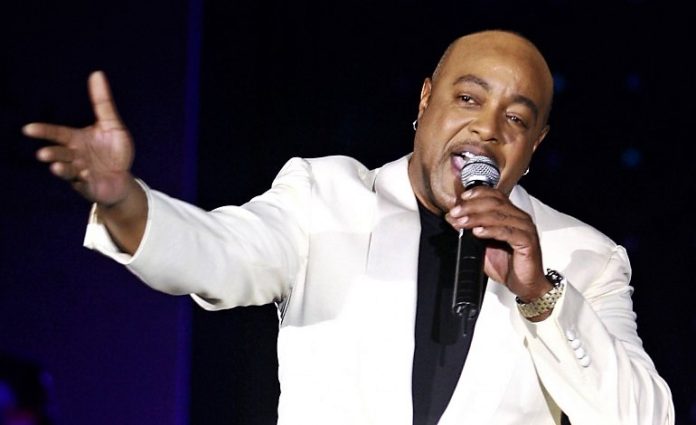 Peabo Bryson, the classy, sexy and silky balladeer who made us Feel the Fire, serenaded us with I'm So Into You and showed his longing for us with If Ever You're in My Arms Again, is still penetrating our hearts with his velvety vocals with his latest album, Stand For Love.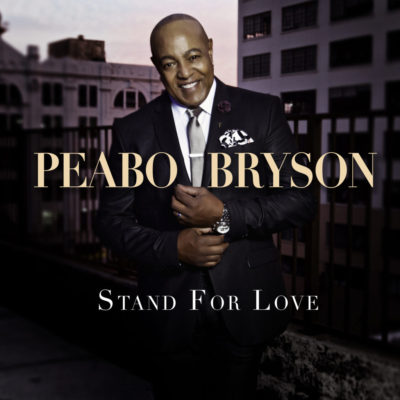 Peabo teamed up with the famed Grammy Award-winning producers Jimmy Jam and Terry Lewis for his latest work. The collaboration is the continuation of his legacy as one of the most recognizable and revered voices in the music industry. The track Love Like Yours and Mine on the album reached number 3 on Billboard's Adult R&B Songs list.
Peabo has 21 albums to his credit and is the first artist in music history to have separate records topping four different charts. He has not only had success as a solo act but as a duet participant as well, blending vocals with such crème de la crème R&B ladies as Roberta Flack, Regina Belle, Chaka Khan, Angela Bofill, Minnie Riperton and Natalie Cole. Since the 70's, the Greenville, South Carolina native has not shuffled his style of music and has remained authentic to the still highly cherished R&B sound.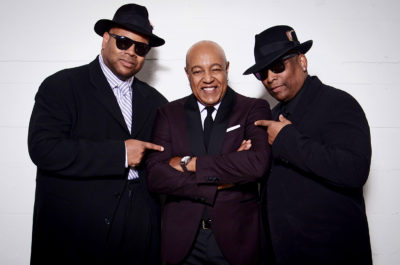 Performing since the age of 14, Peabo, whose actual birth name is Robert Peabo Bryson, is the second of four siblings (his oldest sister Agnes is deceased). Growing up in the 50s was not the best of times particularly since it was during the height of segregation in the south. Peabo's parents owned a boarding house at one time so eating with strangers at the table was pretty commonplace.
Peobo felt compelled to become the "man of the house" at age 5 when his parents split up. Peabo was raised on a working farm by his mother and her parents. Peabo's grandfather, who was his male role model, instilled a strong sense of responsibility in him and that was to be the best provider for his family. Peabo's grandmother was feisty, and principled with a sense of pride that was practically unmatched. So his upbringing was a balance of all the right stuff.
After a decades-long career that includes two Grammys, two Oscars, multiple gold albums, numerous R&B chart-toppers, and multiple number one songs, now at age 67, Peabo still sees no end to his amazing musical journey and is currently on tour.
The multi-talented singer, songwriter, music producer who has always been about love–giving it, sharing it, and living it—has found happiness with his London-born, 37-year-old wife, Tanya Boniface Bryson. They are also the proud parents of a 10-month old son. Peabo has an adult daughter Linda and three grandchildren, ranging in ages from 19 to 25.
Peabo Bryson gives 50BOLD a glimpse of his extraordinary life's journey.
50BOLD: You have been a sex symbol for decades. How does it feel to have women pining over you?
Peabo: (laughs)
50BOLD: You do feel like a sex symbol, right?
Peabo: Well, actually, when you have a 10-month-old, sexy is the last thing you're thinking about.
50BOLD: Listen, it is, what it is, you can't fight it!
Peabo: No, I can't fight it. Ok, when I was a young man I was pretty. (laughs) Sex appeal has a lot to do with attitude. Someone looking at me and still thinking I'm sexy is a real boom. I don't work at it, but I don't work against it.
50BOLD: Back in the day, did you have any stories about crazy fans that did outrageous things to get to you?
Peabo: Are you kidding? Let me explain. My mother had this philosophy that I adapted like 1000 years ago before I was anywhere near Peabo Bryson. My mother's theory was to meet no strangers which means, we are part of a collective. If you are part of a collective, it's impossible to meet a stranger. So consequently, I've never hired security personnel in my entire life.
50BOLD: Come on, for real?
Peabo: Never! I NEVER had a security person, ever at home or at work.
50BOLD: Why?
Peabo: Why would I need security?
50BOLD: Well, you need security because you're a performer and some women are just crazy.
Peabo: Yes, but people only get as crazy as you get. If you remain calm, people will remain calm. If you get excited, then they will become more excited. My philosophies are very simple: Treat everybody like you want to be treated and you'll be just fine.
And the other is: Never stop buying your own toilet paper!
50BOLD: (laughs) Ok, what does that mean?
Peabo: Think about it. If you're sitting there and you don't know where the toilet paper came from, or where it is if you run out, you've already lost the major plot to life. You're not very smart. I still go to the grocery store; I can't let people take this away from me. If I don't go to the grocery store, how am I going to know where the toilet paper comes from? (laughs)
50BOLD: What is your take on the auto-tunes and the electronic music trends of today as opposed to real R&B music?
Peabo: I don't think anything that is fake, can be considered legitimate anything. It's real or it's not. Can you really call yourself a vocalist, if you can't sing that stuff live? I can't accept that you have to have auto-tunes to perform live.
50BOLD: Peabo, who influenced you growing up? Who did you admire?
Peabo: I was very fortunate. I got a chance to see Jackie Wilson and Sam Cooke on the same stage, on the same show, maybe 15, 16 times.
50BOLD: Wow!
Peabo: The thing that drew me into music was watching Jackie Wilson and Sam Cooke singing on stage, The Ike and Tina Turner Revue, Aretha Franklin, The Spinners, you name it, I saw it. My hometown Greenville had a 5,000 seats auditorium.
What I noticed as I lived during the height of segregation, I watched Jackie Wilson and Sam Cooke create a riot with the Black crowd. The auditorium seating in the segregated section was such that all the Black folks sat everywhere the white folks did not.
With Jackie, the fans would tear off his entire suit. He'd then go backstage, change clothes, come back out, take his jacket off, and throw it over his shoulder. And Jackie singing Danny Boy would make the white audience weep. I had never seen anything like it.
I witnessed music and artistry transcend racism, politics, and religion. Every barrier that I had ever heard of or read about was just decimated with one song. I thought to myself, "What a noble profession!"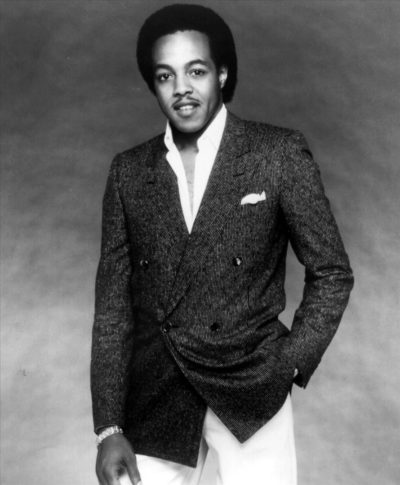 50BOLD: So how was it growing up Peabo Bryson?
Peabo: Growing up I never sat at a dinner table where there wasn't a stranger at that table sitting there to eat. Growing up in the 50s my parents ran a boarding house for a time.
Notwithstanding, there were always a couple of kids in the neighborhood who weren't going to get a good meal. There was always at least two. My folks believed that no Black person should go hungry if they had food on their table.
50BOLD: Now, Peabo I know you are the 'King of duets.' What was it like working with two singers who are no longer with us–Minnie Riperton and Natalie Cole?
Peabo: I knew Minnie all of her career. I worked with people who worked closely with her. I knew her intimately but never actually met her. She was aware that her last album was going to be her final project ever and her husband, Richard Rudolph, knew this as well. The album was not well-produced; she was very disappointed but was too weak to go through the process again.
They hired one of the most unsung arrangers and producers on this planet Johnny Pate. What Pate did was to listen to the project. He wound up erasing everything on the track except for her vocals. He actually re-did all of the music and I got involved, posthumously.
50BOLD: And Natalie Cole?
Peabo: I met Natalie early in my career. I had a chance to see the Nat King Cole Trio when I was a boy. I think maybe Nat was the greatest male vocalist ever. I take my hat off to Natalie and the Queen (Aretha) because rising out of your own ashes like a female phoenix is not something that happens every single day.
50BOLD: Peabo, do you write music?
Peabo: Absolutely. The band that I was in, one of the prerequisites was that you had to learn how to read and write music and play an instrument proficiently. The original name of the band was called Moses Dillard and the Dynamic Showmen. It was changed to Tex-Town Display because at that time, Greenville had become the textile center of the world.
50BOLD: You traveled the Chitlin Circuit with the band?
Peabo: Yes, the gig was over when the lights went out — literally. The hot girl in the club is always going to be the one who seeks me out and the boyfriend is built like a tree trunk — very jealous and very possessive. Always!
50BOLD: How does it feel to have recorded two Grammy-Award winning Disney film songs—1991, Aladdin's, A Whole New World with Regina Belle and 1993, Beauty and the Beast, the film and song shared the same title and the duet was done with Celine Dion?
I remembered watching that Wonderful World of Disney kaleidoscope coming into view on Sunday nights sitting around with the family and never thought I would ever be a part of it. I recorded two of the most successful songs in Disney's history, who would have ever thought this?
50BOLD: You mentioned Aretha Franklin earlier. Were you friends with the Queen of Soul?
Peabo: Intimately. The greatest gift she gave me, as a friend was to encourage me to keep looking for that special someone. She was the perfect example of a good woman. She encouraged me to find that special person made just for me. I'm married to the most wonderful woman on the planet.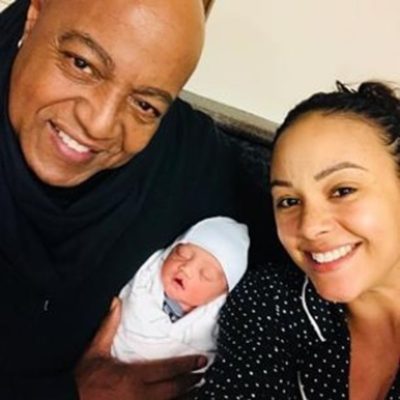 50BOLD: Where did you meet your wife Tanya?
Peabo: I met Tanya while standing on a stage in London. I replaced my good friend singer, James Ingram, who could not do the gig. The late David Gest, who was a friend of James and who was married to Liza Minnelli, was putting on these R&B programs in the U.K.
During the first rehearsal at Douglas Hall in London, I turned around and looked across the stage and there was a woman standing there behind the microphone — a very extraordinary-looking woman.
I turned around and looked at her, she turned around and caught me staring at her, and during that moment, my music had finally caught up with me. (laughs) I knew in that moment that Tanya was the person that I was going to spend the rest of my life with.
My wife was in a British girl band that was very successful called The 411. She has more videos than I do. She gets it, having had her own fans, she gets what the drill is so that there's no adaptation period.
50BOLD: And congratulations on the birth of your son!
Peabo:  Robert Kittrick-Peabo Bryson. He is so unaffected. He's the best little baby. He goes to bed at 7:00 pm and gets up at 7:00 am.
50BOLD: Your latest album Stand for Love – working with the legendary producing team of Jimmy Jam & Terry Lewis, what was the experience like?
Peabo: Surreal. The first thing I noticed about working with them is the absence of ego. I kept waiting for that other shoe to drop – it never did. Terry is stoic and he never speaks unless he has something to say. You cannot take him off something he believes in, I don't care who you are or how threatening you are, he's not going to move.
He is loyal to the death. Jimmy is eloquent, outspoken, and extremely talented as well. My challenge to them was can you make me relevant in a music conversation today without destroying what it has taken me a lifetime to achieve? I loved working with them and I loved what they did post-production more than anything else.
50BOLD: Stand for Love, what inspired you to create this title track for the album?
Peabo: The song Stand for Love is hip enough to bridge a gap between my generation and those generations that have come after me, and the generation before me, as well. I think it bridges all these gaps and talks about if you are going to stand for something, stand for it.
Love is an ever-changing entity. You can write about love every single day and never repeat yourself. Love is bigger than we are. Have you ever been able to control it?
50BOLD: No, not when it is real.
Peabo: How about that? I read this when I was 14: Love is sufficient unto love. Its only desire is to fulfill itself which means that you and I are inconsequential to love. It doesn't care about us. Love loves nobody, the book that I'm referring to was published in 1923. It went from writer/poet Khalil Gibran, to The Spinners' Philippé Wynne when he said, Love Don't Love Nobody.
50BOLD: Peabo, what do you listen to in your vehicle?
Peabo: I like jazz, this is my preferred music also some classical music. I like Claus Ogerman's Gate of Dreams; this is one of my favorite pieces of music. I also like listening to Mozart and Beethoven, even Bach.
Any jazz station on Sirius radio. Believe it or not, I like Sting. I like his boldness and he is a great poet. He doesn't mind saying how he feels about something. Like Desert Rose: I dream of gardens in the desert sand, I wake in vain, I dream of love as time runs through my hand.
50BOLD: You also have an adult daughter?
Peabo: Yes, and I'm extremely proud of Linda. She's very accomplished. After three kids and a husband, she decided to go back to school to earn three postgraduate degrees and is a few hours away from receiving a Ph.D.
50BOLD: You were close to your grandmother Agnes. You described her as a 'stand for yourself person' – a trait you admired in her. Can you share a story about Agnes that describes her as a takes-no-prisoner kind of person?
Peabo: As a boy, I watched my grandmother beat the prejudice out of a white man. He delivered the laundry. When he dumped it on the side of the road instead of on the porch, my grandmother said, "Hey peckerwood!"
The man replied, "What did you say to me n****r?"
She said, "I'm talking to you peck. Where did you get that laundry from?"
The man responded, "I got it off the porch."
My grandmother replied, "Well, put it back where you got it from?"
The man said, "I don't cater to N****rs."
My grandmother told him, "Well, come and get this n*****r's money and don't come back."
I saw my grandmother pull out a nickel-plated 38 revolver from her apron. She then tap-danced on that man's face and head. It took all of the adults, my sister, myself, just everyone to pry her from this man. When we finally did, all of us were still holding onto her. The man was not moving and he didn't seem to be breathing.
We thought, who's going to drive the truck and what lake were we going to throw his body in. (laughs) We realized the situation was bad, someone was going to hang. If we did not handle the situation correctly, we were all going to hang!
It must have been three minutes later that the man began to move. He blew a blood bubble and dust, then, his eyes opened. The man looked at my grandmother, then looked at us holding onto her, and started to crawl down the walkway towards his truck. He went to the back of the truck, muscles up on the frame, then starts fumbling around in the back.
We said, "Well, hey, he's looking around for a gun in there. This is going to end ugly."
When he falls back he doesn't have a gun in his hand, instead, like a baby, he's cradling a large mason jar full of liquid. He's still wobbly. The man starts to make his way back down the driveway. It takes him a while. He gets to the steps where we were holding my grandmother, and then falls down on them.
He puts the jar between his legs, takes his shirt off and begins wiping the blood from his face. Blood is everywhere. He picks this jar up, screws the top off, and I yell, "It's kerosene, he's going to burn us up! Now we are going to have to kill him."
He tilts his head back and takes a big swig of the liquid, then puts his head down. He looks at my grandmother and shoves the liquid over towards her. She looks at him, picks it up and takes a big swig from it too. Every day for the rest of that man's life on Mondays and Tuesdays, I'd come home from school, and he'd be asleep on the couch.
There wasn't one weekend that this man didn't sleep on Friday night, wake up, and have breakfast with us. My grandmother beat all the prejudice out of him.
He didn't know why he was a racist until that moment. He was just following suit.
That's what people are doing today, aren't they? They are just following suit.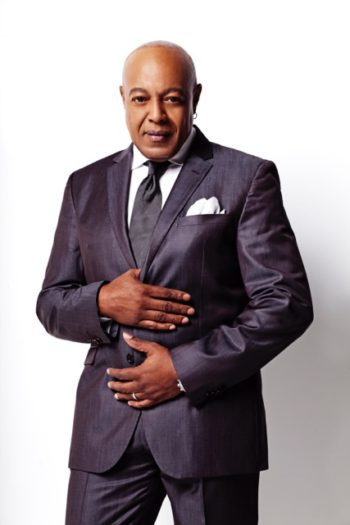 50BOLD: Whew, what a story and it is so relevant today! People are just following suit. Now, shifting gears, what is the mantra that Peabo Bryson lives by?
Peabo: Love in every season. Love is faith. One of my favorite songs that I've ever written is I Wish You Love.
50BOLD: When Peabo Bryson looks in the mirror, what does he see?
Peabo: He sees a poet, he sees a husband, he sees a father, he sees a brother, and a friend. My goal was to marry my best friend and I did. If you are not my best friend then why should I marry you? I am not a Ken doll. Who is Ken? Ken sits around all damn day in Speedos waiting for Barbie to tell him what to do, then he shows up in a dune buggy. (laughs)