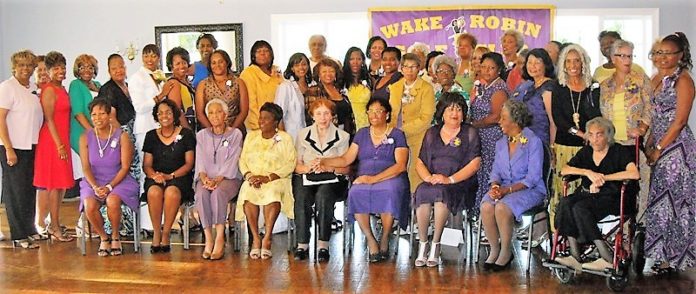 In just a few weeks, a purple perennial flower known as the wake-robin begins it's blooming season. And members of a Black women's golf club named for that spring flower will return to the links for their 81st year.
The Wake-Robin Golf Club is the oldest African American women's golf club in America. It was founded during the days when Black people, both male, and female, were barred from municipal and private golf courses by the laws of segregation across the country and in the Washington D.C. area where the club was founded in 1937.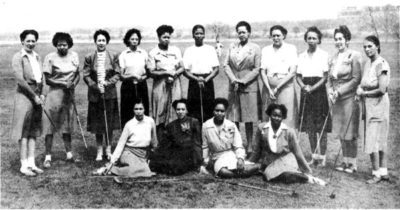 These days, The Wake-Robin Golf Club members range from women in their late 20's to long-time members in their 80's and even 90's. Those who join the club need only have a genuine interest in golf and a willingness to learn the sport. The Wake-Robin Golf Club plays other African-American women's clubs that have sprouted over several decades across the country and continue to flourish. Women like Winnie Stanford, now 94-years-old, were not going to accept the notion that Black women could not play golf.  She joined the club in 1968 and sponsored an annual tournament in her name for the club that lasted about 20 years. Stanford is now the oldest member of the club after her friend, Elizabeth McNeal, 99, passed away last year.  "She still played as much as a 99-year-old person could,'' said Stanford.  The avid golfer joined The Wake-Robin Golf Club, "because my husband was a golfer, and I got tired of him leaving me home on Saturdays,'' she said. "So I wanted to learn to play golf.''
Playing golf in the early days first meant finding a course to play on.  Wake-Robin and the Royal Golf Club, a Black men's organization, petitioned the federal government to desegregate D.C. golf courses in 1934, and the Langston Legacy Golf Course in the Anacostia area was built to be utilized by African Americans. The 18-hole course, which initially lacked grass, opened in 1939.
"The women in our club experienced difficult times with white men who did not think we should be on a golf course,'' Stanford said. "The caliber of women we have is excellent. It's a sport that makes people have to be honest. You can't cheat by moving the ball or putting down the wrong score. And they are very serious about playing golf."
Dionne West is a Wake-Robin member at the other end of the age spectrum. At age 27, West and her sister Nicole are among the youngest members of the club.  West, who has played golf since the age of 10, was familiar with the legacy of the club which she joined in 2016.
"It's been great being a member of Wake-Robin,'' she said. "It's nice being around women who are passionate about golf.''  West said her membership in the club means that she has come full circle, first as a recipient of a golf scholarship and now as a member helping other young women to enter the sport.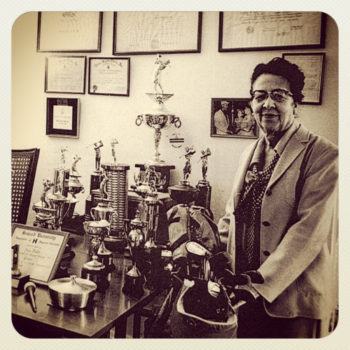 West attended Hampton University on a golf scholarship, where she was one of only a few women.  "There aren't that many of us, but we are definitely out there,'' West added. The club scholarship is named for Helen Webb Harris, founder of The Wake-Robin Golf Club.
West said the legacy and impact of the club goes far beyond golf. " I think they helped break down barriers…they played a huge role in the desegregation of public spaces in this area,'' she said. "They were not allowed to play in the same spaces as whites, and they said 'this is wrong. We deserve to play in this public space.' So I think they were instrumental in breaking down barriers like that in general.''
The Wake-Robin Golf Club also supports a range of charitable causes including food drives and donations, a family crisis center, and the Adopt-a-Highway program in Maryland. The club is about to enter another season of tournaments with other women's golf clubs and outings with Royal Club.
The club also supports Black female golfers who wish to join the Ladies Professional Golf Association (LPGA).  Kimberly Robinson, the club president, said Black female golfers are "hidden figures," who are under-represented in the sport and profession of golf. Women currently in the LPGA circuit include Cheyenne Woods, the niece of golf legend Tiger Woods, and Mariah Stackhouse.
Professional golfer Renee Powell, who came through the Wake Robin Women's club, was inducted into the PGA Hall of Fame in 2017.
"Through our programs, we first try to get them engaged in the sport as youngsters and we follow them through high school,'' Robinson said. "For those who are showing promise, we make sure they have funding to pursue their career goals. Golf is an expensive sport, and I think that is one reason why minority women are underrepresented.'' Robinson added that minority players often do not receive as many endorsements as other players.
Robinson joined the club five years ago and is in her second year as president. "I've been playing for about 15 years but as a parent, I'm not able to get out as much as I like.'' Just like other members before her, Robinson said, she also took up the sport because her husband played golf and she came to love it.
The season starts on March 15th in the D.C. area, and Robinson said she is ready for it. "I'm going to be looking for those days when it's nice, and I'm going to be out there hitting the ball.''
Frances Grandy Taylor is a journalist with more 20 years experience. She has covered education, religion and political issues for several publications.