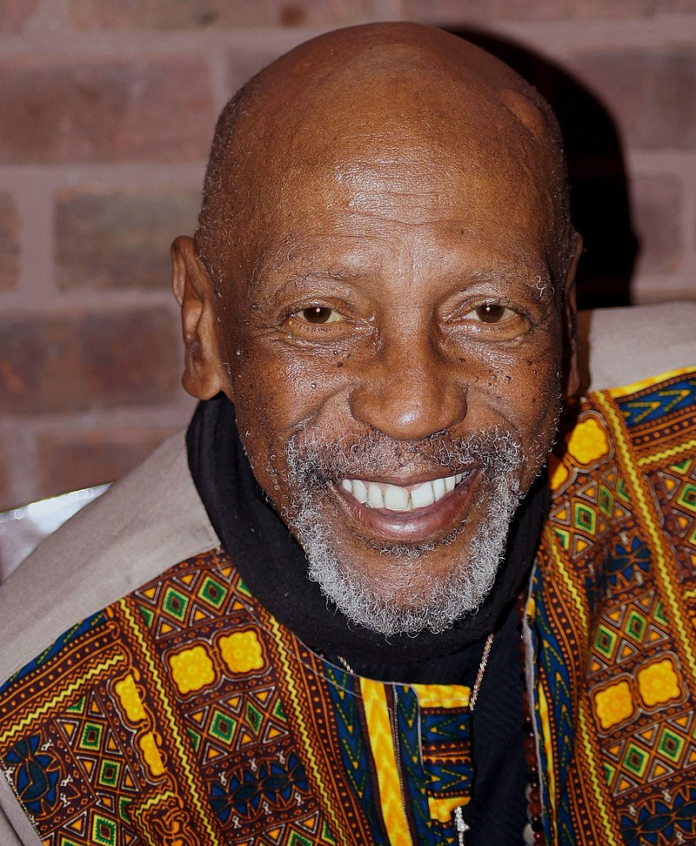 It's refreshing to hear someone address the critical issues of the day that some pretend doesn't exist. Although it's been trendy to claim oneself as woke, it is obvious that many today are still half asleep. Fortunately, emerging in this time of need is a growing collective of people whose consciousness is beyond "woke." Such people are indeed "fully awake" and aware of the enormous work that is desperately needed for the progress of humanity. They know what is holding back our progress and are doing the necessary work of their chosen cause to help contribute to the advancement of our planet.
One such person who can easily fit into the latter is none other than the gifted actor, humanitarian, and activist, Louis Gossett, Jr.  At 87 years young, he is determined to help spread the message of the importance of eliminating racism and is doing so through his Eracism Foundation. Gossett is convinced that 'racism is an addiction, it's a disease that must be stamped out for the betterment of the planet.'
Born in Brooklyn, NY in the mixed community of Coney Island, the Academy Award-winning and prolific creative has been acting since the early 50s. It all began when Gossett was 17 and landed the leading role in the 1953 play Take a Giant Step where he won the Donaldson Award as best newcomer of the year for his performance. Gossett later went on to play in both the stage and film production of A Raisin in the Sun with such legends as Sidney Poitier, Ruby Dee, and Diana Sands.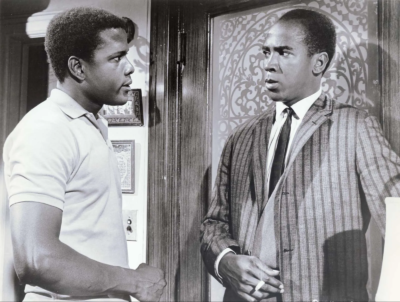 For 70 years, Gossett has given outstanding performances in hundreds of stage, film, and television productions and has received countless awards and acknowledgements too numerous to mention. Some of his pivotal roles included his memorable character as Fiddler in the 1977 historical and groundbreaking miniseries, Roots, where he won an Emmy for Outstanding Lead Actor. Gossett is also best known for his phenomenal performance as the stern and no-nonsense Marine Corps. Gunnery Sergeant Emil Foley in the 1982 blockbuster film, An Officer and a Gentleman, which earned him an Oscar for Best Supporting Actor.
The actor extraordinaire chats with 50BOLD about his stellar career, love for his craft, and why he staunchly believes that racism in this country must come to an end.
50BOLD: You have been an actor for over 70 years; you are legendary! Yet, there is little known about your early beginnings. I understand you started acting in a play at age 17 back in 1953. And you'd never even seen a play before. How did the role come about?
Gossett:  I had an English teacher, his name was Gustav Blum. He was a Jewish celebrity in Russia and had been a Broadway director here. In high school, you had some of the best theatrical people running from Hitler. And they were sent to my schools. I was the student body president and was in front of people. He saw me perform in a school play and said 'Ask your mother to take you down to try out for this Broadway play. What can you lose?' He had the experience and in English class he saw something in me that I did not see. So, at age 17, I went down to try out for a play and to make a long story short, I got a part in Take a Giant Step.
50BOLD: And the rest is history as they say! Tell me, what was that experience like performing on Broadway at such an early age?
Gossett: It was a great experience! I was very fortunate because I didn't know what acting was, and this was my first part as the lead in a play. So, it was divine intervention. I was surprised at the legends who came backstage to see me like Paul Robeson, Adam Clayton Powell, Jr., and his wife Hazel Scott. I also remember Josephine Baker coming backstage as well. They all came to see the new kid on the block in show business.
50BOLD: How amazing meeting all those esteemed people! What was it like to meet the great Paul Robeson?
Gossett: It was wonderful. I developed a friendship with Paul when I was in that play. He had adopted me and had come backstage to see the new kid on the block. So, when Paul came, he gave me a hug. When he shook my hand, his fingers went all the way up to my elbows, that's how big he was! He was the last kid on the block because he had been blacklisted. And he had come back from Russia. I was at his party where we were raising money for him. There were a lot of people there that I had only seen in magazines.
50BOLD: That's awesome. Now, in one of your interviews, you told a funny story about your great-grandmother who had come to see you in the play, and then slapped you. What could you have possibly done to make her do that? What happened?
Gossett: So, one night my great-grandmother came to the play in a wheelchair. And I said, 'Oh grandma you came to see the play. You have made me so happy.' And she slapped me in the face. And I said, 'Why did you slap me in the face?' And she slapped me again. I said, 'Why are you slapping me?' She said, 'I taught you better as to how to treat your grandmother than what I just saw in that play.' I said, 'It was just a line in the play.' She said, 'I don't care. You can't do that.' She didn't understand that it was just a line in the play, and I didn't really mean what I said. So, after that, every time I said that line, I stuttered. (laughs) She didn't care whether it was a line in a play or not. She was from Brooklyn.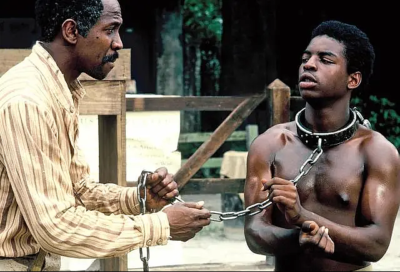 50BOLD:  And she wasn't having it. (laughs) You said your great grandmother lived to be 111! Were there any words of wisdom that she passed on to you that you can share with us?
Gossett:  Yes! She told me that God was here before we got here. And he's going to be here long after I'm gone. So, quiet down and listen to Him. My great grandmother used to give me a combination of cod liver oil along with something else to rid the body of disease. While living together, some of the things my family used to do is say our prayers before we go to sleep, brush our teeth, and take care of our younger cousins. Nobody went hungry. Nobody was sick. Everybody was together, we were a tribe of people. Now, we need this globally.
50BOLD: Most definitely! Let's talk about your role in the play and film, A Raisin in the Sun. How was it working with legends like Sidney Poitier, Rudy Dee, and Diana Sands?
Gossett:  What a pleasure. It was interesting working with them all. Sometimes, we'd have a life and death argument over a scene or whose play it was–Diana Sands', or Sidney's, or Ruby's. We knew Lorraine Hansberry wrote it, knowing the actors would fight over whose story it was going to be. It was everybody's story, including mine. Backstage, I learned a great deal about the love of work, and the love of the arts in terms of my people. They showed me what was good and what was bad. They taught me about it all. We look for those magic moments as actors and actresses and when there's lightning in a bottle. They taught me a great deal and I learned a lot from all of them. And I fell in love; acting is in my bloodstream.
50BOLD: You were also part of a historical series, the 1977 groundbreaking miniseries, Roots. You were amazing as the character Fiddler, a role that earned you an Emmy for Outstanding Lead Actor. Is the character of Fiddler one of your most cherished roles, and did you do anything special to prepare for it?
Gossett:  I had a great grandmother who was once a slave. So, I would copy her, as well as my grandfather, and my grandmother, and this was how I was able to play the part. I had direct sources on how they talked. My grandparents understood me, and because of them, I am, who I am. Our elders are important. I tell these young folks about what's most important in life. We need to draw on our roots and get back to taking care of our tribes of people for the benefit of us all. The very thing that's been denied us is the freedom of the ability to speak. Young folks need to know the importance of our history.
50BOLD: Then would you say that the message in Roots is relevant today?
Gossett: I think it's relevant now more than ever because we're on the brink of being one nation under God, indivisible. We now have the ability to maybe unite the world with a common credo, that it's going to take mankind to save mankind.
50BOLD: You've made a critical statement and one that is so true. Let's talk about another compelling role where you were absolutely brilliant. Your role as Marine Corps. Gunnery Sargeant Emil Foley in the 1982 film, An Officer and A Gentleman. Your character was quite intense to say the least! What on earth did you do to prepare for such a fierce role? 
Gossett:  I received training at the school for U.S. Marines in San Diego. So, when I showed up on the set, I was truly a marine. I couldn't do a scene that was a lie. And the marine drill sergeant wouldn't let it happen either.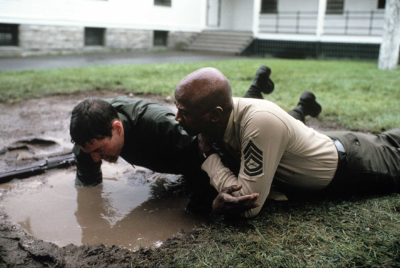 50BOLD:  You won an Academy Award for Best Supporting Actor for An Officer and a Gentleman beating out such Hollywood luminaries as James Mason and Robert Preston. What was that night like for you and did you have to pinch yourself? 
Gossett:  I had to pinch myself! I was in the front row next to my son and agent. And on my right was Robert Preston. The far right was James Mason. When they called my name, I didn't believe it. My agent hit me in the ribs and said, 'They called your name. Get up there.' I was honored just to be in the top five.
50BOLD:  Another phenomenal role we will never forget was your riveting portrayal as Egyptian president Anwar Sadat in the 1983 made-for-TV film, Sadat, for which you were nominated for a Golden Globe Award. The film was banned in Egypt because Egypt's government objected to Sadat being portrayed by a Black man. Did you experience any negative backlash by way of threats because of your portrayal?
Gossett:  Not at all. I was chosen by Sadat's wife, Jehan Sadat. Anwar Sadat had a private film collection, and they had seen Roots. So, Jehan had a choice, and she chose me. It was an honor to portray her husband.
50BOLD: How did it feel to play him?
Gossett:  Magic because I became him. I copied him. He did an interview with Barbara Walters, and also with Walter Cronkite, and there was a big speech at the United Nations, that I also saw. So, I copied him, and the rest was from the soul.
50BOLD:  We adored you in A Gathering of Old Men which centered around racial tensions in Louisiana. Can you share your thoughts on the racial tensions today with regards to police brutality and our Black youth. 
Gossett:  It's gotten to the place where racism is a disease now. Racism is a lie. We have to be careful how we behave, because our children are watching. Those people who have been prejudiced against us and other people have to stop. They want us to drop this agenda to end racism. But once we drop this agenda everybody's lost. The worst resentment anybody could have is when you justify to keep that resentment. It is like a cancer. You have to get rid of the whole thing. Again, our children are watching. You have to stomp this fire out and put it in God's hand.
50BOLD: Tell us, what was the Gossett household like growing up and how did it inspire you to become a performer?
Gossett: Well, I came from a society with post-depression children, and I grew up in a neighborhood where people were running from Hitler and Russia. Jews ran to New York City. My mother worked for some of those people. My teachers were some of those people and I grew up with their children like Neil Sedaka, Mort Shuman and others. In my neighborhood there was an absence of racism. Coney Island was the central place to be. Nobody was better than anybody else. My friends and I grew up together. If my parents didn't get home at night for dinner, I didn't have to worry because I had the choice of going around the world. I could smell the food and could eat some lasagna. I could eat some corn beef and cabbage. I could get some fish, fried chicken or menudo. Depending on whomever was home.
We were very poor. We played together. We had broom sticks for bats and balls. Third base was the Chevrolet on the left. (laughs) The girls had chalk and rope. So, we kind of relied on one another. And we created this society. And in that society were the Barbra Streisand's and Jackie Robinson's. There were the Jacob Javits' and the David Susskind's. The Actors Studio, the movies were all in New York City. And I grew up with those particular people. In fact, my first agent was one of the people I grew up with.
So, I had no idea about racism at that time. People dreamed of a life like that, and I got it just like that. I didn't know about racism until I arrived in California.
50BOLD: What happened in California? Were you doing something special out there?
Gossett: I was signed with the William Morris Agency. There was a television anthology series featuring made-for-TV movies called the ABC Movie of the Week. And this was my first job in Los Angeles. So, they put me on a first-class TWA flight. They thought I was an African diplomat. And when I arrived in California, they took me off the plane and then a limo appeared. People thought I must be the President of Ghana or something. I was taken to the Beverly Hills Hotel and given the Presidential Suite. I was amazed, you know. So, this is California, I thought to myself.  I was told, 'You have a rental car. A Hertz rental car down on Sunset Blvd. The drive is about 20 minutes.'
I went down to Hertz and got my Ford Galaxy 500 with a hardtop. It was my first day in LA and I was on Sunset Blvd. in a car. I turned on the music and Sam Cooke was playing. I thought I was at home. It was a 20-minute ride back to the hotel, but it took 4 hours, because I was stopped by every policeman within earshot. Every 15 yards, they pulled me out of my car and made me put my hands on the hood 'because you must not be from around here.' Later they handcuffed me to a tree for three hours. It was my first experience with racism. It broke my heart. They had never seen a Black man like me, it was Beverly Hills, 1966. And I saw that there were two worlds.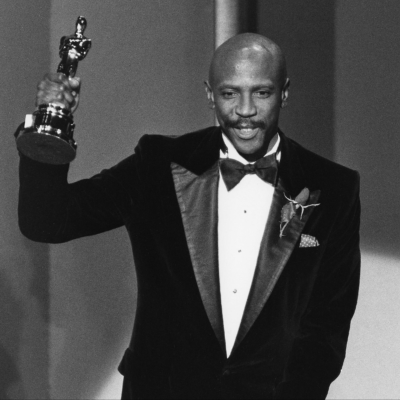 50BOLD: What a horrible experience to be treated so inhumanely by police.
Something happened to my system on that day. I never had to be careful, never felt I had to look over my shoulders before. But that situation damaged me…
50BOLD: How were you able to handle that devastating experience? I mean how were you able to go on?
Gossett: I made an adjustment. And my agent said, 'What are you going to do.' I said, 'I'm going to go to work.'  He said, 'That's what I expected you to do. That's why they chose you.' So, I did it, and made some friends. I had to go to the hippies because those were the ones who allowed us to hang out together. So, all those years, I had been sticking with people where there was a mutual acceptance. Sometimes we have to hide. But that mutual acceptance is the salvation of this country and this world.
50BOLD:  You continue to work nonstop. Retirement is not in your repertoire. You are one of the actors cast in the anticipated upcoming remake film, The Color Purple. The Warner Brothers movie is slated to hit theaters December 20, 2023. Why is remaining relevant still so important to you? And is there a particular film you'd like to see made?
Gossett:  It's relevant because it's for the next generation. It's to show the public how different generations can and should work together. Not just in film. I want to continue to do more of the same. I'd like to see a film on Kwame Nkrumah who was the first Prime Minister and President of Ghana. He is a man of history.
50BOLD:  I understand you were friends with the late General Colin Powell. How did the two of you meet?
Gossett:  It was a promise of a bigger friendship, as we were on a speaking tour together. So, we were able to spend a little time together.  On the road, we shook hands and were telling jokes and singing together. The first time I met him, we were in Nashville, Tennessee, and I was waiting to meet him. And all of a sudden, his hands went behind me. You know how someone puts their hands over your eyes and you have to guess who it is? That's what happened, and I turned around and it was Colin Powell. That's how our relationship started. I think we got tight after I did An Officer and a Gentleman, followed by Iron Eagle and Iron Eagle II. We got pretty close.
50BOLD: What an amazing friendship.
Gossett: Yes, it was. We didn't have a long-term relationship, but it was a very deep one. A deep brotherhood relationship. He was a very special man, one of the best.
50BOLD: How fortunate you were to have met him. In past interviews you often discussed your Eracism Foundation. Can you elaborate on its purpose and philosophy?
Gossett: The Eracism Foundation is to eliminate the disease of racism, which is a disease like alcoholism or drug addiction. If you consume alcohol or do drugs, you know they can kill you, but you go for it anyway, that's an addiction. Racism is an addiction, it's a disease. And it could really end, but it first starts with me. And I see elements of it globally. I also see how we can self-destruct globally. We have to figure out what we can do on a daily basis to eradicate racism. We're not too far away from doing so because so many want it, but they don't know how to achieve it.
50BOLD: So, in your opinion, where do we go from here?
Gossett: We must reconnect with what's essential to mankind. Our first job is to maintain the health of the planet which we know how to do. We also have to take care of ourselves and be a tribe of people for the betterment of the whole that will save the entire world. We have to end racism because it is a disease. It's a disease of mankind.
We need one another more than we don't. If you can draw on your roots, and find out the common roots, then we will understand that we need to help one another for the benefit of us all. For world peace. Because if we go to another planet, we will do the same thing there, until we learn the lesson that none of us are in charge.
50BOLD:  You mentioned that we have to be a tribe of people and that we need to draw on our roots and take care of our tribe of people for the benefit of us all. Can you elaborate on that?
Look at the tribal system in Africa. A child is born, and as soon as it's able to walk it has to do something to add to the benefit of the whole tribe. Everybody had to do something for the benefit of the whole tribe. The Kenyan paleoanthropologist and fossil hunter, Dr. Richard Leaky, found the oldest skull in Ethiopia. So, they figured it out that it was the first civilization ever on the planet. The explorers got there and realized we had been doing what we were doing for quite a long time. So, that system is what makes us survive.
Everybody had something to do, including the elders. That philosophy is necessary for mankind today. There's no I'm better than you are. So, racism got in there, and the attitude that I'm better than you are does not work anymore. Our planet is dying. And the first job of every human being is to do, what you do, for the benefit of not just your family, but for your village, your city, your country, and the world.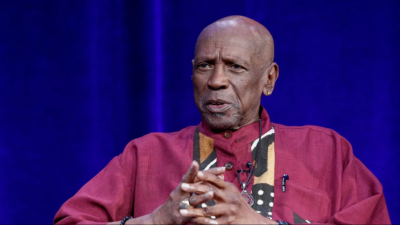 50BOLD: Many folks are into the DNA ancestry testing, especially Black people. Is this necessary for one to do today?
Gossett: Ancestry is extremely important today. Especially for those particular people who consider themselves minorities. They were disconnected, on purpose, so they didn't know. Other people knew about us, but we didn't know about ourselves. Everybody you talk to here in this country, they're proud of where they come from. If you're from France, you know all about the French. If you're from Italy, you know the history. But what about us? Hello! So, I started to dig, and I learned that my people came from Guinea.
50BOLD: Have you ever been to Africa? What was that experience like?
Gossett: In Kenya, they took me on the road, and I saw the Maasai and the cattle, and the young 15-year-olds with spears. In order to be a man they have to kill a lion. And I realized that that society was older than any other society I had studied, the Kikuyu and the Maasai. So, when the explorers came to Africa, they saw we were taking care of ourselves. We studied animal husbandry, astrology, medicine, and mysticism. The tribal effort is what keeps us here today. That system and whatever they did at that tribe at any age is for the benefit of the whole tribe. Think about what you can do for the benefit of the whole. And what you get back is simply amazing.
On the continent of Africa, you have five or six major societies. They kind of fought but the slight difference is that they spread their culture. So, you see people who look like they come from a certain place, even here in this country. People don't even know that they might have Bantu or other roots. And so, when the explorers came and saw how we were so strong, they made a poor decision. They might have thought if I don't do something, we're going to be the last civilization on the planet. That's fear.
If I see you and I have to watch what you do, seven days a week, twenty-four hours a day, when I should be doing something else, I'm scared of you. We have the power to allay that fear. That is to get together as mankind for our mutual salvation of the planet. But fear is a dangerous thing. But we can alleviate that fear, and it's happening. We're not starting from scratch. We're going in that direction anyway. We're breaking that mold, and this is the most important one. To break the things that separate us and add to the things we need to do together. Mainly to make the food chain a little bit better, take better care of our children, and each other. Otherwise, nobody wins anything.
50BOLD: You're right, and now there's a great concern for what's happening with climate change and the continuing devastation it can cause.
Gossett: It's all in one cup of coffee. It's natural that the Earth is slowing down. Our number one job is to adjust ourselves as the superior human intellectual on this planet. If the ocean is healthy, the polar bears will have something to eat, the fish in the ocean are fresh, and it's the domino principle. It's not different, it's the same. To think, 'What can I do for the betterment of the whole' is extremely important.
50BOLD: That is so true. Is there something in particular you'd like our readers to know about you?  
Gossett: I've won every award there is to win. I should be a trillionaire, but I'm not. What I had in childhood is priceless. The lessons I want to pass down to the young are priceless. That's what you learn from that oldest culture is what's going to save everybody. But then we stopped and did something else. So, if we don't take care of one another and this planet, we all might as well be in a 747 airplane. The plane is crashing but people are fighting over who's going to be in first class. That's what's happening. The water is drying up, the Poles are turning into water; the fish are sick. The weather is changing because we're not paying attention to what we're supposed to be doing, and that is to take care of our environment.
50BOLD:  Yes, and we also need to be mindful of the many distractions planted to get our attention. Do you have a message or any words of wisdom you'd like to share?
Gossett: I have a message for the kids as well as the grownups. And it is printed on my T-shirt… There is no such thing as impossible. Things can change overnight!
50BOLD: That's certainly true when you look at how COVID changed our lives overnight.
Gossett: Exactly! And now at this old age, I want to tell these young folks that you're already freer than you think. The rest is camouflage. So, reconnect to your roots and get those lessons. You are responsible for the salvation of the planet.