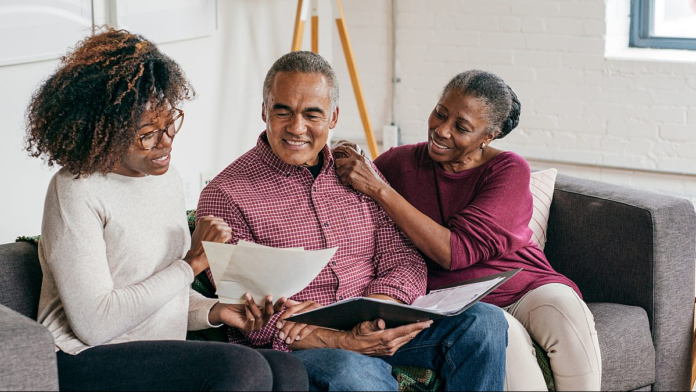 As our parents age, managing their household finances can become difficult, and in some cases, this is due to age-related cognitive decline. The National Endowment for Financial Education says that our financial decision-making skills are in decline by the time we reach age 60 or so – or at any age after a dementia diagnosis or stroke. Did you know, it is a tradition in the African-American community, where adult children have long been expected to care for their elderly mothers and fathers? Your beloved parents have worked hard all of their lives, and the very last thing they need is to lose their savings through fraud or mismanagement.
Since a health crisis in the elderly can escalate quickly and catch everyone involved off guard, it's important not to ignore signs that something may be wrong. It's important to be aware of the warning signs that your elderly parents need help with finances before things spiral out of control.
Know the signs
If happiness or health seems to be compromised, it's time to have a chat about finances and address any problems. Here are a few red flags that should alert you to step in to help save your parent's financial situation:
A checkbook that is disorganized or missing register notes. Forgetfulness is one possibility that something might be wrong with your parent's finances, but another is that someone could be taking checks from them to use for themselves–this is a situation that needs investigating!
Bad investments. Older people are frequent targets of investment scams that promise unheard-of returns — pitches designed to appeal to seniors who want to make their nest egg go as far as possible. You can learn more about scams from Medicare/health insurance, robocalls, charities, and other ploys that target seniors at the National Council on Aging's website.
Out of funds. If you're out to dinner and they don't have enough money to pay the bill, or they get their credit card returned for Insufficient Funds, this could be a red flag that they are mishandling their money. Do they constantly forget to put money in their wallets when they have always done so in the past? Do they forget to go to the bank to handle their affairs? Forgetfulness is something to notice as it is a sign that something is amiss.
Out of the ordinary expensive purchases. If your aging parent is suddenly making outlandish purchases or spending a lot of money on things around the house, such as appliances or entertainment — don't ignore the expenses. Anything out of the ordinary that is not an occasional (and rational) splurge may indicate impaired judgment or it could be a sign of memory loss — an early sign of dementia.
Piled up and unopened bills. Check to see if there are stacks of unopened mail or bills from credit card, insurance, or mortgage companies, notices from the Internal Revenue Service (IRS), or utility bills. If it appears that bills or other mail are not getting opened, either because your parent is slowing down cognitively or is sick, you need to address the problem immediately.
Get help
If you see any signs of money mismanagement, talk to your parents to see if you can get a clear sense of what's really going on. Most people don't like to admit to needing help, so approach these conversations carefully. You might want to mention that a friend of a friend was having trouble remembering to pay bills, or that you've read that elder scams are so common that the National Council on Aging calls them "the crime of the 21st century." When you recognize there is a problem with your parent's finances, then you can take action.
Identity theft. If your parents have been the victim of identity theft, encourage them to report it immediately to their banks, their creditors, and the three major credit reporting agencies – Equifax, Experian, and TransUnion. Your folks can then request a freeze on their credit reports, which can prevent thieves from opening new accounts in their name. The freeze can be temporarily or permanently lifted when your parents choose. Just make sure they keep the PIN each agency will provide so they can do that. The Federal Trade Commission (FTC) also provides an online step-by-step guide for identity theft victims to follow.
Scams. If your parents have been scammed, they should call and file a complaint with the FTC online or by calling 877–FTC–HELP (877–382–4357), or with the U.S. Department of Justice's National Elder Fraud Hotline (833-372-8311). They should also file a report with their local police department and bank. Realistically, it's unlikely their money will be recovered, so it's a good idea for your folks to meet with an elder law attorney or senior financial planner to make a new retirement plan or, if the losses were major, consider filing for bankruptcy.
Get access. If you have determined that your parents need help with their finances, you should offer to help them keep current on bills. Your parents could add you to their bank accounts, give you access to their online banking information or simply add your phone number to get text alerts if their account balances drop below a certain amount or if there's an overdraft. You can also help your parents set up automatic bill paying through their bank you can also oversee.
Another option that will help get your parent's finances back in order is to consider perhaps hiring a Daily Money Manager (DMM) for your parents. DMMs deliver essential financial services to seniors, people with disabilities, busy professionals, high net worth individuals, small businesses, and others. DMMs take on the responsibilities of handling bills, deposits, and payments and are not as expensive as you think. Find a DMM in your area by visiting the American Association of Daily Money Managers.