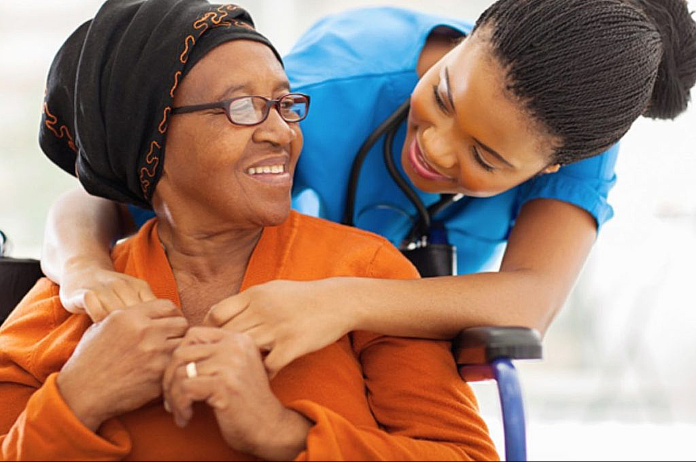 The decision to move an aging loved one to a nursing home can be a heart-wrenching one. The idea of nursing home placement is something most of us don't even want to consider at first. However, we can't all offer full-time in-home care and nursing homes can really be the best option when someone needs 24-hour, high-quality care.
The nursing home decision-making process should begin with a series of questions you need to ask yourself, then truthfully answer:
You are no longer physically able to lift or move your loved one, or cannot handle their needs
Your loved one's Alzheimer's or dementia has progressed to a point where they might hurt themselves or someone else; they exhibit challenging behaviors like paranoia or anger
Your loved one has wandered outside and has gotten lost
You are neglecting your life, relationships, and responsibilities
You have caregiver burnout
Your relationships are suffering
Your loved one's doctor recommends a nursing home setting for them
Financially, the nursing home option is more feasible
If one or more of these situations ring true to you, then it might be time to plan a move to a nursing home for your loved one. How do you go about choosing a nursing home that is right for your loved one?
Do your research. Look at different options in your area.   Ask for recommendations from others who have experience in placing their loved ones in a facility. Make sure to stick with a nursing home that you can easily get to in a pinch. Once you've selected a few homes, do your homework to see if they have any serious complaints of dereliction. Nursing Home Compare is an online tool run by the Centers for Medicare & Medicaid Services and rates over 15,000 nursing homes that are certified by this agency. They are given one to five stars with five being the best. Read the reports carefully! 
Check with the State Ombudsmen. Each state is required by federal law to have a long-term care ombudsman, who serves as an advocate for people in nursing homes and their families. The office of the ombudsman reviews complaints and other concerns about nursing homes, with the goal of fixing problems. Much of the information these offices gather is available on their websites in reports and other documents. To find the ombudsman for your region, go to the website of the National Consumer Voice.
Check out the facility. Once you've narrowed down your nursing home choices, check out each facility. Is the facility clean? Are there clean, well-lit common areas? Is there 24-hour security upon entering the facility? Check out the dining areas, physical therapy spaces, a few of the rooms, common bathrooms. Does the facility smell like urine, is it musty, are the cleaning products used overpowering? Do you hear cries of distress that go unanswered? Do they offer a variety of healthy food choices (ask to look at a couple of weekly menus).
Safety. Are there handrails along the walls and non-skid flooring? Are the hallways clear of clutter? Does the facility have backup plans in place in case of natural disasters (like generators)? Would the facility have enough food and water for an extended emergency?
Visit during off-hours. You can take a guided tour of a facility but also plan for a visit that is off-hours. A facility will look its best when you are taken on a tour by a nursing home administrator. During off-hours, however, is there enough staffing? Do the workers appear level-headed and attentive? Are the staffers invested in the residents? Do you feel a calm in the air or does the facility appear hectic?
Chat with a nursing home resident. Chat with a resident to get the real deal about the goings-on about a facility. Look at the resident's appearance, are they clean, well-groomed, and happy? They will give you details about the treatment they receive, the food, and whether they are just warehoused, or engaged in a variety of daily activity programs.
No one would argue that the decision to place a loved one in a nursing home is a swirl of emotions bound to be felt by the elder and caregiver, but the choice to do so should be made with a clear head and based on needs.