There's a new liquor in town, and it's all the rage—Rascito! The alcoholic beverage, nicknamed 'The Rasta Mojito' was created by renowned naturopath Dr. Paul Hamilton (but he is commonly referred to as Dr. Paul) and is derived from ancient exotic herbs and fermented sugar cane. With its citrusy-sweet, mint notes, and sky-blue hue, Rascito embodies an island feel with the laid-back vibe of Jamaica.
Dr. Paul, a master mixologist, is one of a handful of Blacks who own liquor companies. The ingredients for Rascito actually came from Dr. Paul's mother, Monica. It's been said that the family recipe dates back hundreds of years. A few of the exotic herbal flavors included in Rascito are valerian, ashwagandha, and hawthorn.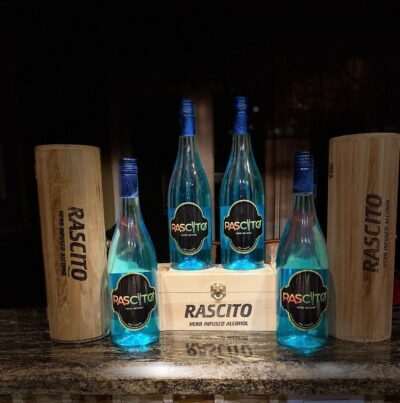 The Christiana, Jamaica native began working on his exotic drink three years ago at his Rascito King company based in Sunrise, Florida. Currently, Rascito is sold at numerous Total Wine & More South Florida locations. Presently, Dr. Paul is negotiating with the retailer to expand his product's sales to their other nationwide sites. Rascito will also soon become available for online purchases.
Familial forces are also supporting the Rascito King branding that includes Dr. Paul's wife, Varlene; his mother, Monica; daughter, Alicia; son, Paul; sister, Sandra; brother, Johnny; and son-in-law, Antonio.
The deliverance of Rascito to market has been an arduous journey for Dr. Paul. For Rascito to receive licensing, Dr. Paul worked incessantly with the U.S. Bureau of Alcohol, Tobacco, Firearms, and Explosives. He had to prove to the bureau that the ingredients of his product were safe for consumption.
Dr. Paul shares with 50BOLD how he came to develop his distinctive tasting Rascito.
50BOLD: Dr. Paul, you are the creator of Rascito which you've nicknamed 'The Rasta Mojito.' Can you please elaborate on how this delightful product came into existence?
Dr. Paul: It's a family recipe originally and a combination of Cuban and Jamaican heritage. We drank it at social gatherings for its holistic properties back in the day. I just made it commercial.
50BOLD: When you say holistic properties, does Rascito have holistic properties?
Dr. Paul: I am not allowed to say what the product's holistic properties are by law. Now, if people look at the liquor's ingredients and see what they are used for, they can arrive at their own conclusions. By law, I'm not allowed to say that any kind of alcohol has any beneficial properties.
50BOLD: The fermented sugar cane is that popular with other alcoholic drinks or is this a unique ingredient?
Dr. Paul: For example, rum is made with fermented sugar cane, but we use a special process that is classified in the United States as a cane spirit. It's similar to rum but not the same process.
50BOLD: What kind of research did you do before Rascito hit the market?
Dr. Paul: It was three years of research work. I had to prove to the U.S. government, the Bureau of Alcohol, Tobacco, Firearms, and Explosives that the ingredients were safe to be consumed in alcohol. I had to keep re-working the formula until the agency was satisfied. I had to present data along with backup stating that the ingredients in the beverage were safe. It was quite a lengthy process.
50BOLD: How did it feel when the liquor was finally approved?
Dr. Paul: It was such a sense of relief. I wasn't going to turn back. I used one of the best lawyers in the country who solely specialized in alcohol business matters. The stipulations involved are so strict; the guidelines must be followed to the letter.
50BOLD: You must be so proud of yourself! You were able to get Rascito approved after all the hoops you had to jump through; what an accomplishment!
Dr. Paul: I had no idea the approval process would be so much work.
50BOLD: And what about test marketing Rascito? Did you test your product with a small group of consumers first?
Dr. Paul: With regards to the test marketing, traditionally Rascito was consumed at social gatherings that centered around my family, going way back in Jamaica. Here in the states, I would just get together with people socially and introduce the drink. People kept coming back asking for the drink. I used to make it by hand at the time. One day my wife Varlene said, 'You have a line of people waiting for the drink and you are holding up this party. You have to figure out how to bottle it.'
A lightbulb went off. I began polling a wide cross-section of people–Hispanic, Caribbean, Black American, you name it, regarding the taste of the liquor. I received positive feedback about the product all across the board. Wherever I went, I carried a sample of Rascito with me. People were like, 'Okay, we love it. Where can I get this?' People were also trying to convince me to sell it bootleg out of my trunk.
50BOLD: Hilarious! Really? (laughs)
Dr. Paul: I was like, 'okay, I'm on to something.' And well, finally, it's here!
50BOLD: Yes, it's here and I love it! Did you intentionally decide on the sky-blue color; was it a marketing ploy?
Dr. Paul: Yes! The blue color comes from a plant called the butterfly pea. It's a plant that imparts a blue color to liquids. The blue reminds me of the Caribbean Sea. Yes, the blue color was a conscious decision on my part.
50BOLD: Smart move! How would you describe Rascito's taste? For me, I can't compare it to any other alcohol I've ever tasted; it's just delicious.
Dr. Paul: It's interesting because I'm in a specialized category. The beverage is not rum or vodka. I would describe Rascito as nicely tart with a sweet edge, and just the right punch from that fermented sugar cane. It has citrus and mint notes to complement the unique herbal flavors, and it is lightly carbonated.
50BOLD: In the liquor store, is Rascito in the cordial department?
Dr. Paul: It's usually in cordial or ready-to-enjoy.
50BOLD: Is ready-to-enjoy a section?
Dr. Paul: Most of the Total Wine & More stores, where Rascito can be purchased, place the product in the ready-to-enjoy section because it is unique.
50BOLD: You mentioned how Rascito's recipe is a combination of Jamaican and Cuban.
Dr. Paul: Yes, on my great, great grandfather's side is the Cuban heritage. In Jamaica, my town of Christiana is located in the hills of Jamaica. My family loves parties and get-togethers. There's always a lot of cooking and socializing; this is our way of life.
50BOLD: Do you make Rascito in Jamaica or the United States?
Dr. Paul: Originally, Rascito was made in Jamaica but for release here. We make Rascito in a large distillery in Minnesota because the costs were more appealing with their tax breaks and such. A lot of alcohol is made in the Midwest.
50BOLD: Rascito is good all by itself. What other spirits or mixers can you blend with it?
Dr. Paul: Any clear alcohol, white rum, vodka, tequila can be mixed in with Rascito, in a half and half, one-to-one ratio. This is called an ambush and obviously, there is more alcohol involved when mix liquors. But no one has complained of a hangover or a headache with the mixes.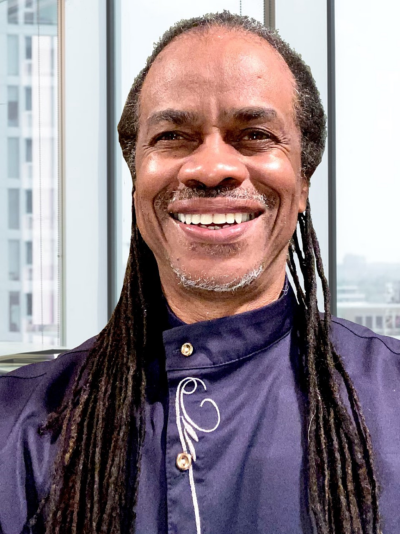 50BOLD: Can you blend Rascito with juices too?
Dr. Paul: I've never added juices to Rascito. You can add a squeeze of lime, lime juice, or fresh mint as well.
50BOLD: Did COVID-19 put a damper on your business?
Dr. Paul: COVID didn't really put a damper on my business because we weren't on the market yet. The pandemic, however, allowed some of the larger companies to notice me. Most people held back because of COVID but that's when I pushed forward.
50BOLD: Right now, Rascito is only available in South Florida?
Dr. Paul: Yes, Rascito is available at the Total Wine & More retailers.
50BOLD: Now, let's say someone lives is in California, can they purchase Rascito online?
Dr. Paul: I sold it online, but was having problems with my supplier because of the demand. I'm currently restructuring because everything needs to run efficiently. I've pulled the online store. I'm now looking for a new vendor to host my online sales.
50BOLD: How did you get your product into the Total Wine & More chain?
Dr. Paul: The liquor supplier actually took a chance on me. My line was initially sold at their Plantation, Florida location. Rascito did so well in sales that the company decided to place my product at eight more locations. We are in the top 100 sales of Total Wine & More and they have 3,000 products. I'm negotiating with the chain to expand to even more stores outside of Florida.
50BOLD: I know you enjoy doing tasting promotions in the stores.
Dr. Paul: I actually start the party. I play Jamaican music the whole time. I turn into a DJ in a store. There are customers who get excited when they see us setting up our promotion of the brand because it means we are going to turn up!
The Rascito product is really a lifestyle and a feeling. It represents Caribbean fun and adventure. When we prepare our promotions, we play songs that translate into how Rascito is going to make you feel.
50BOLD: Where do you see your Rascito brand down the line?
Dr. Paul: I see my product going nationwide, throughout the Caribbean and perhaps the world; this is very important to me. Since I am from Jamaica, I would especially love to see Rascito in my hometown.
50BOLD: I'm sure you've had many haters along the way.
Dr. Paul: There were some people who thought my brand would never happen because it all seemed so grandiose. But I found a way to make it happen! I do have those core supporters who have had my back from day one.
50BOLD: I don't think there are too many Black people who own a liquor brand, right?
Dr. Paul: As far as I can see, I don't think there are many Black entrepreneurs who own liquor companies.
50BOLD: Rascito comes in only one size?
Dr. Paul: Yes, Rascito only comes in one size for now– 750 ml and sells for $24.99. It's 17% alcohol by volume.
50BOLD: The product has a kick and tastes stronger than 17% alcohol content for some reason, why is that?
Dr. Paul: The effect of the herbs! I tell my Rascito fans, you don't have to smoke your herbs, you can now drink it.
50BOLD: I love it! Do you see any other Rascito brands coming down the pipeline in the future?
Dr. Paul: Yes, plenty! My mother has a lot of other spirits formulas but the lengthy process of getting things approved by the relevant authorities can hold things up.
50BOLD: Did you run into racism as you tried getting Rascito on the market?
Dr. Paul: Yes, I did! When the product was first approved, I did everything backward. At one stage, I have a white friend who approached a smaller liquor chain. He told the owners our story and they seemed very interested in the product. Well, a meeting was set up. When I turned up and the owner saw me, he said, 'Did you come here to fix the A/C?'
50BOLD: Oh, why am I not surprised?
Dr. Paul: Mind you, I was dressed in a suit for the meeting! When I stated how I owned Rascito, the owner did an about-face. He then told me, how he was not interested in Rascito because his clientele wouldn't drink 'that sort of stuff.' He went on to also add how I needed to take my product to the hood.
50BOLD: Did you walk out after the meeting?
Dr. Paul: Yes I did!
50BOLD: Good for you! Do you have a mantra that you live by?
Dr. Paul: Don't worry, be happy and Rascito absolutely helps get you there!
For more information contact: Rascito King, 3801 North University Drive, Suite 317A, Sunrise, Florida, 33351; 954-692-4555, Rascito.com